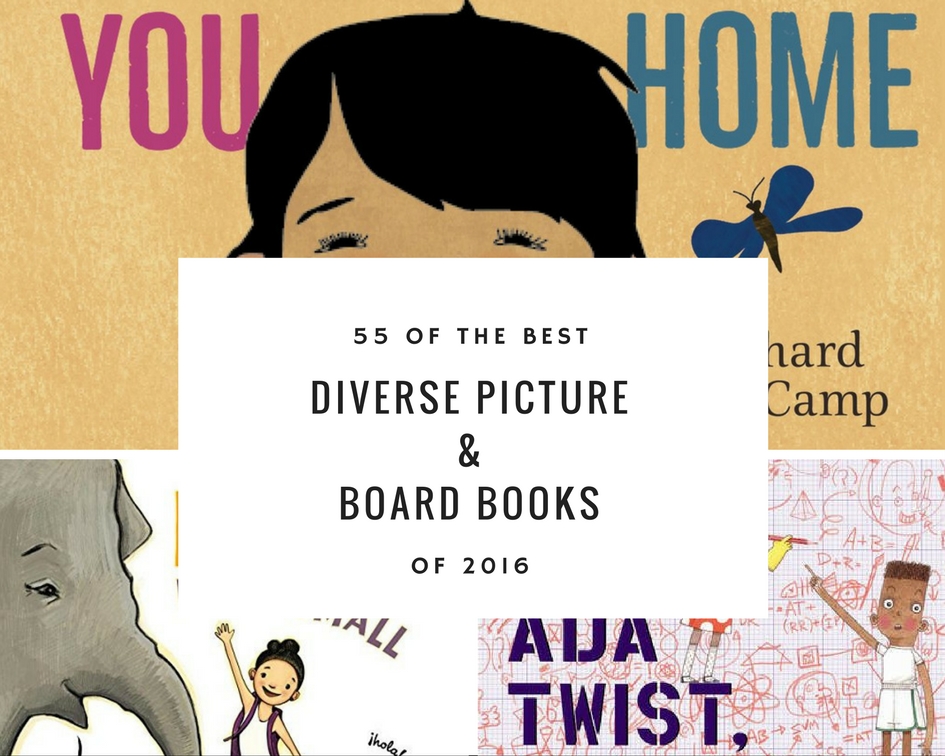 When I originally started compiling this list, I was only going to highlight 15 – 20 books.  However, since there were so many great titles published this year, I decided to expand it.  The list includes a few board books for the smallest readers as well as picture books for older readers.  I hope you'll find a few books for you and your little readers to enjoy.  Cheers to an amazing year in KidLit!
Board Books
Baby Loves Aerospace Engineering by Ruth Spiro and Irene Chan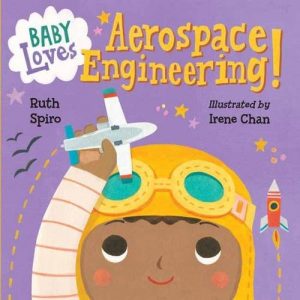 Accurate enough to satisfy an expert, yet simple enough for baby, this book explores the basics of flight – from birds, to planes and rockets – and ties it all to baby's world. Beautiful, visually stimulating illustrations complement age-appropriate language to encourage baby's sense of wonder. Parents and caregivers may learn a thing or two, as well! Read my review here.
Good Job, Athena! (Mini Myths) by Joan Holub and Leslie Patricelli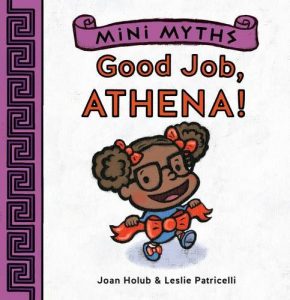 After Athena ties Arachne's shoes for her, Arachne takes the credit for Athena's hard work. But when their friends ask Arachne to teach them how to tie their shoes, Arachne must admit the truth. So Athena comes to the rescue and teaches everybody this important skill. All is forgiven, and the girls are friends again. Conceived and crafted by Greek-mythology expert Joan Holub and illustrated by the bestselling Leslie Patricelli, this book also includes a summary of the original Arachne myth.
Music Is… by Brandon Stosuy and Amy Martin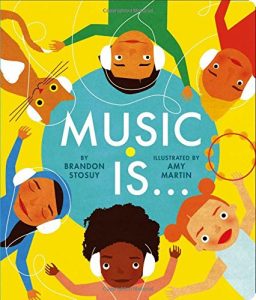 Featuring Amy Martin's dynamic art style, Music Is… explains music through our eyes and ears so that the sense of hearing is transformed into a visual experience. A pitch-perfect board book that is sure to strike a chord with readers of all ages.  Read my review here.
My Heart Fills With Happiness by Monique Gray Smith and Julie Flett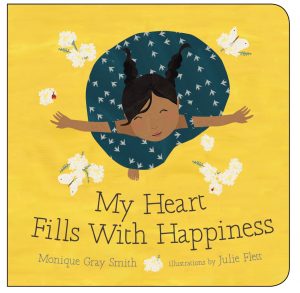 The sun on your face. The smell of warm bannock baking in the oven. Holding the hand of someone you love. What fills your heart with happiness? This beautiful board book, with illustrations from celebrated artist Julie Flett, serves as a reminder for little ones and adults alike to reflect on and cherish the moments in life that bring us joy.

Once Upon a World: Cinderella by Chloe Perkins and Sandra Equihua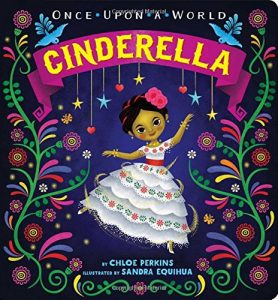 The classic tale of Cinderella gets a fresh twist in this debut title of a brand-new board book series, Once Upon a World. With Mexico as the backdrop, and vibrant artwork from Mexican illustrator Sandra Equihua, Cinderella is still the same girl with a fairy godmother and a glass slipper—but she's totally reimagined.  Read my review here.
Once Upon a World: Snow White by Chloe Perkins and Misa Saburi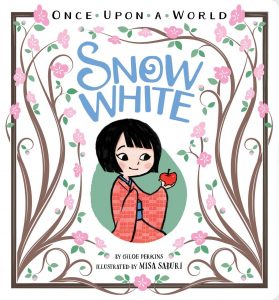 The classic tale of Snow White gets a fresh twist in this debut title of a brand-new board book series, Once Upon a World. With Japan as the backdrop, and beautiful artwork from Japanese illustrator Misa Saburi, Snow White is still the same girl who meets seven dwarves and accepts a shiny red apple—but she's totally reimagined.  Read my review here.
We Sang You Home by Richard Van Camp and Julie Flett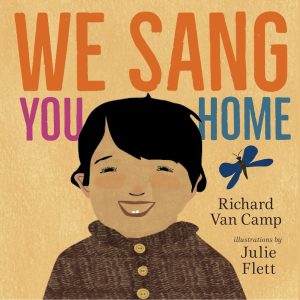 In this sweet and lyrical board book from the creators of the bestselling Little You, gentle rhyming text captures the wonder new parents feel as they welcome baby into the world. A celebration of the bond between parent and child, this is the perfect song to share with your little ones.
Picture Books
10 Secrets of Being a Lady by Sheba Matheu and Meredith Rushing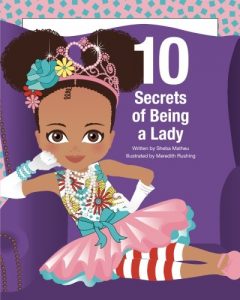 The 10 Secrets of Being a Lady is children's book for all ages reminding women of their roles in society, which start in the home. The story was expressly created to encourage dialogue and impart wisdom through family generations.  Read my review here.
A Bike Like Sergio's by Maribeth Boelts and Noah Z. Jones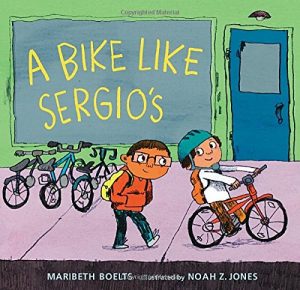 Ruben feels like he is the only kid without a bike. His friend Sergio reminds him that his birthday is coming, but Ruben knows that the kinds of birthday gifts he and Sergio receive are not the same. So when Ruben sees a dollar bill fall out of someone's purse, he picks it up and puts it in his pocket. But when he gets home, he discovers it's not one dollar or even five or ten—it's a hundred-dollar bill, more than enough for a new bike just like Sergio's! But what about the crossed-off groceries? And what about the woman who lost her money? Presenting a relatable story told with subtlety and heart, the creative team behind Those Shoes pairs up again for a satisfying new picture book.
A Hat for Mrs. Goldman by Michelle Edwards and G. Brian Karas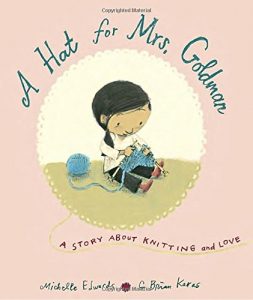 Mrs. Goldman always knits hats for everyone in the neighborhood, and Sophia, who thinks knitting is too hard, helps by making the pom-poms. But now winter is here, and Mrs. Goldman herself doesn't have a hat—she's too busy making hats for everyone else! It's up to Sophia to buckle down and knit a hat for Mrs. Goldman. But try as Sophia might, the hat turns out lumpy, the stitches aren't even, and there are holes where there shouldn't be holes. Sophia is devastated until she gets an idea that will make Mrs. Goldman's hat the most wonderful of all.
A Morning With Grandpa by Sylvia Liu and Christina Forshay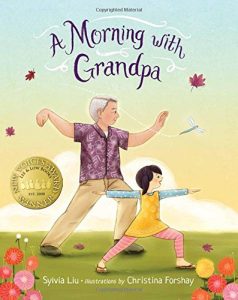 Mei Mei s grandpa is practicing tai chi in the garden, and Mei Mei is eager to join in. As Gong Gong tries to teach her the slow, graceful movements, Mei Mei enthusiastically does them with her own flair. Then Mei Mei takes a turn, trying to teach Gong Gong the yoga she learned in school. Will Gong Gong be able to master the stretchy, bendy poses? Winner of the LEE & LOW New Voices Award, this title celebrates, with lively spirit and humor, the special bond between grandparent and grandchild and the joy of learning new things together. Readers of all ages will want to try out some tai chi and yoga too!
A Piece of Home by Jeri Watts and Hyewon Yum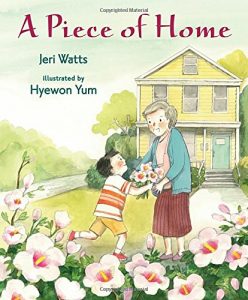 Lyrical prose and lovely illustrations combine in a gentle, realistic story about finding connections in an unfamiliar world.

A Squiggly Story by by Andrew Larsen and Mike Lowery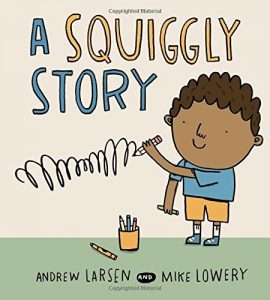 ]
This picture book from award-winning author Andrew Larsen playfully and imaginatively explores a young child's process of learning to express himself. It promotes the idea that stories are available for everyone to tell, whatever way we can, and will inspire pre-readers to try writing stories of their own.
A Unicorn Named Sparkle by Amy Young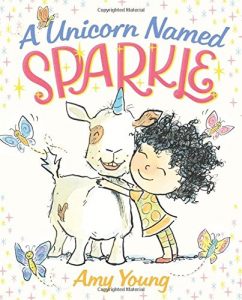 When Lucy sees an ad in the newspaper for a unicorn, she sends in her twenty-five cents and waits four to six long weeks for her very own unicorn to arrive.
Ada Twist Scientist by Andrea Beaty and David Roberts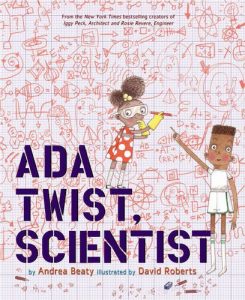 Like her classmates, builder Iggy and inventor Rosie, scientist Ada, a character of color, has a boundless imagination and has always been hopelessly curious. Why are there pointy things stuck to a rose? Why are there hairs growing inside your nose? When her house fills with a horrific, toe-curling smell, Ada knows it's up to her to find the source. What would you do with a problem like this? Not afraid of failure, Ada embarks on a fact-finding mission and conducts scientific experiments, all in the name of discovery. But, this time, her experiments lead to even more stink and get her into trouble!  Read my review here.
Ada's Violin: The Story of the Recycled Orchestra of Paraguay by Susan Hood and Sally Wern Comport


Ada Ríos grew up in Cateura, a small town in Paraguay built on a landfill. She dreamed of playing the violin, but with little money for anything but the bare essentials, it was never an option…until a music teacher named Favio Chávez arrived. He wanted to give the children of Cateura something special, so he made them instruments out of materials found in the trash.
Beautiful by Stacy McAnulty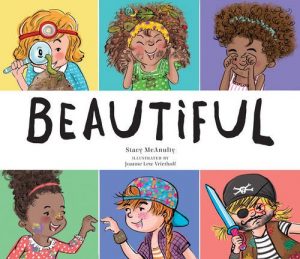 BEAUTIFUL breaks barriers by showing girls free to be themselves: splashing in mud, conducting science experiments, and reading books under a flashlight with friends. This book will encourage all girls to embrace who they are and realize their endless potential.  Read my review here.
City Shapes by Diana Murray and Bryan Collier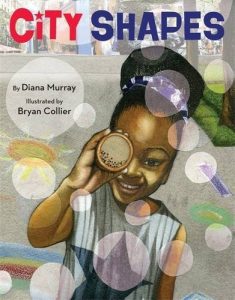 From shimmering skyscrapers to fluttering kites to twinkling stars high in the sky, everyday scenes become extraordinary as a young girl walks through her neighborhood noticing exciting new shapes at every turn. Far more than a simple concept book, City Shapes is an explosion of life. Diana Murray's richly crafted yet playful verse encourages readers to discover shapes in the most surprising places, and Bryan Collier's dynamic collages add even more layers to each scene in this ode to city living.  Read my review here.
Daniel Finds a Poem by Micha Archer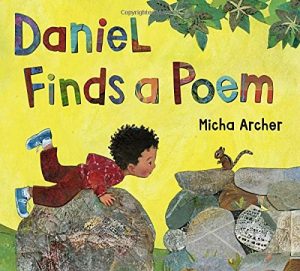 What is poetry? Is it glistening morning dew? Spider thinks so. Is it crisp leaves crunching? That's what Squirrel says. Could it be a cool pond, sun-warmed sand, or moonlight on the grass? Maybe poetry is all of these things, as it is something special for everyone—you just have to take the time to really look and listen. The magical thing is that poetry is in everyone, and Daniel is on his way to discovering a poem of his own after spending time with his animal friends. What is poetry? If you look and listen, it's all around you!
Dario and the Whale by Cheryl Lawton Malone and Bistra Masseva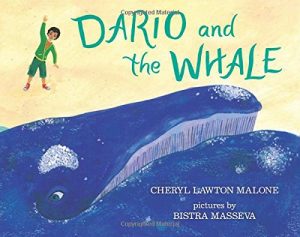 When Dario and his mother move to Cape Cod from Brazil, Dario has a hard time making friends since he doesn't speak English well. But one day Dario meets someone else who has just arrived in New England and he doesn't speak any English at all…because he's a right whale! Day after day Dario and the whale meet at the beach. But what will happen when it's time for the whale to migrate?
Dear Dragon by Josh Funk and Rodolfo Montalvo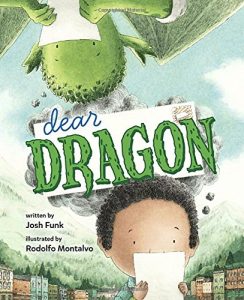 George and Blaise are pen pals, and they write letters to each other about everything: their pets, birthdays, favorite sports, and science fair projects. There's just one thing that the two friends don't know: George is a human, while Blaise is a dragon! What will happen when these pen pals finally meet face-to-face?
Do Not Bring Your Dragon to the Library by Julie Gassman and Andy Elkerton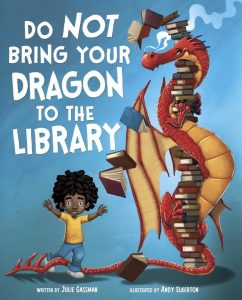 Have you ever thought about bringing your dragon to the library? Don't do it! You might have the best intentions, but that dragon will cause nothing but trouble. Using rhyming text and a diverse cast of characters, this charming picture book will provide some important and some not so important library etiquette in a very entertaining way.
Freedom in Congo Square by Carole Boston Weatherford and R. Gregory Christie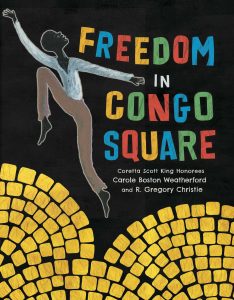 As slaves relentlessly toiled in an unjust system in 19th century Louisiana, they all counted down the days until Sunday, when at least for half a day they were briefly able to congregate in Congo Square in New Orleans. Here they were free to set up an open market, sing, dance, and play music. They were free to forget their cares, their struggles, and their oppression. This story chronicles slaves' duties each day, from chopping logs on Mondays to baking bread on Wednesdays to plucking hens on Saturday, and builds to the freedom of Sundays and the special experience of an afternoon spent in Congo Square.
Freedom Over Me by Ashley Bryan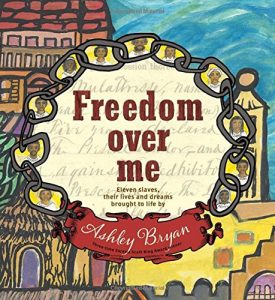 In his gentle yet deeply powerful way, Ashley Bryan goes to the heart of how a slave is given a monetary value by the slave owner, tempering this with the one thing that CAN'T be bought or sold—dreams.

Goodbye Summer, Hello Autumn by Kenard Pak


As trees sway in the cool breeze, blue jays head south, and leaves change their colors, everyone knows–autumn is on its way!  Join a young girl as she takes a walk through forest and town, greeting all the signs of the coming season. In a series of conversations with every flower and creature and gust of wind, she says good-bye to summer and welcomes autumn.  Read my review here.

Have You Seen Elephant? by David Barrow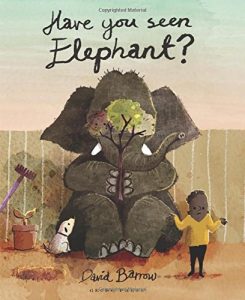 Elephant wants to play hide and seek. See if you can help the others find him?he's very good! Have You Seen Elephant? is an assured and exciting debut from a top emerging talent.
Henry Wants More! by Linda Ashman and Brooke Boynton Hughes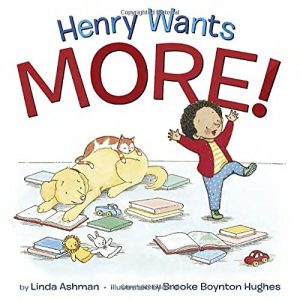 More games, more races, more tickles, more books—little Henry can't get enough! When a toddler is armed with that useful word and the world is full of brand-new things, his family just doesn't stand a chance. Follow Henry on his exhausting and all-too-familiar day filled with play . . . and a lot of love! Buoyant rhymes and charming illustrations strike a heartwarming note that will ring true with families of energetic little ones.
How to Build a Museum by Tonya Bolden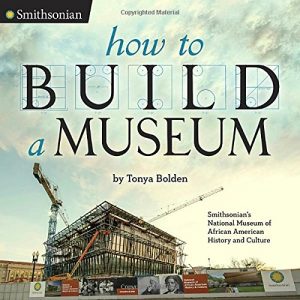 Award-winning author Tonya Bolden has written a fascinating chronicle of how ideas, ambitions, and actual objects came together in one incredible museum. Includes behind-the-scenes photos of literally "how to build a museum" that holds everything from an entire segregated railroad car to a tiny West African amulet worn to ward off slave traders.
How to Find a Fox by Nilah Magruder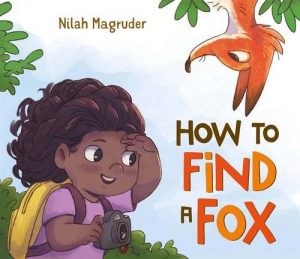 Equipped with a camera and determination, a little girl sets out to track down an elusive red fox. But foxes are sneaky, and it proves more difficult than she thought.  Nilah Magruder's debut picture book charmingly tells the story of what it means to not give up and how sometimes what you're looking for is closer than you think.
I Love Your Brown by Daneya L Jacobs and M Ed Atiya Chase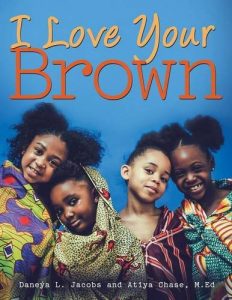 In this love letter from mothers to brown daughters everywhere, little girls are reminded to love the skin they're in. Girls come in all different colors, shapes, and sizes. Some have long hair, some have short, and others have straight hair or curly. Still, despite the differences, there is something all little brown girls have in common…they have the power to be anything!  Read my review here.

I'm a Brilliant Little Black Boy by by Betty K. Bynum and Joshua B. Drummond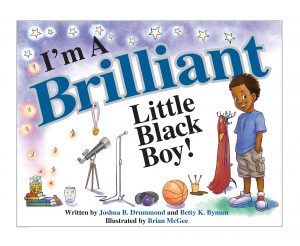 With all of his good friends, Joshua's days are filled with adventures where books, a telescope, a red-superhero cape, rhyming hip-hop verse, twinkling fireflies that light up the magical summer skies above a card board fort in the park― and so much more ― is just what boyhood innocence and imagination is all about.

In Plain Sight: A Game by Richard Jackson and Jerry Pinkney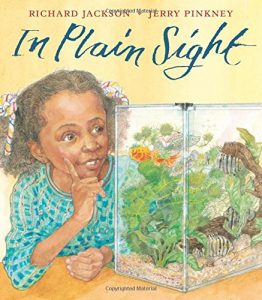 As Sophie and her grandpa talk, he asks her to find items he's "lost" throughout the day, guiding Sophie on a tour through his daily life and connecting their generations in this sweet, playful picture book from Richard Jackson, illustrated by Caldecott Medalist and Laura Ingalls Wilder Award winner Jerry Pinkney.
Leo Can Swim by Anna McQuinn and Ruth Hearson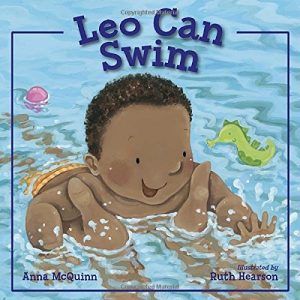 Leo and Daddy go to swim class where they kick, bounce, and dive like little fish. Joining other babies and their caretakers in the pool is a guarantee for unforgettable fun.  Read my review here.
Like a Bird: The Art of the American Slave Song by Cynthia Grady and Michele Wood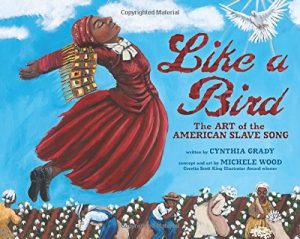 Enslaved African Americans longed for freedom, and that longing took many forms including music. Drawing on biblical imagery, slave songs both expressed the sorrow of life in bondage and offered a rallying cry for the spirit. Like a Bird brings together text, music, and illustrations by Coretta Scott King Award-winning illustrator Michele Wood to convey the rich meaning behind thirteen of these powerful songs.
Little People Big Dreams: Maya Angelou by Lisbeth Kaiser and Leire Salaberria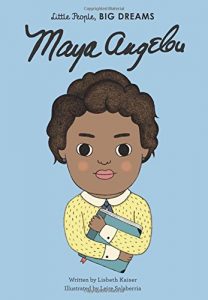 This book follows Maya Angelou, from her early traumatic childhood to her time as a singer, actress, civil rights campaigner and, eventually, one of America's most beloved writers. This inspiring and informative little biography comes with extra facts about Maya's life at the back.  Read my review here.
Little Red and the Very Hungry Lion by Alex T. Smith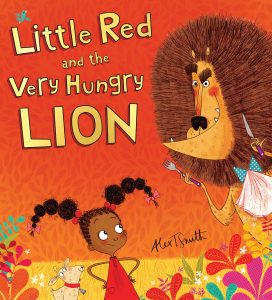 Little Red is on her way to visit Auntie Rosie with a basket of goodies and some spot medicine. Along the way she meets the Very Hungry Lion. The Lion is eager to gobble up Little Red. The Lion's plan doesn't work out the way he wanted.  Read my review here.
Maggie and Michael Get Dressed by Denise Fleming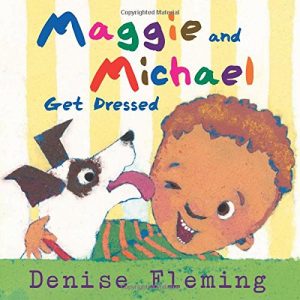 It's time for Michael to get dressed! Maggie will help.
Michael knows where each piece of colorful clothing should go. Yellow socks on feet, brown hat on head. But who will end up wearing the blue pants?
Marta! Big and Small by Jen Arena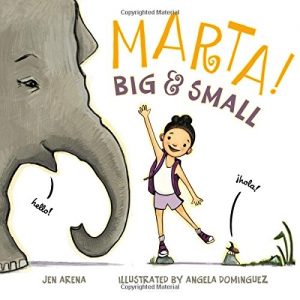 As Marta explores the jungle, she knows she's bigger than a bug, smaller than an elephant, and faster than a turtle. But then she meets the snake, who thinks Marta is sabrosa―tasty, very tasty! But Marta is ingeniosa, a very clever girl, and she outsmarts the snake with hilarious results.  With simple Spanish and a glossary at the end, this fun read-aloud picture book, Marta! Big and Small, teaches little ones to identify opposites and animals and learn new words.
Mary Had a Little Glam by Tammi Sauer and Vanessa Brantley-Newton


This little Mary has STYLE! In this fun take on Mother Goose, fashion-forward Mary helps some of childhood's most beloved characters go glam. From the kid who lives in a shoe (and dons some fab footwear, too) to Jack, who breaks his crown but gets a great new one, Mary's school friends look fantastic in their finery. But are they now too well dressed for recess? Not to worry—Mary always shows her flair for what to wear!  Read my review here.
Maybe Something Beautiful by F. Isabel Campoy and Theresa Howell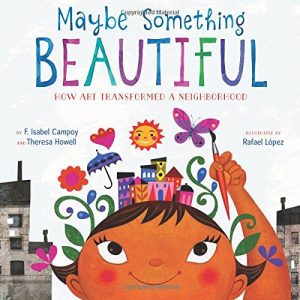 What good can a splash of color do in a community of gray? As Mira and her neighbors discover, more than you might ever imagine! Based on the true story of the Urban Art Trail in San Diego, California, Maybe Something Beautiful reveals how art can inspire transformation—and how even the smallest artists can accomplish something big.
Miles and Mia A to Z by Michaela Alexander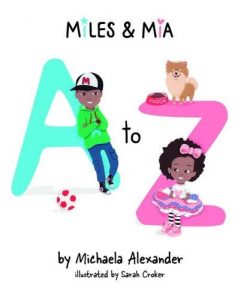 Go on a journey with Miles and Mia as they make their way through all 26 letters of the alphabet.  Read my review here.
More-igami by Dori Kleber and G. Brian Karas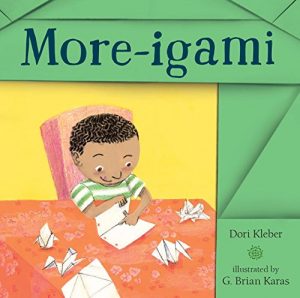 Joey loves things that fold: maps, beds, accordions, you name it. When a visiting mother of a classmate turns a plain piece of paper into a beautiful origami crane, his eyes pop. Maybe he can learn origami, too. It's going to take practice — on his homework, the newspaper, the thirty-eight dollars in his mother's purse . . . Enough! No more folding! But how can Joey become an origami master if he's not allowed to practice? Is there anywhere that he can hone the skill that makes him happy — and maybe even make a new friend while he's at it?
Normal Norman by Tara Lazar and S. Britt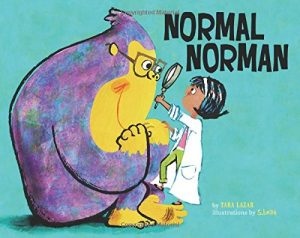 What is "normal?" That's the question an eager young scientist, narrating her very first book, hopes to answer. Unfortunately, her exceedingly "normal" subject—an orangutan named Norman—turns out to be exceptionally strange. He speaks English, sleeps in a bed, loves his stuffed toy, goes bananas over pizza, and even deep-sea dives! Oh, no: what's a "normal" scientist to do?
Preaching to the Chickens by Jabari Asim and E. B. Lewis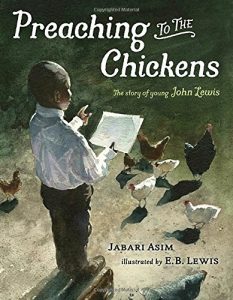 John wants to be a preacher when he grows up—a leader whose words stir hearts to change, minds to think, and bodies to take action. But why wait? When John is put in charge of the family farm's flock of chickens, he discovers that they make a wonderful congregation! So he preaches to his flock, and they listen, content under his watchful care, riveted by the rhythm of his voice.
Princess Cupcake Jones and the Dance Recital by Ylleya Fields and Michael LaDuca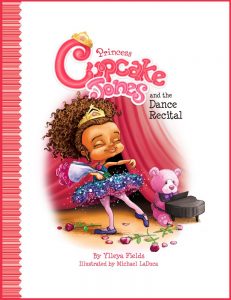 Follow Princess Cupcake Jones as she learns that determination and practice bring positive results and surprises. Taking dance classes with her friends is the highlight of her week. But when Cupcake struggles to do everything 'just right' before the recital, she isn't sure if she'll be able to master it all in time. The gentle rhyming cadence, vibrant illustrations, and captivating pages deliver valuable life lessons and family values.  Read my review here.

Radiant Child: The Story of the Young Artist Jean Michel-Basquiat by Javaka Steptoe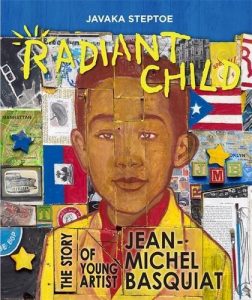 Jean-Michael Basquiat and his unique, collage-style paintings rocked to fame in the 1980s as a cultural phenomenon unlike anything the art work had ever seen. But before that, he was a little boy who saw art everywhere: in poetry books and museums, in games and in the words that we speak, and in the pulsing energy of New York City. Now, award-winning illustrator Javaka Steptoe's vivid text and bold artwork echoing Basquiat's own introduce young readers to the powerful message and art doesn't always have to be neat or clean–and definitely not inside the lines–to be beautiful.

Rice & Rocks by Sandra L. Richards and Megan Kayleigh Sullivan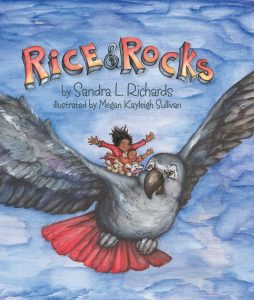 Giovanni's friends are coming over for Sunday dinner, and his grandmother is serving rice and beans. Giovanni is embarrassed he does not like 'rice and rocks' and worries his friends will think the traditional Jamaican dish is weird. But his favorite Auntie comes to the rescue. She and Giovanni's pet parrot, Jasper, take him on a magical journey across the globe, visiting places where people eat rice and rocks. This exciting story celebrates the varied traditions of every culture while also highlighting the delicious similarities that bring us all together.  Read my review here.
Steamboat School by Deborah Hopkinson and Ron Husband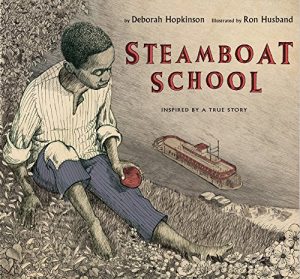 Based on true events, Ron Husband's uplifting illustrations bring to life Deborah Hopkinson's tale of a resourceful, determined teacher; his bright, inquisitive students; and their refusal to accept discrimination based on the color of their skin.
The Airport Book by Lisa Brown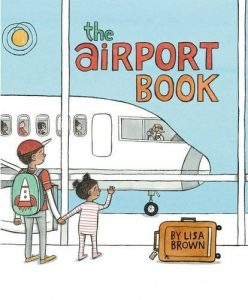 In a book that is as intriguing as it is useful and entertaining, we follow a family on its way through the complexities of a modern-day airport. From checking bags and watching them disappear on the mysterious conveyor belt, to security clearance and a seemingly endless wait at the gate to finally being airborne.

The Quickest Kid in Clarksville by Pat Zietlow Miller and Frank Morrison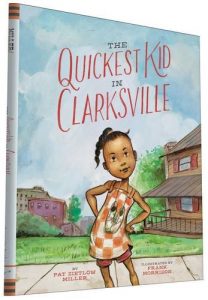 It's the day before the big parade. Alta can only think about one thing: Wilma Rudolph, three-time Olympic gold medalist. She'll be riding on a float tomorrow. See, Alta is the quickest kid in Clarksville, Tennessee, just like Wilma once was. It doesn't matter that Alta's shoes have holes because Wilma came from hard times, too. But what happens when a new girl with shiny new shoes comes along and challenges Alta to a race? Will she still be the quickest kid?
The Three Lucys by Hayan Charara and Sara Kahn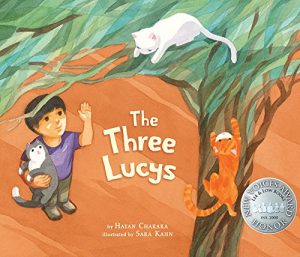 After a fun visit with family, Luli is looking forward to going home and seeing the Lucys. But then Luli's hometown comes under attack and the family must seek refuge at his aunt and uncle s house. Luli doesn t understand what is happening and worries about his pets. Who will keep the three Lucys safe? And when will he and his family be able to return home?  Read my review here.
Thunder Boy Jr. by Sherman Alexie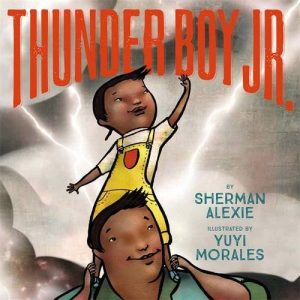 Thunder Boy Jr. is named after his dad, but he wants a name that's all his own. Just because people call his dad Big Thunder doesn't mean he wants to be Little Thunder. He wants a name that celebrates something cool he's done, like Touch the Clouds, Not Afraid of Ten Thousand Teeth, or Full of Wonder.
The Water Princess by Susan Verde and Georgie Badiel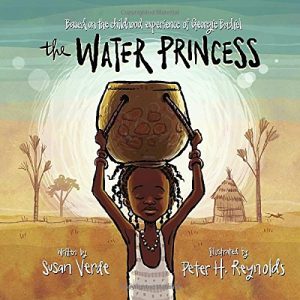 Based on supermodel Georgie Badiel's childhood, a young girl dreams of bringing clean drinking water to her African village.  Read my review here.

Twenty Yawns by Jane Smiley and Lauren Castillo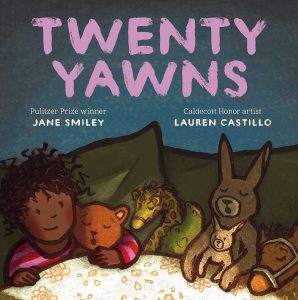 As her mom reads a bedtime story, Lucy drifts off. But later, she awakens in a dark, still room, and everything looks mysterious. How will she ever get back to sleep?

Whoosh: Lonnie Johnson's Super Soaking Stream of Inventions by Chris Barton and Don Tate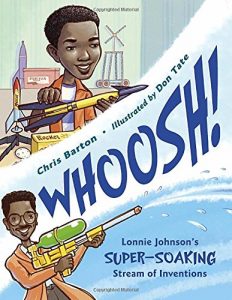 A love for rockets, robots, inventions, and a mind for creativity began early in Lonnie Johnson's life. Growing up in a house full of brothers and sisters, persistence and a passion for problem solving became the cornerstone for a career as an engineer and his work with NASA. But it is his invention of the Super Soaker water gun that has made his most memorable splash with kids and adults.  Read my review here.
Bonus Books!
I only recently discovered Rainbow Weaver about a month ago, but I just had to include it as a bonus book.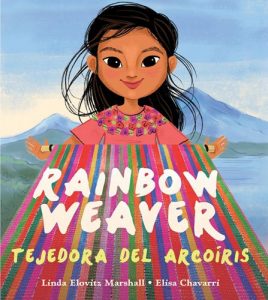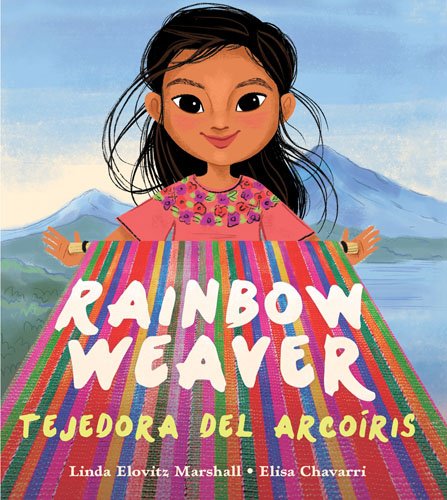 Ixchel wants to follow in the long tradition of weaving on backstrap looms, just as her mother, grandmother, and most Mayan women have done for more than two thousand years. But Ixchel's mother is too busy preparing her weavings for market. If they bring a good price, they will have money to pay for Ixchel s school and books.
Lift Your Light a Little Higher: The Story of Stephen Bishop Slave-Explorer by Heather Henson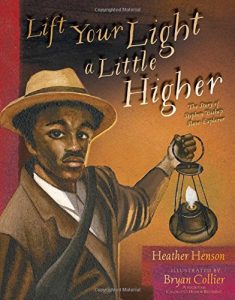 Grab your lantern and follow the remarkable and world-famous Mammoth Cave explorer—and slave—Stephen Bishop as he guides you through the world's largest cave system in this remarkable homage to the resilience of human nature.
Your turn: What books would you add to this list?  Feel free to share in the comments.