Goodbye Summer, Hello Autumn by Kenard Pak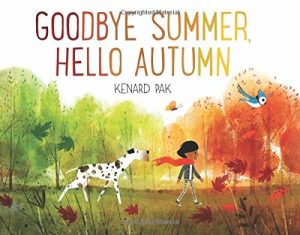 Age Range: 3 – 7 years
Grade Level: Preschool – 2
Hardcover: 32 pages
Publisher: Henry Holt and Co.
On-Sale Date: August 16, 2016
Synopsis (from Amazon)
As trees sway in the cool breeze, blue jays head south, and leaves change their colors, everyone knows–autumn is on its way!
Join a young girl as she takes a walk through forest and town, greeting all the signs of the coming season. In a series of conversations with every flower and creature and gust of wind, she says good-bye to summer and welcomes autumn.
Reflection
It's the last morning of the summer and a little girl decides to take a walk through her neighborhood.  This book starts off with the girl standing on her front porch saying, "Hello, late summer morning."  She then starts walking and greeting different things in nature as she passes them: trees, foxes, blue jays, walking sticks, butterflies and more.  Each animal or plant she says hello to responds to her by providing an explanation of what it is doing to prepare for the coming autumn season.
For example, when she encounters some beavers and chipmunks, they greet her and let her know they are busy making nests and dens to hibernate in.  The flowers respond by saying they are leaning into the sun, enjoying the last summer rays.  As the girl continues her walk, she starts handing out flowers to people as she passes them on the street.  Finally, she makes it back home later in the evening when all of the animals she saw earlier are now cozy and sleeping.  The last page shows the girl sitting on her front porch saying, "Hello autumn".

The kids and I really enjoyed this book for several reasons.  First, summer is my absolute favorite season and I look forward to welcoming it every year.  It often saddens me when it's time to say goodbye to summer because I love warm weather so much.  However, reading this book has given me a new perspective.  It taught me to relish each season. Don't say goodbye to summer; say hello to autumn!
Other things we liked about this book are:
the use of color – the book starts out using hues of green to represent summer, then slowly changes over to hues of red, brown, yellow and orange for autumn
the simplicity of the text used throughout – minimal text is used on each page which is perfect for younger readers
the diversity of the characters featured in the book – as the girl is walking she passes an array of diverse people while handing them flowers
how well it captured the changing of the seasons via the illustrations – falling leaves, thunder, wind, rain
it teaches children how different animals and plants in nature prepare for the autumn season
Although this is a children's book, I think it has a deeper lesson for adults too.  The lesson: Each season is a season. Seasons differ and there are many things to look forward to if we would choose to do so.  We should live each season and each day with passion and purpose and welcome each one as it arrives.
Other themes covered in this book: experiencing change, showing kindness to nature and other people, and seasons.  The perfect story time book to read with your little readers on the last day of summer (or in any season)!  After reading the book, take a walk through your neighborhood and notice the different animals or plants you see and the sounds in nature that you hear.
About the Author
Kenard Pak has experienced changing seasons in his life as well.  Starting out as an artist with DreamWorks and Disney, Mr. Pak has also illustrated children's books such as Have You Heard the Nesting Bird? by Rita Gray and The Dinner That Cooked Itself by J.C. Hsyu.  He now lives in San Francisco with his wife and their three cats.
Your turn:  What is your favorite season of the year?  Do you have any traditions to say goodbye to one season and welcome another season?  Feel free to share in the comments.