City Shapes by Diana Murray, illustrated by Bryan Collier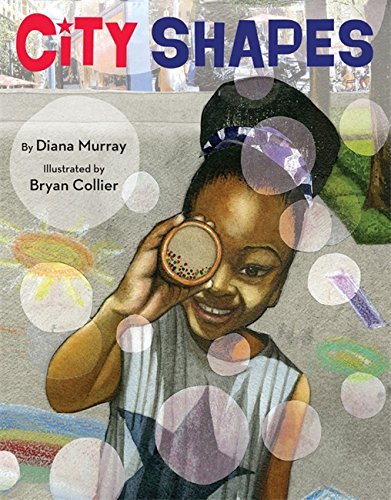 Publisher: Little, Brown Books for Young Readers
On-Sale Date: June 21, 2016
Format: Hardcover
Age Range: 3 – 7 years old
Pages: 40
Synopsis (from Amazon)
From shimmering skyscrapers to fluttering kites to twinkling stars high in the sky, everyday scenes become extraordinary as a young girl walks through her neighborhood noticing exciting new shapes at every turn. Far more than a simple concept book, City Shapes is an explosion of life. Diana Murray's richly crafted yet playful verse encourages readers to discover shapes in the most surprising places, and Bryan Collier's dynamic collages add even more layers to each scene in this ode to city living.
Reflection
Shapes can be found all around us. If you look closely, you'll be surprised at how many you can find.
This adorable book takes readers on a colorful journey through the streets of New York City with a little African-American girl in search of different shapes. She encounters rectangles, triangles, circles, ovals, diamonds, and stars in various places throughout the city.
On the opening page, you see a pigeon flying through a bright cityscape exploring the scenery…shape after shape.  The little girl featured in the book walks through the city during the day and travels by bus exploring different shapes: sunglasses worn by an on-duty police officer, the wheels of a taxi, and rectangular shaped skyscrapers.  In the end you see the pigeon flying through the sky once again, but this time its enjoying the view of the night cityscape as it returns to its circle-shaped nest.  I liked how the author and illustrator made a connection between the girl and pigeon.  Each one had their own views of the city from different vantage points.  In the end, they both go back to their homes to rest for the evening.
The kids and I really enjoyed this book!  My kids love rhyming books so this one was a delight to read aloud with them.  Also, the watercolor illustrations are so bright, cheerful, and detailed.  The kids liked pointing out the different shapes in each picture.
This book inspired us to go on our own shape hunt in our neighborhood.  I think learning to spot shapes outside in nature and the environment is more than just a fun game for kids. Activities such as this can give children a sense that they know something important, making it highly likely that their shape-hunting skills will continue long after the "hunt" is over.
Overall, I think this book captures the essence of New York City one shape at a time very well.  A fun and colorful book for teaching children about shapes, exploring their surroundings/environment, and being observant.
Author & Illustrator Notes
Illustrator Bryan Collier tells readers that he modeled the little girl featured in this book after his own daughter.  Author Diana Murray was born in Ukraine, but she immigrated to New York City at the age of two.  Her inspiration to write this book was based on her experiences of walking through Midtown Manhattan on her own.
Connect with Diana Murray!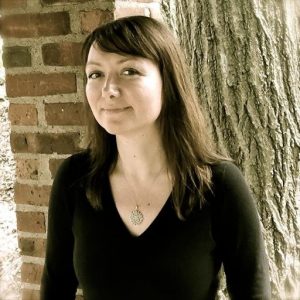 Website | Twitter
Connect with Bryan Collier!


Website
Your turn: Are you looking forward to reading this book with your little readers?  Feel free to share in the comments.