If you follow my blog, you've probably heard me talk about a variety of different subscription boxes and services for both kids and adults.  I love kids' monthly subscription boxes because they offer unique educational experiences. They can give kids of all ages the chance to learn by doing fun projects, crafts and activities.
Today I'd like to introduce you to Petit Mail!  Have you heard about these cute subscription story cards yet?  I met Alison, owner of Petit Mail,  last month on Instagram.  I saw a picture of the cards posted on her page and immediately reached out to her.  As a mom of two kids under the age of 4, I'm always on the hunt for different activities to do that incorporate both learning and fun.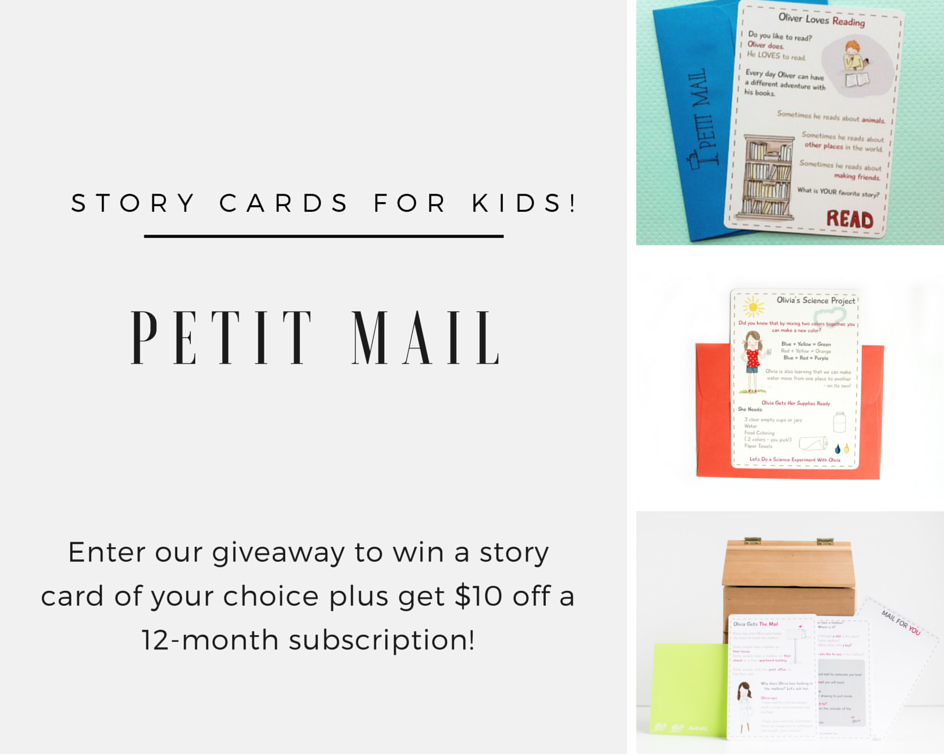 Petit Mail is a monthly story postcard subscription for kids, ideally suited for preschoolers and early readers.  Each month, a story card arrives in a bright, fun envelope, addressed to your child.  Story themes follow the adventures of characters Oliver and Olivia, and encourage imagination, creative play and family connection.  Currently, there are only two characters available, but there are plans to expand the characters to include more diversity.
Parents and children can read each story card together and use the monthly adventure as inspiration for family time activities. Oliver is putting on a puppet show? You can too. Story topics include science, nature, reading, art and more.
With so much of our days filled with technology, it's a wonderful treat to receive paper mail – children LOVE finding envelopes in the mailbox addressed just to them.  (My children are no different.)  Some months include little bonus extras, like stickers or bookmarks and every story card includes a link to additional content for parents with activity tips and suggestions.
When our story cards came in the mail my kids were happy to see their names printed on the envelopes.  My son received the story card entitled 'Oliver Loves Reading' and my daughter received 'Olivia's Science Project'.
The activity on the back of my son's story card was to go to your local library and have a library scavenger hunt.  We haven't done this yet, but I'm looking forward to doing it!  My daughter's activity on her story card was to mix two colors together to make a new color.  We had fun using food coloring to mix blue and red to make purple and blue and yellow to make green.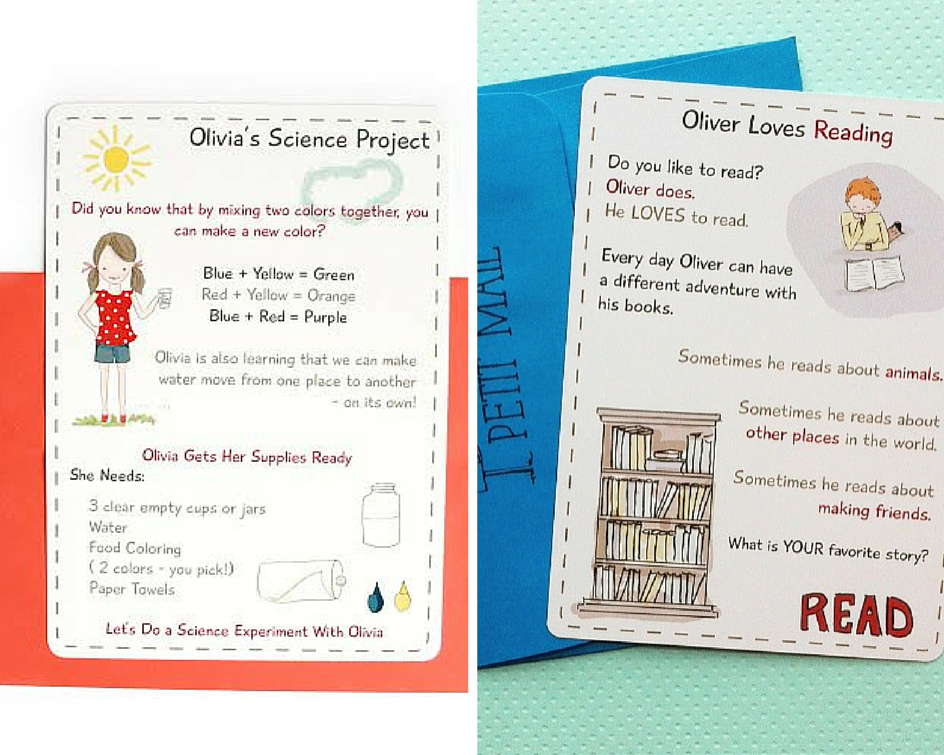 Parents and caregivers might find Petit Mail to be a very affordable gift subscription. Canada and US subscriptions cost just $6 per month (including postage) and international subscriptions are also available.  Subscriptions can be purchased for 3, 6 or 12 months, and make a great non-toy gift for kids.
Parents can find out more about Petit Mail at: http://petitmail.ca
Petit Mail Shop: http://www.petitmail.bigcartel.com
Sign up for the Petit Mail newsletter here!
Connect with Petit Mail!
Sounds great, is there a discount?
Yes, there is!  Here Wee Read Subscribers and readers can save $10 off a 1 year (12 month) subscription using code HEREWEEREAD until May 31, 2016!
How about a giveaway?
I'm glad you asked!  One (1) lucky winner will win a Petit Mail story card of their choice.  You can choose between the following themes:
Oliver Explores Art
Olivia's Pen Pal
Oliver Loves Reading
Olivia The Superhero
Oliver Learns About Fossils
Olivia's Science Project
Olivia Builds A Boat
Enter today!  Giveaway ends Thursday, April 28, 2016.  Good luck!
Petit Mail Story Card Giveaway
Disclaimer: I received two complimentary story cards in exchange for an honest review.  All opinions expressed are my own.