Whoosh!: Lonnie Johnson's Super Soaking Stream of Inventions
by Chris Barton, illustrated by Don Tate
Publisher: Charlesbridge Publishing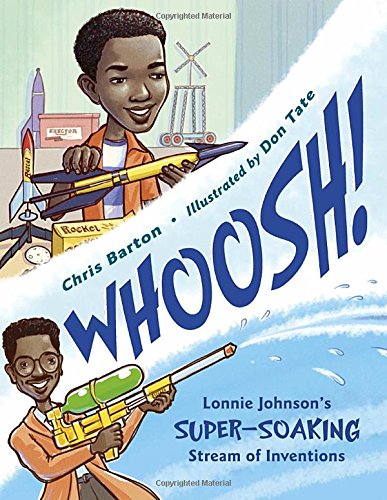 Age Range: 7 – 10 years old
Grade Level: 2 – 5
Pages: 32
Book Format: Hardcover
On Sale: May 3, 2016
Synopsis (from Amazon)
You know the Super Soaker. It's one of top twenty toys of all time. And it was invented entirely by accident. Trying to create a new cooling system for refrigerators and air conditioners, impressive inventor Lonnie Johnson instead created the mechanics for the iconic toy.
A love for rockets, robots, inventions, and a mind for creativity began early in Lonnie Johnson's life. Growing up in a house full of brothers and sisters, persistence and a passion for problem solving became the cornerstone for a career as an engineer and his work with NASA. But it is his invention of the Super Soaker water gun that has made his most memorable splash with kids and adults.
Reflection
I have many fond memories of playing with Super Soaker water guns as a kid.  It was definitely one of my childhood favorites and undoubtedly a summer staple in our home.  Invented in 1982 by Engineer Lonnie Johnson, the Super Soaker remains one of the most popular toys for water play of all-time.
I hate to admit that I had no clue who actually invented the Super Soaker until reading this book.  I was pleasantly surprised to learn that it was invented by an Black man named Lonnie Johnson!  Who knew?  From this book I also learned that Lonnie was a very innovative engineer.  As an adult he worked for NASA's Jet Propulsion Laboratory on the Galielo orbiter and helped to power the spacecraft as it explored Jupiter.  How cool is that?
Lonnie is a true problem solver at heart.  Ideas for other problems to solve constantly keep on flowing through his mind.  One day while testing out a new cooling system for refrigerators that didn't use a chemical that was bad for the environment, Lonnie accidentally sprayed his entire bathroom.  That incident instantly gave him an idea for another invention – a high-powered water gun!  However, it took many years of trial and error and rejection before the Super Soaker was as successful as it is today.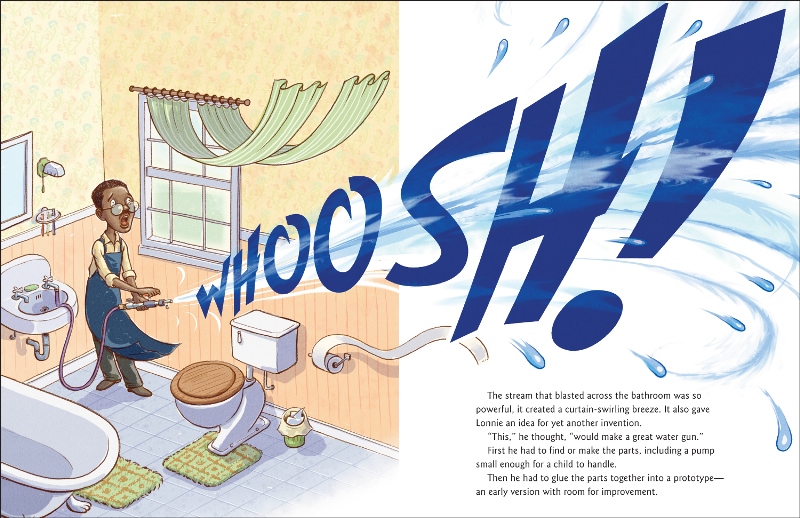 The kids and I really enjoyed reading this book.  I find it to be both informative and entertaining with awesome illustrations to match. The kids especially liked saying the word "Whoosh!"  For some added fun, we read this book outside and I brought along our Super Soaker water gun and sprayed it every time the word "Whoosh" appeared throughout the book.
I also didn't find this book to be too wordy as some nonfiction children's typically books are.  In addition, I loved the fact that this book tells you a little about Lonnie's family, his childhood, the college he attended, his life as an adult, and of course how the Super Soaker came to be.  My absolute favorite thing about this book is that Lonnie's mother fully supported him and believed in him from the very beginning even when their kitchen caught on fire.  She didn't make him stop, she just sent him to work outside.
This book teaches kids things like: creativity, problem-solving, tenacity, grit, patience, rejection, and hard work.  I'd highly recommend this book for kids who have a love for rockets, inventions, water guns, and a mind for creativity.  Also great for studying Black inventors.  I think they will enjoy learning about the many challenges Lonnie faced and how he solved his problems.  A fun summertime read!
Lonnie Johnson, Inventor of the Super Soaker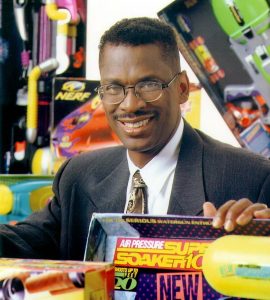 About the Author
Chris Barton is the award-winning, New York Times best-selling author of several books for children, including Shark vs. Train and the Day-Glo Brothers: The True Story of Bob and Joe Switzer's Bright Ideas and Brand-New Colors.  He lives in Austin, Texas.
About the Illustrator
Don Tate is an award-willing author and illustrator of many books for children.  His illustrated books include: The Cart That Carried Martin and Hope's Gift.  He is also both author and illustrator of It Jes' Happened: When Bill Traylor Started to Draw as well as Poet: The Remarkable Story of George Moses Horton.  He lives in Austin, Texas.
Disclaimer: I received a copy of this book in exchange for an honest review.  All opinions expressed are my own.
Your turn: Are you looking forward to reading this book with your little readers?  Feel free to share in the comments.