What is a Child? by Beatrice Alemagna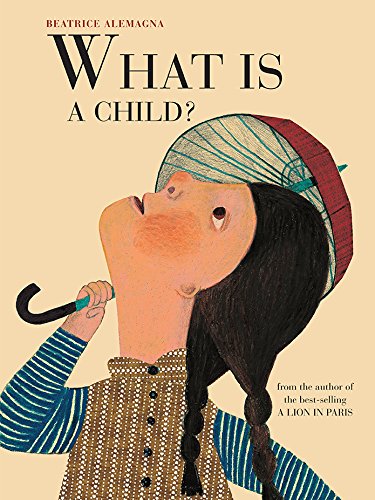 Age Range: 3 – 8 years old
Book Format: Hardcover
Pages: 36
Publisher: Tate Publishing
Available for pre-order now, on sale (in the US) September 20, 2016!
Synopsis (from Amazon)
From the bestselling author of A Lion in Paris comes this beautifully illustrated celebration of what makes each child unique. Through bold and sensitively observed portraits and a thought-provoking text, Beatrice Alemagna inspires children, and adults reading with them, to consider their own identity. Destined to become a classic, What Is a Child? is a must-have for every school, library, and bedside table.
Reflection
Wow!  I am completely in LOVE with this stunning oversized picture book!  It describes different traits and characteristics that make each child unique. It also compares children to adults in various ways using some of the most beautiful text that really makes you stop and think.
For example, it talks about how children are in a such a hurry to grow up so they can be free and decide everything for themselves.  I remember being a kid and having the desire to be a grown up.  The part of growing up that always excited me, was the freedom.  Most children are often blissfully unaware of all the responsibilities that come with the freedom they so eagerly seek – the mortgage, utility bills, and insurance to name a few.  Now that I've been a grown-up for many years, I long for the days of being a care-free kid again.  How about you?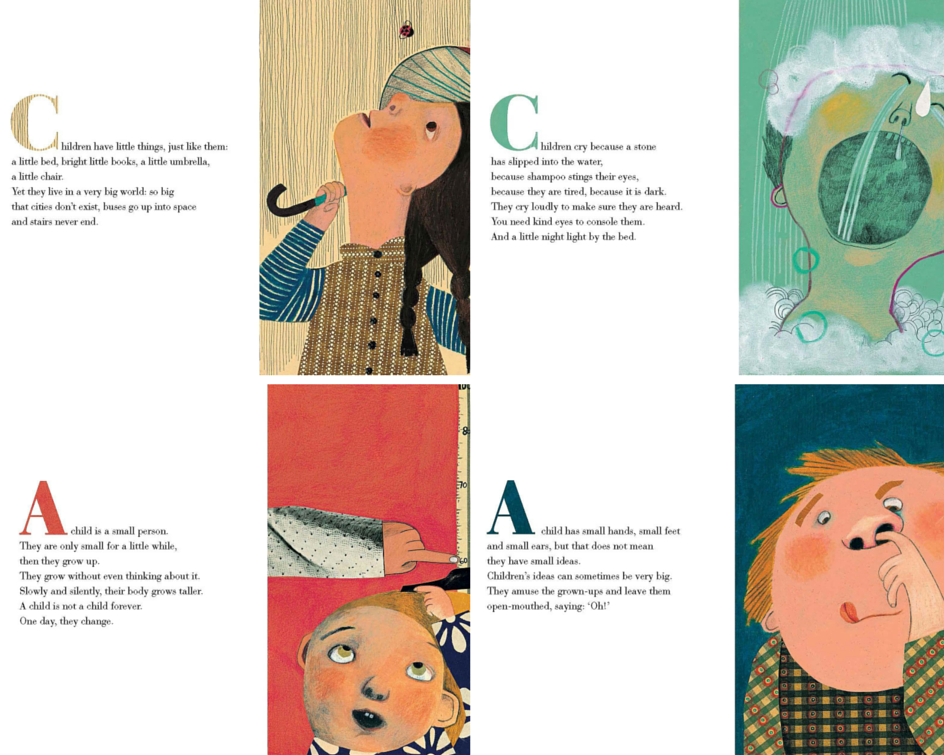 The book also touches up children's inability to control their emotions.  Children immediately act based on their emotional response.  They cry when their stone has slipped into the water or because shampoo stings their eyes.  Grown-ups on the other hand, have learned how to control their emotions so they hardly ever cry even when shampoo gets up their nose.  Most grown-ups know how to keep their emotions in check when they become agitated and wait until an appropriate time in which they are calm and collected with the best setting to discuss contentious matters.
I think the author does an excellent job highlighting the fact that all children are unique and come in all shapes and sizes.  There is a lovely array of diverse children pictured throughout that I really appreciate.  In addition, I also love that the author mentioned that although children are small, that does not mean they have small ideas.  Children's ideas can sometimes be very big and life-changing.  This is especially true today in a time where there are more children entrepreneurs than ever before in history.
I find the illustrations in this book to be simply stellar!  Each one is original, colorful, expressive, and intricate making each page a delight to look at.  When I initially received this book, I kept returning to it over and over to savor its visual delights.
Overall, I think this is a great read for both children and adults alike to enjoy together.  This is undoubtedly the best thought-provoking picture book of 2016 I've read thus far!  A gorgeous book that is a must-have for your home library or school.
About the Author
Beatrice Alemagna, grew up in Bologna and now lives in Paris.  She has created about thirty books which have been published all around the world.
Disclaimer: I received a copy of this book in exchange for an honest review.  All opinions expressed are my own.