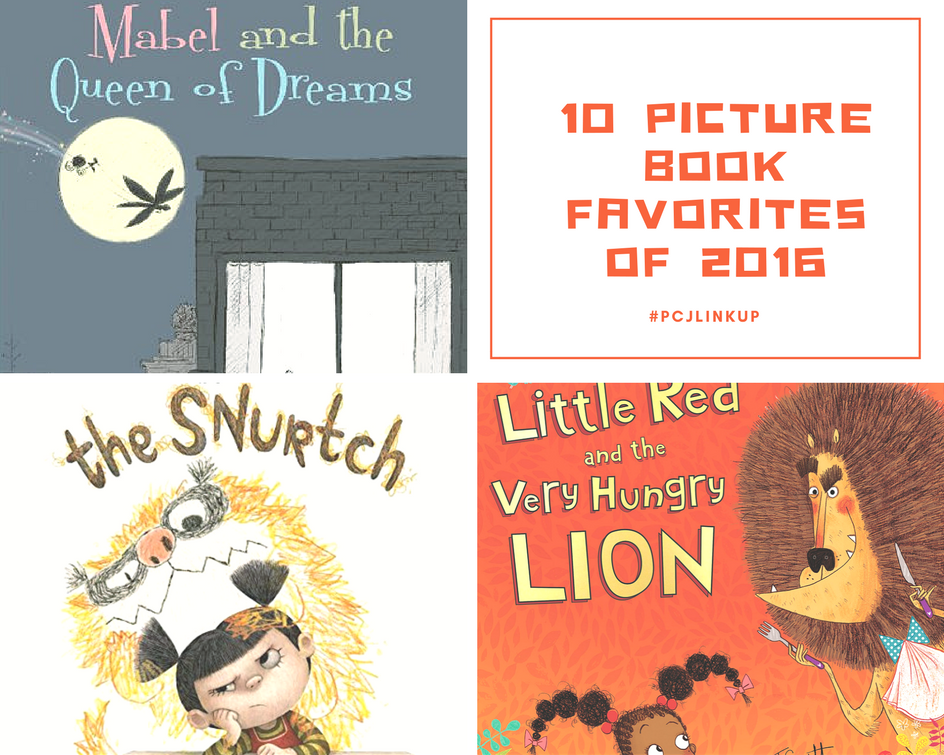 I am SO excited to welcome an AMAZING group of authors and bloggers today to Here Wee Read as we all discuss some of our favorite children's books of 2016 (so far)! Each of us have written about one book; simply follow the links included at the bottom of each of our posts to see the remaining recommended list! You can find more about who we are at the bottom of this post.
This year has certainly been a great year in the picture book world. And while the kids and I have many 2016 favorites, the book I've chosen to feature has so many great things about it so I couldn't pass up the opportunity to write about it. Enjoy!

Little Red and the Very Hungry Lion by Alex T. Smith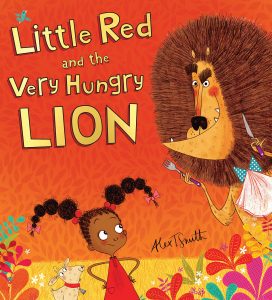 Publisher: Scholastic Press
Format: Hardcover
Pages: 32
Age Range: 3 – 5 years old
Grade Level: Preschool – Kindergarten
Synopsis
Little Red is on her way to visit Auntie Rosie with a basket of goodies and some spot medicine. Along the way she meets the Very Hungry Lion. The Lion is eager to gobble up Little Red. The Lion's plan doesn't work out the way he wanted.
Little Red and the Very Hungry Lion is a fractured fairy tale version of Little Red Riding Hood. It's a classic fairy tale with a safari twist!

Reflection
The kids and I are totally crushing on the character Little Red in this adorable, funny and witty retelling of Little Red Riding Hood with a cultural twist.  This book features a little Black girl (with the cutest two pigtails you ever did see) playing the part of Little Red.  The story has an African Savannah setting with a very lush landscape.
Instead of going to visit Grandma, Little Red goes to visit her auntie who is sick and covered in spots.  Little Red decides to visit and bring her auntie some "spot medicine" along with a basket of goodies.  She sets off on her trek across the safari, going under tall giraffes, over sleeping crocodiles, past chattering monkeys, and meerkats before deciding to rest under a shady tree. Of course, waiting under that same tree is the very hungry lion.  With quick thinking, he devises a "clever" plan to get to auntie's house first.  His plan is to hide auntie in a closet, dress up and pretend to be her and then eat both Little Red and her auntie for dessert.  But Little Red is one smart cookie and gives the lion a run for his money.
Little Red gives the lion a new hairstyle complete with cornrows and pretty little red bows tied on the ends.  She brushes his teeth and dresses him in a ruffled dress with pink hearts.  The lion gets fed up and he lets out a huge roar yelling "STOP!", but that's not enough to scare Little Red.  In the end, the lion and Little Red make a pact and become friends.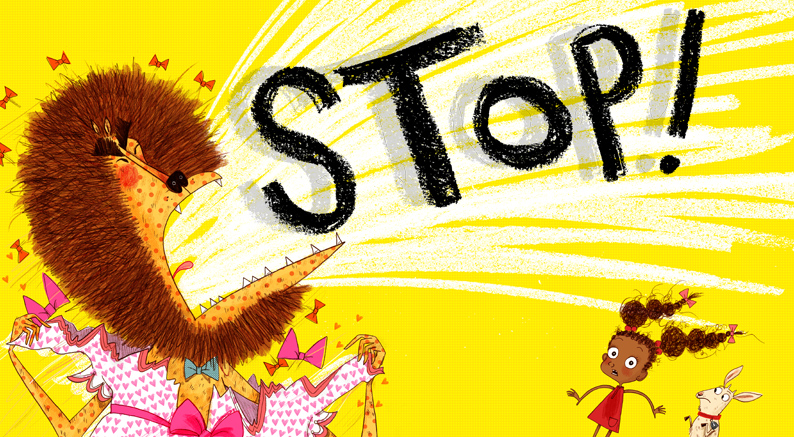 I think the humor coupled with the bright and colorful illustrations work so well together in this book.  I laughed so loud when Little Red braided the lion's hair and when she put that dress on him!  The expressions on the characters faces are brilliant and downright hilarious.  I think every element of this book was done to perfection.  From the beautiful gold embossed details on the cover to the text and illustrations to the end papers – you truly can't go wrong with this one. A winner! Definitely one of our favorites for this year so far.
Ready for the rest of our 2016 recommendations? Just follow the links!