How to Find a Fox by Nilah Magruder

Publisher: Feiwel & Friends
Pages: 40
Format: Hardcover
Age Range: 4 – 8
Grade Level: Preschool – 3rd Grade
Available for Sale: November 15, 2016 pre-order now!
Synopsis
Equipped with a camera and determination, a little girl sets out to track down an elusive red fox. But foxes are sneaky, and it proves more difficult than she thought.
Nilah Magruder's debut picture book charmingly tells the story of what it means to not give up and how sometimes what you're looking for is closer than you think.
Reflection
When it comes to children's literature, folk tales and songs, foxes are usually portrayed as 'the bad guys'.  Their sly nature often results in illegal activities, so it's not uncommon to see a fox portrayed as a thief or con-artist in children's books or movies.  Sometimes though, foxes are heroes of certain stories like in Roald Dahl's Fantastic Mr. Fox.  Being a member of the dog family and having a reputation of being sneaky and mean, the fox is actually and animal of intelligence and fortitude.  That's exactly how the fox in this adorable book is portrayed.
Equipped with her camera and yellow backpack, the little girl in this book is determined to find a fox – any fox will do.  She provides little readers with a list of simple instructions like: find a fox hole, place your fox bait somewhere easy to spot, then hide and wait very quietly.  When her plan doesn't go quite as expected, she decides to climb a tree to get a change of perspective.  That's when she finally sees the fox, but he gets away – again!  Just when she's on the verge of giving up is when she realizes what she's looking for is a lot closer than she thinks.  Does she finally find the fox in the end?  You'll have to read it to find out.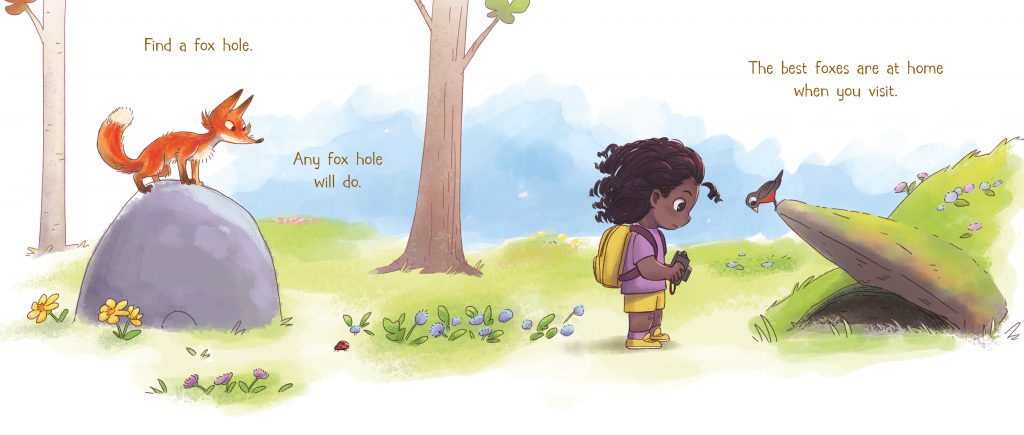 The kids and I really enjoyed reading this book and pouring over the charming illustrations.  They especially liked all of the funny and clever things the fox did when the girl was searching for him.  The fox is shown blending in taking a photograph with a family of raccoons and hiding in a tree with an owl (hilarious!).  All the while, the animals in the forest (the mouse and the birds) see the fox, but the little girl doesn't.  At the turn of each page, the kids kept laughing, pointing and shouting, "There he is!" as if the little girl can hear them.  This is such a fun book to read aloud with them for that reason.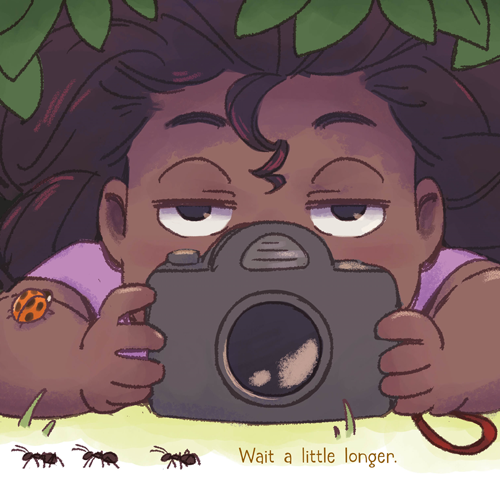 Overall, I think this is a fun book with excellent messages of patience, determination and perseverance for little readers.  Add this one to your list of books to read with your children when it publishes in November!
Connect with Nilah Magruder!
Website | Twitter | Facebook
Your turn: Are you excited to read this book when it comes out?  Feel free to share in the comments.