Empty Shoes by Denise N. LaRosa, illustrated by Nicholas Manning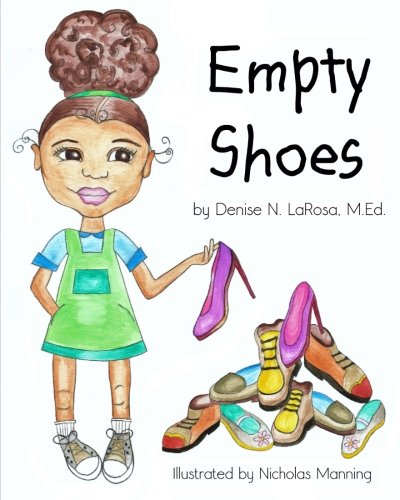 Format: Paperback
Pages: 32
Synopsis
Catherine is sweet, caring, adventurous, vivacious, smart and fun. As the baby of the family, she made her first attempt to outshine her big sister by auditioning for the lead in her school's play. Catherine is heartbroken whenever she discovers that she didn't get the part. Like many girls, she finds an escape by trying on shoes, and is pleasantly surprised to realize a valuable life lesson in her "sole."

Reflection
There are several quotes about "walking in someone else's shoes."  I'm sure we've all heard the sayings like, "You can't understand a person until you have walked a mile in their shoes" and "Before you criticize a man, walk a mile in his shoes."
This sweet book is based upon the idiom of stepping into someone else's shoes.  After finding out she wasn't selected to be part of the cast in her school play, little Catherine is crushed.  She feels like such a failure and decides she wants to be someone else.  When she gets home she finds escape by trying on a pair of each of her relatives' shoes that are sitting by the front door.
Catherine thinks that my stepping into someone else's shoes she can see or experience something from someone else's point of view and see what it's like to be that person.  She tries on her parents' shoes, her sisters' shoes, Nanna's shoes and her Uncle Nathan's shoes.  In the end, Catherine realizes she likes her shoes best of all.
"Now these shoes feel very familiar.  The sparkles in the light make a nice glimmer.  Some mud on top, some sticky gum below.  They feel just right upon my toes."
I think this is a wonderful book that can be helpful when teaching kids about empathy and the concept of understanding what it's like to be someone else.  From the cute and whimsical illustrations, kids will easily understand that trying on a pair of another person's shoes doesn't make them turn into that person or even experience life the way they do.  For some kids, it is really hard to put themselves in someone else's shoes and understand the other person's perspective.  I cannot blame them, this is a high level skill if you really think about it, but I think this book does a great job teaching that concept through both the fun, rhyming text and illustrations.
The overall message I took away from this book is: we never know the struggles, the challenges, the heartache, the pain…or the joys, or opportunities of other people unless we feel what it's like to BE them.
About the Author
Denise N. LaRosa, M.Ed. is the founder, host and CEO of Mom Talk with Denise LaRosa, LLC, a multimedia platform designed to motivate, inspire and inform mothers along their journey in motherhood.  Denise utilizes her parenting experiences and background as an elementary educator to bring mothers invaluable information and resources on parenting through her podcast, blog and workshops.
Website | Twitter | Facebook | Podcast
About the Illustrator
Nicholas Manning is a secondary language arts teacher, freelance writer and illustrator living in Pittsburgh, PA. Nicholas has been drawing and painting since his childhood and cherishes the creative outlet that his artistry provides.
Your turn: Have you read this book with your little readers yet?  Feel free to share in the comments.