Welcome to the Club: 100 Parenting Milestones You Never Saw Coming by Raquel D'Apice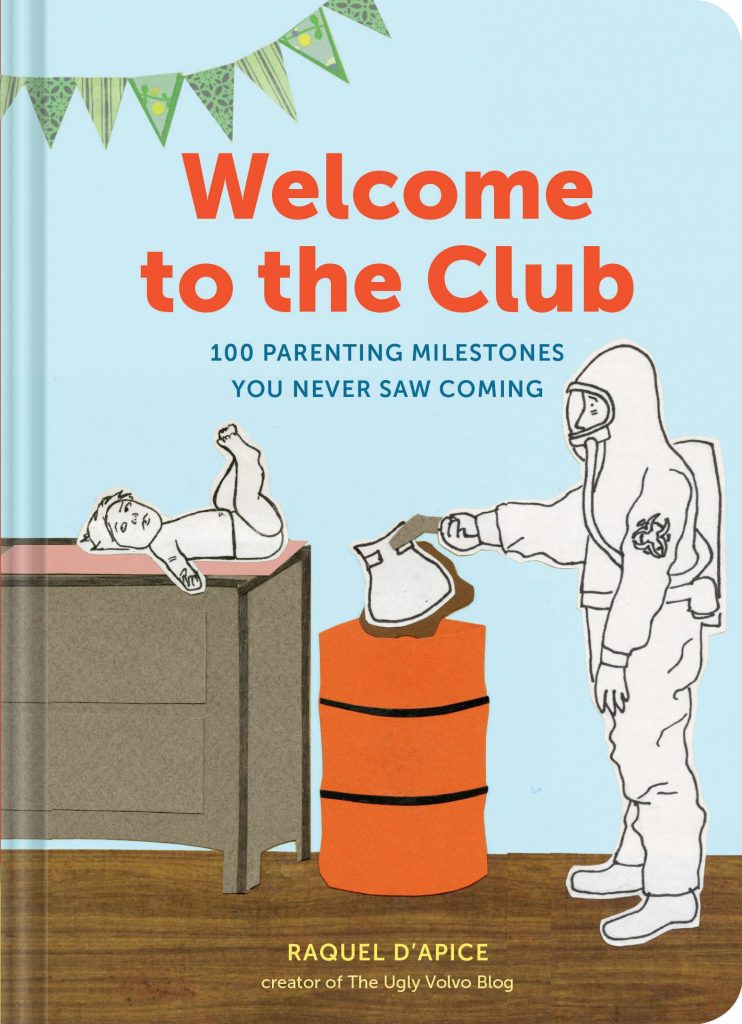 Publisher: Chronicle Books
Format: Hardcover
Pages: 144
Available for Sale: September 20, 2016
Synopsis
From the comedian behind the popular parenting blog The Ugly Volvo comes a refreshing spin on the baby milestone book. Instead of a place to lovingly capture the first time baby sleeps through the night, this book shows what it's like the first time baby rolls off the bed/sofa/changing table, leaving mom or dad in a state of pure terror (it happens). These 100 rarely documented but all-too-realistic milestones—such as "First Time Baby Says a Word You Didn't Want Her to Say"—provide comfort, solidarity, and comic relief for new parents. Laugh-out-loud relatable text and distinctive paper-cut illustrations of these "bad" parenting moments make this a must-have book for anyone entering the mysterious club of parenthood.

Reflection
In the introduction of the this book it says, "This is a book to let you know there will be different levels of hardships – some that you'll handle with a smile and a good-natured eye roll, and some that will make you sob hysterically into your phone because you want your old life back."  This couldn't be more far from the truth.  It also states, "This is not a book designed to be read all in one sitting, because the phase of your life when you could read things all in one sitting is probably behind you."
Oh, the joys of parenthood!  Four years ago, I became a parent for the first time when I gave birth to my daughter and then my son just 15 months after that.  Needless to say, I was in "baby mode" for two and a half years back-to-back with no breaks.  It was a constant whirlwind of breastfeeding, pumping, changing diapers, doing laundry and going to countless doctor's appointments.  While there were many fun times mixed in, I'm glad the kids are bigger now and more independent.  Don't get me wrong, I know there are many more fun and challenging days of parenting ahead of me, but I feel like I've turned a major corner in some ways so I'm enjoying it while it lasts.  Reading books like Welcome to the Club helps remind me that any parenting issue I'm going through is real and normal and it too shall pass.  It's the parenting book I wish someone had given me along with all the other traditional ones I received. Did I mention how funny this book is?
This book is broken down into a few different sections that contain all-too-realistic parenting milestones:

The Early Days  This section is downright hilarious and brought me back right to the first year of parenthood.  Some of the topics include: First Time Packing a Diaper Bag, First Time You Try to Install a Car Seat, First Outing with the Baby When You Forget Something Crucial and First Time You Have the Thought "What If Having a Baby Was a Mistake?"
Oops  Accidents happen, right?  This section highlights some of the funny "firsts" that can happen when you have a new baby including: First Time Your Child Rolls Off the Bed/Sofa/Changing Table and First Time You Forget to Lock the Wheels on Your Stroller
This Is Disgusting.  Please Send Reinforcements No one ever tells you about all the disgusting things that can happen when you become a parent like: Baby's First Ungodly Poop Explosion, Baby's First Poop Explosion When She Reaches Down and Gets It on Her Hands, First Time You Pee on Yourself and who can forget Baby's First Poop in the Bathtub!
Interactions with Other Adults Funny topics from this section include: First Time You Have to Spell Something Out So the Baby Doesn't Realize What You're Talking About, First Date When You Try Desperately to Not Spend the Entire Date Talking About the Baby and First Time You Post a Photo of the Baby to Facebook and It Gets More Likes Than Anything You've Ever Done…so true!
Eating, Sleeping, and Other Total Disasters Remember some of these firsts? First Time Your Baby Sleeps Through the Night, First Time Your Child Refuses to Eat Something, First Time Flying with a Baby and First Time Taking Your Child to a Restaurant
Minor Panic Attacks I can definitely relate to some of these topics: First Time Leaving Your Baby with a Babysitter, First Doctor's Visit Where the Baby Has to Get Shots, First Time You Meet a Kid Your Child's Age Who is Way More Advanced Than Your Child and First Time You Drop Off Your Child at Day Care and Second-Guess Everything About Your Life…that was so me!
Toys, Games, and Other Vague Attempts at Recreation Here are some of my favorite topics from this section: First Time You Realize That Some Expensive Toy You Loved (and Hoped Your Daughter Would Love) Is Ignored Because She Has Fallen in Love with Some $3 Piece of Garbage, First Time You Start to Hate One of His Books and First Game of Peekaboo That Lasts for What Feels Like Forever…yes, forever!
Stolen from the Traditional Baby Book This section highlights some of baby's traditional "firsts" in a hilarious way like: First Smile (This Isn't Gas), First Tooth, First Time Sitting Up and First Word…both of my kids first word was "dada" – go figure when I did most of the work!

"It All Goes By So Fast!" Kids do indeed grow up so fast, but doesn't it annoy you when people tell you to "enjoy it because it all goes by so fast?"  This section highlights this topic and others including: First Time You Bribe Your Child and First Time Your Child Refuses to Share
Stuff You Never Saw Coming The final section of this book discusses additional things you never saw coming the day you agreed to become a parent like: First Time You Realize That 90 Percent of Your Phone Memory Is Photos/Videos of Your Child, First Time You See Another Parent You Previously Would've Judged Harshly and You Just Feel Sorry for Them and First Time Your Child Says, "I Love You"…awww!
Being a parent can be tiring and challenging.  Over the years I've been pooped on, peed on and thrown up on.  Our family expenses have increased as have the laundry and the dishes.  My life seems to move a lot slower with kids (mealtimes, running errands, etc.) and sometimes my time, my body, and my brain does not feel like my own.  I've experienced so many of the things mentioned in this book.  And yet there are so many things that far outweigh the lack of sleep and the constant ring of crying in my ears.  This book helped me remind me that no matter how tough (and funny) the job of parenting can be, it's worth it.  Every. Single. Second.  Gift this book to a mom-to-be to help her laugh on the days when she feels like crying during the first year of parenthood.
About the Author
Raquel D'Apice is a humor writer and founder of the popular blog The Ugly Volvo.  She lives in New Jersey with her husband and son.
Your turn: What's your funniest parenting milestone moment?  Feel free to share in the comments.