Even Superheroes Have Bad Days by Shelly Becker, illustrated by Eda Kaban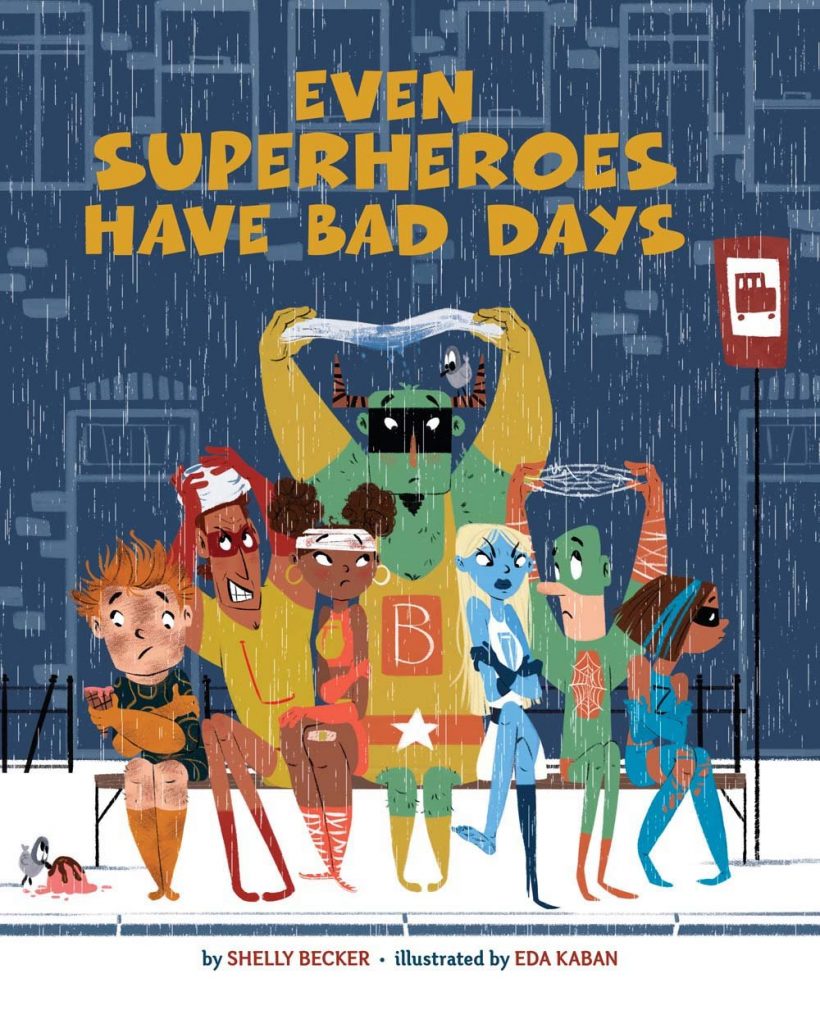 Publisher: Sterling Children's Books
Format: Hardcover
Age Range: 3 – 9 years old
Grade Level: Preschool – 3
Pages: 40
Available for Sale: September 6, 2016
Synopsis
All kids have trouble getting a grip on their emotions, sometimes—even young superheroes! But what do they do when they're having a bad day? Colorful action-packed illustrations and a dynamite rhyming text reveal the many ways superheroes (and ordinary children, too) can resist the super-temptation to cause a scene when they're sad, mad, frustrated, lonely, or afraid. From burning off steam on a bike or a hike, to helping others, this energetic picture book has plenty of fun ideas to help kids cope when they're feeling overwhelmed.
Reflection
Oh, what a fun book this is!  The fun starts as soon as you open up the book and see the beautifully illustrated endpapers which introduces the dynamic cast of superhero characters: Beastie, Zing, Thrash, Laserman, Magnifique, Screecher, Typhoon and Icky.  Next, the whimsical rhyming text of the book starts off:
"When Superheroes don't get their way,
when they're sad, when they're mad, when they've had a bad day . . .
. . . they COULD super-tantrum, they COULD but they DON'T,
because REAL Superheroes just WOULDN'T—they WON'T!"
It then goes on to talk about all the things superheroes could do when they have bad days.  Finally, the book concludes by telling kids how superheroes cope when they experience an occasional "bad day".
"And using their talents as true heroes should,
they battle the urge to do harm (though they could).
They acknowledge their sorrow, their anger, their pain,
as they wait for their super-emotions to wane."
In addition to the rhyming text, my kids love looking at all of the action taking place in each illustration.  They get a kick out of the superheros causing (potential) destruction all around town like the superhero shown kicking over the fire hydrant on the first page.  They laugh out loud every single time.  I think the illustrations are so well thought out, colorful and detailed.  I also appreciate the illustrator using a diverse set of superhero characters including a mixture of males and females in all different shapes and sizes.
Overall, I think this book does a wonderful job teaching little readers it's okay to show their emotions like: frowning, sighing, throwing tantrums and crying.  Also, I think parents will appreciate the fact that this book can be used to help children understand their feelings and what it means to have a "bad day".  In addition, parents can use this book as an opportunity to teach their children how to cope with stress and handle situations that are less than ideal in their eyes. These are important skills they will need as adults.  Check out this fun book out with your little superheroes!
About the Author
Shelly Becker is the author of Mine! Mine! Mine! which has appeared on several lists showcasing the best books that teaches the concept of "sharing".  Shelly has also written more than 15 children's novelty books for Tormont, and sold stories and poems to Highlights for Children and Hopscotch for Girls magazine.  She lives in Montreal, Canada.
About the Illustrator
Eda Kaban has done work that can be seen in galleries throughout California in a variety of publications.  Her illustrations have been recognized by the Society of Illustrators, Creative Quarterly, and 3X3.  She was born and raised in Turkey and lives in San Francisco, CA.

Your turn: How do you help your children cope when they have "bad days"?  Feel free to share in the comments.