The Three Lucys by Hayan Charara, illustrated by Sara Kahn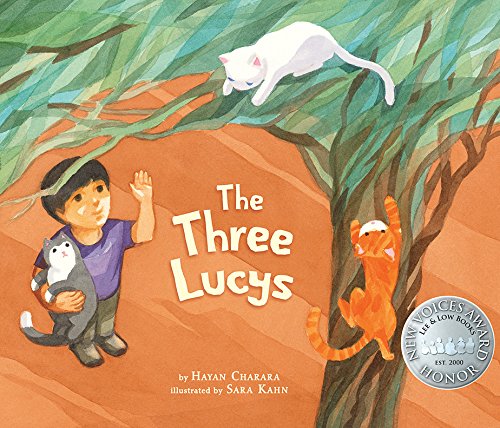 Publisher: Lee and Low Books
Format: Hardcover
Age Range: 8 – 12 years
Grade Level: 3 – 7
Synopsis
Luli likes to sit in the shade of an olive tree with his beloved cats: Lucy the Fat, Lucy the Skinny, and Lucy Lucy. But when Luli and his parents go to the city to see his aunt and uncle one weekend, the cats must stay behind at home.
After a fun visit with family, Luli is looking forward to going home and seeing the Lucys. But then Luli's hometown comes under attack and the family must seek refuge at his aunt and uncle s house. Luli doesn t understand what is happening and worries about his pets. Who will keep the three Lucys safe? And when will he and his family be able to return home?

Reflection
This is such a well-written and beautiful book! It's based on true events that took place in the summer of 2006 when a war broke out on the border between Lebanon and Israel. It's referred to as the July War by the Lebanese. This book explores the reality of war in the Middle East and what it means to be displaced, as told through the eyes of a child, a little boy named Luli.
Luli and his family take a weekend trip to visit his aunt and uncle in Beirut, Lebanon. The family leaves their three pet cats all named Lucy at home.  There's Lucy the Fat, Lucy the Skinny and Lucy Lucy who likes to eat hummus. When Luli and his family arrive back home, they are terrified to see bombs flying in the air.  They decide to head back to Beirut to hide in the aunt and uncle's basement since there is destruction all around their house.
Meanwhile, all little Luli can think about is his cats – the three Lucys.  Are they safe? Who will pet them and tell them everything will be okay?  A grueling thirty-four days pass before a cease-fire is declared and the family decides to go back home.  They return to a neighborhood they don't recognize. Everything is in shambles and has been completely destroyed. The family and everyone around them must rebuild and start anew. And what about the three Lucys? You'll have to read it to find out how the story ends.
Due to the young age of my children, I didn't read this one aloud with them.  Instead I read it on my own and absolutely loved the realness of it.  Be warned: this book is a bit sad and it's tough to read at times, but it's real life.  By the end of the book I think little readers will be filled with a renewed sense of hope.
The illustrations are done in a dreamy watercolor palette using different shades of orange, blue and green.  I think the color choices used by the illustrator give this book a nice sense of warmth, calm and comfort despite the main topic of war.
I also think this book does a great job showing how quickly you can go from living a carefree life to losing virtually everything in a matter of minutes.  I love that despite everything Luli and his family lost, they still managed to hold on to the things that mattered most: each other, their memories, their hopes and their dreams.  They could still see the snow-peaked mountain, the salty sea, the valley and the city in the distance so all was not lost.  Little by little by working together their town started to come back to life.
This is a good quality book with themes of: war, history, loss, rebuilding, hope, healing, family and the power of the human spirit. Recommended for kids ages 8 and up.