Good Morning, City by Pat Kiernan, illustrated by Pascal Campion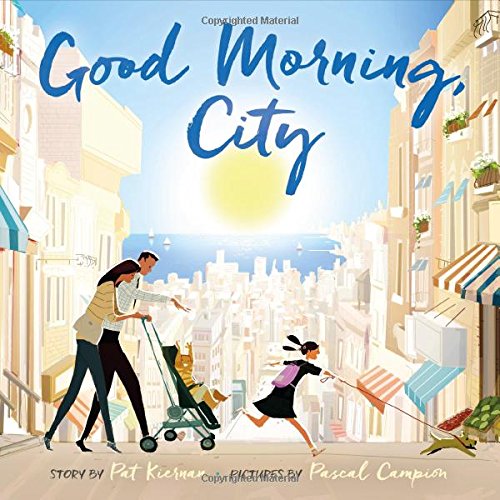 Publisher: Farrar, Straus and Giroux
Format: Hardcover
Pages: 32
Age Range: 2 – 6 years
Grade Level: Preschool – 2
Available for Sale: November 15, 2016  Pre-Order Now!
Synopsis
It's dark and quiet.
The moon still glimmers in the sky.
While the baker, the ferry boat captain, and the TV anchorman are busy at work, most people are cozily snuggled in bed. Then dawn's first light peeks through the tree branches. Wake up, city! There is much to be done in neighborhoods all across the metropolis. As the morning gets brighter, the city streets bustle with people ready to start the day.
Reflection
I love waking up early in the morning before the rest of the world does. I think it's so interesting to see towns and cities in the early morning light. The only other people you see are walking dogs with sleep still in their eyes, or the garbage people bustling about to beat the traffic that will soon impede upon them. And joggers. There are always joggers, right?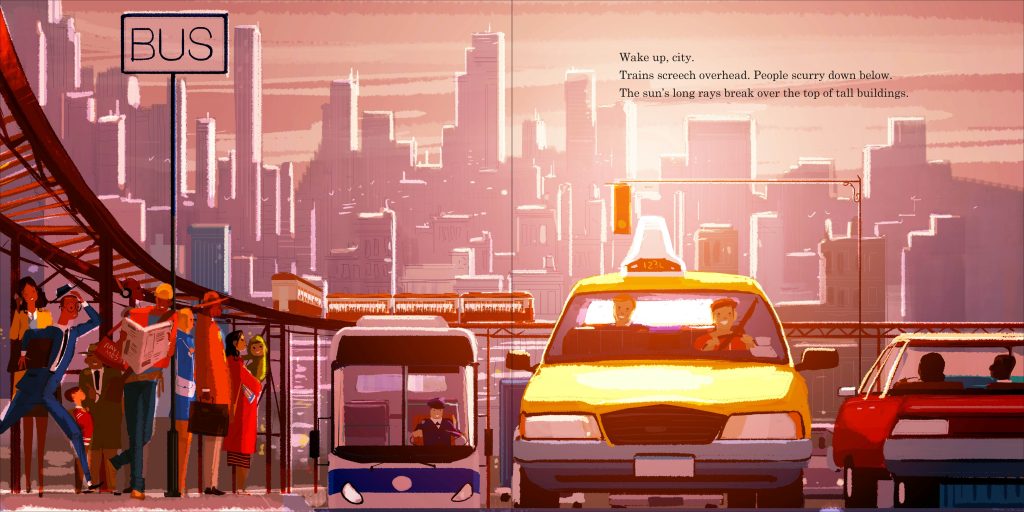 This beautifully illustrated book captures the essence of a busy city (which appears to be New York City) while it's still dark and quiet and the moon is glimmering in the sky. You see bakers kneading and baking bread, a newspaper carrier rushing to make her last deliveries, and a ferry boat starting its morning rounds. Wake up, city! A series of different events happen with people of all different skin tones bustling all about the city before the dawn's first light starts to peek through the tree branches. With each turn of the page, it gets progressively brighter and brighter outside until the sun fully rises at the end.
The illustrations in this book are stellar.  Pascal Campion's artwork creates a magical world of captivating colors and bright detailed textures.  This gently told story may help little readers get a different perspective of the streets they call home before the hustle and bustle begins each day.  Also great for teaching children about community helpers, following morning routines, different types of transportation and the differences between living in the city vs. the country.  This book is certain to become a story time favorite for children and their parents.
About the Author
Pat Kiernan has been waking up before dawn since 1997 and is a fixture on New York City television as the morning news anchor for NY1.  He has hosted nationally televised game shows and has appeared as himself in dozens of movies and TV shows.  He lives with his wife and daughters in Brooklyn, New York.
About the Illustrator
Pascal Campion wakes up in Los Angeles, California, where he lives with his wife and children.  He works in the animation industry and loves to tell stories through his art.  Learn more about him at pascalcampion.com.