Ada Twist, Scientist by Andrea Beaty illustrated by David Roberts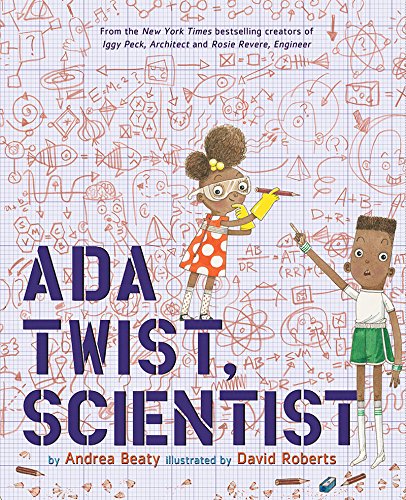 Publisher: Abrams Books for Young Readers
Grade Level: Kindergarten – 2
Age Range: 5 – 7 years
Format: Hardcover
Pages: 32
Synopsis (from Amazon)
Like her classmates, builder Iggy and inventor Rosie, scientist Ada, a character of color, has a boundless imagination and has always been hopelessly curious. Why are there pointy things stuck to a rose? Why are there hairs growing inside your nose? When her house fills with a horrific, toe-curling smell, Ada knows it's up to her to find the source. Not afraid of failure, she embarks on a fact-finding mission and conducts scientific experiments, all in the name of discovery. But, this time, her experiments lead to even more stink and get her into trouble!
Inspired by real-life makers such as Ada Lovelace and Marie Curie, Ada Twist, Scientist champions girl power and women scientists, and brings welcome diversity to picture books about girls in science. Touching on themes of never giving up and problem solving, Ada comes to learn that her questions might not always lead to answers, but rather to more questions. She may never find the source of the stink, but with a supportive family and the space to figure it out, she'll be able to feed her curiosity in the ways a young scientist should.
Iggy Peck and Rosie Revere have earned their places among the most beloved children's characters, and they have inspired countless kids and adults to follow their dreams and passions. Now in her own charming and witty picture book, determined Ada Twist, with her boundless curiosity for science and love of the question "Why?," is destined to join these two favorites.  The book is the perfect tool to remind both young girls and women that they have the intelligence and perseverance to achieve their dreams.
Reflection
I could hardly contain my excitement when an advanced copy of this book showed up on my doorstep.  I honestly don't remember being so excited to read a children's book before.  The reason behind my excitement is two-fold: 1. I am a huge fan of Iggy Peck, Architect and Rosie Revere, Engineer so that automatically made me have high expectations for this book.  2. Ada Twist is a little Black girl and she's also a fellow scientist!  No, I'm not a scientist, but I majored in Computer Science in college and graduate school…that counts, right?
"Ada Marie! Ada Marie!
Said not a word till the day she turned three.
She bounced in her crib and looked all around,
observing the world but not making a sound."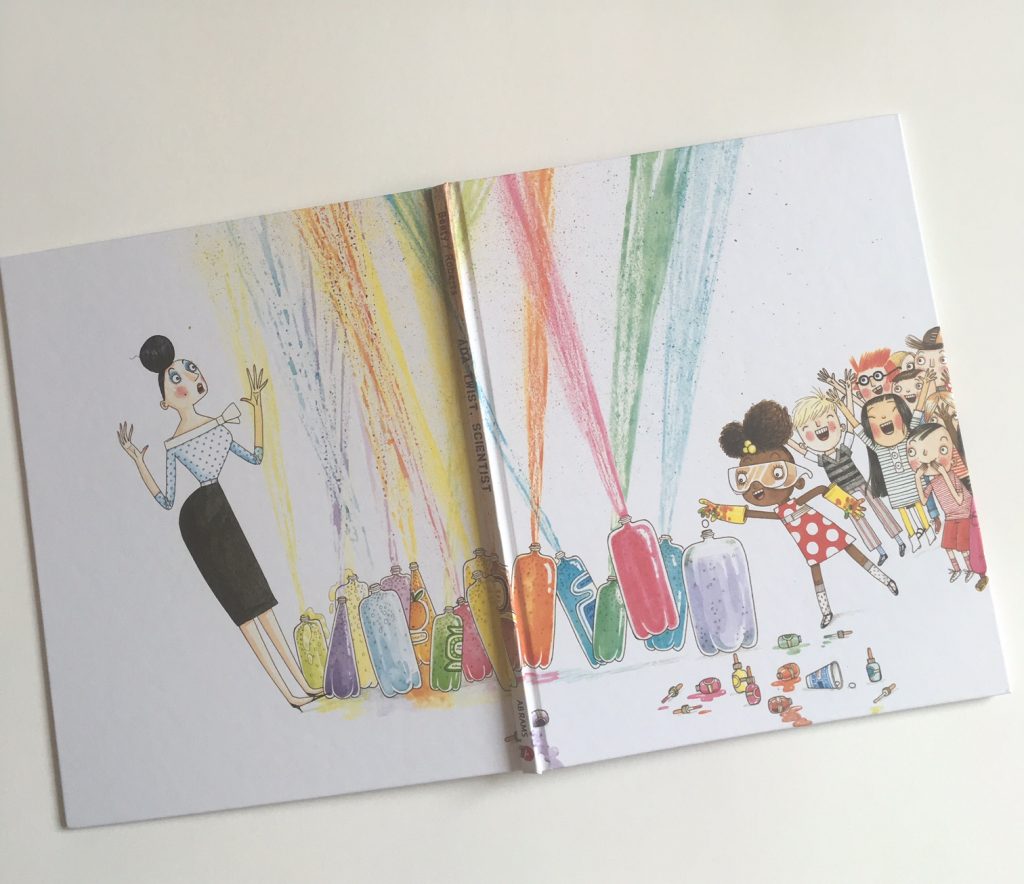 As you can tell from the opening paragraph of this book, Ada didn't utter a word until she turned three years old.  When she finally did talk the first word she said was, "Why?".  She's a rather curious child who wants to know everything.  Ada's curiosity gets the best of her both at school and at home.  Fed up with all the chaos and havoc, Ada's parents put her in "time out" and send her to the thinking chair.  In the end, Ada's parents learn to accept her for who and what she is: a young scientist.
To say we enjoyed this book is an understatement.  We absolutely LOVE it!  I knew it was going to be just as good as the other two books in the series.  From the cadence to the illustrations to the overall plot, I'm smitten by Miss Ada Twist and so are my kids!  We read it three times in a row the first night we received it and have been reading it nonstop at bedtime since.
After looking through the two previous books, I noticed that Ada Twist appeared along with all of the other classmates!  (One subtle difference I noticed is in Rosie Revere, Engineer Ada has a gap in her two front teeth.  However, in Ada Twist she doesn't.  Not sure if it's actually a gap or just missing teeth that didn't grow in yet.  In Iggy Peck Ada isn't shown smiling so you can't tell if the front tooth gap is present in that book or not.)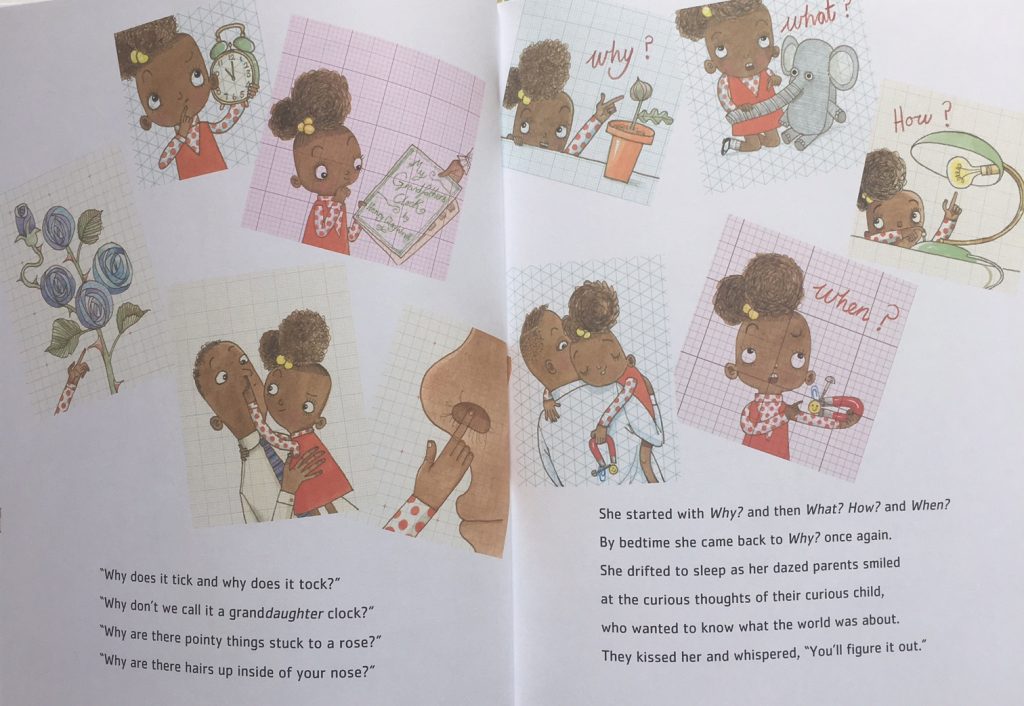 How interesting that all three characters are in all three of the books!  I honestly never realized Iggy Peck made an appearance in the Rosie Revere book until recently.  Knowing this now makes me wonder if this series continues which classmate will be the protagonist of the next book.  I'm so curious to know more about all of the remaining 14 kids in Miss Lila Greer's second grade class.  Aren't you?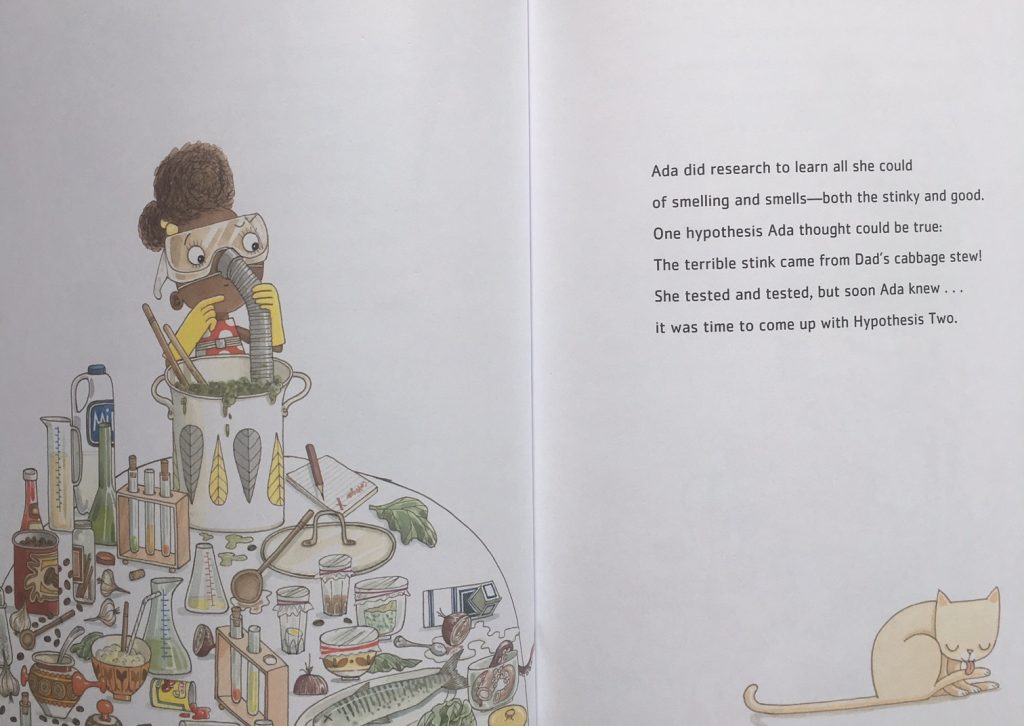 Overall, this book is a delight to read with stellar illustrations to match.  It teaches little readers about problem solving, perseverance, science, working together as a family and challenges them to have a sense of curiosity like Ada.  I don't know about you, but I appreciate curious children who constantly question why things are the way they are.  Highly recommended for kids ages 4 and up.
Disclaimer: I received a complimentary copy of this book from the publisher.  However, all opinions expressed are my own.
Your turn: Are you looking forward to reading about Miss Ada Twist?  Feel free to share in the comments.