School's First Day of School by Adam Rex, illustrated by Christian Robinson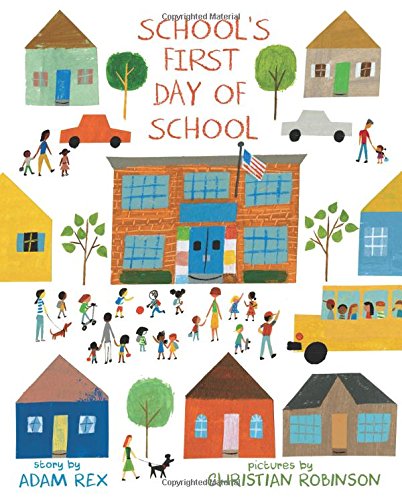 Publisher: Roaring Brook Press
Pages: 40
Format: Hardcover
Age Range: 4 – 8 Years (Preschool – Grade 3)
Available for Sale: June 28, 2016
Synopsis (from Amazon)
It's the first day of school at Frederick Douglass Elementary and everyone's just a little bit nervous, especially the school itself. What will the children do once they come? Will they like the school? Will they be nice to him?
The school has a rough start, but as the day goes on, he soon recovers when he sees that he's not the only one going through first-day jitters.
Reflection
This amazing book urges readers to imagine what the first day of school must be like for their school.  We all know most kids are filled with anxiety and nervousness on their first day of school, but let's look at it from the school's perspective, shall we?
Think about it.  Have you ever wondered what your house or your car would say if they could talk?  Would they tell on your kids for spilling that apple juice in the back seat or your dog for once peeing in the plant again?  Would your walls be quite sullen as they've been long ignored – with outdated wall paper, old finger prints and sad paint?  I know I've certainly pondered this question before since houses, apartments, buildings, cars and even schools store memories of our lives.
The book starts off showing a picture of the brand new elementary school that was just built – Frederick Douglass Elementary School.  The school is happy with a big smile plastered across his face – he's proud of how great he looks after all the hard work that went into building him.  The school is happy that he has his friend the janitor to take care of him and keep him clean.  He's quite content with the school being occupied with just the two of them in the days leading up to the first day of school.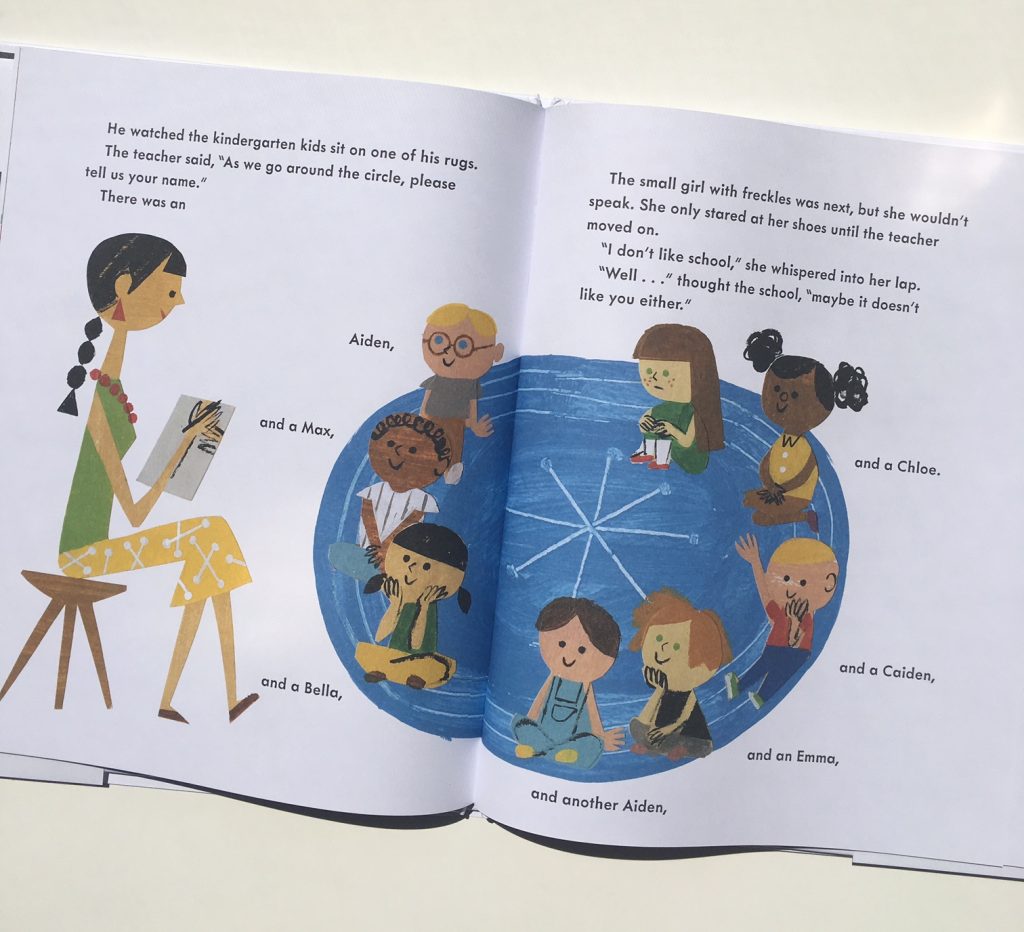 When the school finds out there will be lots of kids and teachers occupying his space, he becomes nervous.  What will they think of him?  Will they like him?  Will he live up to their expectations?
At first, the school is excited to have so many people there, but when he overhears kids saying things like, "I don't like school" and "This place stinks" he starts to feel very sad and frustrated.  He even squirts a kid in the face from the water fountain, but feels bad about it afterwards.  In the end, the school tells his friend janitor all about his first day.  Surprisingly, he asks the janitor to invite all of the kids and teachers to come back tomorrow.  The janitor tells the school how lucky he is to be a school and the school thought he was probably right about that.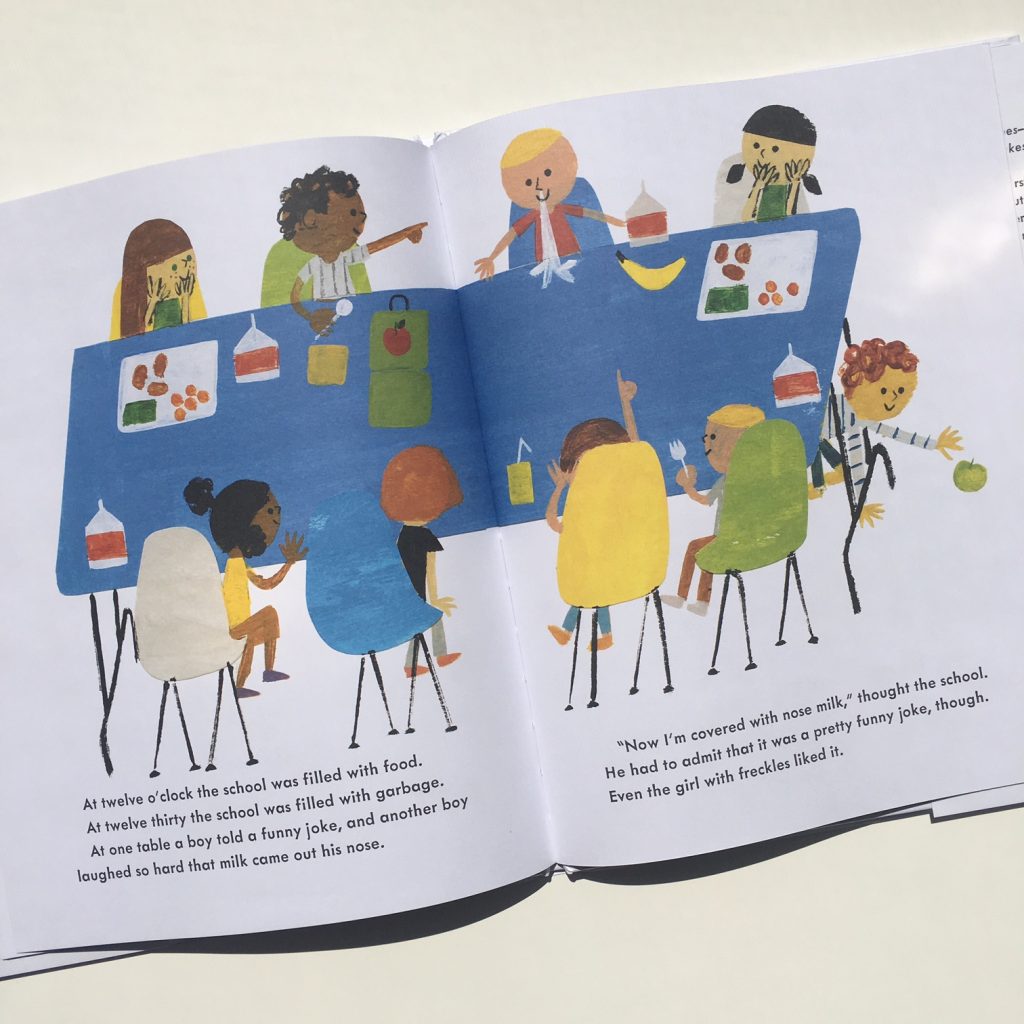 The kids and I adore this book.  I love the fact that this story is told from the perspective of the school and not the kids.  Not only does it make me wonder what objects could say if they could talk, but it also makes me want to take even better care of the things that I own as well as the school my kids attend.  I love how the janitor took care of the school to keep him clean.  True story, after reading this book the first time I immediately went upstairs and folded a load of laundry that I had sitting in the dryer since the previous night.  I was thinking what the clothes and the dryer would say if they could talk!
The bight and colorful illustrations in this book are exceptional!  This book also has lots of diversity.  The kids are all different colors and races and there is even a little girl in a wheelchair featured.  Such great attention to detail.  Illustrator Christian Robinson can do no wrong!
I think this book is perfect to be read aloud to little readers in preschool up through 2nd or 3rd grade on the first day of school.  It's great for teaching kids about feelings, friendship, the first day of school jitters and how to honor and respect their environment – especially their school.  A winner!
Your turn:  Have you read this book yet?  Let me know what your opinions are in the comments.