Leo Can Swim by Anna McQuinn, illustrated by Ruth Hearson
Recommended Age Range: 0 – 3
24 Pages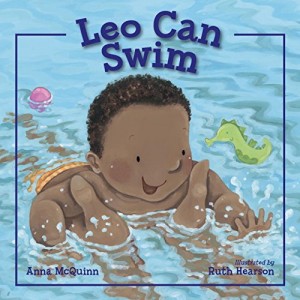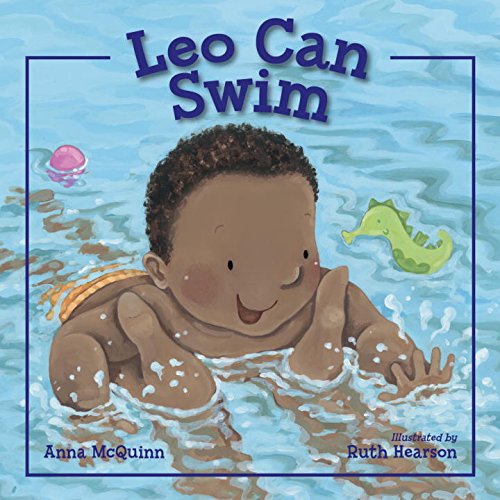 Synopsis
Leo, Lola's little brother from Leo Loves Baby Time, is back in a new adventure at the pool.
Leo and Daddy go to swim class where they kick, bounce, and dive like little fish. Joining other babies and their caretakers as they get ready for the pool, sing songs, and kick and splash in the water.
Reflection
I literally could not wait to share this book with my kids during story time!  It's extremely well done and super cute!  Once I finally read it with the kids they wanted to read it over and over again – no kidding!
We first met Leo in his older sister Lola's book Lola Reads to Leo, part of the Lola at the Library series.  Now little Leo is back in his own spin-off series and he's making a big splash in this adorable new picture book for babies and toddlers.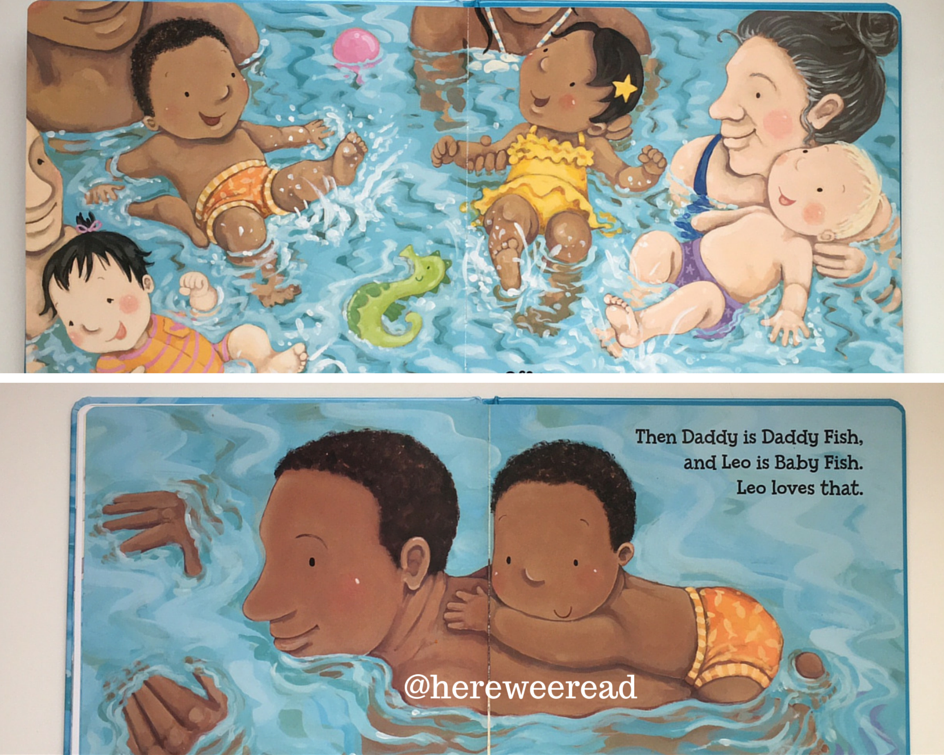 What I love most about this book is the fact that Leo's father accompanies him to swim class instead of his mother.  You often hear of many Black fathers being absent from their children's lives, so it was refreshing to see Leo and his father bonding – so precious.  I also love how well this book showcases diversity.  There are babies and caregivers of all different skin tones and hair types/colors featured throughout.
This book was very familiar to the kids as we've taken a swim class before as a family.  We followed the same sequence of events from getting ready in the changing room to kicking and splashing in the pool.  So fun!
Other reasons why we adore this book:
The illustrations are so bright and cheerful.
The text uses fun phrases that appeal to little ones like: "splish and sploosh", "swish and swoosh", "sloshy soap", and "sloppy lotion". (My kids like sloppy lotion the most.)
The pages are sturdy and the book is the perfect size for my kids to hold and turn the pages on their own.
It builds a foundation for water safety for babies and toddlers.
Overall, I think this book would be a wonderful addition to any baby or toddler's home library.  Pick this one up for your water-loving little readers!
Available in bookstores nationwide May 10, 2016.  Pre-order your copy today by clicking here!
About the Author
Anna McQuinn is the author of more than twenty-five books for children including If You're Happy and You Know It! (Barefoot) and more!  She lives in Slough, England.
About the Illustrator
Ruth Hearson has illustrated several chlidren's books including Leo Loves Baby Time and Cinnamon's Fairy Sleepover.  Ruth lives in York, England.
Be sure to check out the wonderful other books in this series too!
Your turn: Are you looking forward to reading this book with your little readers?  What's your favorite Anna McQuinn book?  Feel free to share in the comments.