I have fond memories of Easter growing up as a kid.  To me, it's always been such a wonderful time of year.  Nice spring weather.  Dressing up in our Easter finest.  Going to church.  Easter egg hunts galore.  Sunday dinner with family and friends.  And I can't forget the chocolate or best of all…the books!
If you're looking for some non-candy Easter gifts for kids books are always a great idea!  These 18+ titles are perfect additions to your little readers' Easter baskets or your home Easter collection.  Enjoy!
Tiara's Hat Parade by Kelly Starling Lyons, Nicole Tadgell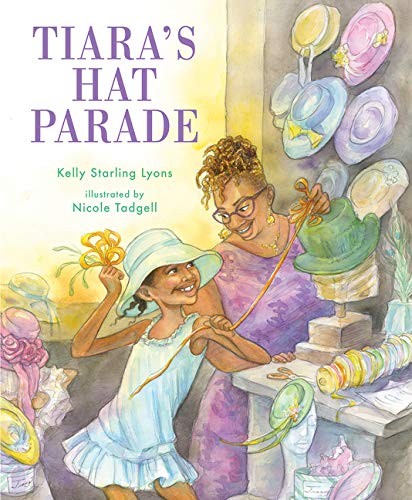 Tiara has a gift for storytelling; her momma has a gift for making hats. When a new store opens that sells cheaper hats, Momma has to set her dreams aside, but Tiara has an idea for helping Momma's dreams come true again.
A Very Happy Easter by Tim Thornborough

Parents and children will love this fresh retelling of the Easter Story, which helps children understand both the story and the emotions of Holy Week.
The Easter story is filled with sadness, surprise and joy. As the events of Easter unfold, Children are encouraged to understand the emotions of those who knew Jesus and to join in by making facial expressions. They will also learn why Jesus' death and resurrection mean we can be friends with God forever.
Sunday is for God by Michael McGowan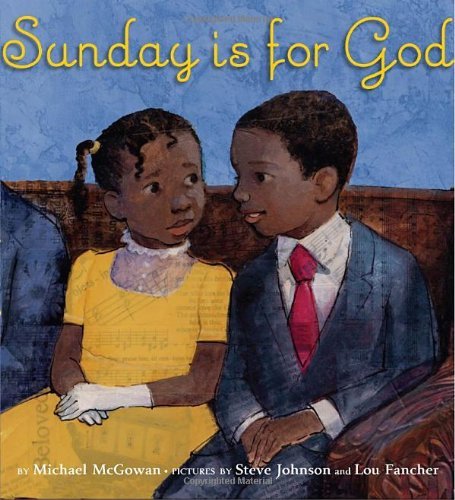 "Weekdays are for school and Saturday's for having fun. But Sunday is the Lord's Day. Sunday is for God."
A boy longs to play in the river on this hot summer day, but instead he has to sit quietly in a pew. His collar itches and his tie's too tight—why does the Lord care whether people get dressed up for church, anyway? But as hymns and prayers fill the room, he begins to appreciate the simple beauty of a day set aside for family and prayer. At the end of the service, he explains a prayer to his little sister by whispering, "The Lord will take care of us no matter what. Like Momma and Daddy"—a deeply comforting message for young readers.
When I Pray For You by Matthew Paul Turner


Do you pray over your children and family? If so, this is a definite must add to your collection. It's SO beautifully written and is the perfect alternative for the book Oh, The Places You'll Go…for praying families.
It's filled with all the hopes and dreams I have for my children as I raise them to be responsible adults. This is the type of book you'll want to curl up and read with your kids at bedtime, when they've had a bad day or whenever you want to reaffirm your unconditional love for them. It's a treasure, for sure! Perfect for Easter, birthday, baby shower, Christening or graduation gift giving.
Early Sunday Morning by Denene Millner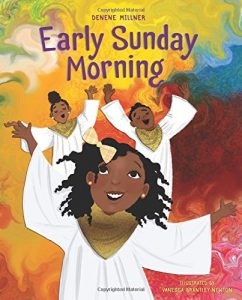 Although this book isn't specifically about Easter Sunday, I wanted to include it.
It's almost little June's big day to sing her first solo in the youth church choir and she couldn't be more excited! But when it's time to practice at choir rehearsal, June gets a little stage fright. As a result, her voice starts to tremble when she sings.  She overhears her friends making fun of her which hurts her feelings and makes her even more nervous and scared. With the help of her supportive family and community members, June gains back her confidence. But will she be ready to sing her big solo on Sunday morning in front of the whole congregation?
We're Going on an Egg Hunt by Laura Hughes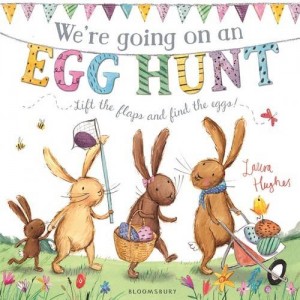 Join the Easter Bunnies as they set off on an exciting lift-the-flap Easter egg hunt. With ten eggs to find and count, it's great fun. But watch out for the obstacles along the way – lambs, chicks, bees and ducks – and there's even a wolfish surprise, so do take care. Based on the traditional 'We're Going on a Lion Hunt' rhyme, this will be a huge hit with all fans of the classic We're Going on a Bear Hunt.
If I Were a Rabbit by Jellycat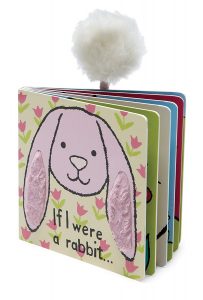 Ever wonder what it's like to be a rabbit?  Little readers will enjoy this adorable touch and feel board book all about rabbits!
Dance Bunny Dance by Jellycat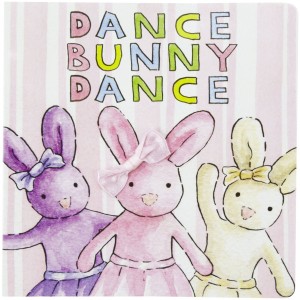 Calling all little dancers!  This cute book will make little ones want to get up and shake their cotton tails…so fun!
The Itsy Bitsy Bunny by Jeffrey Burton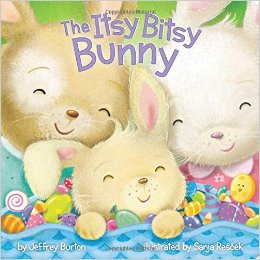 A fun and playful holiday twist on "The Itsy Bitsy Spider" makes this favorite nursery rhyme perfect for Easter!
The itsy bitsy bunny was hopping up the trail
Down fell the baskets past his tiny tail
Out came his friends to help him on his way.
For the itsy bitsy bunny was planning Easter day.
This Itsy Bitsy Bunny must hop at top speed so he can get all of his eggs hidden in time for the big holiday!  Little ones will love this fresh springtime spin on a classic nursery rhyme.
Too Many Carrots by Katy Hudson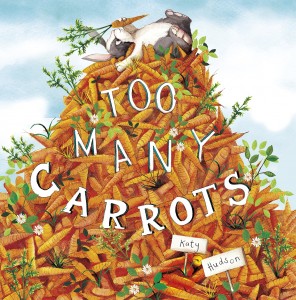 We read this book several times and loved it!
Rabbit loves carrots. Maybe a little too much. In fact, his carrots are crowding him out of his cozy burrow. When his friends offer to help thats just asking for trouble. TOO much trouble! This charming and lovingly illustrated picture book shows how friendships get us over the rough spots in life, even if the going gets a little bumpy!
Peep and Egg: I'm Not Hatching by Laura Gehl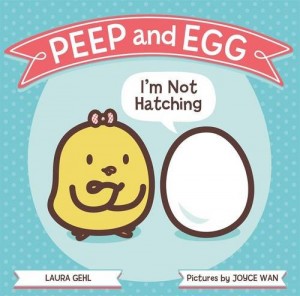 This book is another favorite that we've read this year!
Egg is not hatching.  No way. No how.  It is too scary out there.  Peep wants Egg to hatch so they can do fun things together, like watch the sunrise, splash in puddles, and play hide-and-seek.
But Egg is not cracking… Joyce Wan's bright and bold illustrations will have young chickies giggling at Laura Gehl's reassuring tale that takes the not out of I'm not.
Pat the Bunny by Dorothy Kunhardt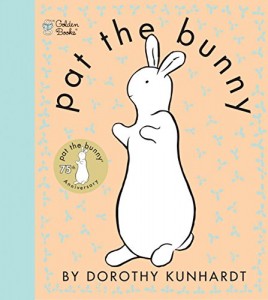 This touch and feel book is a classic and great for tactile learning!  My kids adore this one!
Miz Fannie Mae's Fine Easter Hat by Melissa Milich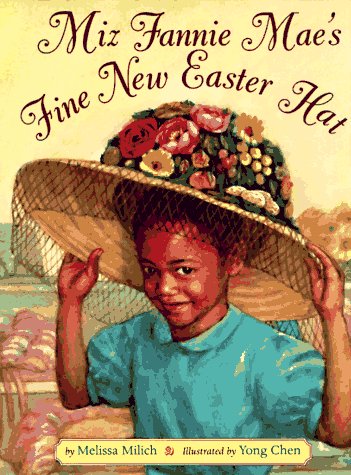 How cute is this book cover?
When her husband and daughter buy her a beautiful new Easter hat, which is decorated with lace, flowers, fruit, and four tiny eggs, Miz Fannie Mae proudly wears the hat to church, and everyone thinks a miracle has taken place when the eggs hatch.
The Country Bunny and the Little Gold Shoes by DuBose Heyward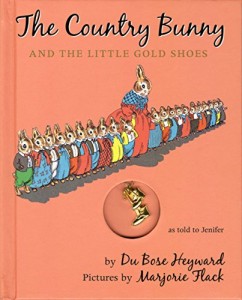 The beloved tale of a mother rabbit who dreams of becoming an Easter Bunny that has won the hearts of readers for generations, is now available as a beautiful gift edition. The gift set includes a book and golden shoes charm—perfect for anyone who hopes to be wise, kind, and brave!
God Gave Us Easter by Lisa Tawn Bergren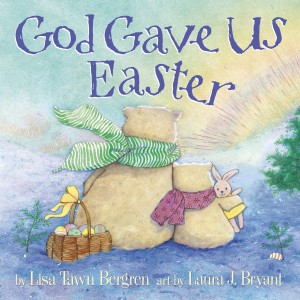 As Little Cub celebrates Easter with Papa, Mama, and her brother and sister, she begins to ask her papa questions about this very special day of the year.  Papa lovingly explains God's plans for his children, while taking Little Cub on a memorable walk through her stunning Arctic world, and he shares how Easter came about in clear, simple terms that even the littlest cubs can understand.
Don't Let Auntie Mabel Set the Table by Vanessa Newton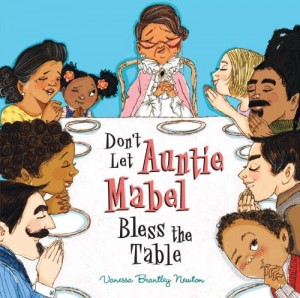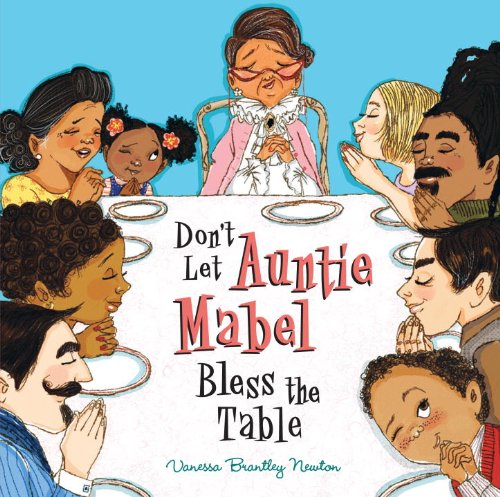 This book isn't necessarily about Easter, but it's so fitting for families who may be gathering together for Easter dinner.  Absolutely hilarious and fun!
Auntie Mabel and her family and friends have gathered for their big Sunday dinner and can't wait to dig into a delicious, mouthwatering meal. Before they can begin, Auntie Mabel starts—and doesn't stop!—blessing everyone and everything she surveys: the yams and Brussels sprouts, the table and chairs—even the president of the United States!
That's Not My Bunny by Fiona Watt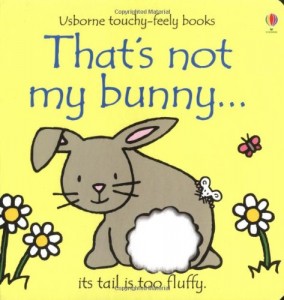 Who doesn't love these Usborne touchy-feely books?  Aren't they great for little readers?
Lots of baby bunnies! A touchy-feely board book with simple, repetitive text, tactile patches and bold illustrations suitable for babies and toddlers. A little white mouse appears on every page, for children to spot.
Emma's Easter by Lisa Bullard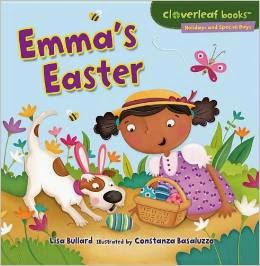 Emma's family is celebrating Easter! Emma and her little brother hunt for Easter eggs and candy. They go to church. Then relatives come over for a big meal. Find out the different ways people celebrate this special day!
The Golden Egg Book by Margaret Wise Brown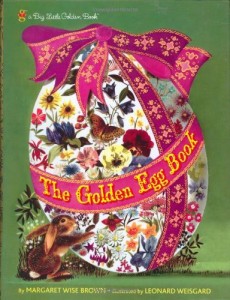 The illustrations in this book are so beautiful!

Once there was a little bunny. He was all alone. One day he found an egg. He could hear something moving inside the egg. What was it?
So begins the Golden Easter classic about a bunny—and a little duck that is about to hatch!
Dear Pope Francis by Pope Francis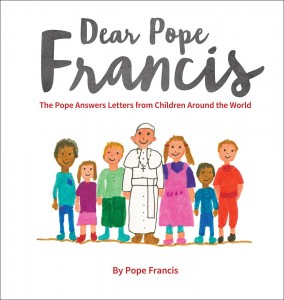 This book isn't about Easter either, but since I adore Pope Francis and this book I'm including it.
If you could ask Pope Francis one question, what would it be?
Children have questions and struggles just like adults, but rarely are they given the chance to voice their concerns and ask the big questions resting deep in their hearts. In Dear Pope Francis, Pope Francis gives them that chance and celebrates their spiritual depth by directly answering questions from children around the world. Some are fun. Some are serious. And some will quietly break your heart. But all of them are from children who deserve to know and feel God's unconditional love.
Rechenka's Eggs by Patricia Polacco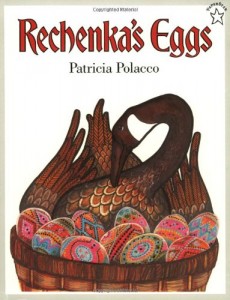 This book is visually stunning with gorgeous illustrations!
Old Babushka, known throughout all of Moskva for her beautifully painted eggs, is preparing her eggs for the Easter Festival when she takes in an injured goose. She names the goose Rechenka, and they live happily together until one day when Rechenka accidentally overturns a basket, breaking all of Babushka's lovingly crafted eggs.
But the next morning Babushka has a surprise awaiting her in the basket. She cries: "A miracle!" It is one of many in this charmingly told tale of friendship and caring.
10 Easter Egg Hunters: A Holiday Counting Book by Janet Schulman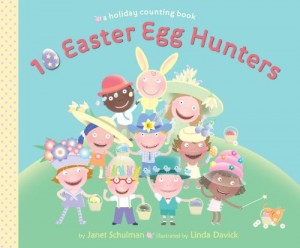 The adorable kids from the New York Times besteller 10 Trick-or-Treaters are back and they're counting their way to Easter! Can you help them find all of the eggs the Easter Bunny has hidden in time for the Easter Parade?
The Easter Egg Artists by Adrienne Adams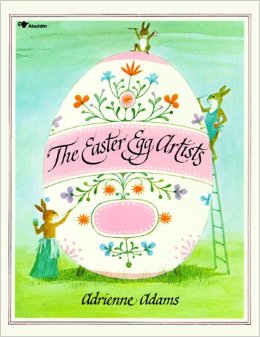 The Abbotts, established Easter egg artists, let their son develop a style of his own when he shows interest in painting.
When God Made You by Matthew Paul Turner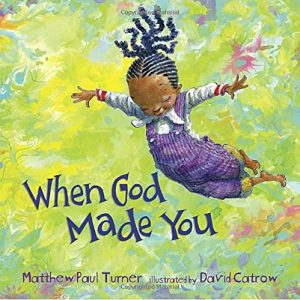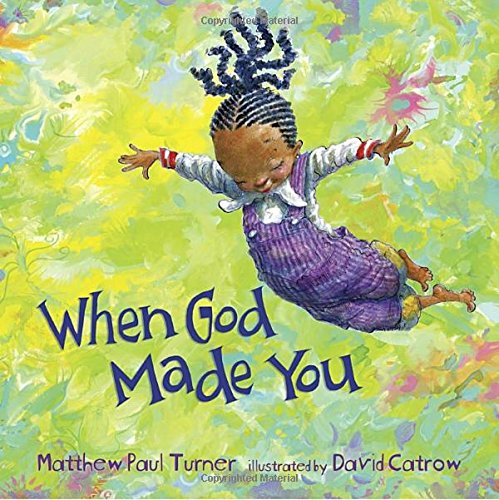 Told in rhyming and playful text with beautiful illustrations, When God Made You inspires young readers to learn about their own special gifts and how they fit into God's divine plan as they grow, explore, and begin to create for themselves.
The World is Awake: A Celebration of Everyday Blessings by Linsey Davis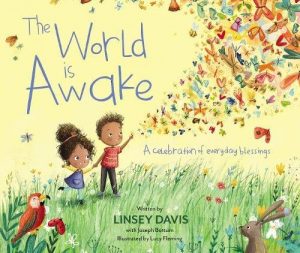 The World Is Awake, A celebration of everyday blessings, written by Emmy Award winner and ABC News correspondent Linsey Davis with Joseph Bottum, is a lyrical, rhyming story for young children intended to make them feel safe and joyful, cradled in the hands of God.
Sawdust Carpets by Amelia Lau Carling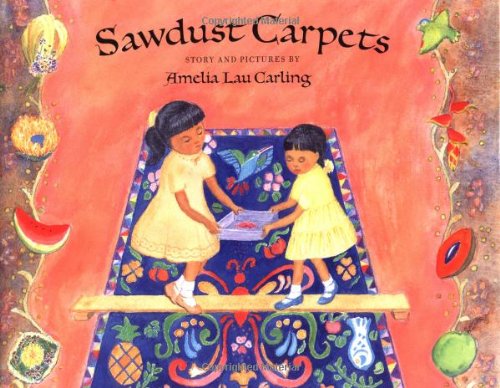 The Lau family have been invited to spend Easter with their cousins in Antigua, Guatemala. Although they are Chinese and Buddhist, Mamá loves the pageantry of Easter.
Your turn: What are your favorite Easter themed books for kids?  Feel free to share in the comments.