Coloring Books and Flash Cards for African-American Kids!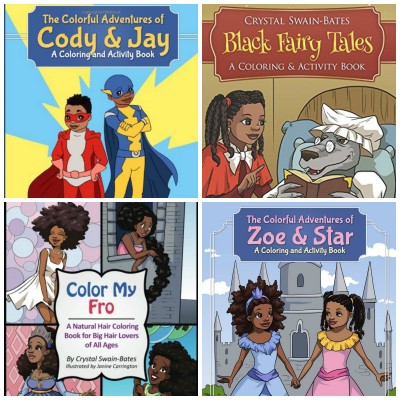 The kids and I LOVE this series of coloring and activity books by Crystal Swain-Bates!  She's the author of the popular children's book Big Hair, Don't Care.  Crystal founded a black-owned publishing company called Goldest Karat Publishing.  Their mission is to fill a critical niche in African-American literature by providing books that fill the untapped needs of young African-American boys and girls in stories they will want to read again and again.
Note:  For your convenience, links to each coloring book and the set of flashcards is listed in the blog post.
Beautiful by Stacy McAnulty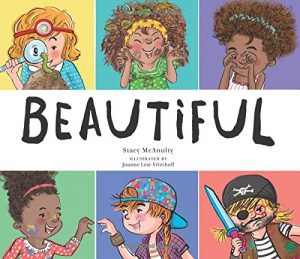 BEAUTIFUL breaks barriers by showing girls free to be themselves: splashing in mud, conducting science experiments, and reading books under a flashlight with friends. This book will encourage all girls to embrace who they are and realize their endless potential.  Read my review here.
What is a Child? by Beatrice Alemagna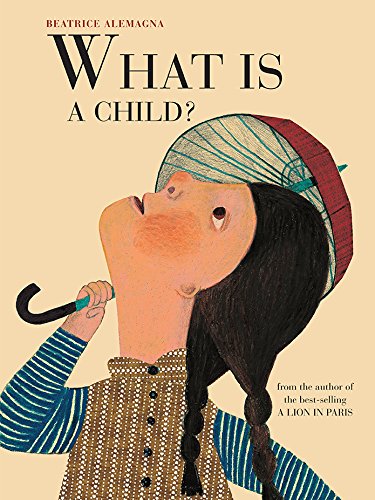 From the bestselling author of A Lion in Paris comes this beautifully illustrated celebration of what makes each child unique. Through bold and sensitively observed portraits and a thought-provoking text, Beatrice Alemagna inspires children, and adults reading with them, to consider their own identity. Destined to become a classic, What Is a Child? is a must-have for every school, library, and bedside table.  Read my review here.
Two Friends: Susan B. Anthony and Fredrick Douglass by Dean Robbins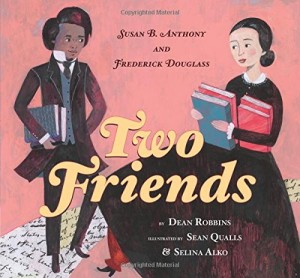 Two friends, Susan B. Anthony and Frederick Douglass, get together for tea and conversation. They recount their similar stories fighting to win rights for women and African Americans. The premise of this particular exchange between the two is based on a statue in their hometown of Rochester, New York, which shows the two friends having tea.
Don't Let Auntie Mabel Bless the Table by Vanessa Newton

Do you have a relative who seems to pray forever when they're blessing the food? This hilarious book is about a group of family and friends gathering together for Sunday dinner at Auntie Mabel's house. Before they begin to eat, Auntie Mabel has to bless the table. The only problem is she wants to bless everything from the yams, to the tables and chairs, to the President of the United States! Meanwhile, the food is getting cold and everyone just wants to eat. Will dinner ever be served? I'm sure most families have someone like Auntie Mabel who loves to bless the table, but doesn't know when to stop.
Sewing Stories: Harriet Powers' Journey from Slave to Artist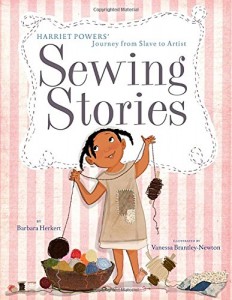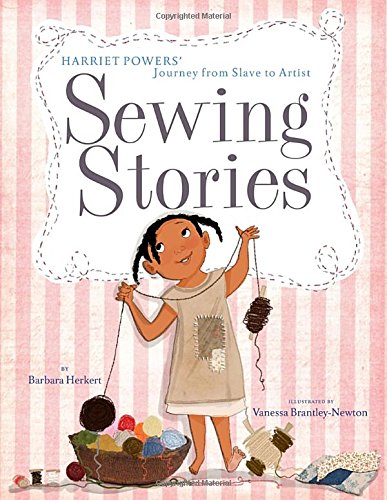 Harriet Powers learned to sew and quilt as a young slave girl on a Georgia plantation. She lived through the Civil War and Reconstruction, and eventually owned a cotton farm with her family, all the while relying on her skills with the needle to clothe and feed her children.
Later she began making pictorial quilts, using each square to illustrate Bible stories and local legends. She exhibited her quilts at local cotton fairs, and though she never traveled outside of Georgia, her quilts are now priceless examples of African American folk art.
Leo Can Swim by Anna McQuinn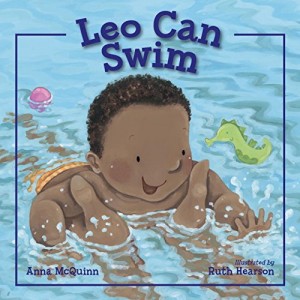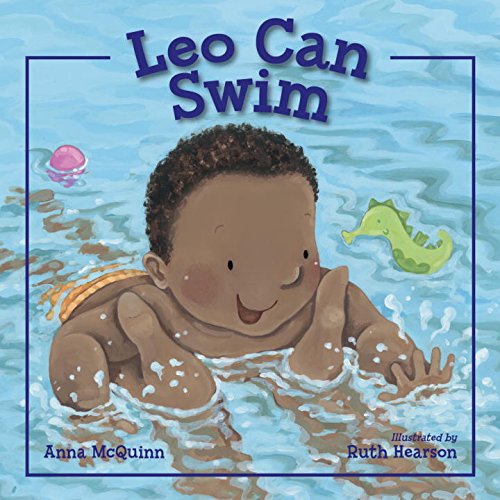 Leo and Daddy go to swim class where they kick, bounce, and dive like little fish. Joining other babies and their caretakers in the pool is a guarantee for unforgettable fun.  Read my book review here.
Whoosh!: Lonnie Johnson's Super Soaking Stream of Inventions by Chris Barton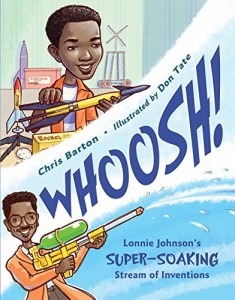 You know the Super Soaker. It's one of top twenty toys of all time. And it was invented entirely by accident. Trying to create a new cooling system for refrigerators and air conditioners, impressive inventor Lonnie Johnson instead created the mechanics for the iconic toy.
A love for rockets, robots, inventions, and a mind for creativity began early in Lonnie Johnson's life. Growing up in a house full of brothers and sisters, persistence and a passion for problem solving became the cornerstone for a career as an engineer and his work with NASA. But it is his invention of the Super Soaker water gun that has made his most memorable splash with kids and adults.  Read my review here.
Before There Was Mozart by Lesa Cline-Ransome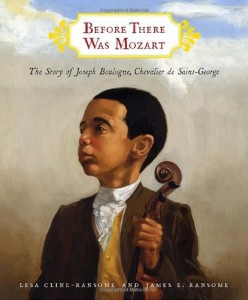 Joseph Boulogne, Chevalier de Saint-George was born on Christmas Day in 1739 on the tiny island of Guadeloupe in the West Indies. He was the son of a white plantation owner and a black slave. On the day of his birth the midwife predicted one day Joseph would meet the king and queen of France. Joseph loved music especially his violin. When his family moved to Paris, Joseph decided to devote himself to music. He soon became known as the most talented violin player and musician in France. During one of his performances, young Wolfgang Amadeus Mozart was in the audience. This was before Mozart was well-known. In the end, Joseph does indeed perform for the king and queen of France and is invited back on several occasions. In 2001, a street Rue du Chevalier de Saint-George was named in his honor. An awesome historical non-fiction book for children and music lovers.

Poems for the Smart, Spunky, and Sensational Black Girl
by Rachel Garlinghouse, illustrated by Sharee Miller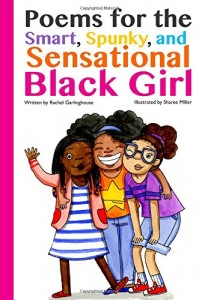 Today's girl has a lot going on! From beads, bullies, and birthdays, to school, sunglasses, and siblings, Poems for the Smart, Spunky, and Sensational Black Girl resonates and inspires! From Rachel Garlinghouse (author and mom) and Sharee Miller (owner of Coily and Cute) comes this one-of-a-kind poetry collection that will certainly bring a smile to your little lady's face and heart.
B is for Breakdancing: An ABC Book of Ways to Shake What Your Momma Gave You by Dr. Tamara Pizzoli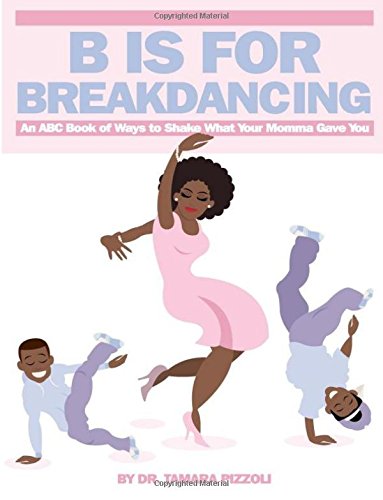 Not only is dancing all the fun, it's universal! Peruse the pages of this book to brush up on your ABCs and see how people all around the world get down and groove to the beat. When you're finished reading, put on your favorite song and try out a few moves of your own and some you've learned from the book!
I Know I Can! by Veronica N. Chapman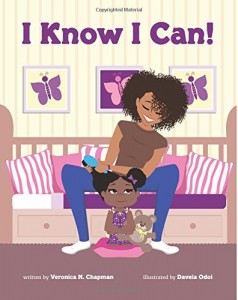 While giving a speech at her high school graduation, Faith, the class valedictorian, shares her childhood dreams, and the lessons that served as the foundation for her courage.

I Had a Favorite Dress by Boni Ashburn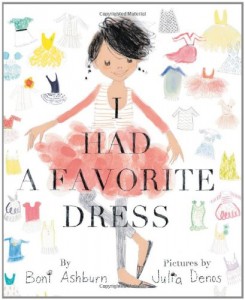 As the year passes, the narrator's favorite dress goes through a series of creative changes, from dress to shirt to tank top to scarf and so on, until all that's left of it is a good memory. Assisted by her patient and crafty mama, the narrator finds that when disaster strikes her favorite things, she doesn't need to make mountains out of molehills—she "makes molehills out of mountains" instead! Structured around the days of the week, the story is also illustrated to show the passing of the seasons, a perfect complement to the themes of growing older and keeping hold (and letting go) of special mementos.
Emi's Coily Curly Cotton Candy Hair by Tina Olajide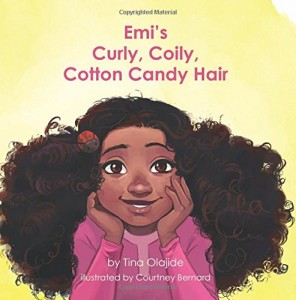 This is a great book for little African-American/bi-racial girls with natural hair.  My daughter adores this book and so do I.  We purchased this book and added it to our book collection.  Emi is a creative 7-year-old girl with a BIG imagination. In this story Emi shares a positive message about her Curly, Coily, Cotton Candy Hair and what she likes most about it. The vibrant illustrations and fun story teach basic natural hair care techniques and tips in a playful and memorable way.

How stinking cute is the cover of this book?  If you have a little daughter, granddaughter, niece, cousin or friend read this book to them.  Better yet, why not purchase it and add it to their own personal library.  I love reading this to my daughter and she loves this book too.
One Love by Cedella Marley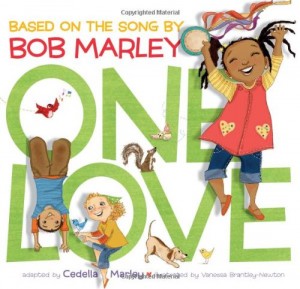 Adapted from one of Bob Marley's most beloved songs, One Love brings the joyful spirit and unforgettable lyrics of his music to life for a new generation. Readers will delight in dancing to the beat and feeling the positive groove of change when one girl enlists her community to help transform her neighborhood for the better.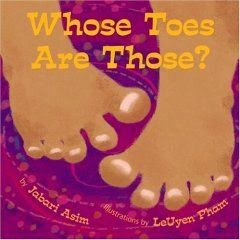 This book was gifted to us as a Christmas gift.  Both kids favorite part of this book is the "this little piggy" rhyme.  This book also has easy and fun rhymes, vibrant colors and cute illustrations…just look at those toes on the cover!  A wonderful book for both infants and toddlers.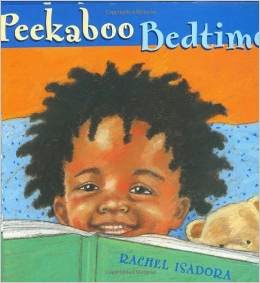 In this story a toddler boy plays peekaboo with everyone from his grandparents to his puppy, until it's finally time to snuggle into bed with his blankie.  The kids loved having this book read over and over again until it was finally time to bring it back to the library.
This book celebrates the differences between a mother and father that blend to make the perfect combination in their daughter.  I think this book is great for building self-esteem in ALL children.  We'll re-read this again when the children are old enough to understand the overall message of this book.
My Brother Charlie by Holly Robinson Peete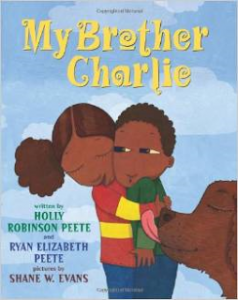 I had no idea what the book was about when I picked it up from the library.  It's a heartwarming story about a boy who happens to be autistic, based on actress Holly Robinson Peete's son, who has autism.


Princess Cupcake Jones and the Missing Tutu by Ylleya Fields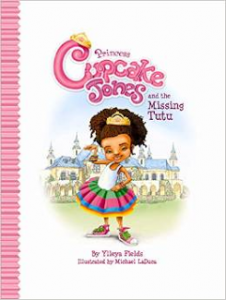 Princess Cupcake Jones has lost her beloved tutu.  In her quest to find it, Cupcake learns the importance of tidying up and putting things in their proper place.  As an added bonus in each book of the series, children will also have fun finding the hidden word in each inviting illustration. Helpful hints are a part of the book's website, which also features downloadable color pages and other activities.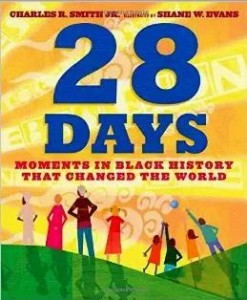 What a fantastic book!  Each day features a different influential figure in African-American history, from Crispus Attucks, the first man shot in the Boston Massacre, sparking the Revolutionary War, to Madame C. J. Walker, who after years of adversity became the wealthiest black woman in the country, as well as one of the wealthiest black Americans, to Barack Obama, the country's first African-American president.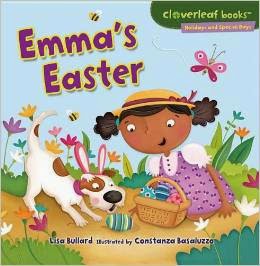 Emma's family is celebrating Easter! Emma and her little brother hunt for Easter eggs and candy. They go to church. Then relatives come over for a big meal.
Lola Plants a Garden by Anna McQuinn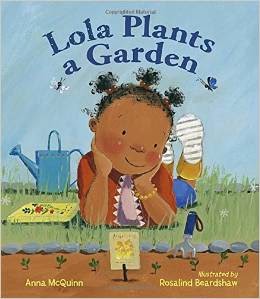 My daughter Sparkles has come to be very fond of the Lola character.  This is a cute story about Lola planting her own flower garden.  Love the illustrations in this book!
Juneteenth for Mazie by Floyd Cooper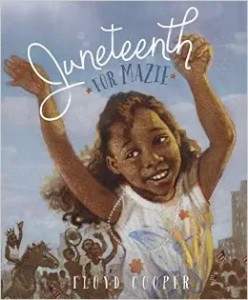 Mazie is ready to celebrate liberty. She is ready to celebrate freedom. She is ready to celebrate a great day in American history ― the day her ancestors were no longer slaves. Mazie remembers the struggles and the triumph, as she gets ready to celebrate Juneteenth.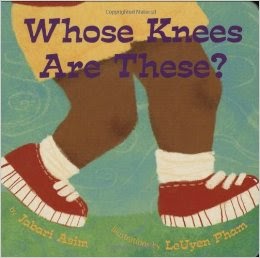 This book was given to us as a Christmas gift.  The fun, rhyming language, and the overall simplicity of the story itself make it perfect for infants and toddlers alike. I like the fact that this book also promotes body awareness, introduces the concept of left and right, and encourages positive self-image and familial bonds.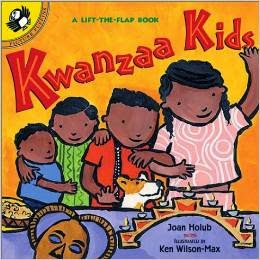 I read this to the kids one December as part of our advent countdown where we unwrapped a new book every night leading up to Christmas day.  This book is good for understanding the Kwanzaa holiday and traditions.
Lola at the Library


This is a very cute book that the kids like to read over and over again.  This is the first book in the Lola series we've read and I look forward to reading more and purchasing them to add to our collection.  Lola has a big smile on her face. Why? Because it's Tuesday–and on Tuesdays, Lola and her mommy go to the library.
I Am Michelle Obama the First Lady by Margina Graham Parker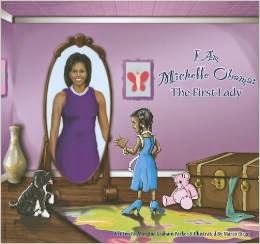 This historical children's book is definitely a must-have and a must-read for both children and parents.  This book was given to me as a gift from my baby shower when I was pregnant with my daughter.  The illustrations throughout are absolutely beautiful – so vibrant and rich.   It's so inspiring to read and learn about all the accomplishments the First Lady has achieved.  What a great book to illustrate to children that they can do anything – the sky is truly the limit!
I Like Myself by Karen Beaumont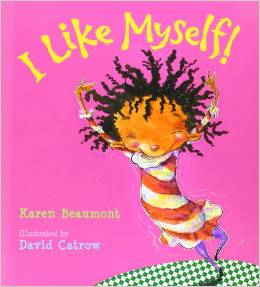 High on energy and imagination, this ode to self-esteem encourages kids to appreciate everything about themselves–inside and out. Messy hair? Beaver breath? So what! Here's a little girl who knows what really matters.  At once silly and serious, Karen Beaumont's joyous rhyming text and David Catrow's wild illustrations unite in a book that is sassy, soulful–and straight from the heart.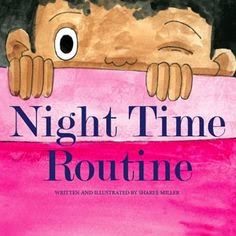 I just adore books for little girls about natural hair!  This is another one to add to your collection if you have a daughter with natural hair.  Miss Jackie just wants to go to sleep, but not before going through her night time hair routine.  What a cute story to read to reinforce the importance of taking care of your hair and following a consistent regimen.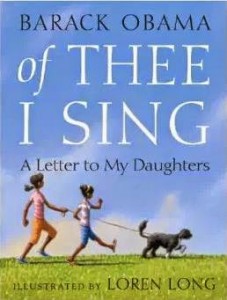 Did you know President Barack Obama is also an author?  In this tender, beautiful letter to his daughters, President Barack Obama has written a moving tribute to thirteen groundbreaking Americans and the ideals that have shaped our nation. From the artistry of Georgia O'Keeffe, to the courage of Jackie Robinson, to the patriotism of George Washington, President Obama sees the traits of these heroes within his own children, and within all of America's children.
 Please, Puppy, Please by Spike Lee and Tonya Lewis Lee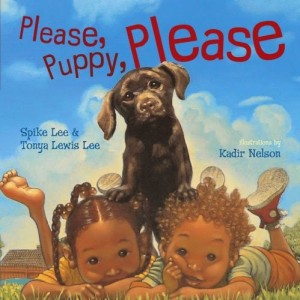 Isn't the cover of this book so adorable?  In page after page of tail-wagging fun, Academy Award-nominated filmmaker Spike Lee and his wife, Beacon Award-winning producer Tonya Lewis Lee, take a close-up look at what happens when a couple of high-energy toddlers meet their match in an adventurous pup who has no plans of letting up.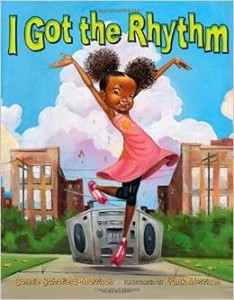 On a simple trip to the park, the joy of music overtakes a mother and daughter. The little girl hears a rhythm coming from the world around her— from butterflies, to street performers, to ice cream sellers everything is musical!  The illustrations really make this book come alive.  Cute story, but the writing isn't that great in my opinion.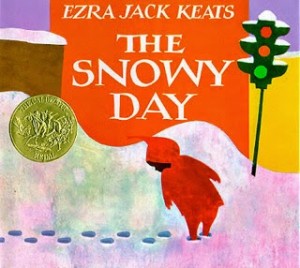 Living in New England, this is one of my favorite books to read to the kids on a snowy day.  I remember reading this book as a kid too – it's a classic!  Curl up with your little ones and follow the adventures of a little boy (Peter) in the city on a very snowy day.
Happy Hair by Mechal Renee Roe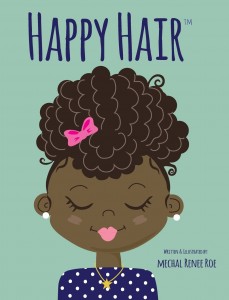 Happy Hair is a call and response picture book that promotes positive self-esteem and hair love to girls of all ages! Happy Hair covers different shades and hair types all while being fun and fashionable! This book is the foundation to building Happy Hair.
Just the Two of Us by Will Smith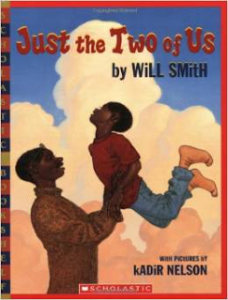 Will Smith— musician, actor, and father–brings us a moving celebration of fatherhood. This is a great book for dads to read to the kids on Father's Day.
Last Stop on Market Street by Matt De La Pena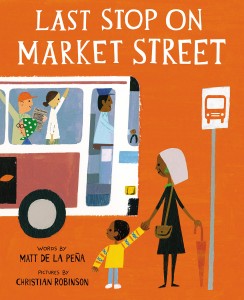 Every Sunday after church, CJ and his grandma ride the bus across town. But today, CJ wonders why they don't own a car like his friend Colby. Why doesn't he have an iPod like the boys on the bus? How come they always have to get off in the dirty part of town? Each question is met with an encouraging answer from grandma, who helps him see the beauty—and fun—in their routine and the world around them.
Peter's Chair by Ezra Jack Keats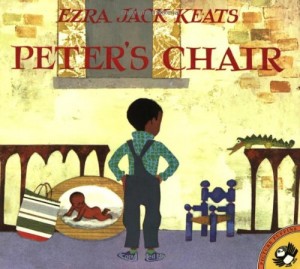 Peter has a new baby sister on the way and is not happy about it! All of his belongings are being painted pink and he knows his favorite chair is next. He decides to run away with his chair and faithful sidekick and pet, Willie. However, he soon realizes he's too big for his chair and maybe a baby sister is not so bad after all.