How to Sell Your Sister for Fun and Profit by Ashley Eneriz, illustrated by Eva Aleph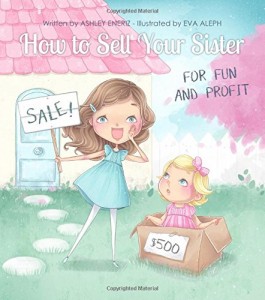 Synopsis
I've got a good business proposition for you. Do you want to make a lot of money? Do you want to get rid of that pesky sister once and for all? If you answered yes to any of the above questions, then you are the perfect candidate to sell your sister for an amazing profit. Kids and parents both will delight over this book. It is both funny and charming, and beautifully illustrated.
Reflection
I absolutely adore this book!  You guys know I always provide my honest opinions in my reviews, so that statement is not an exaggeration.  Let me tell you a few reasons why I love this book:

I have a lot of sisters, 7 to be exact although most of them are half sisters, but we are sisters nonetheless
This book reminds me of me of my childhood when I was growing up (Did I have thoughts of selling my sisters?  You bet I did!)
The overall concept is genius and so creative, I love the 5 steps on exactly how to sell your sister – brillant!
In addition to the things I mentioned above, this book is funny.  I've read it with the kids on more than one occasion, but I think they are still a bit too young to really understand the overall concept and humor.  However, I think once they are older (maybe around age 5 or 6) they will have a better understanding.  Also, the illustrations are so cute and really do a great job capturing the overall story.  My favorite illustration is on the last page of the book.  It shows the two sisters looking into a pond.  On one side it shows the girls when they are small and the reflection on the other side shows the sisters all grown up.  The text reads:
"Your sister may be hard to live with now, but keeping her around will end up being a worthy investment.  Ten to twenty years down the road, you will be glad you didn't sell her after all."
In the end, the older sister decides not to sell her younger sister after all.  There are various "future benefits" to having a sister that are mentioned such as: tickle fights, a worthy opponent for board games, snuggles when you are scared, and more.
I think this book would make a great gift for children who have siblings.  Older children and adults are more likely to laugh while reading this book.  However, watch out – your older kids may decide to follow the 5 steps listed in this book and really try to sell their sister – just kidding!  Overall, this book was a joy to read and I look forward to sharing it with my little readers as they grow.
P.S.  I also love the fact that Ashley donates 20% of her profits to bless other moms in need, whether it be for adoption costs, medical costs, or funeral costs.  What a generous thing to do!
If you share this book on social media, please use the hashtag #sellyoursister.  Also, the author invites you to get a FREE audiobook version of this book.  Just click here.  Feel free so share the audiobook with anyone – it's a free gift!
If you like this review, be sure to check out Ashley's other new book.
Blondie McGhee: At Your Service!: Cute and Fun Detective Mystery Series for 9-12 Year Old Girls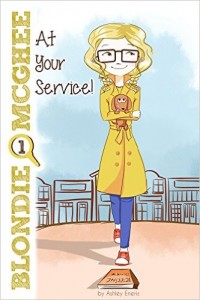 Connect with Ashley Eneriz on Twitter!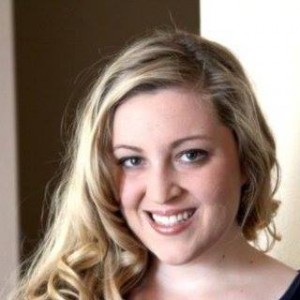 Your turn: Have you ever thought about selling your sibling either for fun or profit?  (Do not answer that question!  Unless of course you really want to.  In that case, I'm all ears!)  Seriously, have you read this adorable book with your little readers yet?  If not, are you looking forward to checking it out?  Feel free to share in the comments.