It's a girl for the McStuffins family!  Her name is Maya Alana McStuffins and she's adorable!  Doc McStuffins hand picked baby Maya's first stuffed toy, a koala named Lala.  Lala actually chose Maya's first name and the middle name was chosen by the baby's birth mother.  Congratulations on the new addition McStuffins family!
Get the new book: Doc McStuffins a Baby Doll for Doc, the perfect addition to your children's home library, especially if you have an adopted baby that is now a part of your forever family.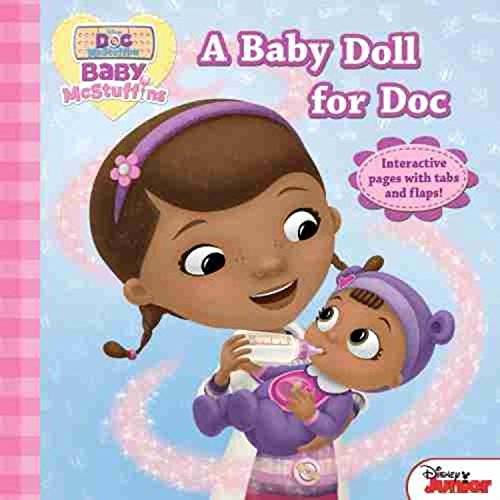 Synopsis
Mom and Dad have some exciting news. They're adopting a baby, and the McStuffinses will be its forever family! Doc gets a new doll so she can practice being a good babysitter. With pull tabs, flaps, and touch-and-feel elements, this adorable book allows kids to get in on the babysitting fun with Doc and her toy friends.
*************************************************************************************************************
When the news broke on Twitter a few days ago that Doc McStuffins was getting a new sibling, the kids and I couldn't be more excited!  Yes, Doc McStuffins is a big deal in our house – we love Doc, Lambie, and the whole gang!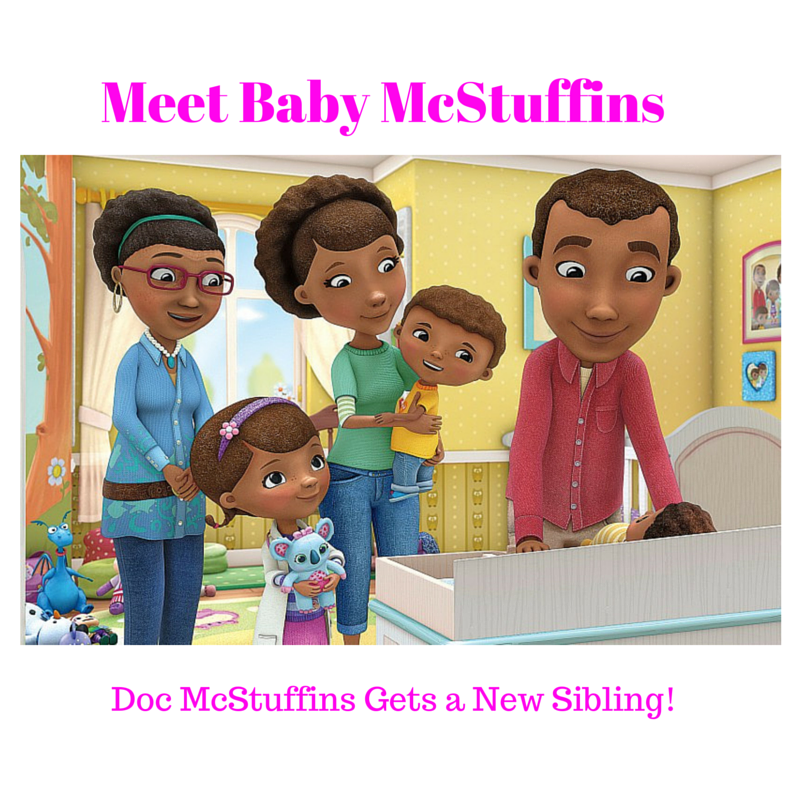 Doc McStuffins will become a big sister again, this time through the miracle of adoption!  On Friday, March 4, Disney Junior will kick off a month long series of Doc McStuffins episodes about adoption.  They will tackle topics like how to burp a baby and change dirty diapers to emotional insecurities siblings may face when a new baby or child joins the family.
I can't help but wonder, what will the new baby McStuffins name be?  Will it be a boy or a girl?  We look forward to finding out!  4/1/2016 Update:  It's a girl and her name is Maya Alana McStuffins!
Doc McStuffins is an animated children's television series produced by Brown Bag Films. It was created and executive produced by Chris Nee and premiered on March 23, 2012 on Disney Channel and Disney Junior. The series is about a girl who can "fix" toys, with help from her toy friends.  The series receives positive reviews due to the show's concept and the main character, as well as its portrayal of African-Americans. (Source: Wikipedia)
The new episodes will premiere each week, beginning on March 4th and continuing through April 1st on Fridays at 8am EST on the Disney Channel.  I know I'll be setting up my DVR to record these episodes!  Will you?
Check out the full episode schedule below (all episodes will air at 8:00 a.m. EST on Disney Channel):
FRIDAY, MARCH 4
"Baby McStuffins" – Mom and Dad announce that they are adopting a baby and give Doc a new baby doll to practice her babysitting skills.
FRIDAY, MARCH 11
"Runaway Love" – Doc's little brother Donny worries that the arrival of the new baby will take attention away from him so he hatches a plan to run away. Meanwhile, Doc is so busy helping her parents prepare for the new baby that Lambie also starts to feel left out.
FRIDAY, MARCH 18
"Hooty's Duty" – When Doc realizes that the arrival of a new baby means a new group of baby toys will also be coming home, she seeks to put one of her own toys in charge of them, and Professor Hootsburgh proudly volunteers for the job.
FRIDAY, MARCH 25
"Bringing Home Baby" – The baby's gender will be revealed during this special 22-minute episode. Mom and Dad get the call that the new baby is on the way, so Grandma McStuffins arrives to take care of Doc and Donny. Grammy Award-winning singer and actress Dawnn Lewis ("A Different World") guest stars in the new recurring role of Grandma McStuffins.
FRIDAY, APRIL 1
"Baby Names/Night Night, Lala" – The McStuffins family comes up with the name for the baby and baby's new toy, Lala, has a hard time adjusting to her new environment.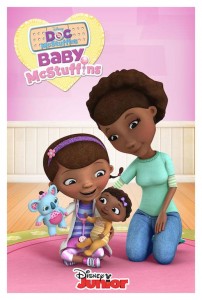 Your turn: Are you as excited about this news as we are?  Feel free to share in the comments.