Reading children's magazines is a great way to to keep your kids entertained and reading fresh material each month.  They contain different stories, quizzes, poems, rhymes, puzzles, jokes, and activities that spark their curiosity and satisfy their need to understand the world around them.  In addition, magazines can help hone critical-thinking skills and creativity through fun, interactive articles.
The best part? If you sign up for a magazine subscription, children can look forward to a new magazine coming in the mailbox each month—their very own mail!
If you are currently on the market for a new children's magazine to share with your kids I'd recommend checking out Storytime Magazine.  Have you ever heard of this gem before?  It's one of the UK's biggest subscription magazines for kids that is now available to US subscribers!  The magazine is gorgeous and it's filled with classic fairy tales, myths, puzzles, poems, and much more.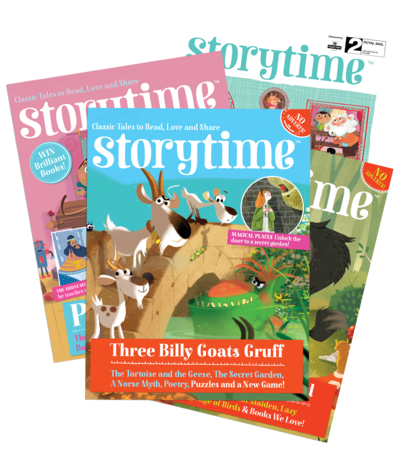 Each month, Storytime magazine is packed with brilliant tales for boys and girls of all ages.  It's a quality children's magazine that actually helps to improve literacy – with no advertisements and no plastic toys, just quality, thought-provoking and entertaining content.  I just love the idea of an advertisement-free magazine.  Don't you?  Our kids are already bombarded with enough ads on television they don't need to see it in their reading material too.
Storytime is published by a small independent publisher who, having grown tired of all of the magazines packed with adverts and plastic toys, wanted to create a magazine for kids that was simply all about great stories, that parents and children could enjoy reading together.
Storytime also offers FREE printable downloads – masks, fingers puppets, recipes and games – to use in conjunction with the magazine and in school lessons.  Simply go to their website and download the printable templates to use with your little readers.  For example, in one of the magazines we received there is the story of Pinocchio.  We downloaded the Pinocchio mask so we could act out the story as we read it…so fun!
Two other fun activities we enjoyed doing was making Midas Touch handprints and crowns!  First we read the story 'The Midas Touch' about King Midas and then we did the corresponding extension activities from the magazine that immediately followed it.  The kids had fun dipping their hands in yellow paint to make handprints and decorating them with glitter.  We decorated our crowns with various stickers, glitter and gems.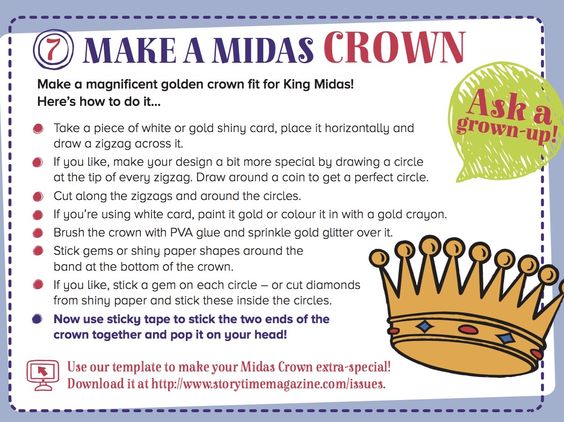 Here are some other things I really like about this magazine:
The name of it…I think Storytime captures the essence of it so perfectly!
Every month you get six stories plus one or two poems
The illustrations are so bright, detailed, and beautiful
The magazine is printed on high-quality glossy paper (It's not the same type of paper I typically see with other magazines – it's definitely more durable and better quality)
They have competitions every month giving children the opportunity to win books and other prizes
Great grammar and vocabulary words are used throughout
It's also worth mentioning that although this magazine is made for children of all ages, I think it's best suited to be read aloud with children during story time.  That's especially true for younger readers between ages birth to 6 years.  Although the stories are great, each one takes up at least 3-6 pages in the magazine, depending on the story.  As children get older and learn to read, they will be able to read the magazine on their own without much assistance.
Sounds great, but how much is it?
Storytime Magazine currently has three different subscription options to US subscribers:
$69.99 – every 12 issues paid by continuous credit/debit card
$79.99 – for 12 issues paid by credit/debit card
$79.99 – for 12 issues paid by Paypal
Is there a discount?
Yes, there is!  Our friends over at Storytime magazine are offering my readers with a massive discount!  They set up a special issue whereby you can try their first three (3) issues for a total of just $5.00!  Click here for the direct link to this special offer. Update: The $5.00 initial promotion has now expired.
If you would prefer to look around their site first, click here.  Enjoy!
Connect with Storytime Magazine!
Website | Facebook | Twitter | Pinterest
Disclosure:  We were sent copies of Storytime Magazine for the purpose of this review, however all opinions expressed are my own.
Your turn: Have you read this magazine with your little readers yet?  If not, are you excited to check it out?  Feel free to share in the comments.