Disclaimer:  This post contains affiliate links.  Therefore, if any purchases are made through my links, I will be compensated a fee which helps me pay hosting fees for keeping this blog up and running.
Have you heard the news?  Yesterday, Gymboree launched a limited-edition of baby books featuring iconic characters from Little Golden Books like The Poky Little Puppy!  I remember reading a few books from The Little Golden series as a child.  I haven't shared these books with my kids yet, but I definitely plan to now.  I'm sure these limited-edition books will be great collector's items so I'll be stocking up!
Before the introduction of Little Golden Books in October 1942, children's books weren't necessarily made with children's interests in mind.  Fortunately, once Little Golden Books hit the market they were an instant hit and have become childhood favorites for several generations ever since.
The books initially sold for 25¢ (rising to 29¢ in 1962).  Today, Little Golden Books generally retail for $3.99 which is still very affordable.  The Poky Little Puppy was and still is the most popular of these original title, helping it become the best-selling children's book of the 20th century.

About Gymboree's Little Golden Books Collection
Gymboree celebrates One Big Happy Storytime with the launch of a limited-edition baby collection featuring iconic characters from Little Golden Books. The Poky Little Puppy, The Fuzzy Duckling and The Shy Little Kitten all come to life in cute, cozy, giftable clothing and accessory sets.
About the One Big Happy Storytime Sweepstakes
As part of the Little Golden Books baby collection launch, Gymboree is hosting a One Big Happy Storytime sweepstakes, giving away everything a family needs to make story time extra special.
YOU can enter for the chance to win over $2,000 in prizes, including Little Golden Books nursery bedding and décor from The Land of Nod, a set of Little Golden Books from Random House, and a $500 gift card from Gymboree!  See all the rules and enter at gymboree.com/littlegoldenbooks now through February 29, 2016; winners will be announced in March.  Good Luck!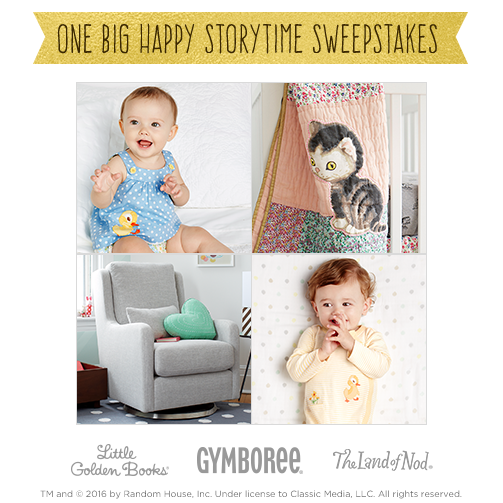 Shop the New Little Golden Books baby collection at Gymboree!
Your turn: Do you remember these books from your childhood?  What are your favorite Little Golden Books?  Feel free to share in the comments.