Where did the month of January go?  I mean seriously.  We are currently just one day away from entering the month of February, Black History Month, can you believe it?  February is our 28-day time frame to shine and because this year is a leap year, we get a bonus day!  While I do believe Black History month should exist, I think the month of February should serve as the starting place for larger, year long discussions and explorations of acceptance and equality as well as African-American history and culture.
Being an African-American mom of two preschoolers, I always get a little annoyed when the one topic people seem to focus on the most when it comes to black history is slavery.  I don't know about you, but I'm not teaching my children about slavery until they are old enough to understand and digest it.
I've often heard many parents, caregivers and educators say they find it difficult or intimidating to teach younger children about black history or choose books due to some of the sensitive topics and images from the past.  While I understand some events in our history are very painful (slavery, segregation, blatant discrimination and violence), there are several other topics and books that can be explored and discussed with children in a fun, lighthearted way.  I think it's important for people to understand that Black history includes more than just slavery and the struggle for civil rights.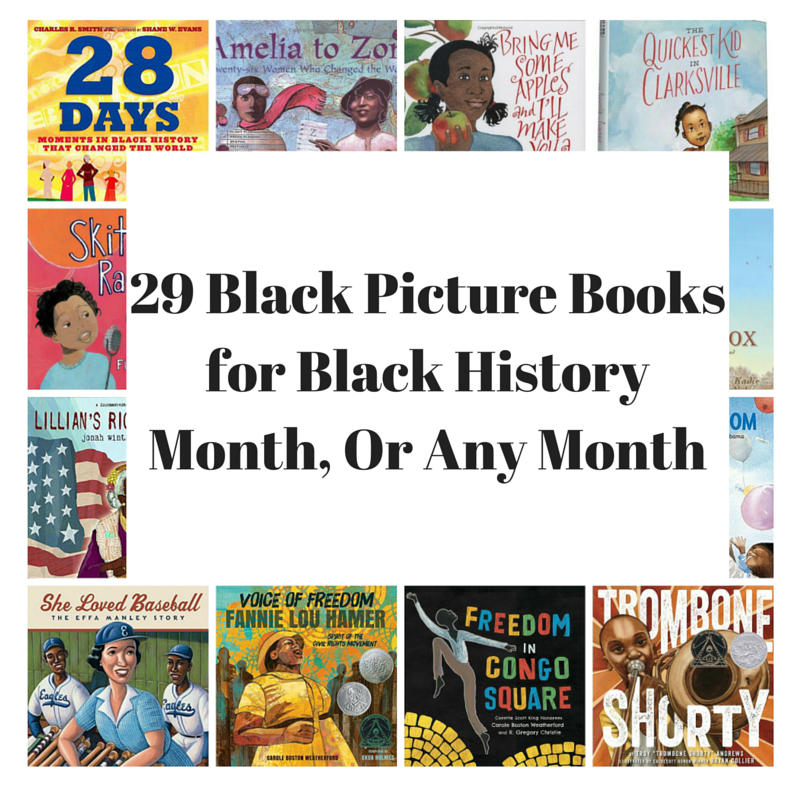 There are so many wonderful picture books that feature black children as the main protagonists.  Here's what I like to do with my kids when it comes to reading books during black history month (or any month):
Read about heroes and heroines from the past and present.  And I'm not just talking about Martin Luther King Jr., Harriet Tubman, Barack Obama, and Rosa Parks.  There are so many other people who have emerged as role models for all of our children.  I like to discuss the obstacles they overcame to make our lives better.  Not just for African-Americans, but for people of all races and colors.
Discuss and explore different items that African-American inventors have contributed to society.  This nation was not built alone by just one race of people.  Many of the things we use in every day life were invented by African-Americans.  For example: the cell phone, traffic light, the refrigerator, the zipper, the ironing board, peanut butter, and the list goes on!
Learn about the many "famous firsts" in African-American history.  I love to share stories of the individuals who were the "first" to accomplish a great feat – regardless of their race. During Black History Month (and every month), I try to make an effort to highlight African-Americans who've paved the way of us and helped to make our lives better.
Here are 29 picture book suggestions to explore.  Enjoy!
Two Friends: Susan B. Anthony and Fredrick Douglass by Dean Robbins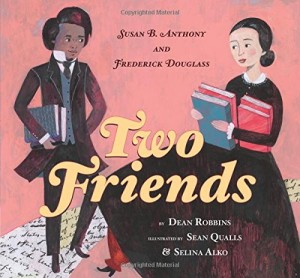 Two friends, Susan B. Anthony and Frederick Douglass, get together for tea and conversation. They recount their similar stories fighting to win rights for women and African Americans. The premise of this particular exchange between the two is based on a statue in their hometown of Rochester, New York, which shows the two friends having tea.
The Quickest Kid in Clarksville by Pat Zietlow Miller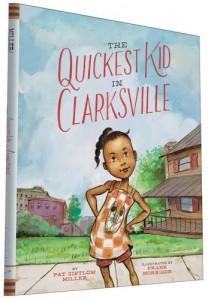 It's the day before the big parade. Alta can only think about one thing: Wilma Rudolph, three-time Olympic gold medalist. She'll be riding on a float tomorrow. See, Alta is the quickest kid in Clarksville, Tennessee, just like Wilma once was.
Freedom in Congo Square by Carole Boston Weatherford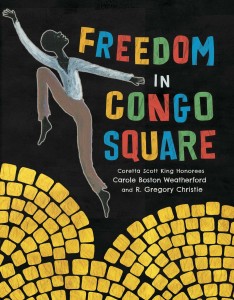 This poetic, nonfiction story about a little-known piece of African American history captures a human's capacity to find hope and joy in difficult circumstances and demonstrates how New Orleans' Congo Square was truly freedom's heart.
Don't Let Auntie Mabel Bless the Table by Vanessa Newton

Do you have a relative who seems to pray forever when they're blessing the food? This hilarious book is about a group of family and friends gathering together for Sunday dinner at Auntie Mabel's house. Before they begin to eat, Auntie Mabel has to bless the table. The only problem is she wants to bless everything from the yams, to the tables and chairs, to the President of the United States! Meanwhile, the food is getting cold and everyone just wants to eat. Will dinner ever be served? I'm sure most families have someone like Auntie Mabel who loves to bless the table, but doesn't know when to stop.
Sewing Stories: Harriet Powers' Journey from Slave to Artist by Barbara Herkert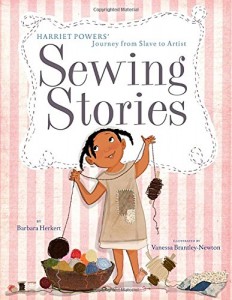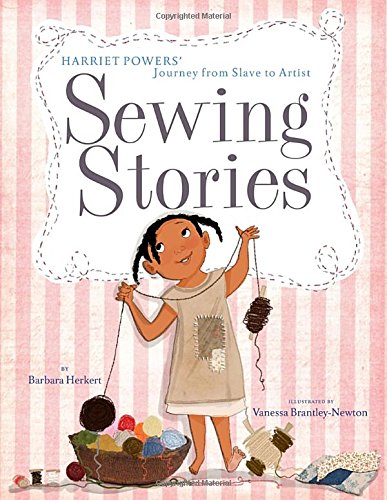 Harriet Powers learned to sew and quilt as a young slave girl on a Georgia plantation. She began making pictorial quilts, using each square to illustrate Bible stories and local legends. Harriet exhibited her quilts at local cotton fairs, and though she never traveled outside of Georgia, her quilts are now priceless examples of African-American folk art.
Voice of Freedom: Fannie Lou Hamer: The Spirit of the Civil Rights Movement by Carole Boston Weatherford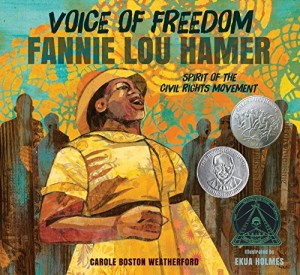 Fannie Lou Hamer was a champion of civil rights from the 1950s until her death in 1977.  Voice of Freedom celebrates Fannie Lou Hamer's life and legacy with a message of hope, determination, and strength.
Before There Was Mozart by Lesa Cline-Ransome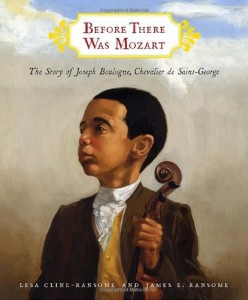 Joseph Boulogne, Chevalier de Saint-George was born on Christmas Day in 1739 on the tiny island of Guadeloupe in the West Indies. He soon became known as the most talented violin player and musician in France. During one of his performances, young Wolfgang Amadeus Mozart was in the audience. This was before Mozart was well-known. In the end, Joseph does indeed perform for the king and queen of France and is invited back on several occasions. In 2001, a street Rue du Chevalier de Saint-George was named in his honor. An awesome historical non-fiction book for children and music lovers.
She Loved Baseball: The Effa Manley Story by Audrey Vernick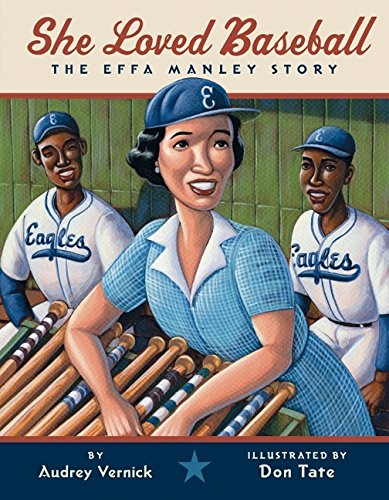 Effa always loved baseball. As a young woman, she would go to Yankee Stadium to see Babe Ruth. Effa never dreamed she would someday own a baseball team, yet alone be the first and only woman ever inducted into the Baseball Hall of Fame. An inspirational story for girls and boys who love baseball.
Gordon Parks: How the Photographer Captured Black and White America by Carole Boston Weatherford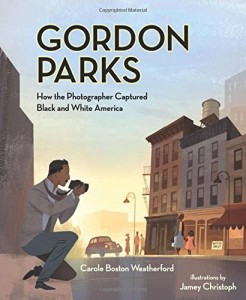 Gordon Parks is most famous for being the first black director in Hollywood. But before he made movies and wrote books, he was a poor African American looking for work. When he bought a camera, his life changed forever. He taught himself how to take pictures and before long, people noticed.
Molly, by Golly!: The Legend of Molly Williams, America's First Female Firefighter by Dianne Ochiltree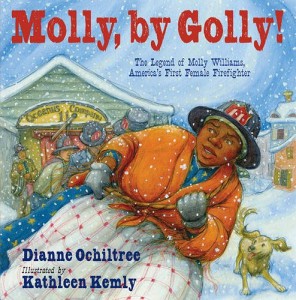 This legendary tale introduces young readers to Molly Williams, an African American cook for New York City's Fire Company 11, who is considered to be the first known female firefighter in U.S. history.
Fly High!: The Story of Bessie Coleman by Louise Borden & Mary Kay Kroeger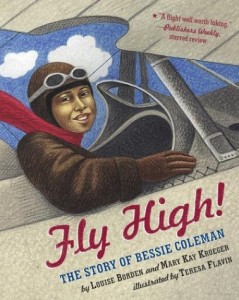 When Bessie Coleman was a child, she wanted to be in school — not in the cotton fields of Texas, helping her family earn money. She wanted to be somebody significant in the world. So Bessie did everything she could to learn under the most challenging of circumstances. At the end of every day in the fields she checked the foreman's numbers — made sure his math was correct. And this was just the beginning of a life of hard work and dedication that really paid off: Bessie became the first African-American to earn a pilot's license.
Oprah: The Little Speaker by Carole Boston Weatherford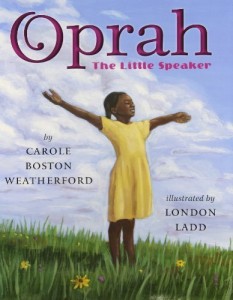 Here is the story of Oprah Winfrey's childhood, a story about a little girl on a Mississippi pig farm who grew up to be the "Queen of Talk." The host of the Emmy Award–winning Oprah Winfrey Show , she currently directs a media empire that includes television and movie productions, magazines, a book club, and radio shows. An author's note is included.
Skit-Scat Raggedy Cat: Ella Fitzgerald by Roxane Orgil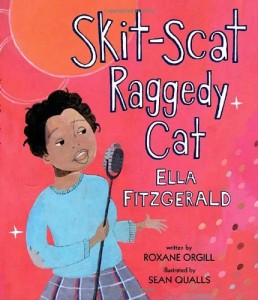 With lively prose, Roxane Orgill follows the gutsy Ella from school-girl days to a featured spot with Chick Webb's band and all the way to her number-one radio hit "A-Tisket, A-Tasket." Jazzy mixed-media art by illustrator Sean Qualls brings the singer's indomitable spirit to life.

28 Days: Moments in Black History that Changed the World by Charles R. Smith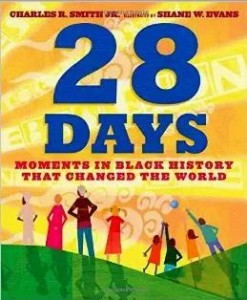 What a fantastic book!  Each day features a different influential figure in African-American history, from Crispus Attucks, the first man shot in the Boston Massacre, sparking the Revolutionary War, to Madame C. J. Walker, who after years of adversity became the wealthiest black woman in the country, as well as one of the wealthiest black Americans, to Barack Obama, the country's first African-American president.
Granddaddy's Turn by Michael S. Bandy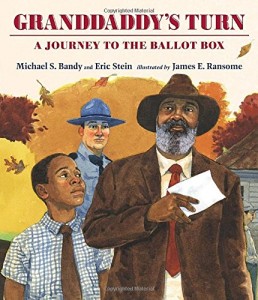 Life on the farm with Granddaddy is full of hard work, but despite all the chores, Granddaddy always makes time for play, especially fishing trips. Even when there isn't a bite to catch, he reminds young Michael that it takes patience to get what's coming to you. One morning, when Granddaddy heads into town in his fancy suit, Michael knows that something very special must be happening?—?and sure enough, everyone is lined up at the town hall! For the very first time, Granddaddy is allowed to vote, and he couldn't be more proud
I Am Michelle Obama the First Lady by Margina Graham Parker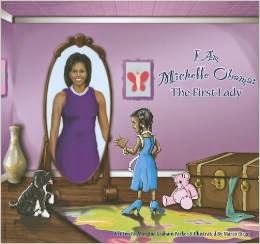 This historical children's book is definitely a must-have and a must-read for both children and parents.  This book was given to me as a gift from my baby shower when I was pregnant with my daughter.  The illustrations throughout are absolutely beautiful – so vibrant and rich.   It's so inspiring to read and learn about all the accomplishments the First Lady has achieved.  What a great book to illustrate to children that they can do anything – the sky is truly the limit!
Trombone Shorty by Troy Andrews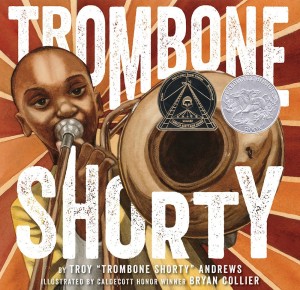 Hailing from the Tremé neighborhood in New Orleans, Troy "Trombone Shorty" Andrews got his nickname by wielding a trombone twice as long as he was high. A prodigy, he was leading his own band by age six, and today this Grammy-nominated artist headlines the legendary New Orleans Jazz Fest.
Jeremy just wants" those shoes". A pair of black high-tops with white stripes. The same pair of shoes all his other friends have. When Jeremy finally gets a pair of "those shoes" what he does with them is very touching. I'm convinced children's books have the best messages! This book delivers powerful lessons on topics like: being grateful, sharing, kindness, friendship, and generosity.
I Like Myself by Karen Beaumont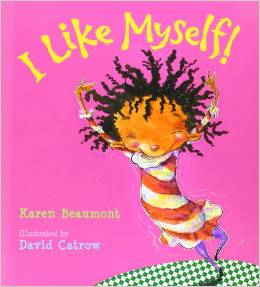 High on energy and imagination, this ode to self-esteem encourages kids to appreciate everything about themselves–inside and out. Messy hair? Beaver breath? So what! Here's a little girl who knows what really matters.  At once silly and serious, Karen Beaumont's joyous rhyming text and David Catrow's wild illustrations unite in a book that is sassy, soulful–and straight from the heart.
Of Thee I Sing: A Letter to My Daughters by Barack Obama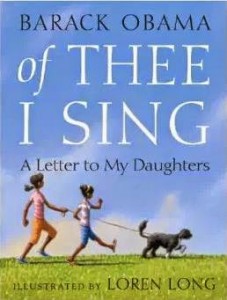 Did you know President Barack Obama is also an author?  In this tender, beautiful letter to his daughters, President Barack Obama has written a moving tribute to thirteen groundbreaking Americans and the ideals that have shaped our nation. From the artistry of Georgia O'Keeffe, to the courage of Jackie Robinson, to the patriotism of George Washington, President Obama sees the traits of these heroes within his own children, and within all of America's children.
Last Stop on Market Street by Matt De La Pena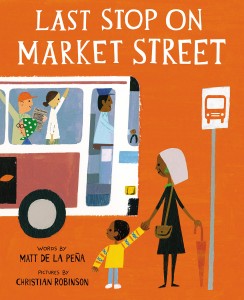 Every Sunday after church, CJ and his grandma ride the bus across town. But today, CJ wonders why they don't own a car like his friend Colby. Why doesn't he have an iPod like the boys on the bus? How come they always have to get off in the dirty part of town? Each question is met with an encouraging answer from grandma, who helps him see the beauty—and fun—in their routine and the world around them.
I Have a Dream by Kadir Nelson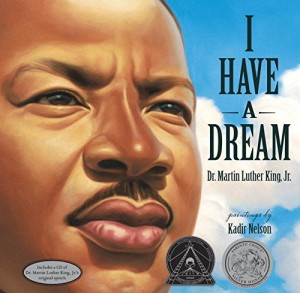 Illustrator Kadir Nelson is extremely talented…I LOVE his work! This book contains snippets from the famous "I Have a Dream" speech as well as the speech in its entirety in the back of the book. The illustrations in this book are beyond amazing!
Josephine: The Dazzling Life of Josephine Baker by Patricia Hruby Powell and Christian Robinson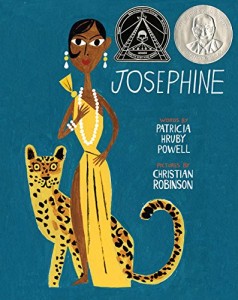 Josephine Baker worked her way from the slums of St. Louis to the grandest stages in the world. Meticulously researched by both author and artist, Josephine's powerful story of struggle and triumph is an inspiration and a spectacle, just like the legend herself.
Harlem's Little Blackbird by Renee Watson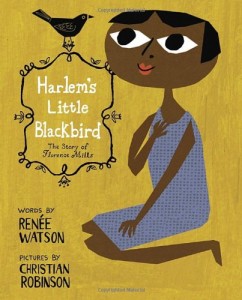 Zora and Langston. Billie and Bessie. Eubie and Duke. If the Harlem Renaissance had a court, they were its kings and queens. But there were other, lesser known individuals whose contributions were just as impactful, such as Florence Mills. Born to parents who were former-slaves Florence knew early on that she loved to sing. And that people really responded to her sweet, bird-like voice.
Monster Trouble by Lane Fredrickson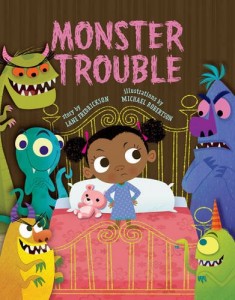 Nothing frightens Winifred Schnitzel—but she DOES need her sleep, and the neighborhood monsters WON'T let her be! Every night they sneak in, growling and belching and making a ruckus. Winifred constructs clever traps, but nothing stops these crafty creatures. What's a girl to do?  The delightfully sweet ending will have every kid—and little monster—begging for an encore.
Lillian's Right to Vote by Jonah Winter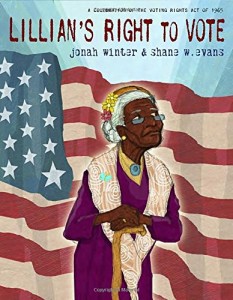 As Lillian, a one-hundred-year-old African American woman, makes a "long haul up a steep hill" to her polling place, she sees more than trees and sky—she sees her family's history. She sees the passage of the Fifteenth Amendment and her great-grandfather voting for the first time. She sees her parents trying to register to vote. And she sees herself marching in a protest from Selma to Montgomery.
One Plastic Bag by Miranda Paul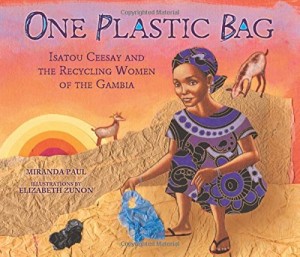 Plastic bags are cheap and easy to use. But what happens when a bag breaks or is no longer needed? In Njau, Gambia, people simply dropped the bags and went on their way. One plastic bag became two. Then ten. Then a hundred.  The bags accumulated in ugly heaps alongside roads. Water pooled in them, bringing mosquitoes and disease. Some bags were burned, leaving behind a terrible smell. Some were buried, but they strangled gardens. They killed livestock that tried to eat them. Something had to change.  Isatou Ceesay was that change. She found a way to recycle the bags and transform her community. This inspirational true story shows how one person's actions really can make a difference in our world.
When the Beat Was Born: DJ Kool Herc and the Creation of Hip Hop by Laban Carrick Hill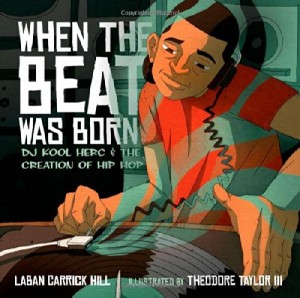 From his childhood in Jamaica to his youth in the Bronx, Laban Carrick Hill's book tells how Kool Herc came to be a DJ, how kids in gangs stopped fighting in order to break dance, and how the music he invented went on to define a culture and transform the world.
Little Melba and Her Big Trombone by Katheryn Russell-Brown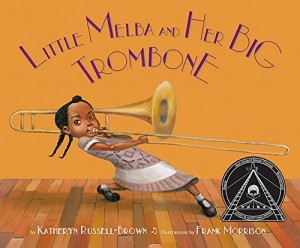 Overcoming obstacles of race and gender, Melba went on to become a famed trombone player and arranger, spinning rhythms, harmonies, and melodies into gorgeous songs for all the jazz greats of the twentieth century: Randy Weston, Duke Ellington, Count Basie, Billie Holiday, and Quincy Jones, to name just a few. Brimming with ebullience and the joy of making music, Little Melba and Her Big Trombone is a fitting tribute to a trailblazing musician and a great unsung hero of jazz.
BONUS BOOK!! (Released on February 1, 2016)
Don't Call Me Grandma by Vaunda Michaeux Nelson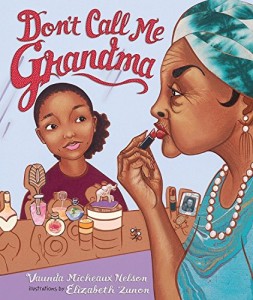 Great-grandmother Nell eats fish for breakfast, she doesn't hug or kiss, and she does NOT want to be called grandma. Her great-granddaughter isn't sure what to think about her. As she slowly learns more about Nell's life and experiences, the girl finds ways to connect with her prickly great-grandmother
I believe Black History Month is about teachable moments, no matter how big or small.  But please, don't just limit black history to a few short weeks during the month of February.  Instead, aim to make black history and culture a natural part of your children's reading material throughout the year. I hope I've provided you with some book suggestions for children of all colors.  You don't need a packaged curriculum or rigid adherence to school standards to craft a quality educational experience for children.  All you need is the desire to inspire, encourage, and educate.
Your turn:  What are your favorite Black children's books to read?  Which ones would you add to the list?  Feel free to share in the comments.