Happy Multicultural Children's Book Day!
I am so excited to be chosen as a Multicultural Children's Book Day (MCCBD) reviewer this year!
The book I was sent to review is Drum Dream Girl written by Margarita Engle and beautifully illustrated by Rafael Lopez.  Although I previously read this book with the kids before, I was delighted to receive a copy to add to our home library!
Drum Dream Girl by Margarita Engle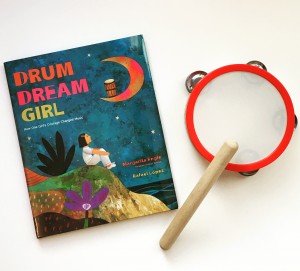 This book is based on the true story of a young girl named Millo Castro Zaldarriaga, a Chinese-African-Cuban who broke down barriers for female drummers in Cuba in the 1930s.  Back in those days, there was an unwritten rule that stated girls cannot be drummers.  No one dared to question that rule – that is until little Millo came along.  She thought both boys and girls should be free to play the drums, but everyone else disagreed including her father.
Millo dreamed of pounding tall congas and tapping small bongós.  She hoped her dream would some day come true, but until that day came, she kept on dreaming and practicing in secret on her own.  Millo's father understood how much his daughter loves playing the drums, so one day he finds her a teacher who helps to perfect her drumming skills.  Finally, Millo is ready to play the drums in a cafe on the street to show that girls can play drums too.  It was during that performance that everyone decided that indeed both girls and boys should be free to drum and dream.
It was refreshing to revisit this book with the kids.  They really liked all the bold colors and illustrations and I loved the overall message which tells children to follow their dreams.  It was interesting to hear my daughter say, "Look Mommy, I can play the drums!" as she ran off and got her drum set right after I finished reading the book.  It's amazing how far we've come from the 1930s when it was taboo for women and girls to have the freedom to do the things their hearts desired.
Extension Activities
There are lots of different extension activities you can do with kids after reading this book.  Below are two examples.
Have a Discussion
Talk about the idea that only boys should play drums.  Do you think it's unfair or reasonable?
Talk about different things that people today think is only for boys or only for girls.
Make a Drum (or another musical instrument)!
Since the Chinese New Year is coming up, we decided to do a Chinese drum craft activity using paper plates.  It was fun!  We got the idea from Pinterest.
Here's what we used:
Two paper plates (or bowls)
Paint (we used red and gold glitter paint)
Paintbrush
Glue gun (or stapler)
1 craft stick
Yarn
Two buttons (you can also use jingle bells)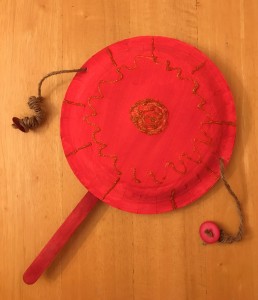 Want to learn more about the Multicultural Children's Book Day organization?
Our mission:  The MCCBD team's mission to spread the word and raise awareness about the importance of diversity in children's literature. Our young readers need to see themselves within the pages of a book and experience other cultures, languages, traditions and religions within the pages of a book. We encourage readers, parents, teachers, caregivers and librarians to follow along the fun book reviews, author visits, event details, a multicultural children's book linky and via our hashtag (#ReadYourWorld) on Twitter and other social media.
The co-creators of this unique event are Mia Wenjen from Pragmatic Mom and Valarie Budayr from Jump Into a Book/Audrey Press. You can find a bio for Mia and Valarie here.
Platinum Sponsors: Story Quest Books.Wisdom Tales Press, Lil' Libros. 
Gold Sponsors: Candlewick Press, Tori Nighthawk: Don't Judge A Bird By its Feathers. Bharat Babies
Silver Sponsors:Lee & Low Books, Chronicle Books, Capstone Young Readers, China Institute.org, Tuttle Publishing. NY Media Works, LLC/KidLit TV
Bronze Sponsors: Jacqueline Woodson, Pomelo Books, Papa Lemon Books, Goosebottom Books LLC, Author Gleeson Rebello, M.D ., Shout Mouse Press, Mahvash Shahegh. LiveOak Media

Our CoHosts
Multicultural Children's Book Day has 12 amazing co-Hosts and you can view them here.
Classroom Reading Challenge: Help spread the word on our Classroom Reading Challenge . This very special offering from MCCBD offers teachers and classrooms the chance to (very easily) earn a free hardcover multicultural children's book for their classroom library. These books are not only donated by the Junior Library Guild, but they are pre-screened and approved by them as well.
What we could really use some help with is spreading the word to your teacher/librarian/classroom connections so we can get them involved in this program. There is no cost to teachers and classrooms and we've made the whole process as simple as possible. You can help by tweeting the below info:
Teachers! Earn a FREE #Multicultural Kids Book for Your Classroom! #teachers, #books #teacherlife
http://ow.ly/UUy96
The Classroom Reading Challenge has begun! Teachers can earn a free diversity book! #teachers, #books
http://multiculturalchildrensbookday.com/?p=1796​
Connect with MCCBD!
Facebook: https://www.facebook.com/MulticulturalChildrensBookDay
Twitter: https://twitter.com/MCChildsBookDay
Official Hashtag:  #ReadYourWorld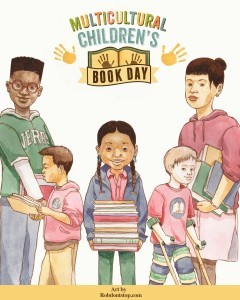 Your turn:  How will you be celebrating Multicultural Children's Book Day with your little readers?  Feel free share in the comments.