In honor of Black History month, today I wanted to draw your attention to some promising women authors to keep an eye out for. Mark my words: you are going to hear much more about them in years to come!
Though they may not all be household names yet, some have already achieved national recognition and established steady careers as writers. From non-fiction to children's fiction and poetry, these five authors will give us plenty to read in 2016 and beyond.  They all have published empowering books about young African-American girls, varying from blazing adventures at the zoo, to the importance of self-worth, to adoption.
Here are five women authors to watch listed in random order.  (P.S. The information for the giveaway is listed at the end.  Good Luck!)

1. Rachel Garlinghouse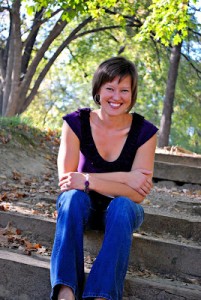 Rachel is a mother of 3 African-American children through domestic, transracial, open adoption. She taught college composition at Southern Illinois University Edwardsville for nine years before "retiring" to focus on writing and speaking. Her work and experiences has been featured on MSNBC, NPR, Huffington Post Live, Scary Mommy, ABCnews.com, My Brown Baby, Madame Noire, and in Essence magazine, just to name a few. She's the facilitator of a large St. Louis area adoption triad and fostering support group for women. Her first children's book, Black Girls Can: An Empowering Story of Yesterdays and Todays, was released in September of 2014. When she's not writing, Rachel can be found dancing, baking, reading, and creating art with her children.
Rachel blogs over at White Sugar, Brown Sugar.  She also wrote four other books: Come Rain or Come Shine: A White Parent's Guide to Adopting and Parenting Black Children, Encouragement for the Adoption and Parenting Journey: 52 Devotions & a Journal, Homeschooling Your Young Black Child, Poems for the Smart, Spunky, and Sensational Black Girl
Last year, I reviewed Rachel's latest adorable children's book, Poems for the Smart, Spunky, and Sensational Black Girl on the blog.  You can check out that review and my reflection here.  Connect with Rachel on Facebook or Instagram.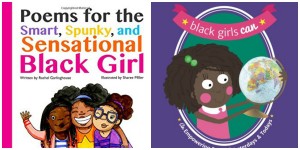 2. Sara Crutcher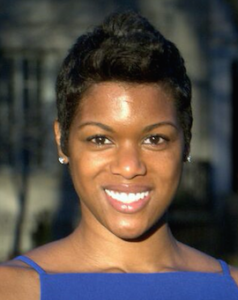 First-time author Sara Elizabeth Neal Crutcher believes her greatest blessing came at just six weeks old in Greensboro, North Carolina when she was adopted into a loving and supportive family. At five years old, Sara recalls her parents sitting her down to explain her adoption. Although at the time she did not fully understand what adoption meant, she was reassured that she was heart picked and surrounded by unconditional love. Sara wrote Heart Picked: Elizabeths Adoption Tale to share a glimpse of her journey and also to support adopted children and the families who love them. Sara is an advertising executive, entrepreneur and blogger. She graduated from Hampton University with a degree in advertising. She enjoys spending time with her family and friends, traveling, reading novels, and playing her violin.  To learn more about Sara visit her website or connect with her on Twitter.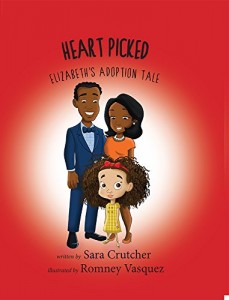 My reflection: It's family week at school and little six-year-old Elizabeth is nervous about what her friends and everyone else will think of her dad.  You see, Elizabeth is adopted so she doesn't look like either of her adopted parents.  Elizabeth's mom tries to comfort her by telling her she was 'heart picked' especially for them.  Both of her parents explain what being adopted really means and in the end, Elizabeth understands just how special she truly is.

My kids are still too young to understand the concept of adoption, but when they are old enough I will use this book to explain it to them.  I think this book does a great job describing what it means to be adopted in an easy way for older children (ages 6 and up) to understand with cute, colorful illustrations to match.
The overall message of this book is wonderful: "love is what truly makes a family".  It doesn't matter if you all look alike, if there is love in your heart, that's all you need.

3. Veronica N. Chapman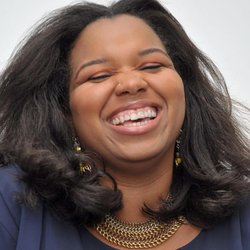 Veronica N. Chapman is an entrepreneur, author, and playwright, having written and produced Ancestors Inc., a motivational play for teens, and The Advent of Planet Martyr: An Innovative Social Commentary, a self-published book. A graduate of Spelman College (B.A. in Spanish) and Babson College (M.B.A.), she is committed to using her gifts to act upon her ideas and improve the world. Each of her endeavors, Boxxout Enterprises, Potlucks for Progress, My Crowning Jewel, and I Know I Can!, are in line with this commitment. I Know I Can! is Veronica's first children's book.  To learn more about I Know I Can! and Veronica, connect with her on Facebook and on Twitter.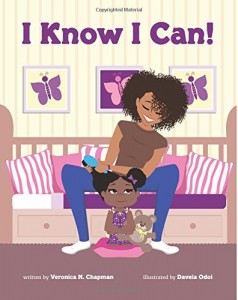 My reflection: Since the tender age of two, Faith's parents taught her she could do anything she wanted to do – and she believed them!  In her dreams, she visited different places around the world, met new people, and experienced different cultures.  The story goes on to follow Faith from being a toddler right through graduating from high school as the valedictorian of her class.
I love how empowering this book is for little girls!  It also exposes children to a few different world landmarks like the Louvre Museum in France and the Malecon in Cuba.  In addition, it features some famous African-American icons such as Dr. Martin Luther King Jr., Mahalia Jackson, Fannie Lou Hamer, and Nina Simone.
After reading this book, children will easily come to understand that anything is possible along with the value of hard work.  At the end of the book, it reminds little readers that the world is theirs to explore and provides examples of a few fun things they can do in preparation for foreign travel.
4. Arnitris L. Strong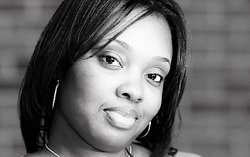 Arnitris is the creator of Blessed be the Tie, which is dedicated to offering signature mommy and me experiences through events, products and services. She is the editor of The Refresh Guide, an online magazine committed to revealing the secrets of fabulous women everywhere. When she isn't writing, Arnitris can usually be found where creative minds are mingling while rocking a fierce pair of heels. Connect with her on her website, Instagram and twitter @arntrs77.
Nappy and the First Day of Kindergarten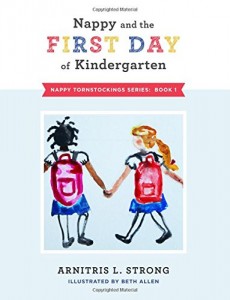 My reflection: The first day of Kindergarten finally arrived for little Lynn!  While she is excited about going to school, she had a serious case of butterflies in her tummy.  She explains her nervousness and excitement to her sister Destani, who in true older sibling fashion makes fun of her and calls her 'Nappy'.  When Lynn finally gets to school she notices another girl in her class (Amy) is also scared about starting at a new school.  They instantly become friends and walk bravely into Kindergarten together.
My kids are only two and three, but I'm already dreading the day when they both go off to Kindergarten.  I already know I'm going to be a hot mess!  No doubt there will be tears and anxiety, but probably more on my end than the kids!
I think this book does a good job capturing what typical 4 and 5 year-olds may be feeling on the first day of Kindergarten, especially if it's a brand new school.  This book lets little readers know that it's ok to be nervous when trying and experiencing new and different things.  It's also a story of self-acceptance, being brave, and friendship between two girls who are different, yet the same.  More upcoming titles are expected to be released later this year!
5. Cindy J. Cadet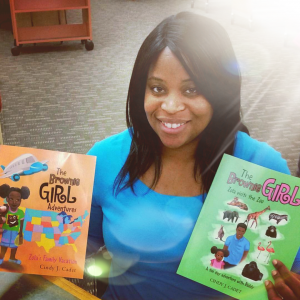 Cindy J. Cadet has worked with students in diverse age groups. After obtaining her MBA, she began her journey as a substitute teacher in the classroom with kindergarten children. She then worked in higher education administration. Cindy, a wife and mother, is very passionate about family life and solutions to building a strong and loving foundation. Being a mom has inspired her to create a fun story about a girl who is smart, adventurous and loves doing new things. Her two books are entitled: The Brownie Girl Zola Visits the Zoo: A Fun Day Adventure with Daddy and The Brownie Girl Adventures: Zola's Family Vacation.  Cindy lives with her family in Connecticut.  Connect with Cindy on her website or visit her Facebook page.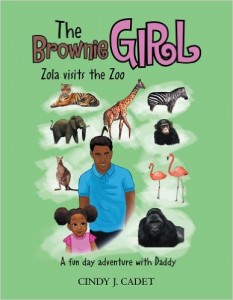 My reflection: Zola and her dad are ready for a day at the zoo!  What types of animals will they see?  What sights and sounds will they experience?  Adventure awaits!  Oh, and there's a sweet surprise at the end, but I won't spoil it for you!
We haven't taken our kids to the zoo yet, but I can't wait to go – perhaps this summer!  I imagine our first time going will be similar to Zola and her dad's visit.  I love all of the different animals featured in this book and the fact that she and her dad spent some quality time together.  Father/daughter time is so important for helping to raise strong, independent, and confident girls.  I think this is a fun, cute story for little girls and dads to share.
The books in the Brownie Girl Adventure series are designed for families to read together.  Parents read to their child and when the child can read on their own they can read it to their parents or friends.  Each story is meant to encourage families to spend quality time together and empower children to write their own stories.  Proceeds of these books are shared with two children's charities.
It's Giveaway Time…Again!
I just love giveaways, don't you?  Keeping up with the Black History Month theme, all five of these amazing authors have agreed to give away 1 FREE copy of each of their children's books!!  That's 6 books in all – up for grabs (they might even be signed copies):  Poems for the Smart, Spunky, and Sensational Black Girl, Black Girls Can: An Empowering Story of Yesterdays and Todays, Heart Picked: Elizabeths Adoption Tale, I Know I Can!, Nappy and the First Day of Kindergarten (e-book), and The Brownie Girl Zola Visits the Zoo: A Fun Day Adventure with Daddy (e-book).
What a great prize pack for a lucky little lady this Black History Month!  Enter today for your chance to win – good luck!
Your turn:  Have you read any books written by these authors?  Which ones are you most excited to read with your little girl(s)?  Feel free to share in the comments.