One night while browsing on Instagram, I spotted the book Poems for the Smart, Spunky, and Sensational Black Girl and my daughter happened to be sitting next to me.  She saw the picture and said, "Mommy, what's that?"  When I told her it was a book she said, "I want to read it."  I had already made up my mind I was going to purchase it as soon as it came out because it looked amazing, but my daughter re-affirmed it for me.
I love reading stories with my daughter that she can relate to (and my son too).  That means stories about kids—or, more specifically, stories where girls take the lead.  (Yay, girlpower!)  And the spunkier the heroine, the better.  That's why Rachel Garlinghouse's latest book is the perfect choice for my smart, spunky, and sensational little Black girl.
Poems for the Smart, Spunky, and Sensational Black Girl
by Rachel Garlinghouse, illustrated by Sharee Miller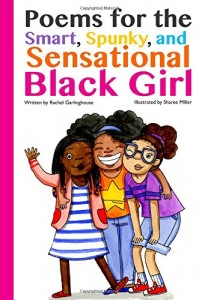 Synopsis
Today's girl has a lot going on! From beads, bullies, and birthdays, to school, sunglasses, and siblings, Poems for the Smart, Spunky, and Sensational Black Girl resonates and inspires! From Rachel Garlinghouse (author and mom) and Sharee Miller (owner of Coily and Cute) comes this one-of-a-kind poetry collection that will certainly bring a smile to your little lady's face and heart.
Reflection
The first day this book arrived in the mail I read it on my own before reading it to the kids.  When I read it to the kids I read half of the poems in the afternoon before nap time, then read the other half later that night at bed time.  They both listened and were attentive and engaged throughout each reading session.  There are a total of 23 short poems contained in this book so I think breaking it up and reading a few at a time may work best, especially if you have little ones who tend to get fidgety.  Older kids should have no problems reading this book in one sitting though.
One of the poems is entitled The Things I Like.  I adore this poem because people are so quick to 'box your children in' these days.  Meaning, they try to label your child as shy, aggressive, tomboys, or a girlie girls.  I think you should allow your kids to be exactly who God created them to be whether that be a beauty queen or a brainiac, an athlete or a quirky, creative type, or a lovely mixture of all of the above.  This poem does a great job of expressing that through the text as well as the illustration.
There is also a short thought-provoking poem called What If.  It's a series of questions like, 'What if Oprah Winfrey never would have spoken?'  'What if Rosa Parks never would have refused?'  Not only did this poem cause me to reflect on all of these wonderful women, but it also inspired me to leave behind my own legacy to make people ponder their own 'what if' question about me.  Hopefully, this poem will resonate with my daughter throughout the years as she gets older.
Another favorite poem called Between Mama's Knees is simply beautiful.  It's about a little girl sitting between her mama's knees to get her hair done.  Something I remember all to well as a child.  The last line in that poem is "Between mamas' knees beauty is born."  How perfect is that?
The illustrations in this book are so bright, vibrant, and beautiful!  I love the representation of girls, boys, men, and women of different races featured throughout.  Oh, and because I am also a natural hair enthusiast, I must mention the hairstyles are adorable!  You'll see little girls rocking afro puffs, beads, ponytails, braids, and twist outs.
It's also worth mentioning this is a paperback book.  Therefore, if you have little ones who are still in the phase of putting everything in their mouths keep this in mind as the pages may rip easily.  The glossy cover of the book seems more durable than the actual pages.
The childish viewpoints in the poems feel bright, unforced, and happily spontaneous.   There are short and funny selections mixed with slightly longer, more thoughtful verse.  Some of the poems may even help to build up a girl's self-esteem so she can walk and breathe with pride accepting herself for who she is.  This book may also inspire girls to start writing some poetry of their own.
Overall, I think this is an excellent book to add to a girls' book collection!  Especially if she's a smart, spunky, and sensational Black girl.
Disclaimer:  I purchased this book with my own money and was not compensated to write this review.  All opinions and views expressed are my own.
Your turn:  Did you enjoy this post?  Are you looking forward to reading it with your little ones?  Feel free to share in the comments.