Monster Trouble by Lane Fredrickson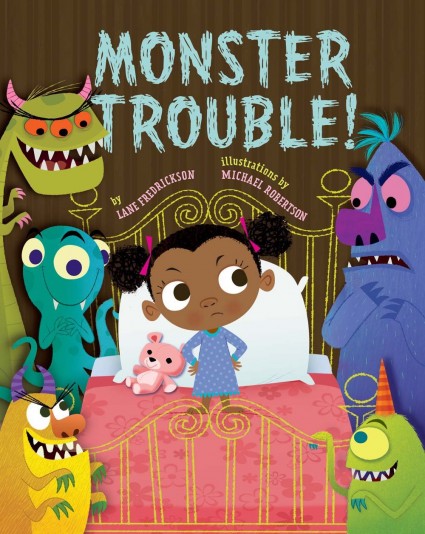 Synopsis
Nothing frightens Winifred Schnitzel—but she DOES need her sleep, and the neighborhood monsters WON'T let her be! Every night they sneak in, growling and belching and making a ruckus. Winifred constructs clever traps, but nothing stops these crafty creatures. What's a girl to do?
Reflection
Both of my kids really enjoyed this book – it was a big hit last month and this month.  Little Winifred Schnitzel is too cute with her two afro puff ponytails!  Oh, and she's very brave too.
In this book, she tries several different tactics to keep monsters at bay so she can get some much needed beauty sleep.  Winifred sets traps using string, she uses some stinky Limburger cheese, and even a pokey chair.  Unfortunaley, she is unsuccessful at trying to trap or trick the monsters and she eventually falls into a deep sleep.  When she is awakened by one of the monsters, she kisses him.  Well, the monster is totally disgusted by the kiss and he starts freaking out.  Wise little Winifred takes notice of how grossed out the monster is, so she starts kissing all of them and they finally leave her alone at night to sleep.  So if you've ever wondered how to get monsters to leave you alone now you know the secret…kiss them!
I think this is a great book for children who are afraid of the dark when the lights go out at night.  It can also be used to teach kids how to deal with their fears and being strong and brave.  I would recommend this book for children ages 3 – 8 (even though I read it with my little guy who's almost two years old).
Parents, caregivers, and teachers don't have to worry about scary or spooky looking monster illustrations in this book. The pictures are colorful and entertaining. The story is written in a fun rhyming way that's perfect for story telling and keeping little readers and listeners captivated.  A great Halloween read aloud book for both girls and boys!
Looking for more Halloween-themed books for kids?  Check out one of my previous posts here.
Your Turn:  Did you enjoy this book review?  Have you read this book yet?  If so, feel free to let me know if you and your little ones enjoyed it.