Since becoming a parent I've come to realize that having kids makes all of the holidays more fun, especially Halloween!
All month long the kids and I will be reading several Halloween-themed books.  I want the kids to be familiar with some of the scarier aspects of Halloween including ghosts, witches, vampires, and goblins before the holiday rolls around.  Granted, they still might be frightened if they see some of the older kids dressed up in scary costumes, but I'm hoping over time they'll learn to understand it's just for fun.
Below is a list of all the "not-too-scary" Halloween books we're reading this month.  I think they're all infant and toddler friendly for young trick-or-treaters.  Enjoy!
Board Books
Ghost in the House (A Lift the Flap Book) by Ammi-Joan Paquette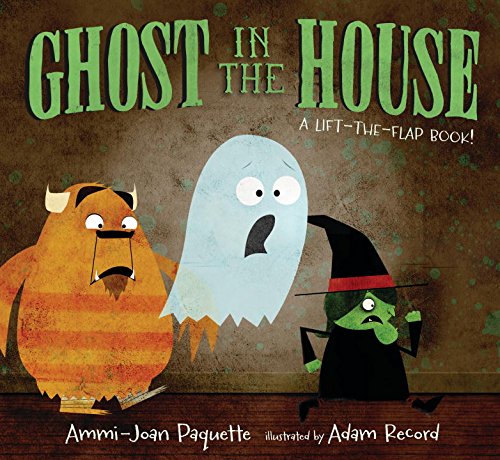 Slip-sliding his way through a haunted house, a little ghost is joined by a shuffling mummy, a happy little monster, and other ghoulish friends before discovering the scariest creature in the house. (There is also a picture book version of this book available without the flaps.)
Where is Baby's Pumpkin? (A Lift the Flap Book) by Karen Katz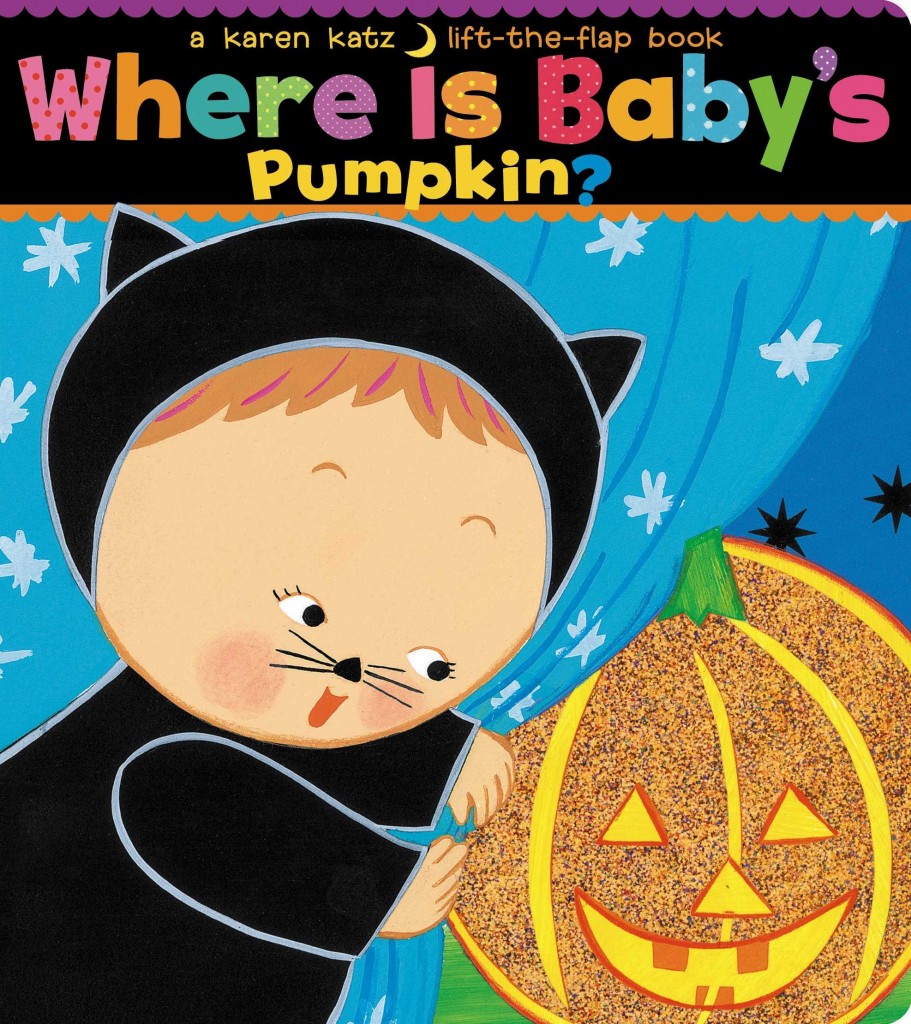 Little readers can help baby find her pumpkin by lifting the flaps on each page. Look under the bed, behind the leaves, behind the curtain, and more! Will baby find her pumpkin in time to go trick-or-treating?
Hush, Little Monster by Denis Markell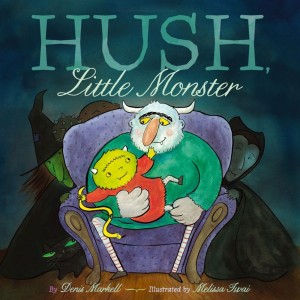 A monster father softly sings his own version of a favorite lullaby, Hush Little Baby to his son. A screeching owl, a vampire, an ogre, and zombies are just a few of the creatures who will come to soothe Little Monster through the night.
Jack and Jill: A Halloween Nursery Rhyme by Salina Yoon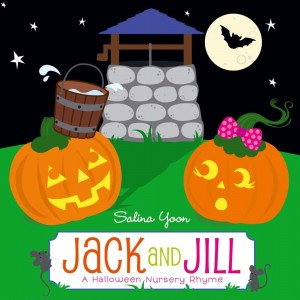 The nursery rhyme may be familiar—but everything changes when "Jack" and "Jill" are jack-o'-lanterns! Salina Yoon takes a classic tale and gives it a fresh spin, brightly and boldly adorning the pages of this chunky board book with cheerfully grinning pumpkins.
The Itsy Bitsy Pumpkin by Sonali Fry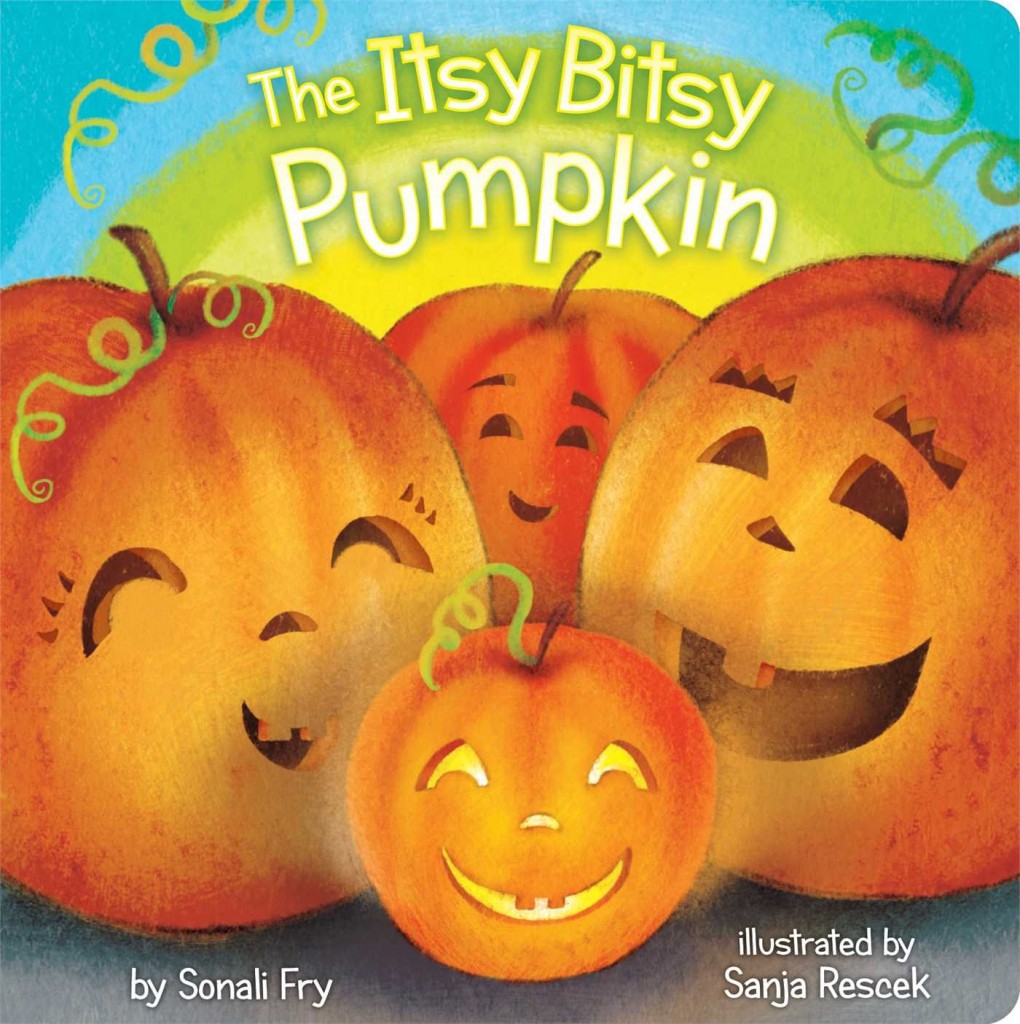 In a variation of the nursery rhyme "The Itsy Bitsy Spider," a jack-o-lantern encounters a goblin and a witch while trying to roll back to his family on Halloween.
Popcorn by Frank Asch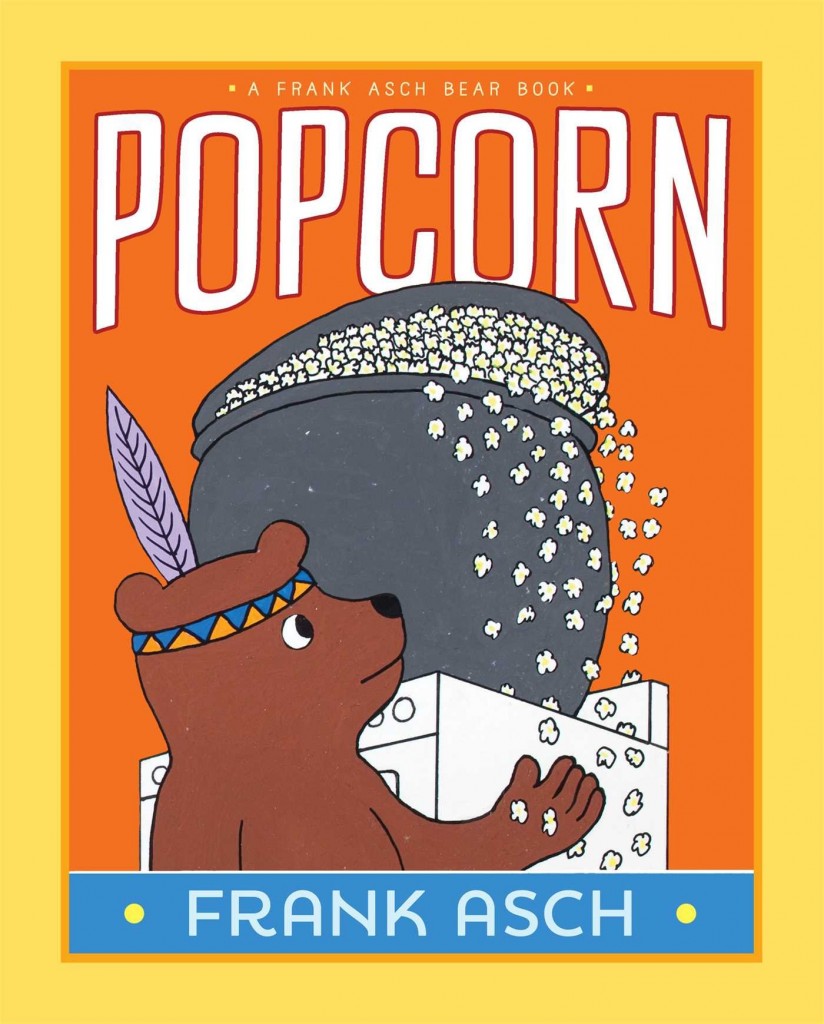 Sam's Halloween party is popping — with a massive amount of popcorn! Find out how he and his friends handle the delicious surplus in this reissue of a classic picture book originally written in 1979.
10 Trick-or-Treaters: A Halloween Counting Book by Janet Schulman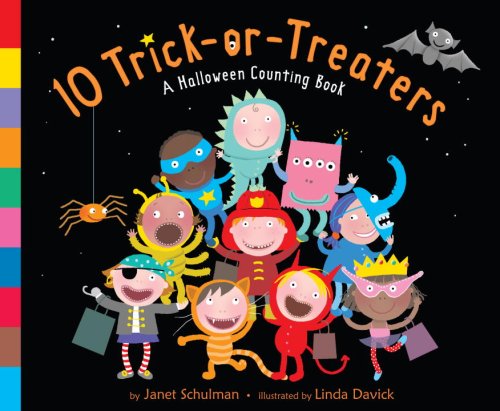 Ten trick-or-treaters start out on Halloween night, but they disappear one-by-one as they encounter a spider, a vampire, a ghost, and other scary creatures.
Picture Books
Monster Trouble by Lane Fredrickson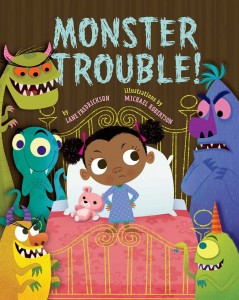 In this adorable book, little Winifred used to be afraid of monsters until she found out their secret.  The delightfully sweet ending will have every kid—and little monster—begging for an encore.
Little Boo by Stephen Wunderli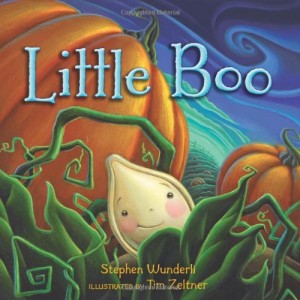 The leaves fall, the wind blows, and one little pumpkin seed tries and tries to be scary. But he doesn't scare anyone…not the snowflakes in winter, not the bees in spring, not even the watering can!
The wind tells him to be patient—he'll be scary soon enough. But waiting is hard. Will the little seed ever be really, truly scary? This simple story is more than a fun Halloween read—it is a heartwarming tale perfect for any child who can't wait to grow up.
Leo: A Ghost Story by Mac Barnett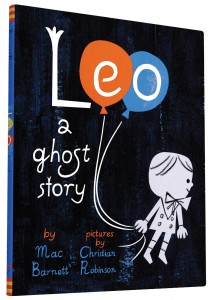 This isn't actually a Halloween story, but since it's a ghost story I included it anyway.  Plus, it's such a great book!
Meet Leo, a ghost who lives in a house all alone reading books and drawing pictures in the dust. One day a new family moves into Leo's house. Leo tries to welcome his new family by being a gracious host, but ends up scaring them in the process. Leo decides to move out and go roam the city in search of a new home.
The Bake Shop Ghost by Jacqueline K. Ogburn

Miss Cora Lee Merriweather haunts her bake shop after her death, until the new shop owner makes a deal with her. A delightful story about friendship with a great message.
Skeleton Hiccups by Margery Cuyler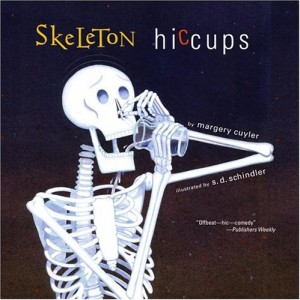 This is a goofy story about a skeleton who has the hiccups! He tries many remedies to get rid of them and at the end when he looks in the mirror and scares himself, it is only then that his hiccups are gone!  Great for kids ages 2 – 7.
Room on the Broom by Julia Donaldson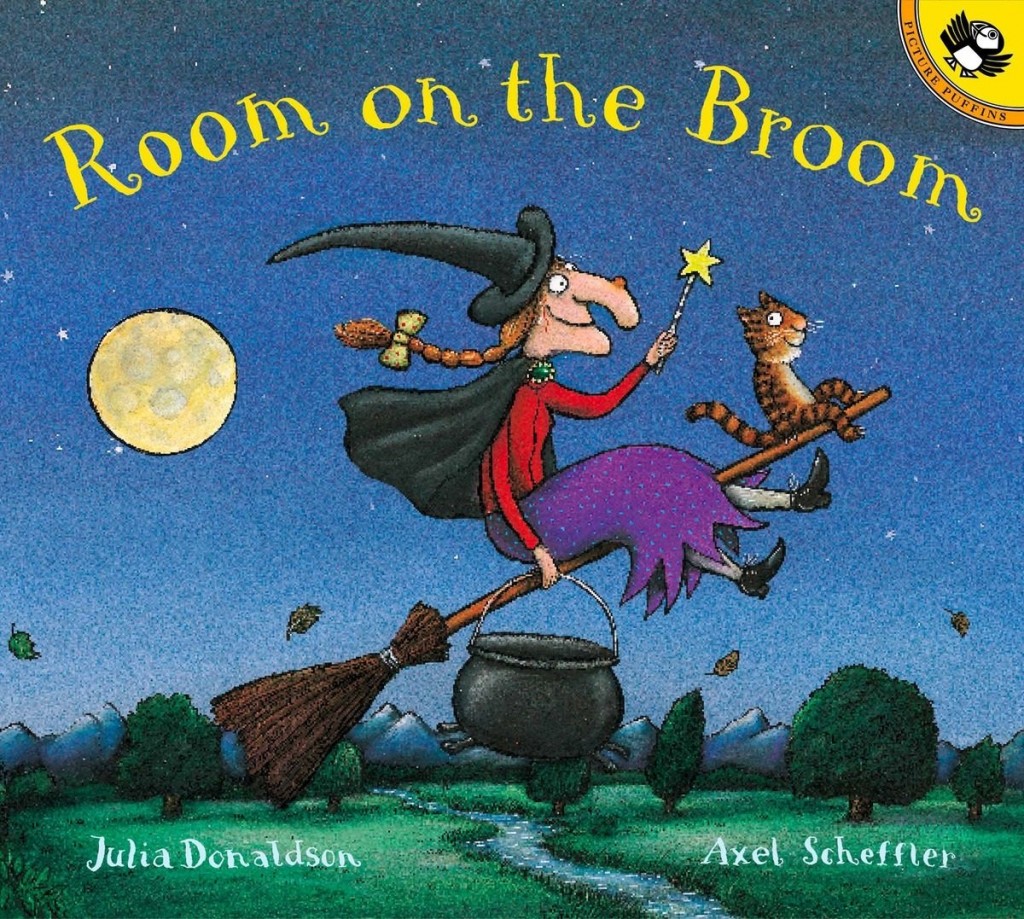 This is one of my favorite Halloween books! A witch finds room on her broom for all the animals that ask for a ride, and they repay her kindness by rescuing her from a dragon.
AlphaOops! H is for Halloween by Alethea Kontis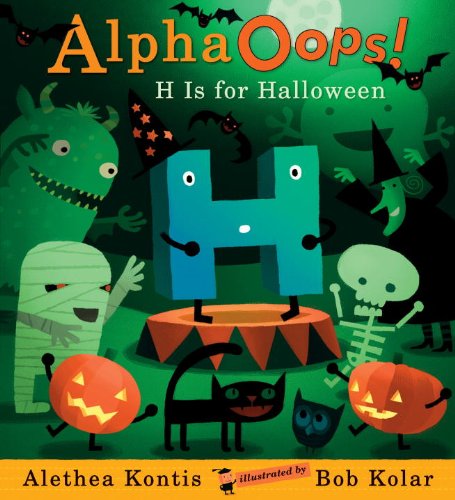 We read the original AlphaOops! book so I was thrilled to come across this Halloween-themed one! While putting on a Halloween pageant, the alphabet mixes things up with some spooky, and funny, results.
Halloween Hustle by Charlotte Gunnufson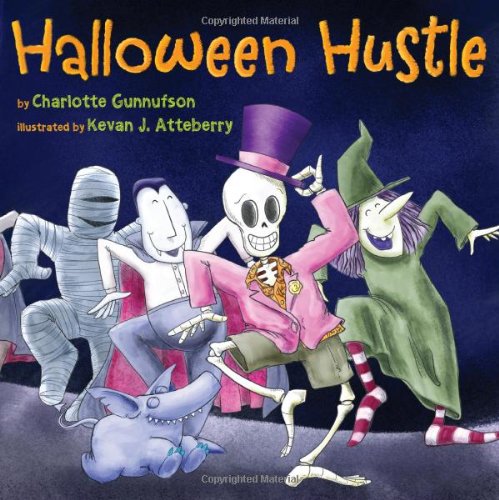 Skeleton is dancing his way to a Halloween party, but as he grooves across town, he keeps stumbling, tumbling, and falling apart. But somehow he always manages to put himself back together – even using tape and rubber bands when necessary!
Shivery Shades of Halloween: A Spooky Book of Colors by Mary McKenna Siddals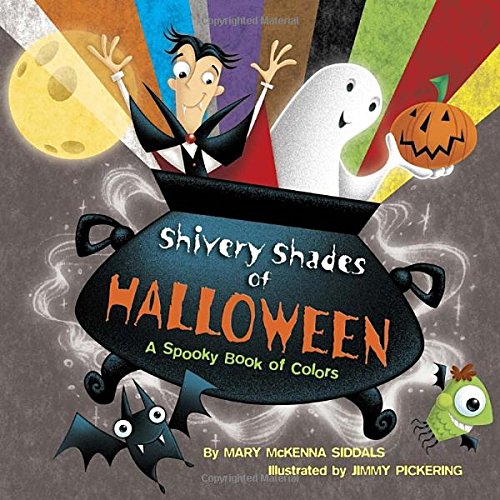 Children will learn their colors as they follow a cute little creature on his adventure through haunted halls, moonlit forests . . . perhaps even a Halloween party!
The Night Before Halloween by Natasha Wing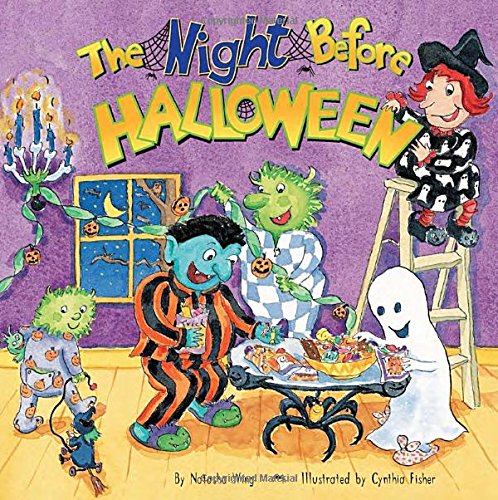 A story in the style of the familiar poem, "The Night Before Christmas," tells how a housefull of monsters, goblins, witches and the like prepare for Halloween. The monsters in this story are illustrated as friendly and cheerful creatures rather than as scary or spooky monsters, making this book appropriate for even very young children who might otherwise be easily frightened.
Your turn:  What Halloween-themed books are in your stack?  Feel free to share in the comments.