Lisa Papademetriou, author of the newly released novel A Tale of Highly Unusual Magic wants to know:
What is your book fate—what book has changed your perspective, your heart, your life?
If you participate by posting a comment on this blog post, I will randomly select 1 winner to receive a copy of the book for FREE!  Giveaway ends October 24, 2015.  Good luck!  Below is a synopsis of the book.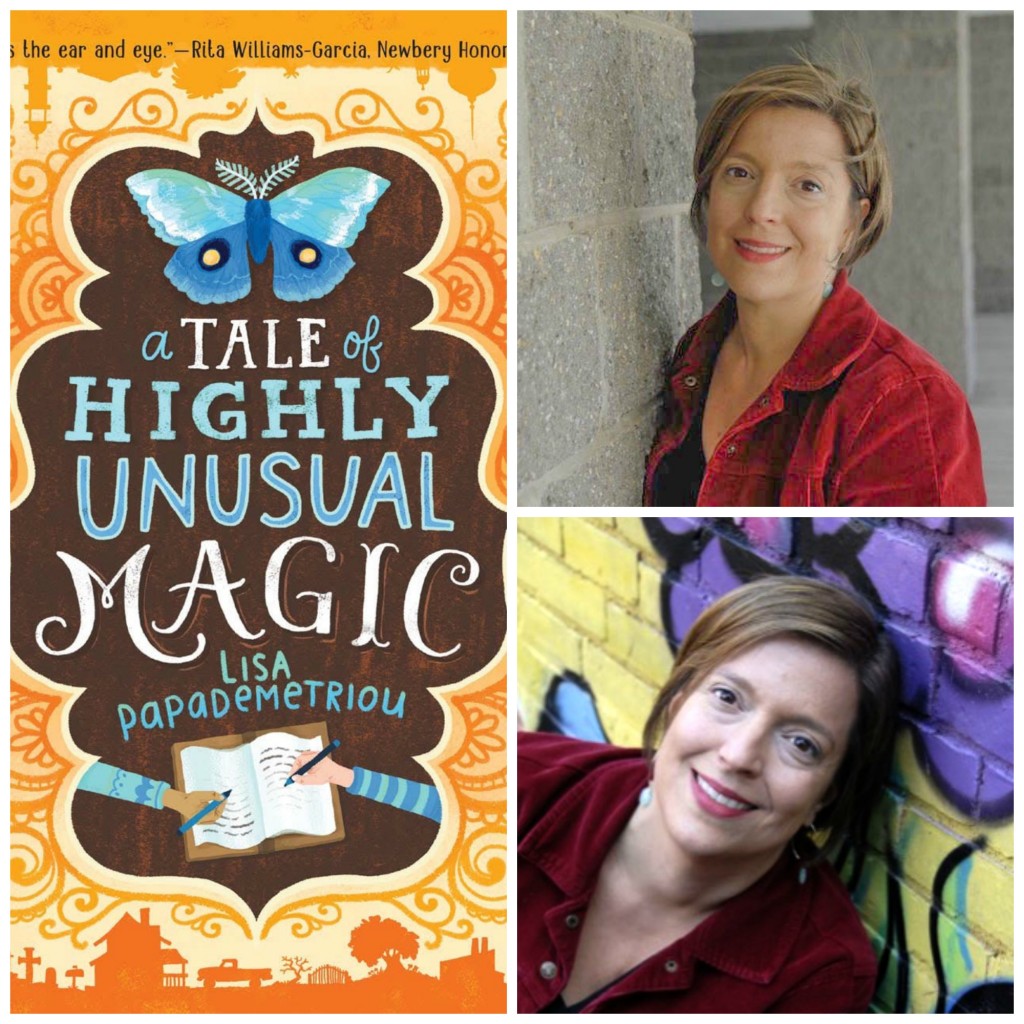 ABOUT A TALE OF HIGHLY UNUSUAL MAGIC:
Kai and Leila are both finally having an adventure. For Leila, that means a globe-crossing journey to visit family in Pakistan for the summer; for Kai, it means being stuck with her crazy great-aunt in Texas while her mom looks for a job. In each of their bedrooms, they discover a copy of a blank, old book called The Exquisite Corpse. Kai writes three words on the first page—and suddenly, they magically appear in Leila's copy on the other side of the planet. Kai's words are soon followed by line after line of the long-ago, romantic tale of Ralph T. Flabbergast and his forever-love, Edwina Pickle. As the two take turns writing, the tale unfolds, connecting both girls to each other, and to the past, in a way they never could have imagined.
A heartfelt, vividly told multicultural story about fate and how our stories shape it.
PRAISE FOR A TALE OF HIGHLY UNUSUAL MAGIC:
"Magic! It's everywhere—in music, in moths, in an old handwritten book. But the real magic is the exquisite storytelling that sweeps us along until the last wonderful page. This is a book that leaves shimmers in the very air." — Kathi Appelt, New York Times bestselling author of The Underneath and Keeper
"Lisa Papademetriou's prose and sense of place dazzles the ear and eye, while the adventure and mystery binds us from page to page. Now that's sleight of hand!" — Rita Williams-Garcia, Newbery Honor Winner
"A beguiling tale of… enduring love and nascent self-discovery." — Kirkus Reviews
"A rollicking adventure of forbidden love and magic"  –School Library Journal
"Begging to be read aloud… a fun book for middle-grade readers, and it will surely inspire them to read—and write—more." –Booklist
ABOUT LISA PAPADEMETRIOU:
New York Times bestselling author Lisa Papademetriou is the author of Middle School: Big, Fat Liar and Homeroom Diaries (both with James Patterson), the Confectionately Yours series, and many other novels for middle grade and young adult readers. Her books have appeared on the Bank Street Best Books of the Year list, the NYPL Books for the Teen Age, and the Texas Lone Star Reading List, among others. A former editor, Lisa has worked for Scholastic, HarperCollins, and Disney Press and is the founder of the humorous online grammar magazine, IvanaCorrectya.com. You can visit Lisa at: http://lisapapa.com
The Giveaway
Enter to win a FREE copy of bestselling author Lisa Papademetriou's latest book A Tale of Highly Unusual Magic.