The Importance of Being 3 by Lindsay Ward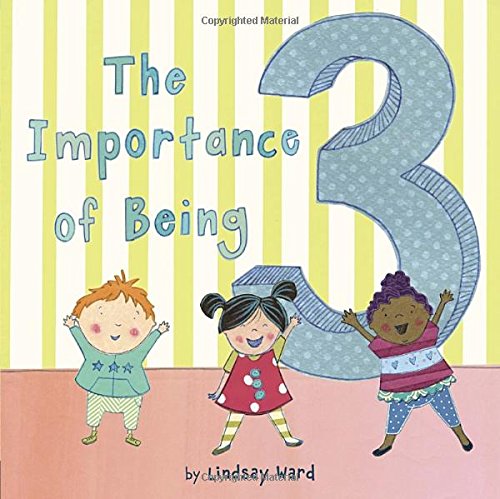 Recommended for children ages 1 – 3 years old, 32 pages long
Available for sale online and in bookstores on February 16, 2016.
Published by: Penguin Young Readers
Synopsis
The perfect present for three-year-olds, this picture book is a celebration of all things three!
 
All the best things come in threes, not one, not two, but three, like the three-year-olds in this sweet picture book. As all parents know, three is a big year. Follow along as three friends learn new things in threes—from tricycles to triangles—take a dip in the pool, and play in the park with their friends!  Of course, it's not all fun and games. There's a tantrum and then hugs all around as the three kids head to bed.
This adorable picture book celebrating important life events is the perfect gift for third birthdays. Kids will love pointing out all the activities they can do now that they are three years old.
Reflection
What a cute little book!  I was so excited to receive this book and share it with the kids since my daughter is three years old.
The book starts out with, "All the best things come in three.  Not 1 or 2, but 3."  It then goes on to talk about some popular things that come in threes: three bears, the three little pigs, three primary colors (red, yellow, and blue).  The rest of the book highlights some of the typical things that three-year-olds are usually known for doing (or not doing in some cases depending on the child and their mood at any given moment!): learning what it means to share, learning to write letters and draw, riding a tricycle, having tantrums, sitting in time-out, playing pretend, and more.
Since my kids love rhyming books they really seemed to enjoy the playful cadence and rhythm of this one, so do I.  I also liked the author's choice of the three cute and diverse characters.  The one thing I wasn't too crazy about is the illustrations.  While they are adorable, some of them seemed almost too "perfect" to me.
For example, there is a picture where one of the girls is shown drawing a perfect triangle on the sidewalk.  I have never seen my daughter draw a triangle, much less a perfect one.  Another example is the little boy drawing the letters "ABC" ever so neatly on a chalkboard.  My daughter is still very much in the beginning phases of writing letters.  There are other examples too that just didn't seem like most three-year olds are able to master at such a young age.  I know it's just a book and maybe I'm just being too picky, but I am a stickler for paying attention to small details like this.
Overall, we like this book and we're thrilled to add it to our home collection!  I know lots of little ones turning three this year so this book will be at the top of my gift giving list!
Disclaimer: I received a copy of this book to review from the publisher, however all opinions expressed are my own.
Connect with the Author (Lindsay Ward)!
Your turn: Do you have a three-year-old toddler?  What's your favorite thing about them being three?  Feel free to share in the comments.