Maya Angelou (Little People, Big Dreams) by Lisbeth Kaiser, illustrated by Leire Salaberria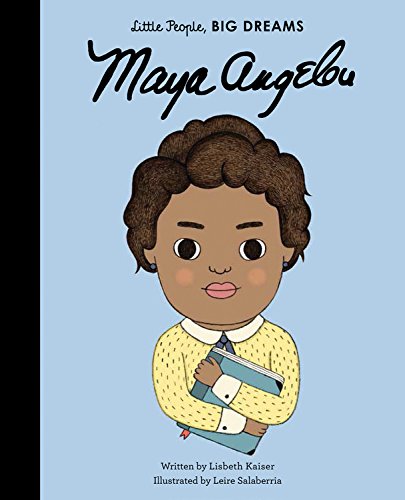 Publisher: Frances Lincoln Children's Bks
Release Date: August 9, 2016
Age Range: 5 to 8, Grades K to 3
Format: Hardcover
Pages: 32
Pre-Order your copy here!
Synopsis (from Amazon)
In the Little People, Big Dreams series, discover the lives of outstanding people from designers and artists to scientists. All of them went on to achieve incredible things, yet all of them began life as a little child with a dream. The book follows Maya Angelou, from her early traumatic childhood to her time as a singer, actress, civil rights campaigner and, eventually, one of America's most beloved writers. This inspiring and informative little biography comes with extra facts about Maya's life at the back.
Reflection
Losing phenomenal people like Dr. Maya Angelou seems to make the light of the world grow a little dimmer. However, thanks to great books like Maya Angelou: Little People, Big Dreams her legacy endures as a luminous beacon of strength, courage, and spiritual beauty.
Becoming a woman is serious and tough business. The transformation from carefree girl to impressionable young woman is often full of torment, self-doubt and insecurity.  I think this book illustrates that very well in a way that's easy for even the smallest readers to comprehend. In addition, this book provides readers with a glimpse into Maya's life from her childhood to adulthood.
Born in St. Louis, Maya and her brother were sent to live with their grandmother in Stamps, Arkansas at a young age. Growing up in the South wasn't easy for Maya for two reasons: the color of her skin and because she was a girl.   At the age of eight Maya was raped and attacked by her mother's boyfriend which led her to completely shut down for years and stop talking.  Don't worry, the book doesn't actually use the word "raped" it says "attacked". The illustration on that page shows Maya at the hospital being examined by a nurse.  Due to that terrible incident, seemingly overnight, Maya turns into a child who is uncertain, scared, and driven by fears she found hard to name.
Five years later, Maya finally finds her voice again through stories and poems of great writers. The library became her sanctuary and comfort zone. The rest of the book shows readers how Maya rose to cultural prominence through the sheer tenacity of her character and talent.  Maya went on to become a singer, actress, civil rights campaigner and eventually, one of America's most beloved writers.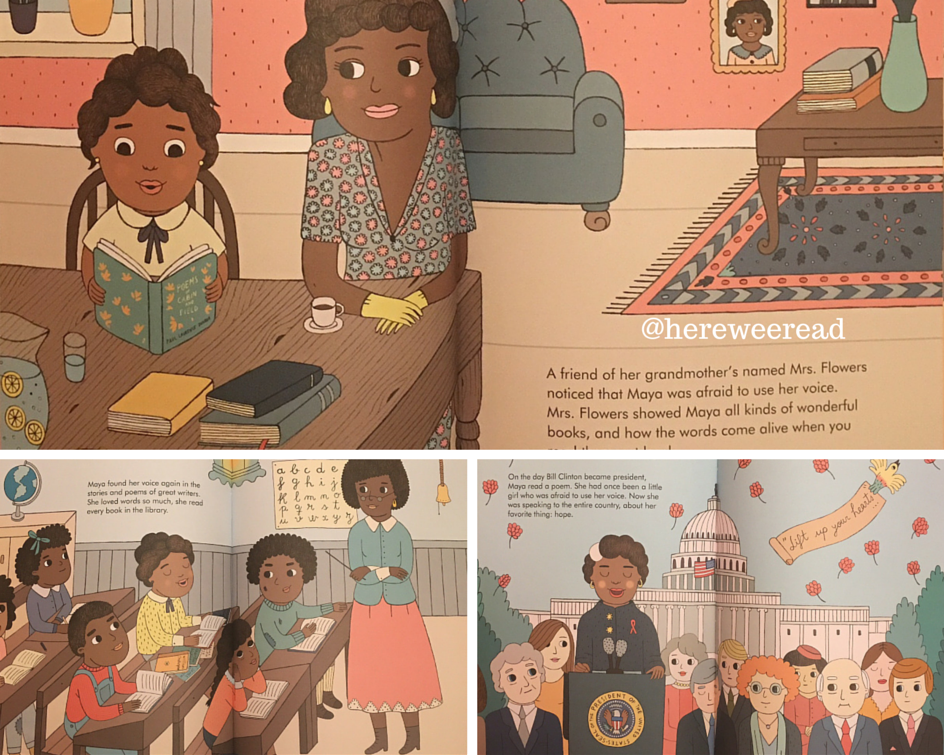 The illustrations in this book are bright, cheerful and pleasing to the eye using beautiful and soft hues of pink, blue, green and yellow throughout.  I also love that this is a hard cover book that is professionally bound.  It also features diverse characters including a person in a wheelchair and former President Bill Clinton.
In the back of the book there is a short biographical timeline that highlights some of the snippets from Maya's life including the debut of her first book called I Know Why the Caged Bird Sings in 1969.
This biography children's book provides me with comfort in knowing I am better because Maya existed. Because of her, I am a better person and a better mom and my kids will be better because Maya left her strong clear voice inside me that will coach, prod, demand and encourage me to keep being the best parent I can be for my children. As this book illustrates, being a phenomenal woman is no easy task. Raising phenomenal children is even harder.
Although she had a traumatic childhood, it's clear to me that Maya lived a rich life with so much zest and passion that she was wrung dry.  She had nothing left to take on her journey but a warm and beautiful spirit that will live on forever. May she rest in peace.
Disclaimer: I received a complimentary copy of this book from the publisher in exchange for an honest review.  All all opinions expressed are my own.
The Little People, Big Dreams Series
Coco Chanel
Frida Kahlo
Amelia Earhart
Your turn: Have you read any of the other books in the Little People, Big Dreams series?  Feel free to share in the comments.