Brick by Brick: A Snippet of the Life of Booker T. Washington by Louie T. McClain II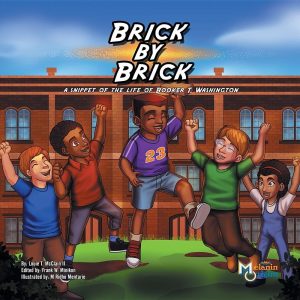 Format: Paperback
Pages: 30
Publisher: Melanin Origins LLC
Grade Level: Kindergarten – 1
Synopsis (from Amazon)
A children's book snippet about the life, accomplishments, and achievements of the great Booker T. Washington – an inspirational African-American innovator, leader, scholar, and philanthropist.
Reflection
Brick by Brick provides a small glimpse inside the life of Booker T. Washington, an American educator, author, orator, and advisor to presidents of the United States. Between 1890 and 1915, Washington was a dominant leader in the Black community.
The book starts off with a very positive message for little readers: "brick by brick we can get the job done by laying one brick at a time."  A very young Booker T. Washington is seen in a cartoon-like drawing laying down some brick foundation for a building he and his friends built with their very own hands.  That building was initially known as the Tuskegee Normal and Industrial Institute.  It's currently known as Tuskegee University located in Tuskegee, Alabama.  The institute grew immensely and focused on training African-Americans in agricultural pursuits.
I think small children will be able to relate to this book and grasp the overall messages of faith, hope, love, hard work, grit, teamwork and determination very easily.  Throughout the book, Booker T. Washington is seen being a leader among his friends, a speaker in front of large crowds, and he's even shown speaking to the President of the United States!  What an honor it must have been for him to be invited by President Theodore Roosevelt to the White House in 1901.
We've read this book a couple of times and it keeps my children engaged.  The text isn't too wordy and the illustrations are bright and colorful.  My kids especially like to point out the fireworks and the kids shown having fun on the playground.  I also like the fact that there are a diverse group of kids shown in the book all working together to achieve a common goal.  However, since this book is based on a historical figure, I think the clothes the kids are wearing and the hairstyles are too modern for the time frame of the 18th and 19th century.  Other than that, I think this book does a great job informing little readers about an important figure in Black history in a way that is relatable and fun.  An empowering, inspirational and educational read for the little ones!
Coming soon by Melanin Origins in Fall 2016 – Power in My Pen: Ida B. Wells!
Connect with Melanin Origins!
Website | Facebook | Twitter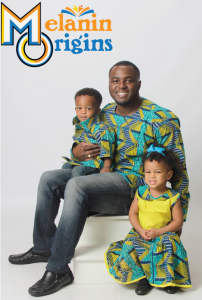 Disclaimer: I received a FREE copy of this book in exchange for an honest review.  All opinions expressed are my own.
Your Turn:  How do you teach your children about hard work and team work?  Feel free to share in the comments.