The Spinfords by AnnMarie Martin, illustrated by Stevie Hannigan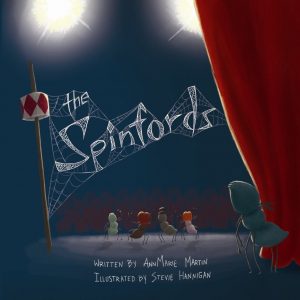 Format: Paperback
Pages: 44
Publisher: Black Bed Sheet Books
Synopsis (from Amazon)
What's the one thing in the world that scares kids the most? Being different.
But not Salvatore. You see, Salvatore's webs are different. Much to his family's disappointment. Because this family of circus-performing spiders has built their act off tradition. Webs are circles, period.
But not Salvatore's. And over his father's squashed body is he going to let him perform with them. It would ruin all they worked for since Grandpa Sebastian Spinford started their show back in 1934. But Salvatore knows better. He knows the crowd is craving something new and fresh. And with his grandfather's help, he's going to prove it.
Salvatore's story will give children of all ages the confidence to be themselves, no matter what.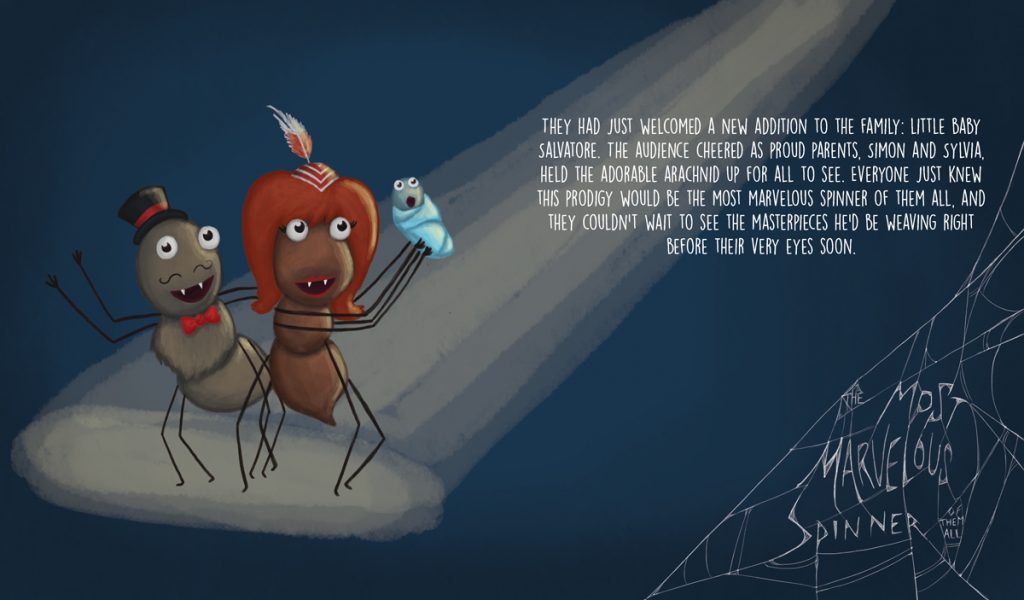 Reflection
Confession: I am not a fan of spiders, but the Spinford family makes it hard for me to not like spiders.  They're a family of web-weaving acrobatic-artist spiders who live underneath a backyard deck in the suburbs of New Jersey.  When the book starts, proud parents Simon and Sylvia are shown welcoming their newest addition to their family into the world: little baby Salvatore.
It doesn't take long for the Spinfords to realize that Salvatore is very smart, highly creative and he develops amazing webs!  However, when the day arrives for Salvatore's big performance test to see if he is ready to join the family act he doesn't pass the test. Although Salvatore can create beautiful webs in record time, they are not the typical webs that everyone is used to seeing.
In the end, young Salvatore stands his ground and believes in himself no matter what others may say.  He decides that all he needs to do is show everyone how spectacular his webs really are and he did!
Although I found this book to be a bit text heavy and wordy for my kids, I love the overall messages of diversity, self-acceptance, confidence and realizing it doesn't take approval from a majority to realize your own greatness.  We ended up reading this book over the course of two separate read aloud sessions since I saw the kids getting a bit antsy about halfway through.
The font of this book is written in all capital white colored letters and the pages are a dark blue color.  Because of this, it was sometimes a bit hard on my eyes while reading.  However, I didn't feel like it took away from the story and what the author was trying to get across to little readers.  The illustrations are cute and whimsical and there are positive affirmations of hope that appear in the webs throughout the book.  Some of the messages include: "Never Give Up" and "The World Will Always Need Bugs Like You."
Being different from their peers is one of the most difficult things for children to cope with.  I think this is especially true as they get older.  Nothing is worse than standing out and not being considered to be "normal" among your friends.  What a wonderful world it would be if we truly appreciated evolution and an expanding landscape of diverse minds and creativity.  Reading books like The Spinfords gives me hope that maybe one day we'll finally get there, but likely not in the foreseeable future during my lifetime.
Overall, we enjoyed reading about the adorable Spinford family.  A great book for teaching children about staying true to themselves and celebrating who they are.
Connect with AnnMarie Martin!
Website | Instagram | Twitter
Disclaimer: I received a FREE copy of this book in exchange for an honest review.  All opinions expressed are my own.
Your turn: What makes you different?  In what ways do you stand out from the crowd?  Feel free to share in the comments.