Beautiful by Stacy McAnulty, illustrated by Joanne Lew-Vriethoff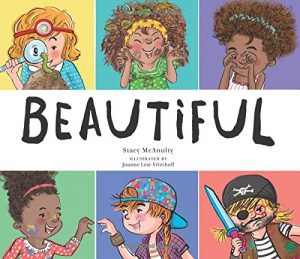 Age Range: 3 and up
Publisher: Running Press Kids
Format: Hardcover
On Sale Date: September 6, 2016, Click here to pre-order!
Synopsis (from Amazon)
Every girl is unique, talented, and lovable. . . .Every girl is BEAUTIFUL.
Much more than how one looks on the outside, true beauty is found in conquering challenges, showing kindness, and spreading contagious laughter. Beautiful girls are empowered and smart and strong!
BEAUTIFUL breaks barriers by showing girls free to be themselves: splashing in mud, conducting science experiments, and reading books under a flashlight with friends. This book will encourage all girls to embrace who they are and realize their endless potential.
Reflection
I'm so in love with both the front and back covers of this book!  I mean, look how stinking cute those pictures are!  In fact, I think each and every page of this book is worthy of being framed as a work of art and would be a gorgeous addition to any little girl's room.
This book starts off with five little girls hanging over a fence with the sentence "Beautiful girls have the perfect look".  Each one of the girls have their own unique look and style.  It then goes on to talk about some of the other attributes and characteristics that beautiful girls have like: how gracefully they move, how sweetly they smile and how they smell like flowers.  By the sound of it, you'd think the illustrations would show the girls all dressed up and dainty, right?  Well, think again.  These girls are muddy, they have dirt and leaves in their hair and orange juice dripping down their chins and I absolutely LOVE it!
I think this book does a fantastic job illustrating what pure beauty is. The kind of beauty that has nothing to do with your hairstyle, your complexion or the perfect outfit. The kind of beauty that isn't found in how you feel about yourself, but instead how you love and treat others-— (which usually ends up making you feel good about who you are)-that's what I want my daughter to see in the mirror.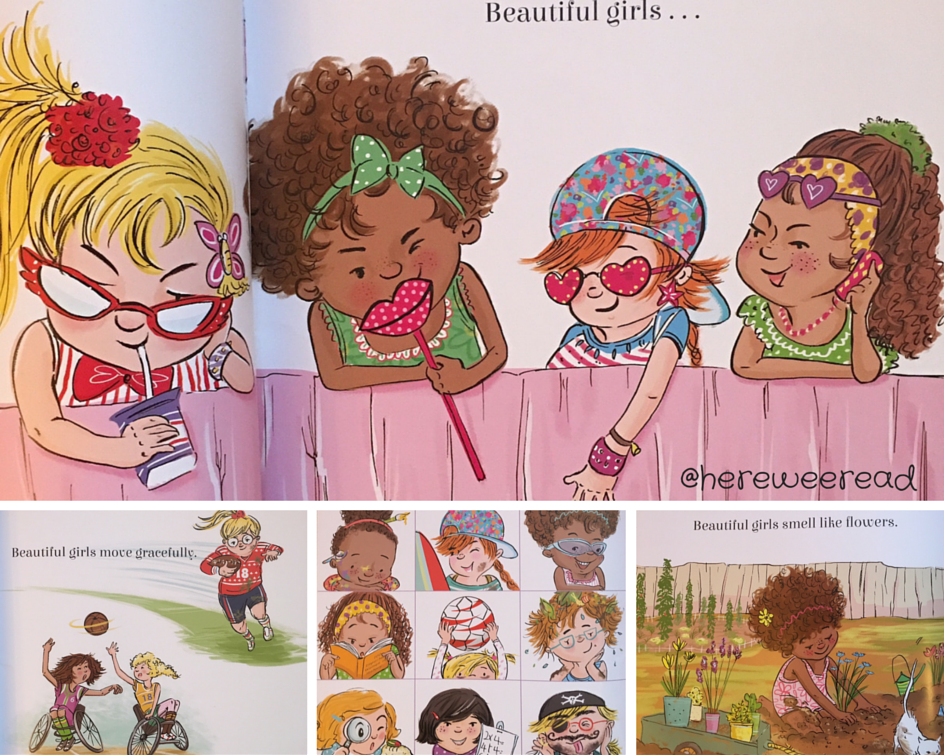 I know there have been recent reports and studies that say you shouldn't tell your daughters they are pretty, but I'm not afraid to tell my daughter that she's beautiful and teach her that she shouldn't be afraid to celebrate her beauty either.  I also want my daughter to know it's ok to be silly, to have fun and not worry about what others think of her.  As the text on the back cover of this book says, "It's all about your clothes, your hair, your style WHO YOU ARE."
The text on each page of this book is rather short and simple, yet it sends a very empowering message to girls.  The overall message is: every girl is unique, talented, lovable and beautiful…beauty comes from within.  I think the illustrations help bring the text of this book to life.  Each one is so unique, bright, detailed and downright stunning.
I love the diverse group of girls featured throughout this book.  Some of the girls have straight hair while others have kinky or curly hair.  Some wear glasses and others don't.  There are also girls playing basketball in wheelchairs.  Another thing I like is how the illustrations show girls doing a variety of different things like: looking for bugs in the dirt, dressing up as pirates, going camping and playing sports.  Simply put, this book makes me smile and fills me with joy every time I read it with my daughter.
Overall, I think this book is a wonderful tribute to girls of all races and ages all over the world.  Girl power to the max!
About the Author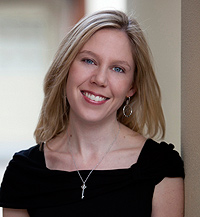 In no particular order… Stacy is a wife, mother of 3 kids and 2 dogs, author, daughter, sister and stepsister, aunt, friend, Twitter addict, mechanical engineer (currently inactive), inconsistent blogger, Packers fan, two-finger typist, concerned citizen, book-buying enthusiast, reluctant volunteer, minivan driver, pancake flipper, snooze-button hitter, and coupon clipper.
Connect with Stacy!
Website | Twitter | Instagram | Facebook
Your turn: Are you looking forward to checking this book out with your little readers?  If you have a daughter, do you tell her that she's beautiful?  Feel free to share in the comments.