The Thank You Book (An Elephant and Piggie Book) by Mo Willems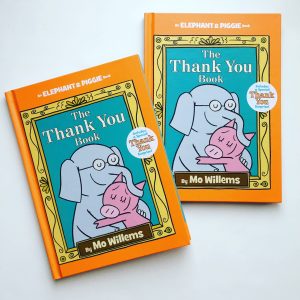 Age Range: 3 – 8 years
Grade Level: Preschool – 3
Hardcover: 57 pages
Publisher: Disney-Hyperion
On-Sale Date: May 3, 2016
Synopsis (from Amazon)
In The Thank You Book!, Piggie wants to thank EVERYONE. But Gerald is worried Piggie will forget someone . . . someone important.
Reflection
I was SO excited to purchase this book when it came out this Tuesday!  It was a bittersweet moment though knowing this is the last book in the series.  Not only do the Elephant & Piggie books make me and my kids laugh out loud, they also cleverly teach us lessons. Children's picture books are a key component in helping kids connect to authentic learning experiences and Elephant and Piggie capture that authenticity so well as they teach, inspire and help kids grow.
I only discovered the Elephant and Piggie books last year.  Since then, we've read all 25 books in the series on multiple occasions.  They've helped me teach my kids so many wonderful lessons on friendship, caring, teamwork, patience, perseverance, creativity, sharing and being grateful just to name a few.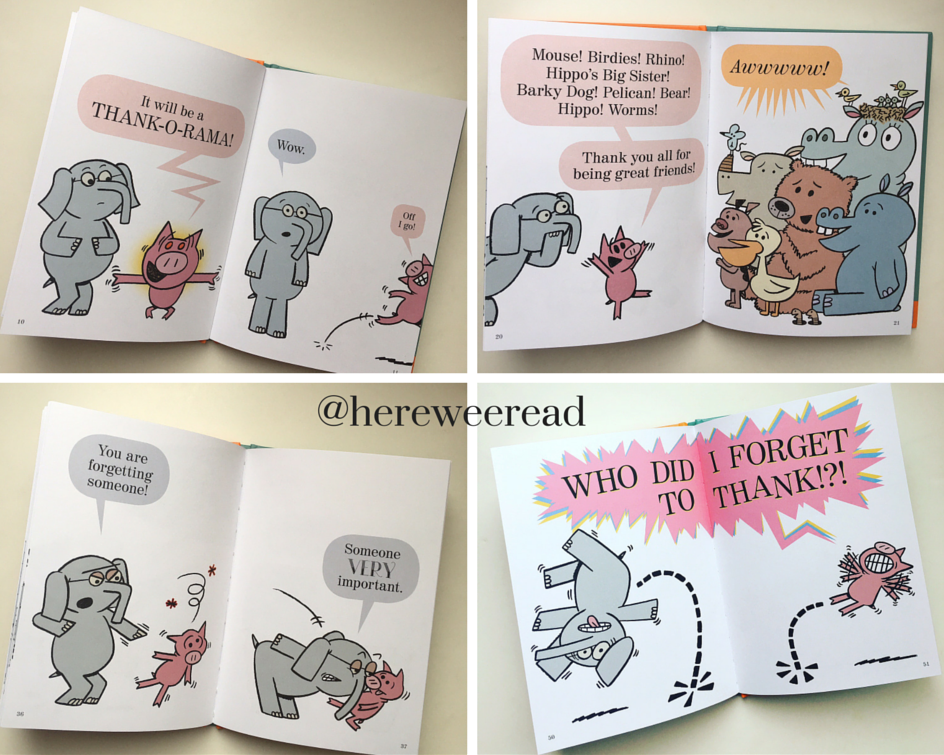 In The Thank You Book, Piggie starts off by saying he's such a lucky pig who has so much to be thankful for.  He decides to thank everyone, but Gerald insists that Piggie will surely forget someone – someone VERY important.  Piggie starts his "thank-o-rama" speech by thanking various characters that have appeared in previous books from the Elephant and Piggie series: the squirrels, snake, the pigeon, the flies and more.  In the end, Piggie is embarrassed that he did in fact forget to thank someone – the reader!
I absolutely love the way Mo Willems decided to end this series…what a great ending!  Although this is the last book, Gerald and Piggie will continue to live on in our household.  We will still be reading these books time and time again for years to come.  I love that my daughter can kids can read these early readers on her own.  Each book is short with about 50 distinct words throughout.  My daughter feels successful when she gets to the last page because not only did she read the book, but she also understood the story and she can relate to the characters.  I'm sure my son will also follow in his sister's footsteps once he's ready to start reading independently.
I'd also like to personally thank Mo Willems for his amazing ability to capture everything an early reader book should be: easy to understand words and sentences, clear illustrations, lots of repetition used throughout and most of all fun!  I think each one of the 25 books in this series is interesting and laugh out loud funny!  Thank you for making my kids excited about reading your wonderful books!
And if you haven't already heard, May is "Thank-O-Rama" month!  Check out the website thankorama.com to download, print, and fill out your own #ThankoRama speech bubbles.

Your turn:  Have you read this book with your children yet?  If so, did you enjoy it?  What is your favorite Elephant and Piggie book in this series?  Feel free to share in the comments.