10 Secrets of Being a Lady by Sheba Matheu, illustrated by Meredith Rushing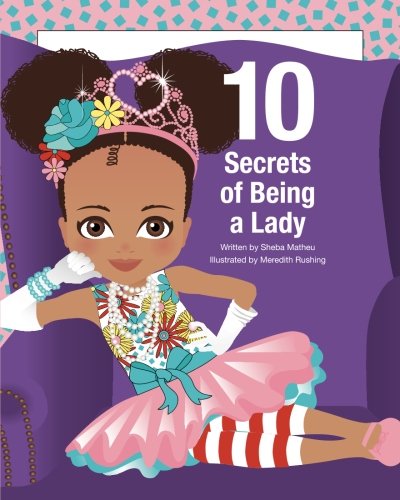 Synopsis
The 10 Secrets of Being a Lady is children's book for all ages reminding women of their roles in society, which start in the home. The story was expressly created to encourage dialogue and impart wisdom through family generations.
Opening the cover of this beautiful story you will meet a little girl named Ava who, like many young girls, loves secrets. Ava's mother, who works tirelessly to guide her daughter, realizes the time has come to share her secrets (words of wisdom) with her daughter about putting forth her best. The mother creates this special book from the same life lessons that she learned from her mother. The character strengths discussed 
10 Secrets of Being a Lady
 range from radiating confidence and being sincere to speaking deliberately and maintaining your appearance.
This beautifully illustrated story is a tale of love and acceptance. As Ava and her mother grow closer to the kind of ladies they hope to become, you too will be reminded of the secrets to being "ladylike" that many of us have neglected to discuss. Share 10 Secrets of Being a Lady with your family and start a conversation today that will have meaning for a lifetime.
With every book purchased a 25% donation will be made to Girls Inc.
Reflection
Just last week I was thinking about how fast the kids are growing up right before my eyes. There's only a small window of time to teach them the many lessons they should learn to become responsible citizens. As a mom raising a daughter (and son) I understand – it's not so much her physical appearance – but what goes on in her heart and in her mind. Things of truth, beauty, courage, kindness and strength.  So how do I prepare my little lady for that?
One way is to read her empowering books like this one. This book outlines 10 Secrets of Being a Lady that every little girl should know: radiate confidence, speak deliberately and maintain your appearance just to name a few.  This beautiful story focuses on manners and the social pressures of a mother defining womanhood to her daughter.
I think this is a good book for helping to build up a girl's sense of self and teaching manners.  It can also help girls develop the qualities of being a strong, kind and independent young woman.  While I do think the principles outlined in this book are still relevant to the modern age girl, I would have loved to see some additional ones related to grit, resiliency and curiosity.  For example, teaching girls to take pride in their fortitude and tenacity, asking questions about the world about her and herself, not shying away from challenges and taking on new tasks.  We are living in a time when we may very well see history be made by having our first ever female President of the United States. Therefore, I think in addition to teaching girls to have great manners, eat healthy and maintain their appearance, it's just as important to help them understand they can achieve anything.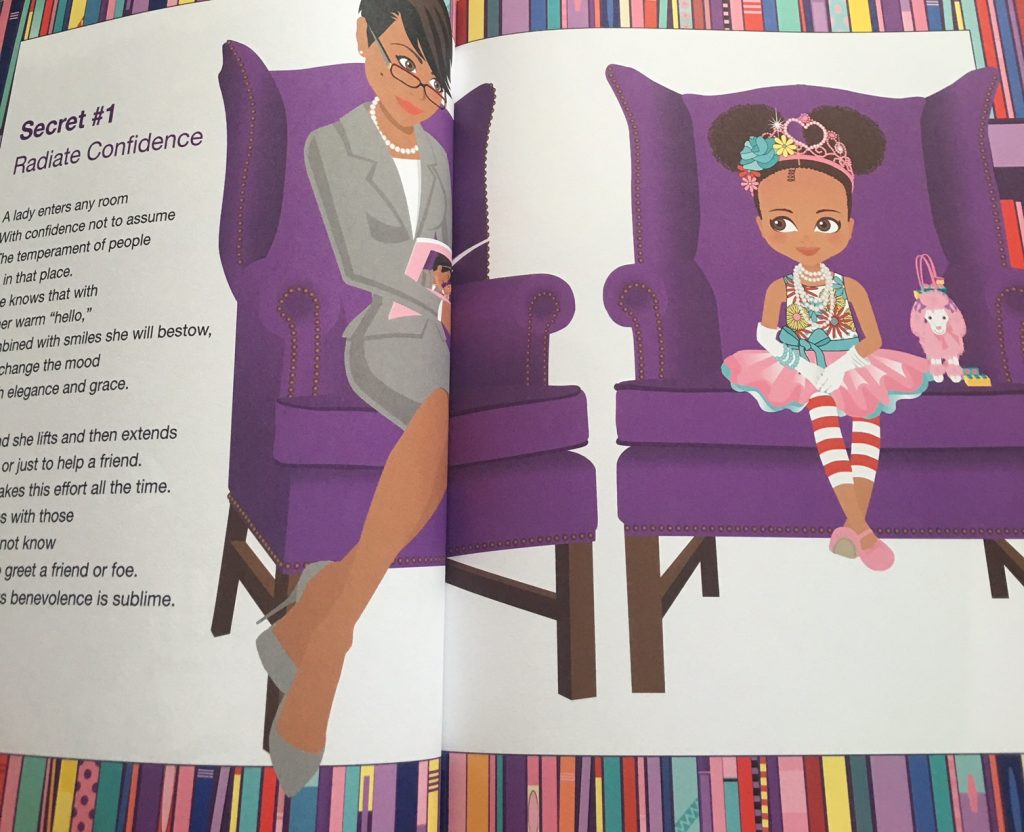 The illustrations in this book are adorable.  Little Ava is so cute with her two puffy pigtails in her pink tutu, striped leggings, pearls and tiara. Since the text is a bit lengthy, I'd recommend this book for girls age 8 and up.  It's also a cute read aloud book for a mother and daughter to enjoy reading together.  I love how the mother in this book appears to be the kind of character she wants her daughter to one day become.  Because let's face it, if we truly want our daughters to grow up to be responsible and confident women, we must learn to foster positive traits and qualities in our own lives.  Check this one out for your little lady in training.
P.S. This book recently won a 2016 Moonbeam Children's Book Award in the children's self-esteem category!
Connect with Sheba Matheu and 10 Secrets!
Website | Instagram | Facebook | Twitter
Your turn: What are some ways you teach her what a lady is and what a lady does?  Feel free to share in the comments.