I realize it's been a while since I've told you guys what I'm reading.  Over the summer I was so engaged with the kids and their activities that I didn't take as much time to read as I normally do.  Now that the kids are in school, I'm back to my normal routine of reading 2-3 books per month.  Here's what I'm reading this month:
Quiet Power: The Secret Strengths of Introverts by Susan Cain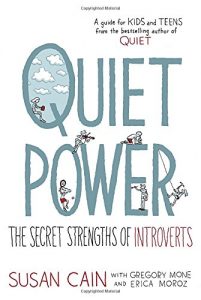 Synopsis
The monumental bestseller Quiet has been recast in a new edition that empowers introverted kids and teens. Susan Cain sparked a worldwide conversation when she published Quiet: The Power of Introverts in a World That Can't Stop Talking. With her inspiring book, she permanently changed the way we see introverts and the way introverts see themselves.
The original book focused on the workplace, and Susan realized that a version for and about kids was also badly needed. This book is all about kids' world—school, extracurriculars, family life, and friendship. You'll read about actual kids who have tackled the challenges of not being extroverted and who have made a mark in their own quiet way. You'll hear Susan Cain's own story, and you'll be able to make use of the tips at the end of each chapter. There's even a guide at the end of the book for parents and teachers.
This insightful, accessible, and empowering book, illustrated with amusing comic-style art, will be eye-opening to extroverts and introverts alike.
I was immediately drawn to this book because not only am I more introverted, but my daughter is too.  I am in LOVE with this book you guys – it's so insightful!  I think it's a must read for all parents raising introverted children.  Be sure to check out Susan Cain's Ted Talk which still stands as one of the most viewed Ted talks of all time.
Like Magic by Elaine Vickers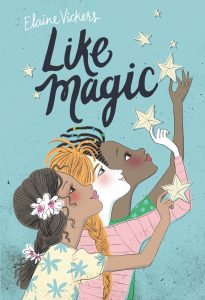 Synopsis
This sweet middle grade novel featuring a diverse cast of characters proves that friendship can be just around the corner.
For three ten-year-old girls, their once simple worlds are starting to feel too big. Painfully shy Grace dreads starting fifth grade now that her best friend has moved away. Jada hopes she'll stop feeling so alone if she finds the mother who left years ago. And Malia fears the arrival of her new baby sister will forever change the family she loves. When the girls each find a mysterious treasure box in their library and begin to fill the box with their own precious things, they start to feel less alone. But it's up to Grace, Jada, and Malia to take the treasures and turn them into something more: true friendship.
Your turn: What books are you currently reading?  Feel free to share in the comments.