Music Is… by Brandon Stosuy, illustrated by Amy Martin

Publisher: Little Simon
Pages: 32
Format: Hardcover (Board Book)
Age Range: Preschool and up
Synopsis
From music writer and The Creative Independent/Kickstarter Editor in Chief Brandon Stosuy, comes an entertaining new board book that introduces the many moods, styles, and senses of music to the youngest audiophiles—because music is for everyone, and music is for you.
Featuring Amy Martin's dynamic art style, Music Is… explains music through our eyes and ears so that the sense of hearing is transformed into a visual experience. A pitch-perfect board book that is sure to strike a chord with readers of all ages.
Reflection
Just like reading, music also has many positive benefits for children.  It helps them develop, grow and explore the world around them.  By singing, moving, playing percussion instruments, dancing and dramatic play activities; children learn and develop a range of skills for their whole development.
Music Is… by Brian Stosuy is a beautifully illustrated board book that introduces little readers to opposites like quiet, loud, slow, fast, sad, happy, one, and more.  The diverse set of characters are shown enjoying music by listening to it with their headphones, playing drums, using pots and pans, and cymbals.  There are also various instruments shown like a harps, tambourines, guitars, and pianos.  You can even spot cassette tapes and records which have recently made a comeback in today's music.  Children will also learn a few musically-related opposites such as a capella, acoustic, lo-fi and hi-fi.  All of those music terms were unfamiliar to my children so it was great to be able to teach them something new and different.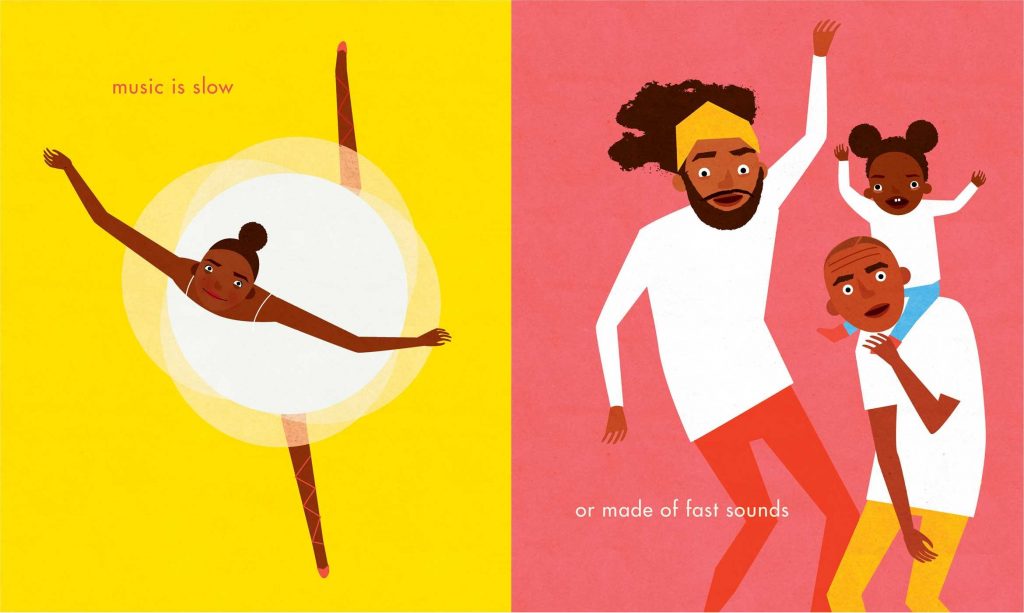 We really enjoyed this adorable book.  It's so lively and fun for little readers who love music as much as mine do.  The text is short and sweet with gorgeous and bold illustrations to match.  I think this book is great for helping small children discover an appreciation for music that will last a lifetime.  Not only will it introduce musical concepts, but it may even help set up your child for future musical education, such as learning to play an instrument.  Great for music lovers of all ages!
Your turn: Have you read this book yet?  Feel free to share in the comments.