Zack Delacruz by Jeff Anderson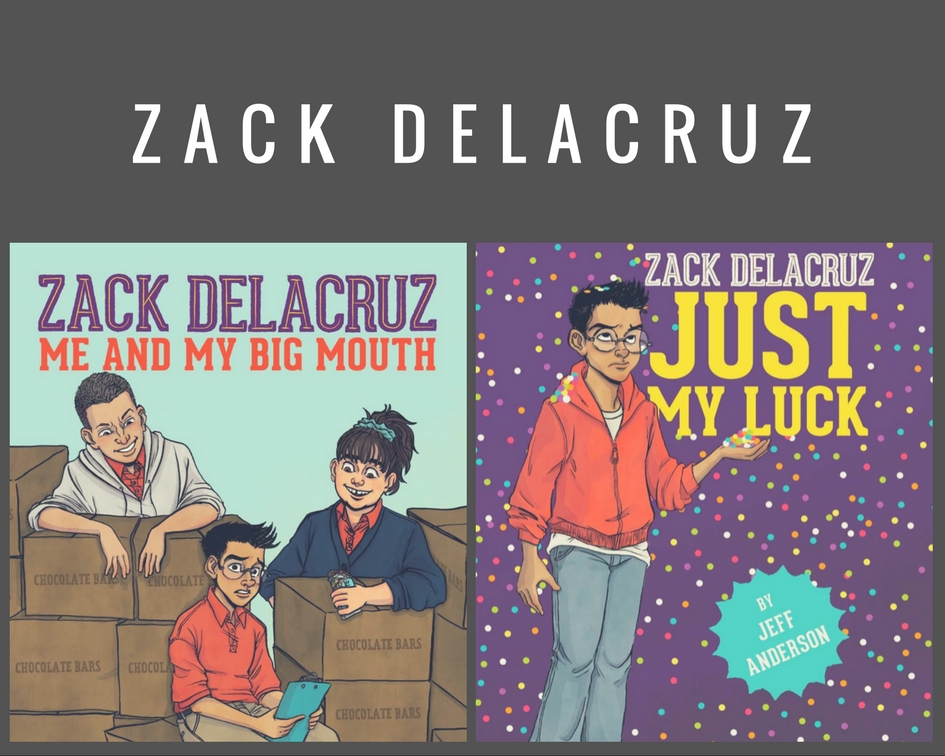 Zack Delacruz: Me and My Big Mouth
Synopsis
Zack Delacruz is unnoticed at his middle school—and that's just the way he likes it. But a school assembly, a typhoon of spit, and an uncharacteristic moment of bravery are all it takes to change everything. Suddenly Zack is in charge of the class fundraiser. Worse, his partner is the school's biggest bully! If they don't sell all the chocolate bars, there will be no dance for the sixth grade. Zack never wanted to be a hero, but with his classmates' hopes on the line, can he save the day?
Reflection
Bullying is a tough subject to discuss with kids, but this book tackles the subject in a way that makes it less intimidating.  My older sister and I had a brief encounter with bullying when we were younger.  These two girls used to chase us home from the bus stop almost daily.  I'm not even sure why they were chasing us, but we ran so fast that they never caught us.  After a while they eventually gave up trying to outrun us so the bullying stopped.
I hope my children never have to deal with bullying during their childhood, but in the world we live in today it's probably likely to happen at some point.  I think the middle school years will be the toughest since middle school is when kids are at the peak of their adolescence – trying to find themselves and where they belong.
This is a book that was written for middle schoolers.  Zack and his sixth-grade classmates attend a school in San Antonio, Texas.  Zack is often the brunt of jokes and is constantly being bullied because of the way he looks.  He's short, he has "Harry Potter" glasses, and his clothes are too big.
In the end, I love the way Zack finds his courage and stands up for himself in this book.   He saved the dance so everyone could go, way to go, Zack!  Once he was finally able to overcame his fears his popularity soared making him even more popular than he was before.
One of the things I liked about this book is all of the characters seemed so real which I think makes it easy for kids to relate to.  There are kids from all different diverse backgrounds and family types.  Zack shuffles between two households of his divorced parents and Marquis is being raised by his grandmother.  I also enjoyed the humor throughout this book even though I couldn't relate to some of the jokes.  They'd probably be more funny to a ten or eleven year-old though.
Overall, I enjoyed reading this book.  I'd recommend it and the sequel Zack Delacruz: Just My Luck for middle school aged students of all different backgrounds and cultures.  Remember, bullying is never ok.  Never.
Zack Delacruz: Just My Luck
Synopsis
Zack Delacruz is back—and eager to meet Abhi, the new girl at school. But things get off to a rough start when he accidentally knocks her to the ground during a game of dodgeball. And whenever he tries to make amends, she just ignores him. Nothing works—not his friends' advice or his "lucky" cologne. In fact, he just seems more and more cursed! Then, at the Fall Fiesta-val, Zack finally learns the real reason behind Abhi's cold shoulder . . . but not before total chaos erupts. With a runaway train, exploding confetti-filled eggs, and Abhi's terrifying older brother, will Zack ever get a chance to talk to his crush? In the end, Zack learns what it means to believe, to listen, and to be a good friend.
About the Author
Jeff Anderson is the author of Zack Delacruz: Me and My Big Mouth, Mechanically Inclined, Everyday Editing, 10 Things Every Writer Needs to Know, and Revision Decisions.  A former elementary and middle school teacher, Jeff travels to schools across the country working with teachers and students to discover joy and power in the writing process.  Visit him at writeguy.net or follow him on Twitter at @writeguyjeff.  Jeff currently lives in San Antonio, TX.