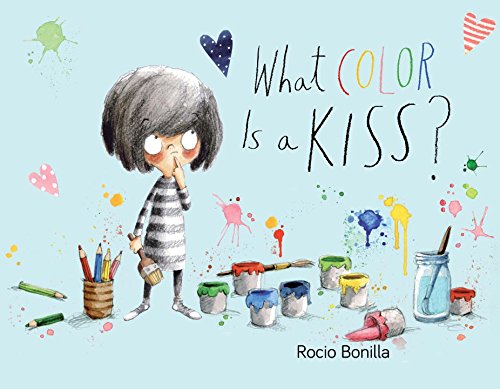 Publisher: Charlesbridge
Format: Hardcover
Pages: 32
Grade Level: Preschool – Kindergarten
Age Range: 2 – 5 years old
Available for Sale: December 6, 2016 pre-order now!
Synopsis
This sweet, heartwarming story asks one simple question: What color is a kiss? Sassy and intrepid Monica loves to paint and sees her world in every color of the rainbow, but this question nags at her. She paints and paints, hoping to discover the answer. With the help of her mother, Monica discovers that kisses and love come in all colors.
Reflection
As far back as I can remember, I've always had a this sense of curiosity about life and the world around me.  I was one of those kids who was constantly asking "why" "what" and "how" to every thing I didn't understand.  Now that I'm a parent I find myself fielding questions from my own kids on a regular basis.
Research shows that a child asks about 40,000 questions between the ages of two and five.  Yes, 40,000 questions – can you imagine?  During that span, a shift occurs in the kind of questions being asked: from simple factual ones (name of object) to the first requests for explanations by 30 months. By age 4, most children are seeking explanations, not just facts.
I'll admit, sometimes the amount of questions my kids ask can become annoying, but I love the question little Moncia ponders one day while she's painting, "What color is a kiss?" in the adorable book What Color is a Kiss by Rocio Bonilla.  To kids this seems like a valid question to ask because they grow up learning that different things have different colors associated with them.  Why would a kiss be any different, right?

As a budding artist, Monica has painted many things before, but she's never painted a kiss.  She starts wondering in her mind what color it could be: red, green, yellow, brown, white, pink, blue, black and gray.  For each color she mentions there are things she likes about it and things she dislikes about it.
"Should I paint a kiss brown?  Kisses are sweet like chocolate and magical like a forest in autumn.  But…yuck!"
The text has a mixture of words in all capital letters, playful and childlike italicized cursive writing and regular text. I think some smaller children who haven't been exposed to cursive writing may not recognize some of the words throughout this book.  My four year old daughter didn't seem to have a problem reading this book on her own though.  Also, I love the color palette used and the bright and colorful illustrations.  The kids favorite illustrations are the one where Monica is shown running away from a swarm of yellow bees and when she steps in brown dog poop….Ewwww!
In the end Monica's mom provides the answer to Monica's question simply by giving her a kiss on the cheek. Immediately, Monica realizes that kisses and love come in all colors.  So sweet!
While the kids and I did enjoy this book, it left me wondering how old Monica is supposed to be?  She seems to be a bit older since she's seen riding a larger bike without training wheels. If she's older than age six, I wouldn't think she'd be asking what color kisses are as it seems like the kind of question a two, three or four year-old would ask. That's just my opinion though.
If you have a curious and imaginative child like Monica I'd recommend checking this book out.  I think it's also great for teaching kids about colors, discussing things you like or dislike about certain colors, or for children who love to paint and be creative.
Your turn: Are you looking forward to reading this book with your little readers?  Feel free to share in the comments.