The Great Spruce by John Duvall, illustrated by Rebecca Gibbon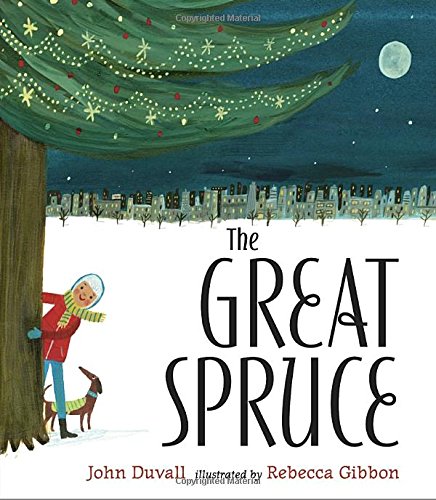 Publisher: G.P. Putnam's Sons Books for Young Readers
Format: Hardcover
Age Range: 5 – 8 years old
Grade Level: Kindergarten – Grade 3
Pages: 40
Synopsis
Alec loves to climb trees—the little apple trees, the wide willow trees, even the tall locust trees. But his favorite is the great spruce, with its sturdy trunk and branches that stretch up to the sky. Alec's grandpa planted it as a sapling years and years before Alec was born, and every Christmas, Alec and his grandpa decorate the tree together, weaving tinsel and lights through its branches, making it shine bright.
But one day, a few curious men from the nearby city take notice of Alec's glistening great spruce, and ask to take it away for their Christmas celebration. Though it's a huge honor, Alec's heartbroken at the idea of losing his friend. With great courage and creativity, Alec comes up with a plan to save his favorite tree in this joyful holiday tale.
Reflection
Like young Alec, in the book The Great Spruce, I have fond memories of climbing trees and playing outdoors as a young child.  I've always loved being surrounded by nature and natural elements as it seems to instill a sense of beauty and calmness in me.  As a parent, I try to expose my kids to things that are alive and growing in order to promote curiosity and exploration.  My hope is that my children will grow up to be citizens who respect living things similar to the way Alec respects trees.  I believe a consistent exposure to nature can help remind children that the world contains an infinite variety of things and all are important.
The Great Spruce is such a delightful and heartwarming story!  I really LOVE this story and young Alec's passion for trees.  The simple act of Alec's grandpa transporting a spruce tree many years ago to Alec's backyard allowed Alec to get up close and personal with the tree and his environment.  It also provided him with endless hours of imaginative play as he pretended to be a scout searching for pirates along the river.  As a result, Alec became a better observer and felt more connected to the outdoors.
I love how Alec stood up and demanded the tree be transported to the city instead of being chopped down.  "Stop!" Alec screamed as the curious man stood right in front of the tree with a chainsaw in hand.  "You don't have to cut this tree down…we can dig it up!  You can borrow the tree instead!" Alec said.  A bright smile spread across grandpa's face as he grabbed two shovels and handed one to Alec.  Before long, everyone was digging up the tree, even the crew from the city!  Eventually, they dig up the great spruce tree and begin transporting it to the center of town.
At the end of the tree lighting ceremony a young girl asks Alec if his tree can remain in the city.  Alec tells her the tree is just visiting, but he hands her a pine cone from the tree.  He tells the girl to plant the cone in good soil in a place where it will get plenty of sunlight.  Months pass by and in the spring as Alec climbs his tree with his telescope in hand.  He notices the tiny sapling taking root in the big city square in the center of town where the young girl planted the pine cone Alec gave her months ago.
I think there are so many things to love about this book including the detailed and bright illustrations.  I also really like the fact that the book has sort of a chain reaction effect that started with Alec's grandpa and ended with the young girl in the city.  I find it helpful that the back matter includes an author's note which explains the Christmas tree tradition and how it came to be and photographs that show the process of transplanting a tree.
A well-written book that may help to inspire wonder and a passion for protecting trees in your child.  Check it out this holiday season!