Hello, November…it's National Picture Book Month once again!
What is Picture Book Month?
Picture Book Month is an international initiative to encourage everyone to celebrate literacy with picture books during the month of November.
Every day in November, there will be a new post on the website http://picturebookmonth.com from a picture book champion explaining why he/she thinks picture books are important.  There will also be a literacy activity to do with your kids.  Check out the calendar shown below.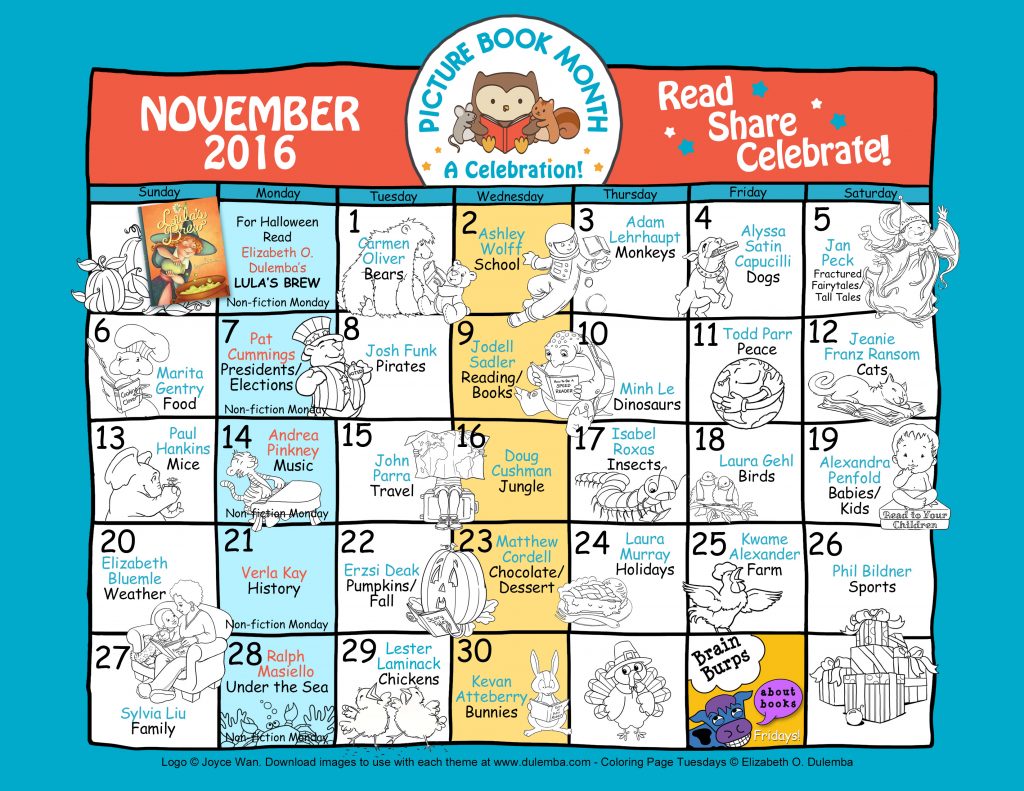 This year's list of picture book champions are: The 2016 Picture Book Month Champions are: Kwame Alexander, Kevan Atteberry, Phil Bildner, Elizabeth Bluemle, Alyssa Satin Capucilli, Laura Gehl Chamberlain, Matthew Cordell, Pat Cummings, Doug Cushman, Erzsi Deak, Josh Funk, Marita Gentry, Paul Hankins, Verla Kay, Lester Laminack, Minh Le, Adam Lehrhaupt, Sylvia Liu, Ralph Masiello, Laura Murray, Carmen Oliver, Todd Parr, John Parra, Jan Peck, Alexandra Penfold, Jeanie Franz Ransom, Isabel Roxas, Jodell Sadler, Andrea Pinkney, Ashley Wolff.
In this digital age where people are predicting the coming death of printed books, picture books need love now more than ever. And the world needs picture books. There's nothing like the physical page turn of a beautifully crafted picture book.
Join the celebration and party with a picture book!  Be sure to check out the hashtag #picturebookmonth (on Instagram) for additional picture book suggestions to read with your little ones.
Disclaimer:  I signed up to be a Picture Book Ambassador simply to support this initiative and share the information.  I did not receive any compensation to write this post.
Your turn:  Will you be celebrating National Picture Book month?  Which picture book champion are you looking forward to reading about this month?  Feel free to share in the comments.