Are you a fellow bibliophile like me? Want to know how you can build a decent home library at a fraction of bookstore prices?  Read on.
Before we get into some of the many ways you can score free or discounted books for your home or school library, first let's talk about some of the benefits reading provides.  Research has shown people who read books—fiction or nonfiction, ­poetry or prose—for as little as 30 minutes a day over several years, live an average of two years longer than people who don't read anything at all.
Research also suggests that children as young as six months who read books with their parents several times a week show stronger literacy skills, score higher on intelligence tests, and land better jobs than nonreaders. (Check out how I taught my two-year older daughter to read.)  Bottom line is when reading is practiced over a lifetime, it keeps your mind sharp.  Isn't that great news?
Some of the other added benefits of reading?
increases empathy and emotional intelligence
enhanced smarts
reduces stress
improves analytical thinking
increases vocabulary
improves memory
improved writing skills
I lead a full and busy life.  How can I possibly find time to read each day?
If you think that you don't have enough time to start reading, you're wrong. How do I know? Because we make time for the things that are important to us. Period.  How much TV do you watch? How much time do you spend scrolling through Facebook, Instagram, YouTube, etc.? You could easily replace reading with those activities. (Check out my post about how I find time to read.)
If you're worried about the cost of books, the most obvious place to take advantage of is your local library. Most libraries use the interlibrary loan system, so you can check out nearly any book you want. I also use Worldcat to find libraries in the area that might have my book.
20+ Other Ways to Score Free or Discounted Books

AbeBooks
Abe Books is a respected online marketplace in used books, and often has hard-to-find books at reasonable prices.  I like to use this site mostly for searching for out-of-print titles.
Amazon Marketplace
I have purchased several of my books through the Amazon Marketplace, it's Amazon's used book service. You can get many titles for less than a dollar, and even though Amazon charges $3.99 shipping per book, the total still comes in under $5.  I typically only purchase books in very good or excellent condition from here.
Better World Books
Better World Books collects and resells used books to raise money for literacy programs around the world and also keep great books out of landfills.  I like to occasionally browse their bargain bin deals.
Black Baby Books
Black Baby Books is a service that was created to make it easier to find and purchase children's books with Black characters.  They often have discounted deals on recently released books!
Bookdepository
I like to browse the Bargain Shop section on the Book Depository website.  Sometimes, you can find high-quality books at 50% off or more!  Bonus: They offer FREE shipping WORLDWIDE!
Book Fairies
Do you believe in book fairies?  I certainly do!  Last year, my kids and I had so much fun being book fairies for the day leaving books around our city for others to find and treasure.  Book fairies hide books around the WORLD, every day, for people to find, read, and then leave for the next person.  You never know when you'll find a free book or two from the book fairies!
Book Outlet
Book Outlet has made it their mission to offer you a huge selection of books at fantastic discounted prices of 50-90% off the original list price.  You really can't beat their prices.  Their books are marked down so low because most of them are marked with a small line or dot on the edge by publishers who sell their returns and excess inventory. Book Outlet guarantees their books are new, unread, and in good condition.
Booksalefinder
If you live in the United States or Canada, check out the The Book Sale Finder website.  This site allows you to find book sales listed by non-profit organizations.  The site is always kept up to date when I use it.  Just click on your local area using either the map or the corresponding link to your state or province.  The list will show you all nearby book sales in your area.  The best part?  When my kids and I have attended some of these book sales we score paperbacks for about 50 cents or $1 and gently used/new hardcovers for a $1 – $3!
Bookshop.org
Bookshop is my first go-to website for online book shopping.  This is especially true if I want to purchase a newly released or forthcoming book I'm excited about.
Book Swap Parties
Attending or hosting a book swap party is a free way to collect books for your home library.  It's also a great way to get rid of books you or your children are no longer interested in reading.  You can have it at someone's home or a local park or library.  For each used book a family or person brings, they get to swap it for a different book at the party. For extra fun, have snacks and hold book talks during the event.
Craigslist
Craigslist is another place to find gently used or new books for a fraction of the cost.
DiscoverBooks
Discover Books helps books achieve their greatest purpose by collecting and reselling them to other readers, donating books to those in need, or recycling used books to become another useful good with a new story to tell.
Dollar Store
Don't underestimate your local Dollar Store!  I usually always browse the book section whenever I go into a dollar store.  Sometimes I've found some really good deals there.
Dolly Parton's Imagination Library
Unfortunately, we don't live in an area that offers this program.  However, if you do be sure to check it out!  Just visit the website and search for an affiliate program near you.
Facebook Groups
I've heard there are lots of different Facebook groups where you can score cheap books from others.  I haven't done this personally, but know others who have.
Friends and Family
Asking family or friends if they have any gently loved books never hurts, right?  I often find people are generally happy to depart with books their children or relatives have outgrown or if they are in the midst of spring cleaning or downsizing.
Gifts
I have a couple book-loving friends and family members who like to give my children books as gifts.  When we receive great books from our wish list, we're always thrilled to give gifted books a new home!
Green Valley Book Fair
I don't live in the mid-Atlantic area, but it's on my bucket list to make it to the Green Valley Book Fair one day.  Have you ever heard of it?  Residents of the mid-Atlantic region of the United States are fortunate enough to attend the 25,000 square foot Green Valley Book Fair when it is open.  It's a warehouse in the Shenandoah Valley of Virginia that is open about six times a year, for about two weeks at a time. Prices for new books are typically 60-90% off the retail price, and the selection tends to be similar to what you find at large retail bookstores.
Half Price Books
I really wished there was a Half Price Books in my area – sigh.  (Please come to the Northeast!)  They have a massive collection and excellent prices on both new and used books.
Kohl's Cares
Want to make a difference in your community?  Simply purchase $5 items from the Kohl's Cares cause merchandise program. There is a cute collection every season, so you can buy new books and soft toys year-round. What's more amazing – 100% of the net profit is donated to support children's initiatives.
Library Book Sales
My local libraries host these sales several times throughout the year.  In the past I have bought hardcovers for $1 to $2 and paperbacks for $0.50 to $1.  Check your local library to find out when they host their sales.
Little Free Libraries
I want to own a little free library in my neighborhood so bad!  Aren't they the cutest thing?  The premise is simple: take a book and leave a book in one of the small boxes in various locations around the world.  Browse their website to see if there is one in your community or better yet – start your own!
New Book Stores
Many large chain book stores have a bargain book section where you can sometimes find good books marked 50-75% off, or even more.  Don't be too proud to browse the clearance section!
Price Matching
Yes, price matching is a thing – even when it comes to book shopping!  Simply check with your customer service desk before you purchase books.  I know places like Target will price-match to Amazon.
Powell's Online Bookstore
Browse the used books section on the Powell's website.  You can search by different categories for both children's and adult books.
Scholastic Book Fairs
Attending Scholastic Book Fairs or taking advantage of the Scholastic dollar book deals, is a GREAT way to stock up on brand new books at used book prices.
Shop Off Season
This tip really comes in handy when looking for holiday or seasonal books – just like when shopping for off-season clothes, holiday decorations or household items.
Tag Sales
Hit up your local tag/yard/garage sales to find bargain books!  I've found good, quality books for as low as 0.25 cents!  Oftentimes, people just want to get rid of books so you can haggle and talk them down if want to pay a cheaper price!
Thriftbooks
Thrifted books delivered right to your door?  Yes, please!  ThriftBooks is basically like searching your local thrift store without the hassle.  If you're looking for cheap books online, this is a good place to search.
Thrift Stores
Goodwill, Salvation Army and local thrift stores usually have loads of books. You'd be surprised at what you can find given a little time and patience.
Used Bookstores
Sometimes I find great deals at used bookstores between $3 – $7.  Bonus points for also supporting a local business!
Did you find this article to be helpful?  Share it!
Now do you see it's totally possible for you to read AND have a great home library on a budget? As your collection starts to grow, people may even start to offer you their unwanted books. Take them! If you don't need them, you can share them with others, swap them, or even sell them and buy books you want.  Happy reading!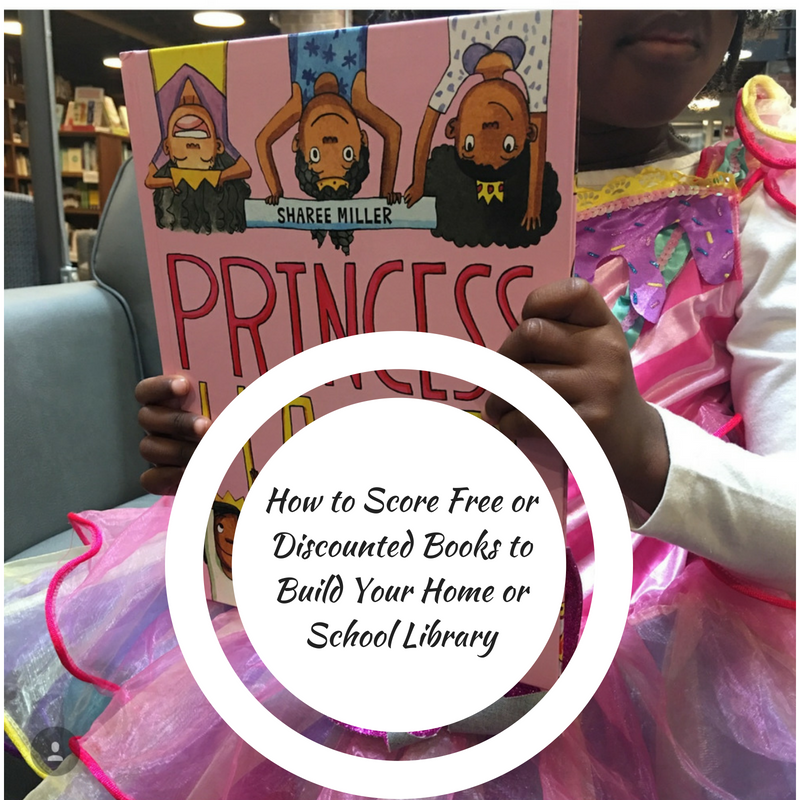 Your turn: What other ways would you add to this list?  How do you build your library on a budget?  Feel free to share in the comments.