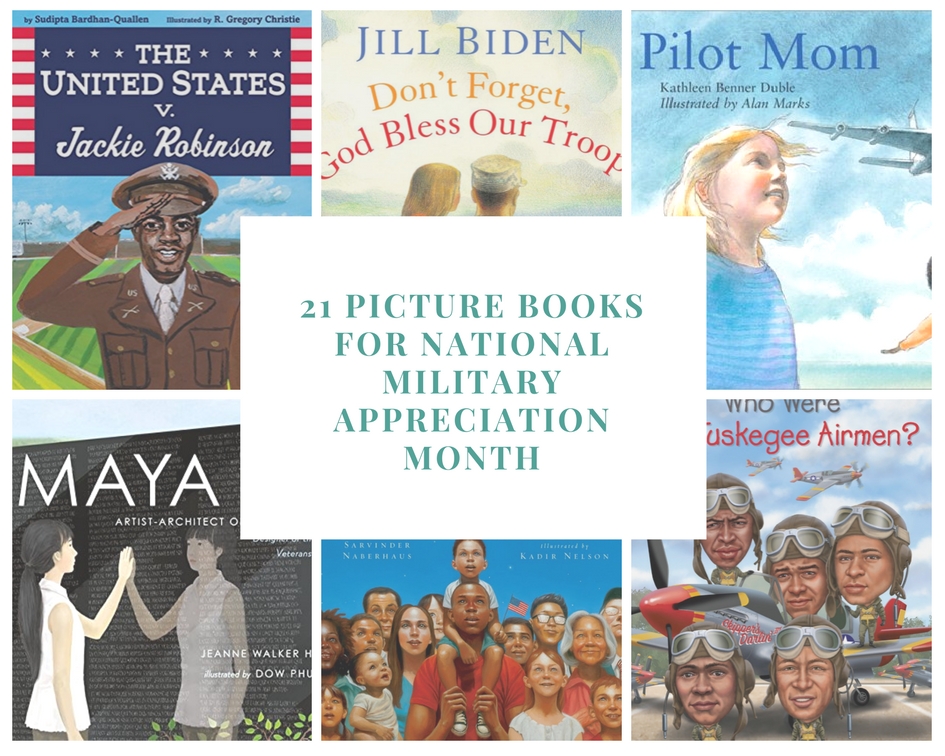 When a family member goes to war, the impact on those left at home can be challenging.  In fact, the entire cycle of deployment can be a very painful and frightening time, particularly for children.  Raising children in the military isn't easy, but books can help youth and their families cope when a parent is deployed. Military must deal with the same issues other parents face, but they also have to grapple with challenges that directly relate to a military life.
Did you know that May is National Military Appreciation Month (NMAM)? In 1999, Congress selected the month of May because it contains more national observances in honor of the armed forces than any other month.  NMAM's aim is to "reflect upon the sacrifices made by members of the United States Armed Forces and to show appreciation for such service."
National Military Appreciation Month is the perfect opportunity to express our gratitude and to salute those who are currently serving or have served in the military.  I've gathered a list of children's books to read with little readers throughout the month of May.  All of the books listed have a military or war theme in some way.  In addition, I've included a few ways adults and children can show their appreciation this month to honor our veterans and active duty members.
National Military Appreciation Month is an ideal time to salute our American heroes and thank them for their sacrifices. Be sure to show your gratitude to our servicemen and servicewomen this month and every month of the year!

The United States v. Jackie Robinson by Sudipta Bardhan-Quallen and R. Gregory Christie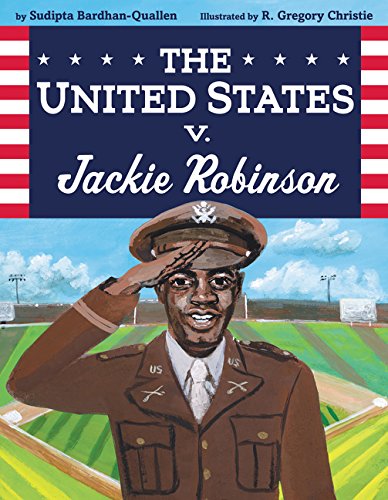 Many people know that Jackie Robinson was the first Black baseball player who broke the color barrier by joining the Brooklyn Dodgers. But did you know he got in trouble for not sitting on the back of the bus BEFORE Rosa Parks?  The United States v. Jackie Robinson is an amazing nonfiction picture biography that depicts a lesser known time in Jackie Robinson's life serving in the military.
Wind Flyers by Angela Johnson, illustrated by Loren Long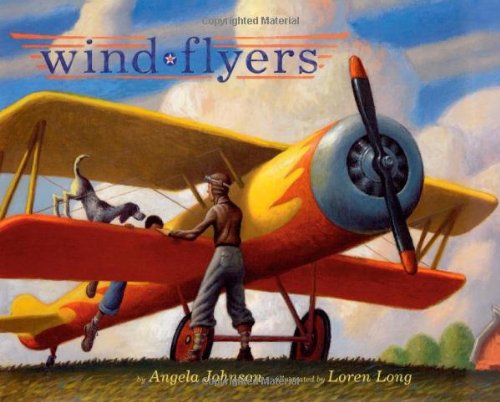 This is a story about a young boy and his great-great uncle who was a wind flyer with the Tuskegee Airmen – the often under celebrated World War II heroes.
The uncle's life is recounted from his childhood through his time spent with the Air Force in Alabama. This is not a nonfiction book based on a particular person, but rather a poetic story about the men who served with the 332nd Tuskegee Airmen.  Apart from the illustrations, I love the fact that this book is lyrically written and not too wordy. Perfect for keeping smaller children up to age 9 engaged in the story. Check this one out for your airplane loving toddlers, preschoolers or elementary little readers.
My Sailor Dad by Ross H. Mackenzie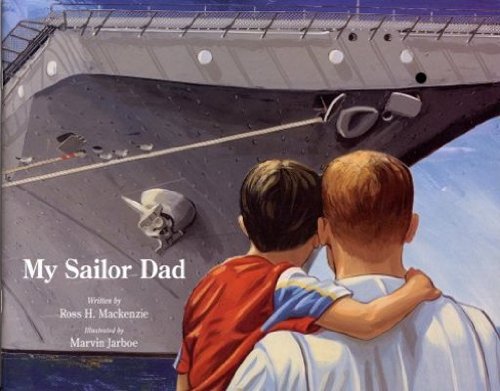 My Sailor Dad is a beautifully illustrated book that does a great job explaining Navy terminology to kids.  Children are likely to understand what it's like when a parent or loved one is out to sea.  This book also includes people of different cultural backgrounds and can appeal to either boys or girls.
Maya Lin: Artist-Architect of Light and Lines by Jeanne Walker Harvey, illustrated by Dow Phumiruk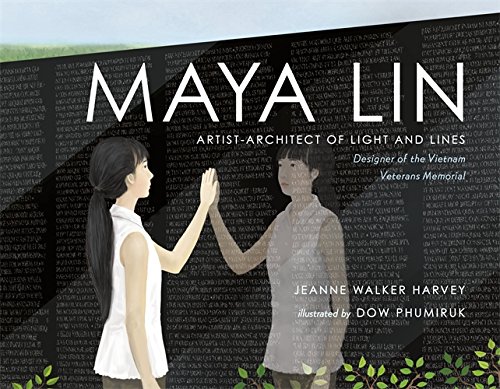 Maya Lin is Asian-American architect, designer, and artist.  This nonfiction picture book biography gives young readers a glimpse into Maya's childhood and explains the creative process she used to design the Vietnam War Memorial.  There is so much to learn about perseverance, art, history and standing up for yourself.
Don't Forget, God Bless Our Troops by Jill Biden, illustrated by Raúl Colón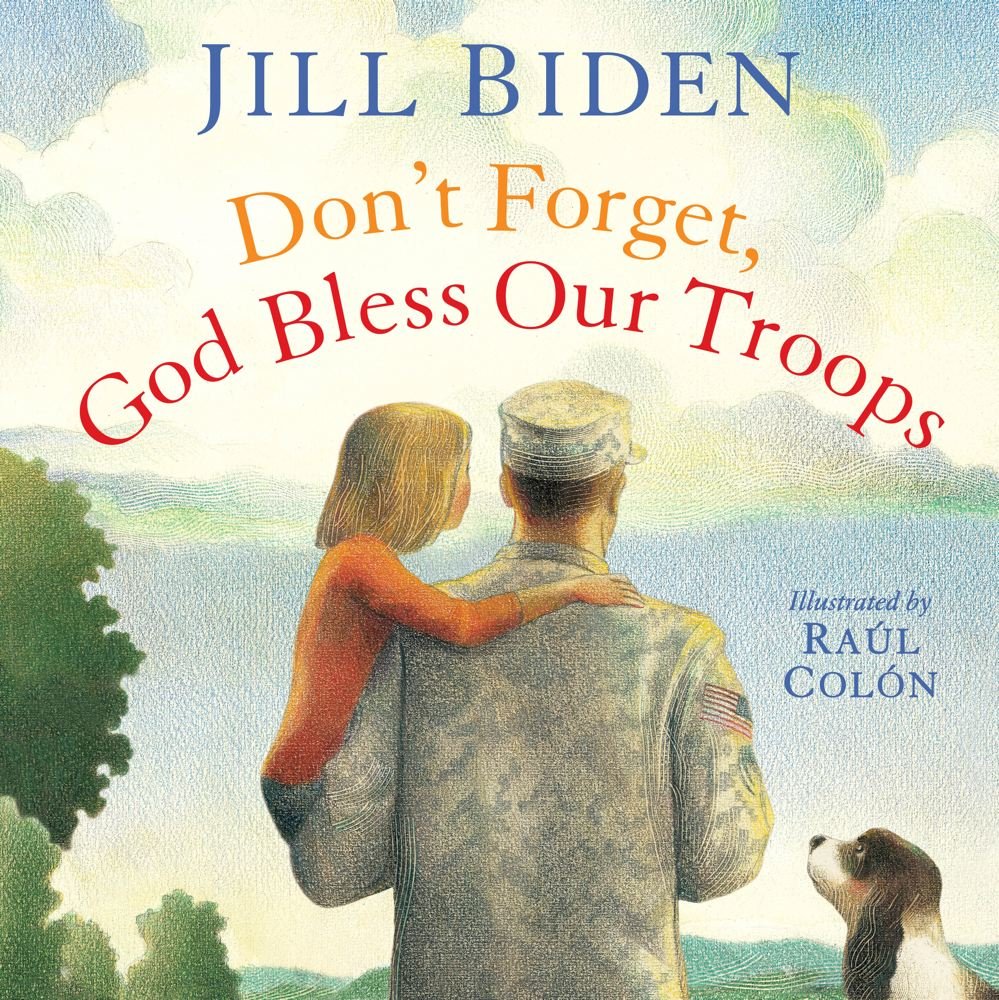 A heartwarming and powerful story about a young girl named Natalie who misses her father while he is deployed in Iraq.  It's based on Jill Biden's granddaughter Natalie's own personal experience during her father's deployment.  Readers will understand how deployment affects young children and requires them to be brave while their parent is also being brave serving our country.
The Treasure Box by Margaret Wild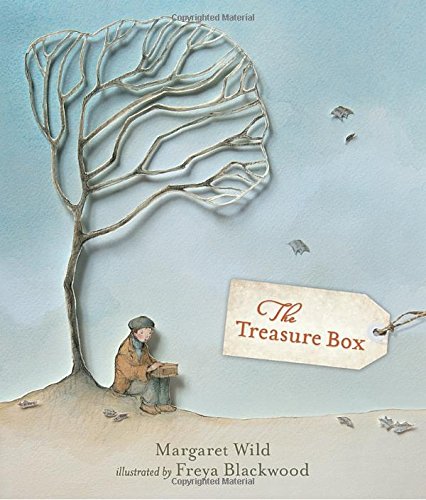 When a war comes to Peter's town, he and his father must flee their city and leave their home.  Before escaping, Peter manages to bring a treasure box with him that contains a book inside.  The entire city is bombed and destroyed, including the library.  Peter and his father set off with other refugees to find a safe place, but along the way Peter's dad turns ill and dies.  Before he passes away, he asks Peter to promise to some day return to their city and bring the book back to the library in which they borrowed it from.  A touching story with themes of war, refugees, and the power of books and literature.
Blue Sky White Stars by Kadir Nelson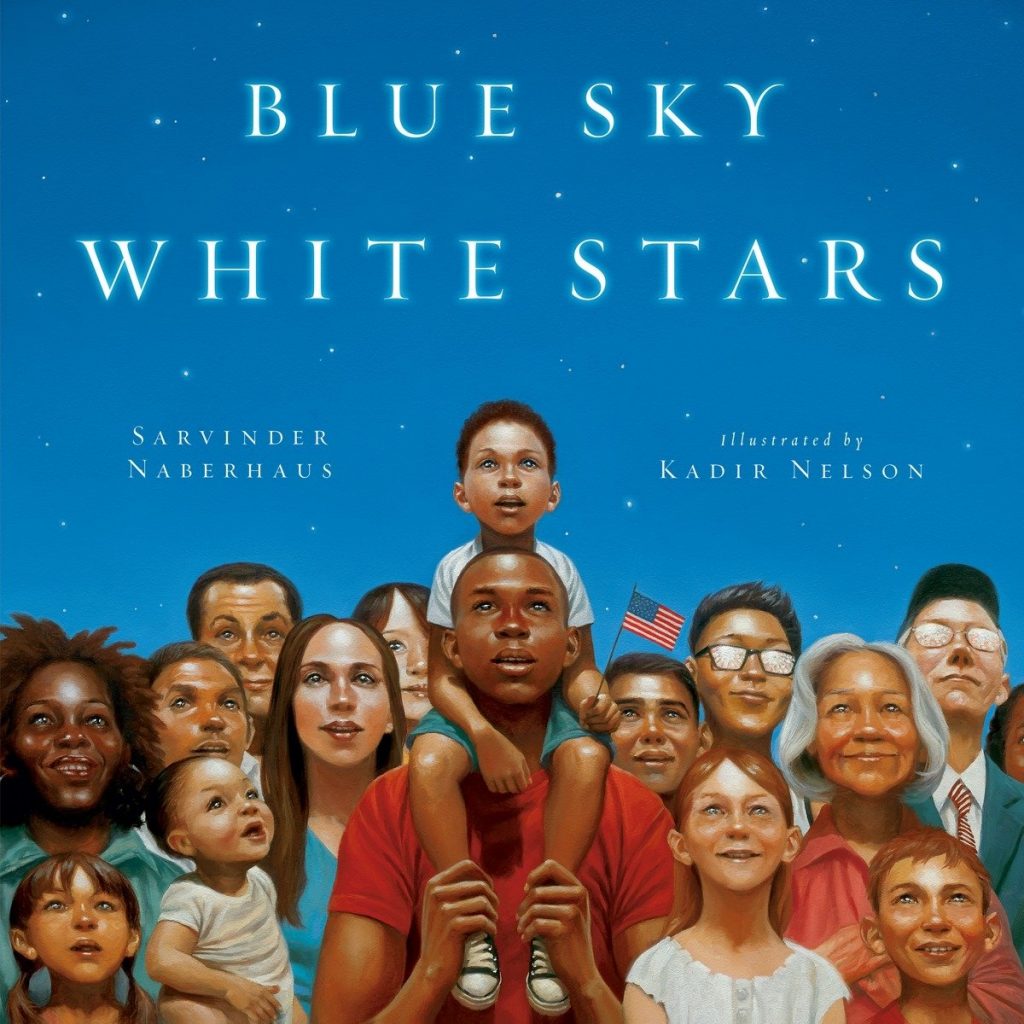 A stunningly beautiful, poetic and patriotic tribute to America's flag, diverse population and landscape.  Kadir Nelson's illustrations are breathtaking!
Hero Mom by Melinda Hardin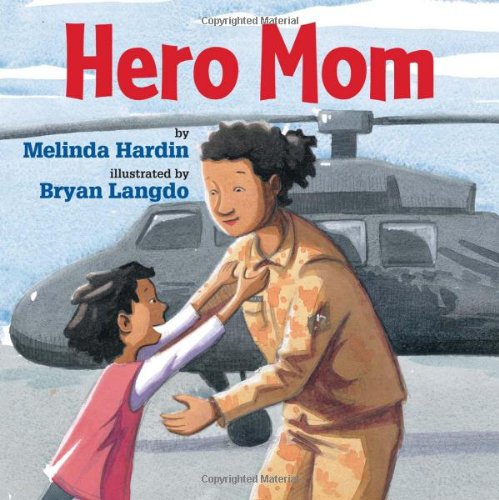 An easy to understand depiction of a diverse group of moms serving in the military.  I like that it shows the women being strong leaders and that this book opens up discussions based on gender/sex roles.  Women are shown fixing military tanks, flying fighter jets, nursing soldiers back to good health and more!
Hero Dad by Melinda Hardin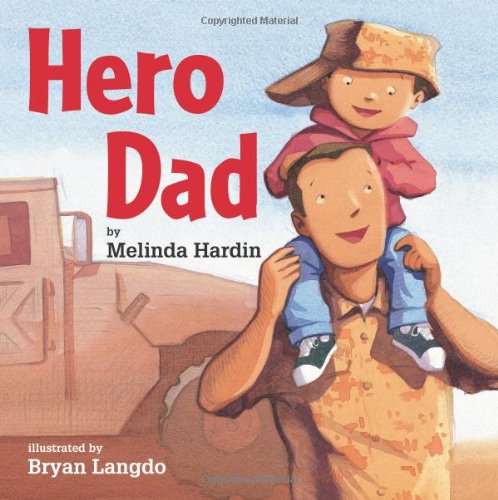 A little boy talks about his dad being a superhero because he is in the military.  There are references to some things you might see in the military like:  camouflage, night vision goggles, and tanks.  An easy to understand military themed book with simple sentences for young readers.
Pilot Mom by Kathleen Benner Duble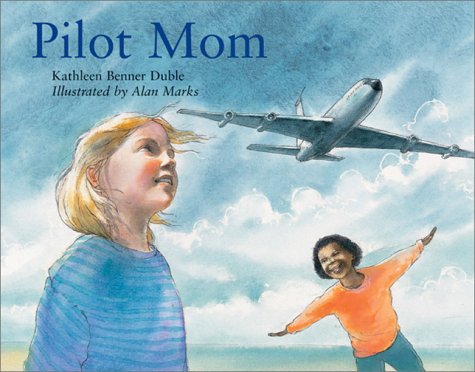 A picture book about Mom who flies tanker jets?  Yes, please!  This book tells the story of a girl named Jenny who is scared on the day her mother is leaving for Europe to go on a training mission.  Jenny's mom reassures her everything will be ok and that what she's doing is for her daughter's freedom to do what she wants with her life.  Due to the long text, I'd recommend this one for slightly older readers ages 8 and up.
H is for Honor: A Military Family Alphabet by Devin Scillian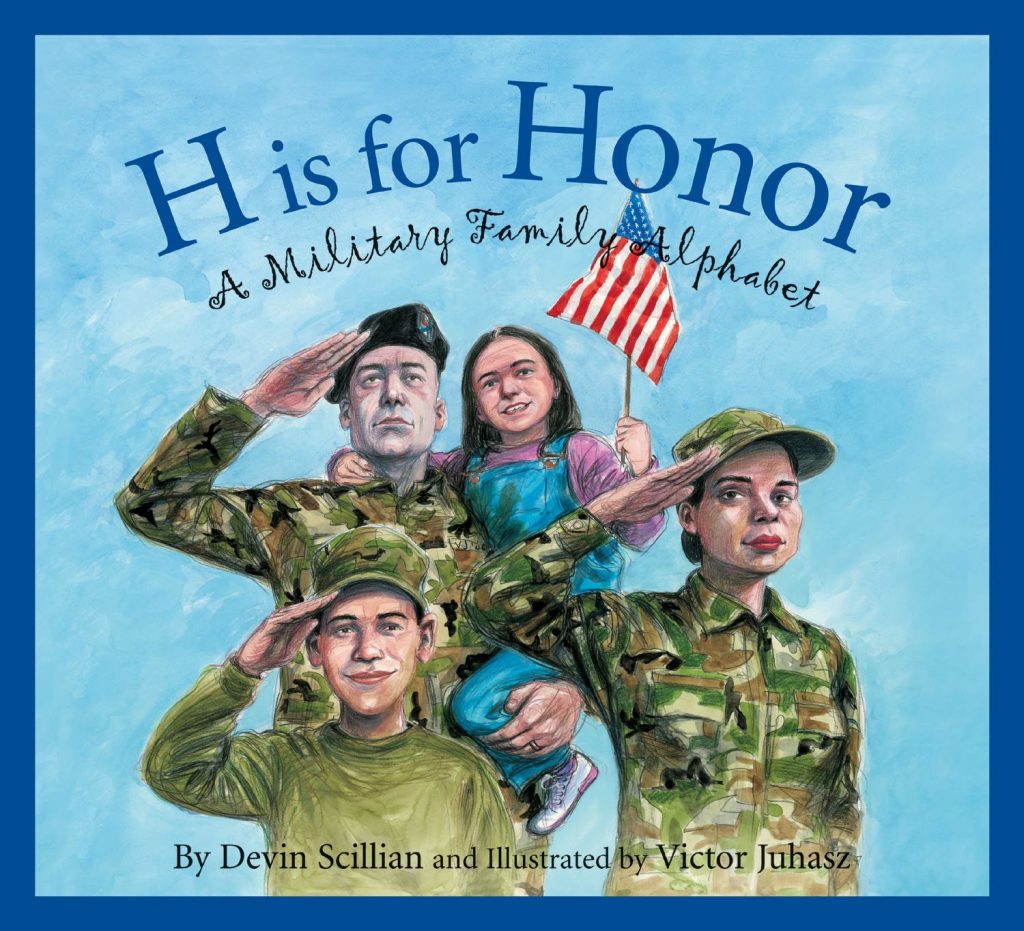 An informational alphabetic picture book that explains the in's and out's of the military from A to Z.  Each letter has a rhyming poem and some additional facts in the side margin.  Suitable for both younger and older readers, this book provides a wonderful introduction of military life.
The Wall by Eve Bunting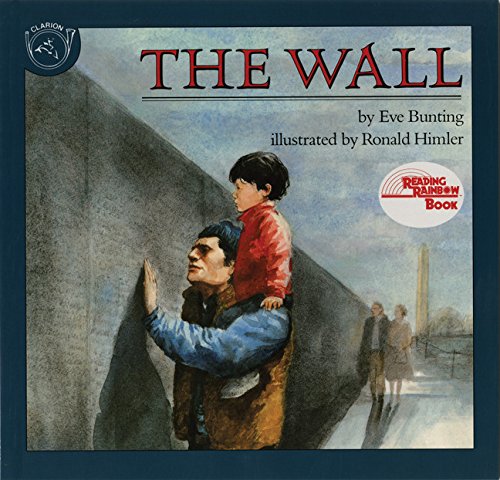 A young boy and his father visit the Vietnam Veterans Memorial Memorial in Washington DC in search of finding the boy's grandfather's name written on the wall.  As they search the wall, you see various other people shown too: a wounded veteran, a group of school children, people of all different ages.  There are themes of: loss, war, and family sprinkled throughout.  Great for reading on Memorial Day, Veteran's Day or anytime of the year.
The Poppy Lady: Moina Belle Michael and Her Tribute to Veterans by Barbara Walsh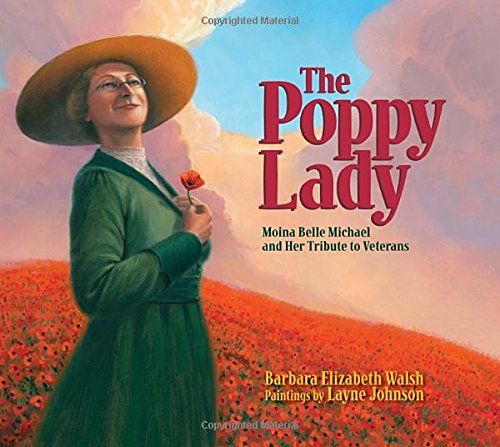 A lovely tribute to our Veterans!  Since World War ll, red poppy have been used as a symbol to remember fallen soldiers.  This story explains the history of how this tradition came to be.  Moina Belle Michael, a schoolteacher from Georgia, felt soldiers deserved to have a symbol to remind people of their sacrifice and courage.  Her symbol of choice?  Red poppy flowers.
America's White Table by Margot Theis Raven, illustrated by Mike Benny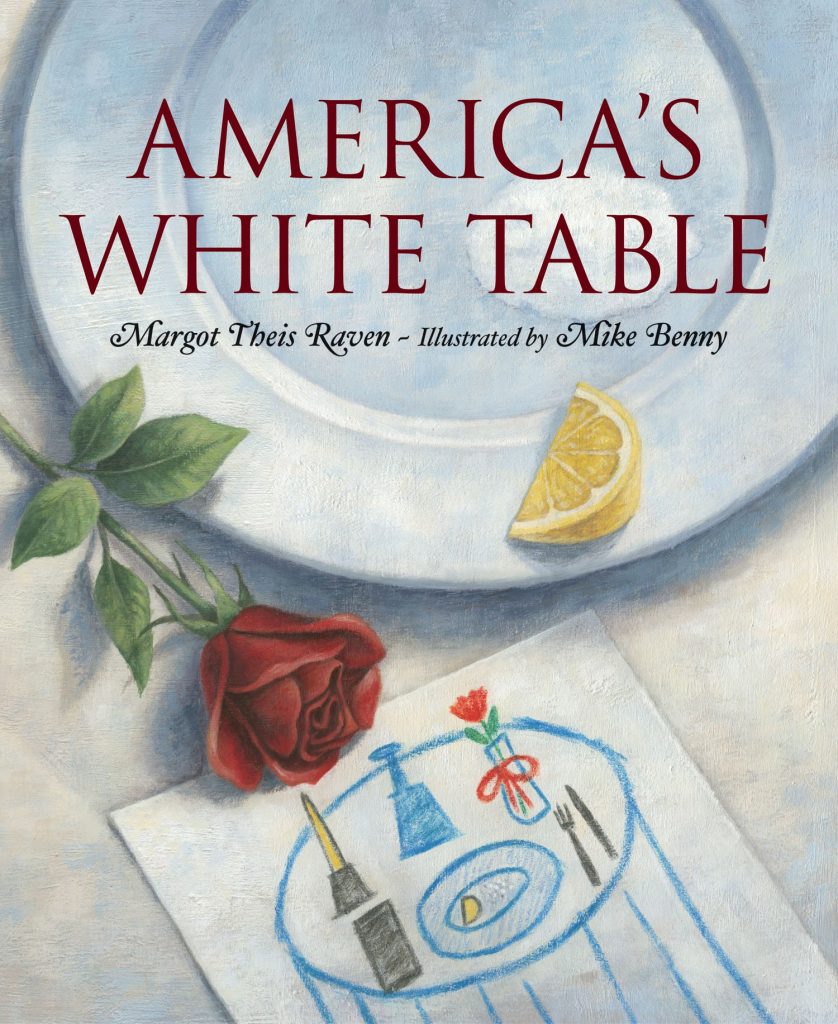 America's White Table explains the tradition of the "white table" and the symbolism behind it.  The white table honors servicemen and servicewomen across all branches of the military who have gone missing or were held captive in the line of duty and never made it back for chow. The White Table is set in many mess halls in the military.  Solitary and solemn, it is the table where no one will ever sit.
Who Were the Tuskegee Airmen? by Sherri L. Smith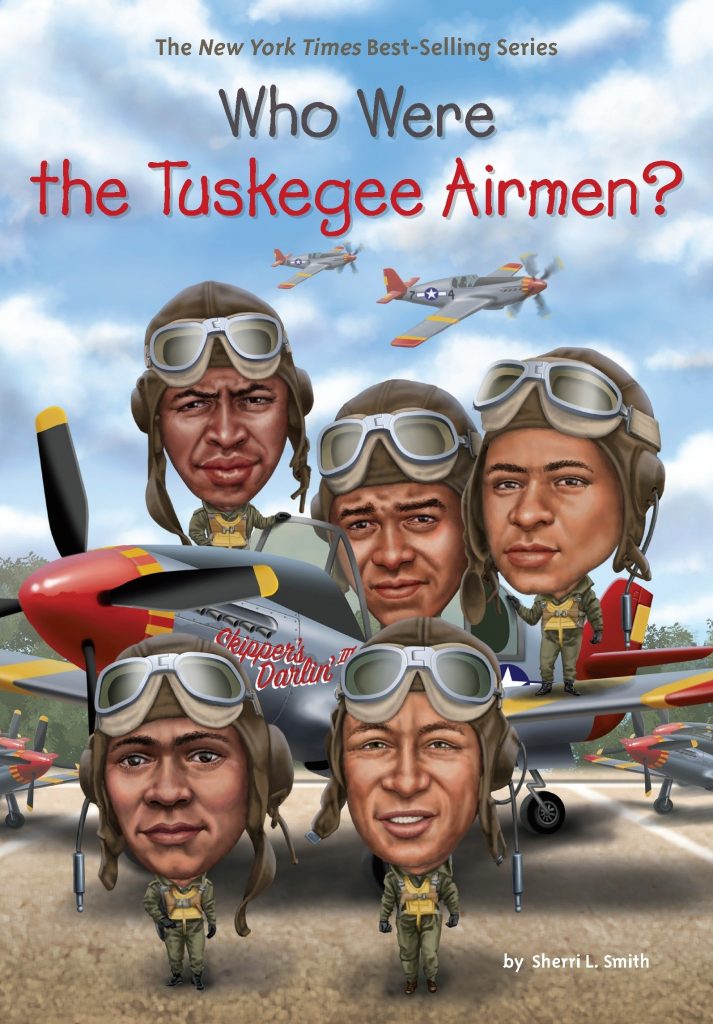 It's up, up, and away with the Tuskegee Airmen, a heroic group of African American military pilots who helped the United States win World War II.  While this book details thrilling flight missions and the grueling training sessions the Tuskegee Airmen underwent, it also shines a light on the lives of these brave men who helped pave the way for the integration of the US armed forces.
Finding Winnie: The True Story of the World's Most Famous Bear by Lindsay Mattick and Sophie Blackall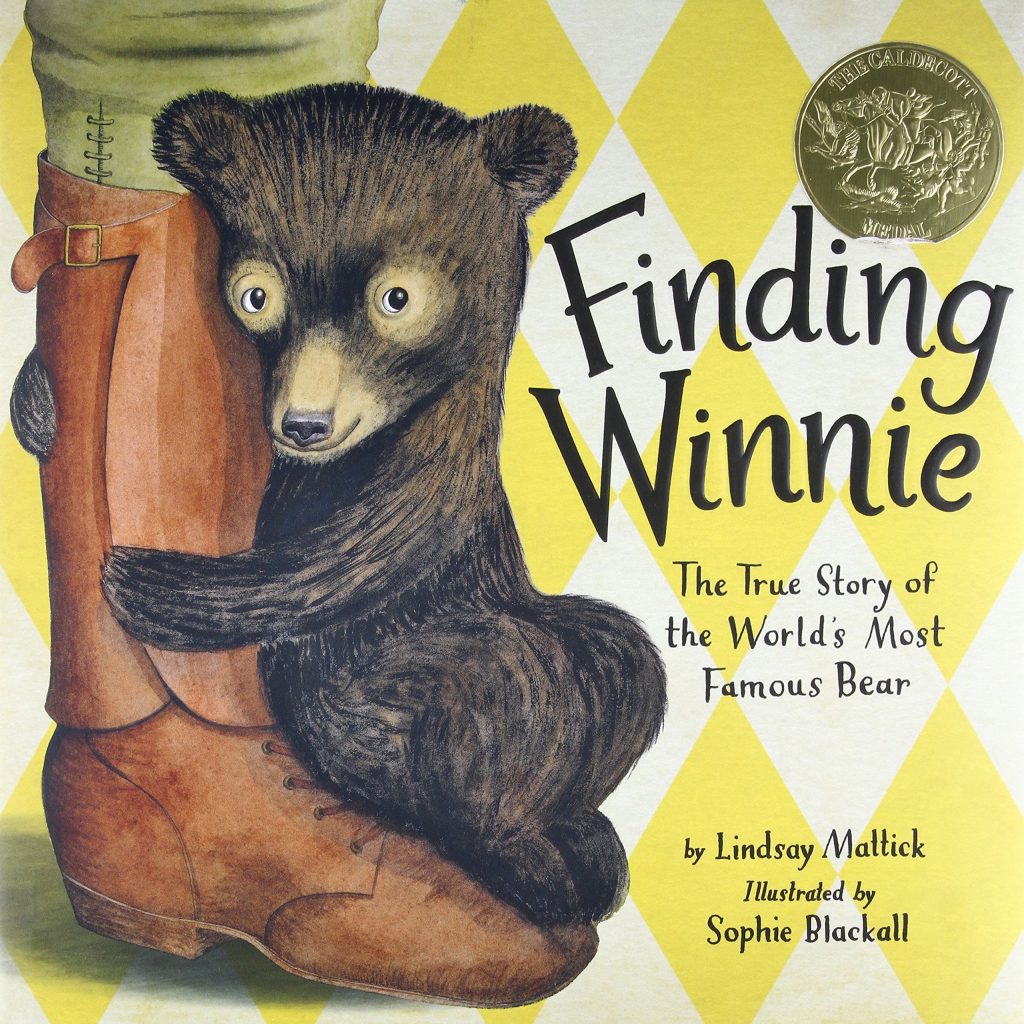 I adore this true story of how Winnie-the-Pooh became the beloved story book character that we all know and love today.  Veterinarian Harry Colebourn purchased the bear cub for $20 while he was in route to serve in World War I. He named the Bear Winnipeg, Winnie for short, and she soon became the mascot of his regiment.
The Journey by Francesca Sanna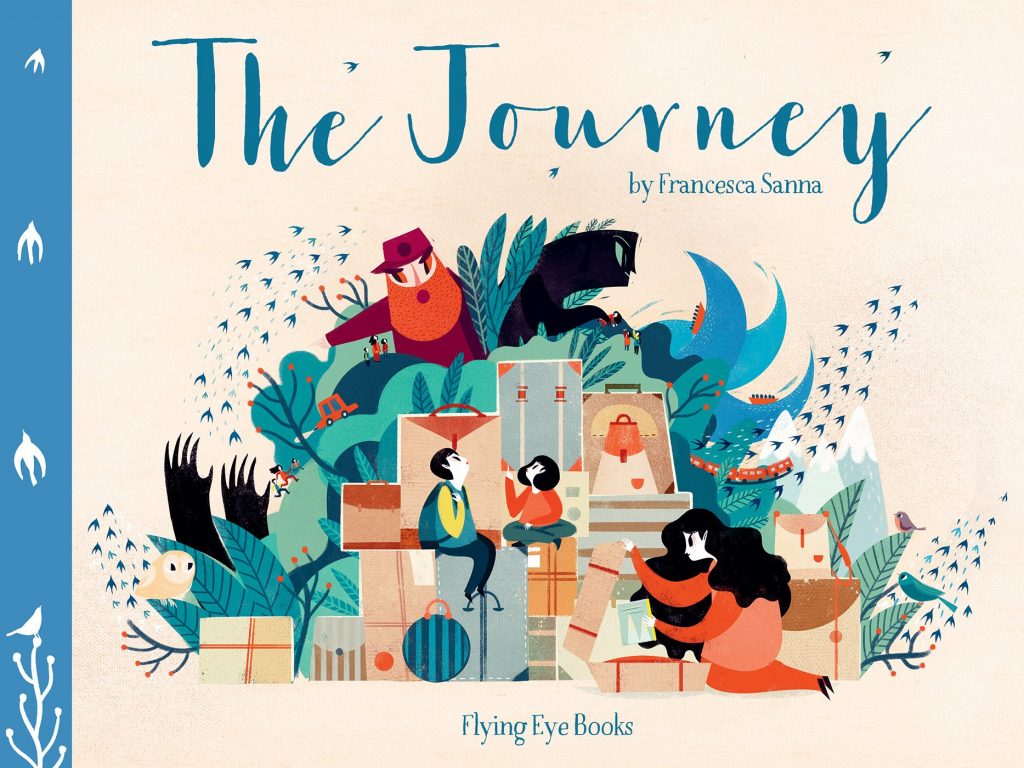 Told through the eyes of a family who has to uproot their home due to war to find safety, The Journey is a powerful book about the things many refugees have to face.  I love how nurturing and protective the mother is over her children.  Great for discussing topics about war, refugees, empathy and migration.
Luis Paints the World by Terry Farish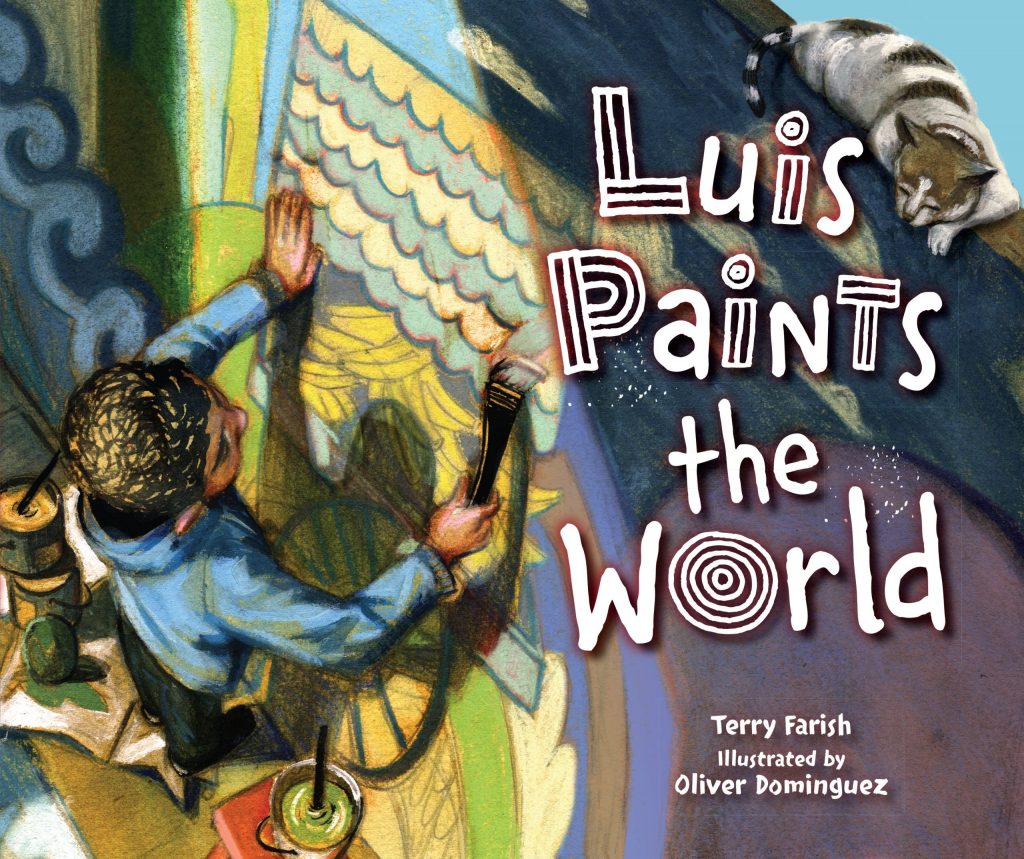 Luis wishes his older brother Nico wasn't leaving for the Army.  While his brother is deployed, Luis copes by using art as therapy to express his emotions and help him deal with her brother's absence.  Luis decides to paint a mural in his Dominican neighborhood and many people in the community come together to give him a hand.  I really like this story that shows a community coming together to beautify their neighborhood and missing loved ones across the miles.
Remembering Vera by Patricia Polacco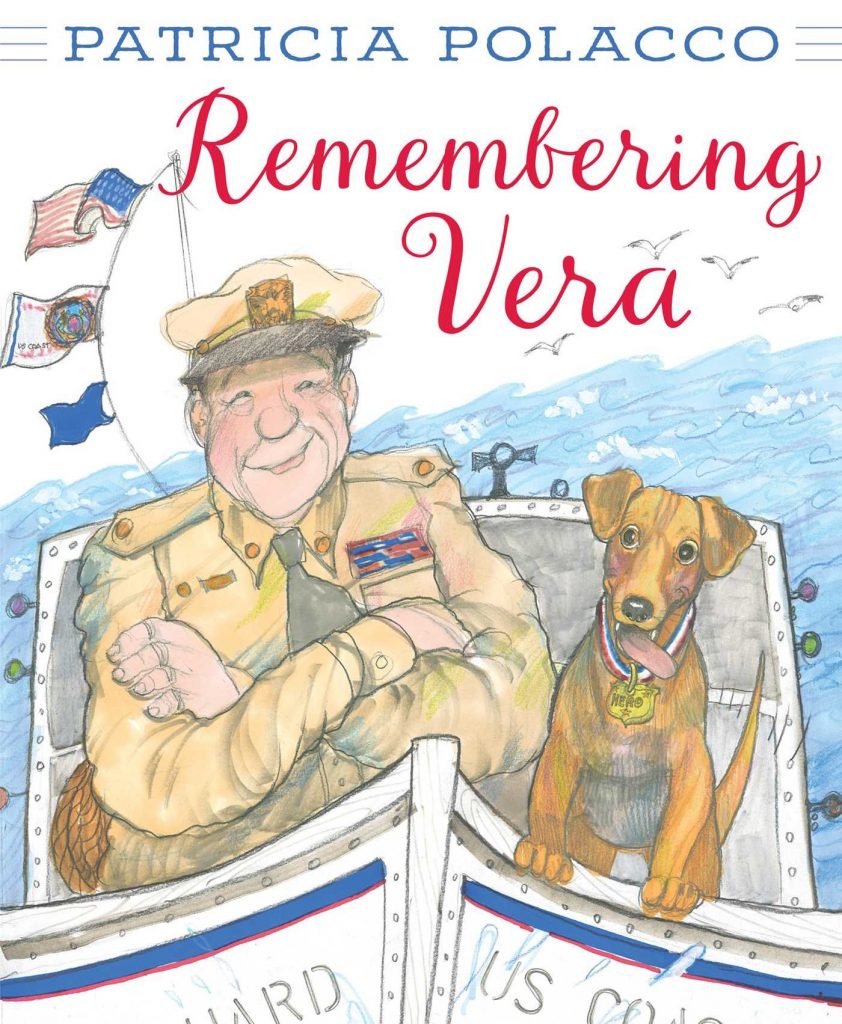 A cute story about a precious dog named Vera that joins the US Coast Guard.  Found as a stray dog by the US Coast Guard, Vera moved into the San Francisco Bay base and later became a hero and friend.
Tucky Jo and Little Heart by Patricia Polacco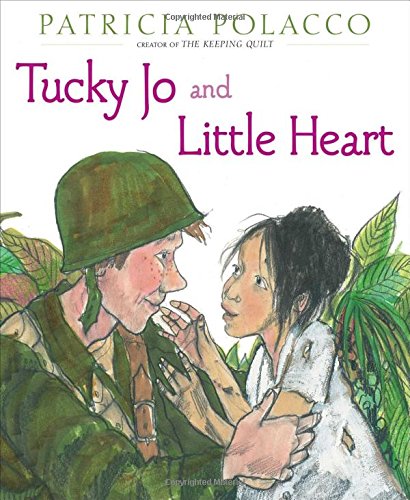 Based on a true story, Tucky Jo and Little Heart is a beautiful story about love and friendship. I love the special bond that develops between a young WWII soldier and a little Filipino girl in the South Pacific.  Provides readers with an insight of war and the power of friendship and kindness.
Night Catch by Brenda Ehrmantraut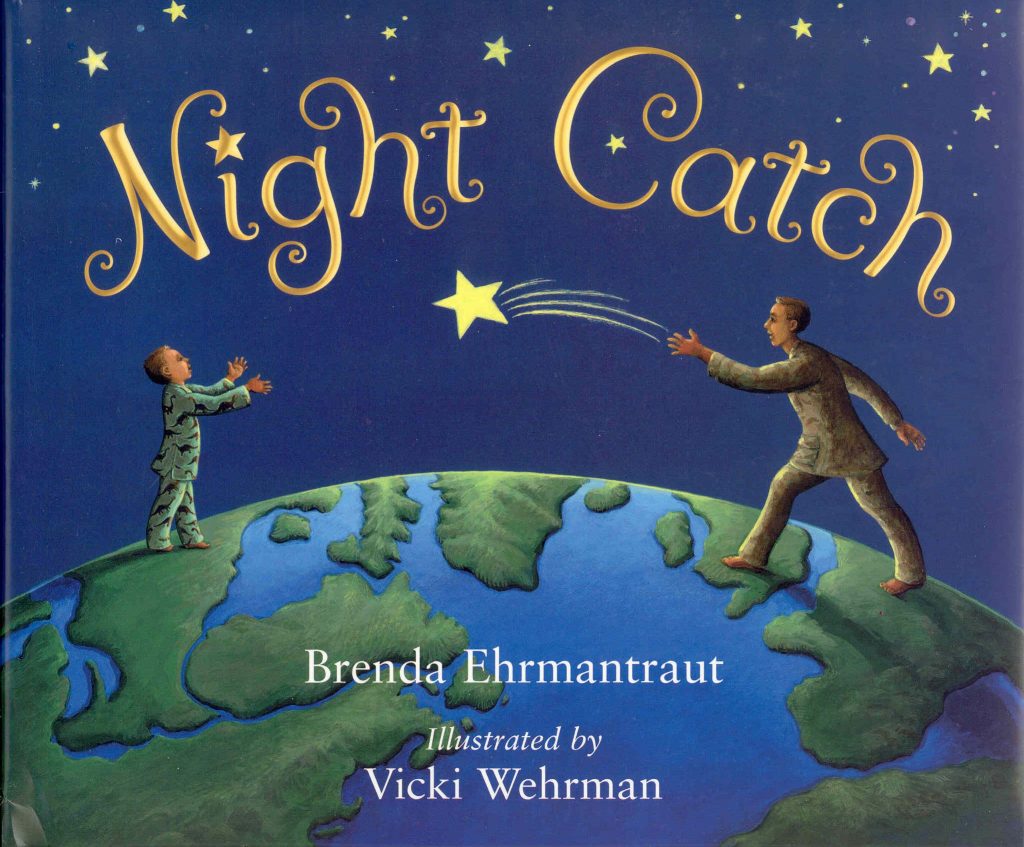 When a soldier's work takes him half-way around the world, he enlists the help of the North Star for a nightly game of catch with his son.  Night Catch is a timeless story that connects families while they are apart and offers comforting hope for their reunion.  A great book for families facing deployment of a loved one and introducing a creative way to connect with others who are far away.
Different Ways to Honor and Show Appreciation to Veterans or Active Duty Members
Say Thank You.  Teach children to simply say "thank you" if they see a member of the armed forces in his or her uniform.  Taking a moment to thank them for their service goes a long way.
Offer and publicize a military discount. If you are a business owner, a military discount for all current and prior service members could be an easy way to show your thanks. Every penny saved helps a family's budget stretch further.
Decorate or clean up at your local cemetery. While there are some organizations that attempt to maintain the graves of the fallen servicemen, perhaps in your city or town, it has been a while. Simple bouquets of flowers (often on sale at super stores during May for this very reason) or small American flags could be a nice gesture.
Donate to or volunteer at your local VA hospital. By volunteering at the hospital or even donating things like blankets, new warm socks, or other similar comfort and care items can make a person's stay just a bit more comfortable.
Fly a flag at your home of place of business. This is perhaps the simplest way to show your respect and appreciation for the work that our active member and reservists do, and what our veterans have done. The American flag is an important symbol in their daily lives, and by showing it the proper respect and honor, you are thanking them as well. Why not wear a lapel pin on your clothes for the entire month? Putting it on every morning and seeing it in the mirror throughout the day will be a reminder to think about with gratitude all our armed forces members have done and continue to do for those needing help across the globe.
Send a care package. Contact Operation Gratitude (or another military organization) to find out how you can lift the spirits of new recruits, U.S. service members deployed overseas, and America's wounded heroes. Packages contain snacks, toiletries, magazines, games, DVDs, and personal letters of appreciation.
Organize a school event. Whether you're a college student or the parent of school-age children, talk to the university dean or to your child's principal about incorporating military-related curriculum in some way this month.
Help a military spouse. Consider the many ways you can lend a hand to the spouse of a deployed service member. Offer to babysit, mow a lawn, paint a fence, pick up groceries, cook meals, or help drive children to after school activities. Taking on a few simple chores can really help lighten the load of a parent struggling to do the work of two people.
Your turn: What other military/war themed books would you add to this list?  Feel free to share in the comments.