Disclaimer: I was provided with an advanced review copy from the publisher in exchange for an honest review.  All opinions expressed are my own.

Front Desk by Kelly Yang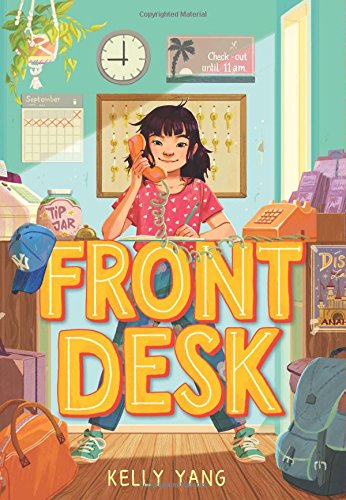 Publisher: Arthur A. Levine Books
Format: Hardcover
Pages: 304
Age Range: 8-12
Grade Level: 3-7
Synopsis
Mia Tang has a lot of secrets.
Number 1: She lives in a motel, not a big house. Every day, while her immigrant parents clean the rooms, ten-year-old Mia manages the front desk of the Calivista Motel and tends to its guests.
Number 2: Her parents hide immigrants. And if the mean motel owner, Mr. Yao, finds out they've been letting them stay in the empty rooms for free, the Tangs will be doomed.
Number 3: She wants to be a writer. But how can she when her mom thinks she should stick to math because English is not her first language?
It will take all of Mia's courage, kindness, and hard work to get through this year. Will she be able to hold on to her job, help the immigrants and guests, escape Mr. Yao, and go for her dreams?
Reflection
I will never know exactly feels like to be an immigrant who was not born in the United States. It's simply not a part of my story. However, I do know what it's like to be a Black person and at times feel discriminated against because of the color of my skin, the texture of my hair or my full lips. I guess that may feel what like to be an immigrant although they are not exactly the same thing.
I think Front Desk is an amazing middle-grade book that wholeheartedly deserves a five star rating, let me tell you why.
First of all, it's loosely based on the author's life, the daughter of first generation Chinese immigrants. The author lived this tale so the writing is gripping and very authentic based on some of her own life experiences.
Second, it outlines the struggles and hardships many immigrants have to face daily. The book is set in the 1990's timeframe so I found myself relating to it on so many levels. Having an immigrant-born Jamaican mother, my sister and I were often teased and heard terms like "fresh off the boat" even though we were both born in the US. My heart ached for little Mia and her family at times. But then my heart sang to see how they overcame any roadblocks that were in their way.
Lastly, I loved all of the themes and lessons this book provides to readers: perseverance, racism, social justice, teamwork, hard work, gratitude, family, friendship and so much more. I honestly can't say enough good things about this one!
I walked away from this book feeling so full and blessed which was unexpected. I felt like I took my kids on an amazing read-aloud journey to experience what it feels like to live in an immigrants' shoes. If you woke up this morning, have food to eat, and clothes to wear give thanks and be grateful.
Kudos to author Kelly Yang for penning such wonderful and powerful debut novel! Front Desk publishes May 29, 2018. An absolute must-read for 2018!
Your turn: Do you plan to read this book when it comes out?  Feel free to share in the comments.