Disclaimer: We received a complimentary copy of this book in exchange for an honest review.  As always, all opinions expressed are my own.
Iqbal and His Ingenious Idea by Elizabeth Suneby, illustrated by Rebecca Green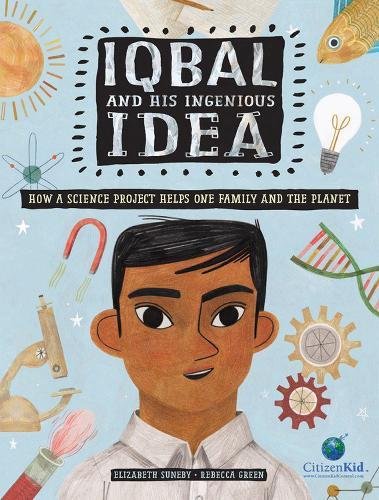 Publisher: CitizenKid
Format: Hardcover
Age Range: 6 – 9 and up
Grade Level: 3 –  7
Pages: 32
Publication Date: May 1, 2018
Synopsis
It's monsoon season in Bangladesh, which means Iqbal's mother must cook the family's meals indoors, over an open fire. The smoke from the fire makes breathing difficult for his mother and baby sister, and it's even making them sick. Hearing them coughing at night worries Iqbal. So when he learns that his school's upcoming science fair has the theme of sustainability, Iqbal comes up with the perfect idea for his entry: he'll design a stove that doesn't produce smoke! With help from his teacher, Iqbal learns all about solar energy cooking, which uses heat from the sun to cook — ingenious! Has Iqbal found a way to win first prize in the science fair while providing cleaner air and better health for his family at the same time?
Reflection
It's monsoon season in Bangladesh, which means many families must cook over an open flame. But all of the smoke is making Iqbal's mother and other family members sick.  Iqbal wants to help, so he enters the district science fair which offers a cash prize for winning first place. Iqbal is determined to win the grand prize so he can buy a gas stove that doesn't produce harmful fumes.
I love how creative Iqbal was and how he thoroughly researched his idea to create a solar cooker.  He learned that solar cookers provide many benefits including: protects the environment, reduces health problems, empowers women and girls, increases safety and saves money.
I also like the special bond between Iqbal and his sister Sadia.  Sadia offers to be Iqbal's assistant and helps him assemble the solar cooker.  The brother sister duo also receive help from their parents to put the final touches on their invention.  What a great display of family teamwork to accomplish a common goal!  Despite not having much money, they all pulled together and used the little they did have to help Iqbal complete his project.
Aspiring creatives, engineers, scientists and inventors are likely to enjoy this inspirational story that shows how one child can champion the protection of the environment and help raise awareness about a global health issue.  There are themes of: STEM, creativity, family and solar power.  You truly are never too young or old to make a difference!
The back matter has additional information about clean cookstoves, a glossary and a neat DIY (do-it-yourself) pizza box solar cooker activity for kids to try.
Your turn: Have you ever invented anything?  If so, what was it?  Feel free to share in the comments.