Disclaimer: We received a complimentary copy of this book in exchange for an honest review.  As always, all opinions expressed are my own.
Alma and How She Got Her Name by Juana Martinez-Neal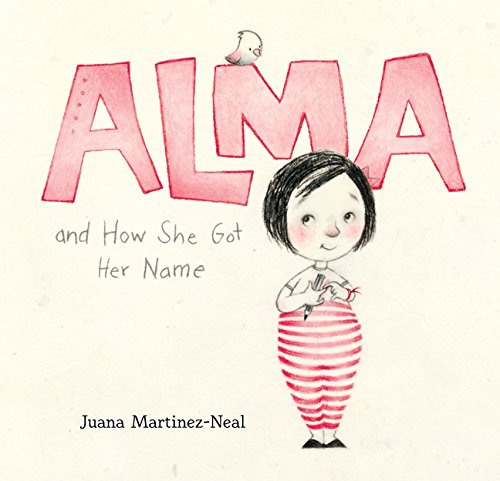 Publisher: Candlewick
Format: Hardcover
Age Range: 4- 8
Grade Level: Preschool – 3
Publication Date: April 10, 2018
Synopsis
What's in a name? For one little girl, her very long name tells the vibrant story of where she came from — and who she may one day be.
If you ask her, Alma Sofia Esperanza José Pura Candela has way too many names: six! How did such a small person wind up with such a large name? Alma turns to Daddy for an answer and learns of Sofia, the grandmother who loved books and flowers; Esperanza, the great-grandmother who longed to travel; José, the grandfather who was an artist; and other namesakes, too. As she hears the story of her name, Alma starts to think it might be a perfect fit after all — and realizes that she will one day have her own story to tell. In her author-illustrator debut, Juana Martinez-Neal opens a treasure box of discovery for children who may be curious about their own origin stories or names.
Reflection
I think this book is an absolutely adorable story about a little girl named Alma who is initially unhappy with her really long name.  She has six names: Alma Sofia Esperanza José Pura Candela.  After Alma's father tells her the story of her name she appreciates it and fully accepts it.  For example, Alma learns she was given the name "Sofia" because of her grandmother who loved books, poetry and jasmine flowers.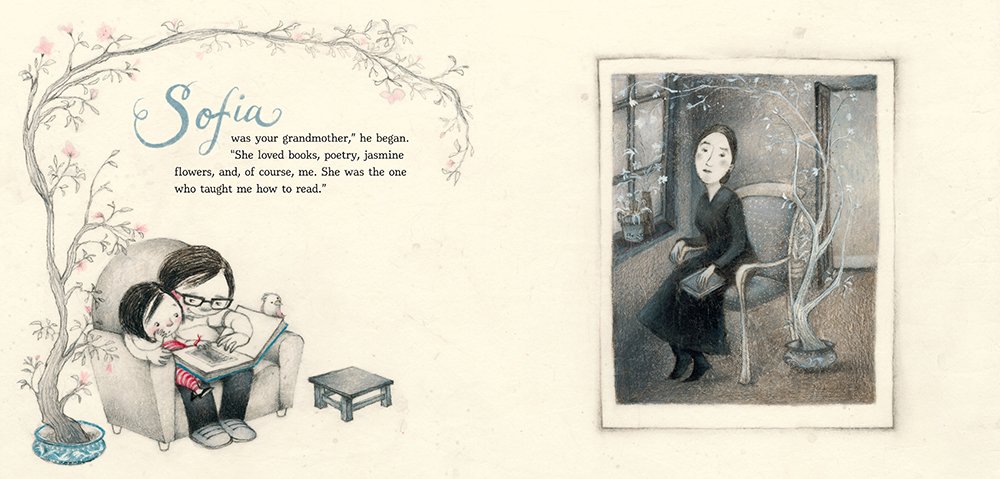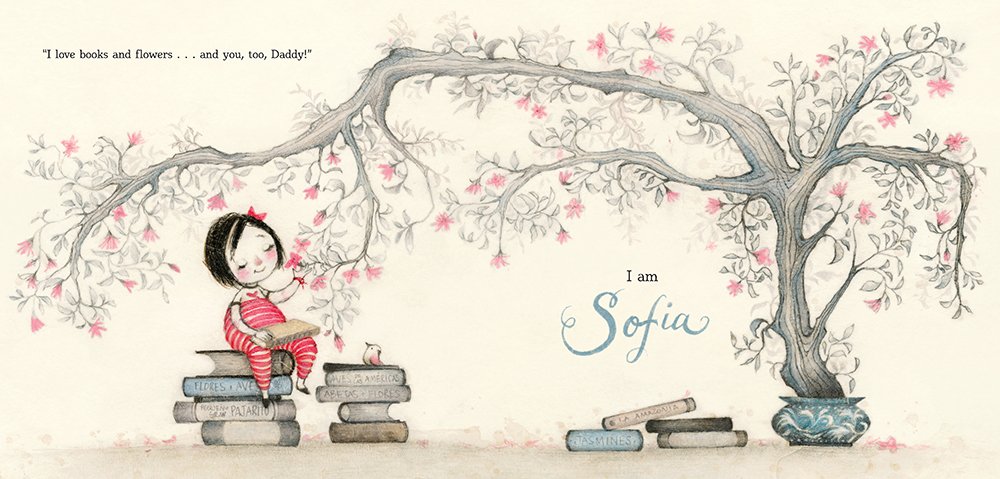 I love that Alma's father goes on to tell her different stories of where each of the remaining names came from.  Each story provides Alma with a sense of identity through time, and helps her understand who she is in the world.  Through his stories, Alma's father gives her a wealth of information about her distant grandparents, great-grandparents, and great aunt.  Alma also learned some things about her family's heritage which will undoubtedly provide her with an important connection to her own identity and may possibly open her up to a new world into other cultures and traditions.
When Alma learns her first name was picked just for her she couldn't be more happy!
I love the story of my name!  Now, tell me about Alma, Daddy.  Where does that come from?

I picked the name Alma just for you.  You are the first and the only Alma.  You will make your own story.
In the end, Alma proudly proclaims her name in big, bold font which is a drastic change from how she wrote her name in the beginning of the book.
That's my name, and it fits me just right!  I am Alma, and I have a story to tell.
Alma and How She Got Her Name is perfect for kids who have long names and are curious about the origin of their names.  A great overall message about identity rings throughout accompanied by gorgeous colored pencil illustrations in tones of red, white, pink, blue and grey.  There are wonderful messages of acceptance, family, heritage, culture, love and individuality.
The author's note tells little readers the story of how she got her name.  A Spanish version of this book will publish on the same date the English version publishes.  Recommended for kids ages 4-8 and up.
Your turn: How many names do you have? I have 3, my first, middle and last name. Well, 4 if you count "Mommy". Make that 5 if you count "Babe".