To organize or not to organize, that is the question bibliophiles around the world sometimes discuss both in person and online. Believe it or not, people often get into heated debates about this topic – yes, there are people who take take their books and organization (or lack thereof) VERY seriously.
I am often asked how we organize our books at home since we are fortunate to have so many of them. Therefore, I finally decided to write a blog post hoping it will help others or spark ideas on different ways to organize books.
ORGANIZATION METHOD #1: ORGANIZE BY COLOR
I prefer to organize our books by rainbow color in our family room library. Since those are the main bookshelves in our home, I wanted them to be visually appealing and pleasing to the eye. Plus, I find organizing by color makes it easier for me and my kids to put books away once we've read them. This organization method works especially well for smaller kids as it encourages independence. Kids tend to be naturally good at sorting by color as it's an easy system to follow.

Side note: Another thing I've become really good at by organizing this way is memorizing the book and spine color of books. It's bizarre to think about how many books I have memorized the colors for.
ORGANIZATION METHOD #2: ORGANIZE BY THEME
My kids both have their books organized by theme on the bookshelves in their rooms. More specifically, I've chosen to surround them with books where they can see themselves being represented within the pages and on the covers.
As a parent, my goal is to present my children with a full spectrum of Black and Brown characters in a variety of books. I want their experiences of story and representations of the world to include people of color, people they can imagine being like — people like Oprah Winfrey, Barack Obama, Misty Copeland, Michelle Obama, and Michael Jordan — or fictional characters with whom they can identify.
By placing these types of books in their rooms, I hope it reminds my kids daily that they are loved, seen, powerful and worthy of self-love and respect.
ORGANIZATION METHOD #3: MONTHLY/WEEKLY RANDOM ROTATION
For this method I use book bins to help keep books organized. The books that are placed in the bins vary from week to week, month to month or day to day. I generally rotate the kids' book bins (which are placed in their rooms on the floor) once per week or once per month.

Sometimes the book bins are filled with seasonal or holiday books, but most often these are the books my kids choose to read at bedtime or during story time throughout the week. Book bins also allow my kids to have more independence and select books to read on their own.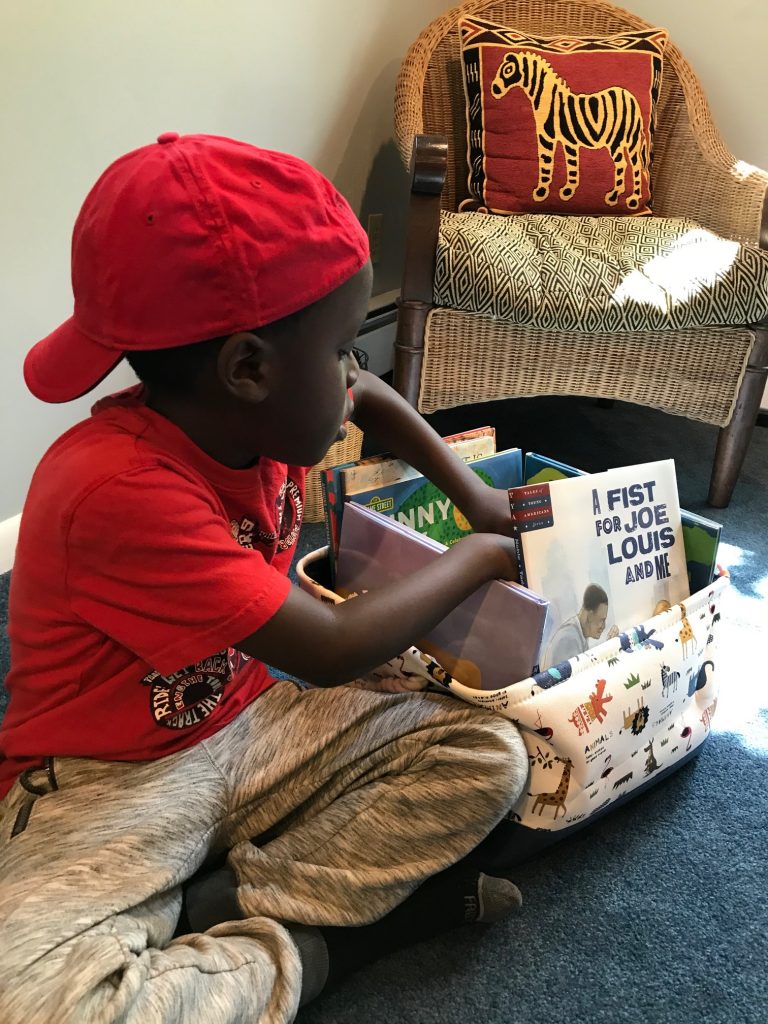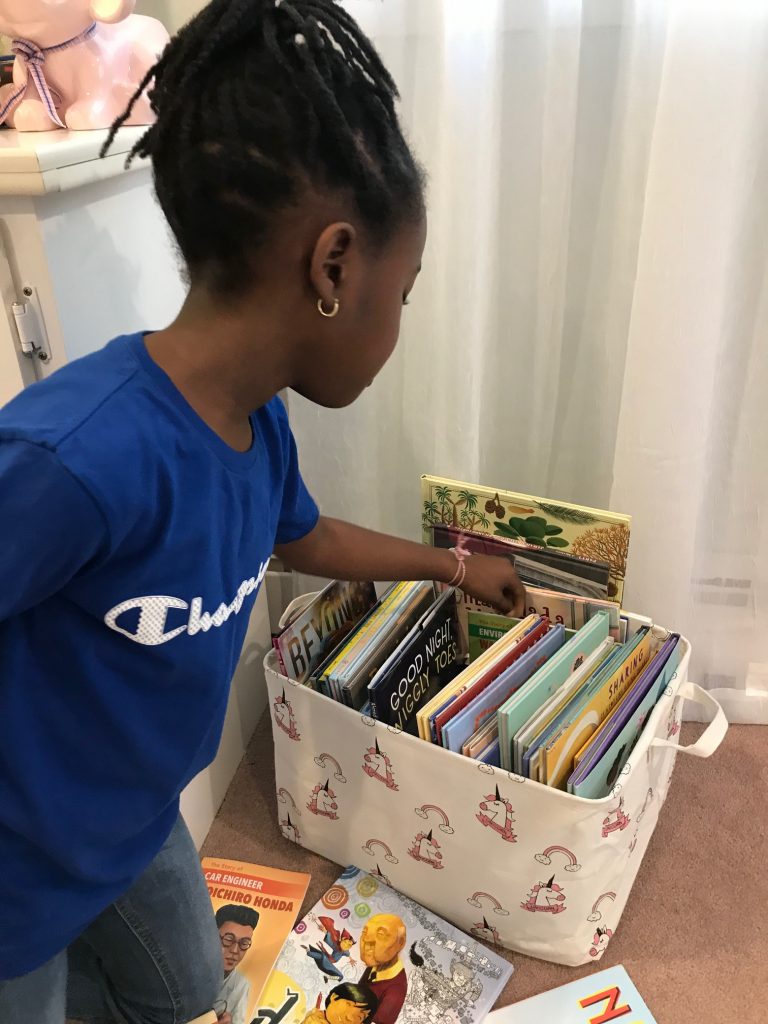 ORGANIZATION METHOD #4: ORGANIZE BY ROOM
I'll admit, we have books in almost every room in our home. For example, we place cookbooks in the kitchen area, personal growth and business/career related books in the office and holiday books are stored in the basement with holiday decorations.
BEFORE YOU BEGIN ORGANIZING
Before you begin putting your books in order, you may want to take an inventory of what's currently in your collection. Decide which books you want to keep, ones you want to donate and ones you want to give away to others. Once per quarter I purge all of our books and decide which ones we'll keep, donate or give away. I usually end up finding duplicate copies or books my kids have outgrown. Those books automatically fall into either the donate or give away piles.
THERE'S AN APP FOR THAT
Looking for an app to help keep your home library even more organized?

A few weeks ago I started using a FREE app called Libib to catalog and keep track of all the books we own. I love it because it's very user-friendly and the free version allows you to scan/enter up to 5,000 books, video games, movies and albums. Simply scan your books or other items by barcode or you can input them manually. Check it out!
OTHER WAYS TO ORGANIZE
Recently, I asked my audience on Instagram how they organize their books at home. Below find some of their suggestions that may help you too.
Organize alphabetically
Organize by genre, category, subject or theme
Separate paperback books from hard covers
Organize by size (tallest to shortest or shortest to tallest)
Organize books in a series together
Organize by author or illustrator last names
Organize by publishing company
Organize non-fiction books by the Dewey decimal system and fiction books separated by genre then alphabetically
Organize by type (chapter books, picture books, early readers, board books, holiday books, adult books)
Organize classic books in one area and Newberry/award winning books in another area
Random piles throughout the house – a free for all!
No organization – just go with the flow
As you can see, there is no one size fits all when it comes to book organization. Ultimately, you'll want to do what works best for you and your family. If you'd like to organize or re-organize books in your home, I hope this has given you a few tips to help get you started.
TIPS TO SCORE FREE OR DISCOUNTED BOOKS TO BUILD YOUR HOME LIBRARY
You may also want to check out my blog post (linked here) which provides you with resources to find free or discounted books for your home library. One of my favorite sources is Bookshop.org.
Your turn: Sound off in the comments and let me know how you organize your books at home.