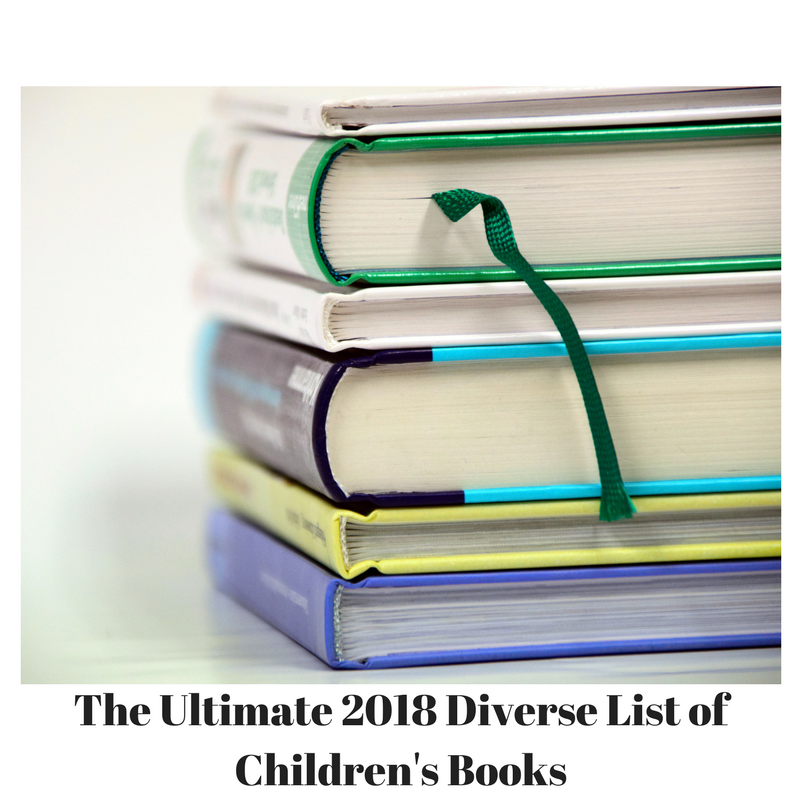 What books are you and your kids looking forward to reading in the year ahead?
Most of the books listed here are recommended either for infants, toddlers, preschoolers, and early elementary readers since my children fall within those groups and so do the little readers in my core target audience. However, I've also included a few middle grade and young adult books for slightly older readers to enjoy as well.  The best part is most of these books are available for pre-order now so you can get a head start on your shopping.
Rest assured, I've selected what I think will be the "best of the best" in terms of diverse books.  I know other amazing books will be released throughout the year, but these are the ones that were on my radar right now.  As other books are released, I will come back and make changes to this post throughout the year so be sure to check it periodically or bookmark it to read later.
I'm definitely looking forward to sharing most (if not all) of these books with my little readers.  I tried to target books that will likely have: stunning illustrations, read aloud appeal, a kid-friendly theme – or all three!  Enjoy!
Note: ** Since other countries have different release dates, some of these books may be released earlier or later internationally than the months I have listed. **
January 2018
Champion: The Story of Muhammad Ali by Jim Haskins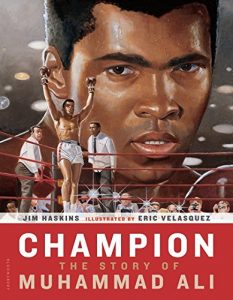 Muhammad Ali faced the obstacles in his life the way he faced his opponents in the ring, brashly and with all the force at his command. In his private life, he was also deeply spiritual, committed to standing up against social injustice, and steadfast in his beliefs. Featuring stunning illustrations and covering his entire life from childhood through his professional career to his end of life battle with Parkinson's Syndrome, this is a moving tribute to the legacy of this impressive figure.
Black Girl Magic: A Poem by Mahogany L. Brown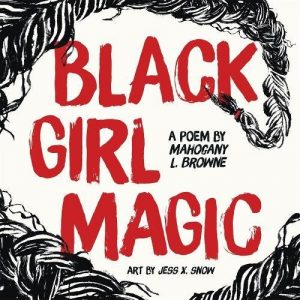 Much of what twenty-first century culture tells black girls is not pretty: Don't wear this; don't smile at that. Don't have an opinion; don't dream big. And most of all, don't love yourself. In response to such destructive ideas, internationally recognized poet Mahogany Browne challenges the conditioning of society by crafting an anthem of strength and magic undeniable in its bloom for all beautiful Black girls.
A Sky Full of Stars by Linda Williams Jackson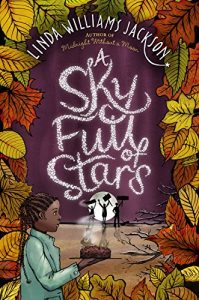 After the murder of Emmett Till, thirteen-year-old Rose is struggling with her decision to stay in Mississippi. Torn between the opinions of Shorty, a boy who wants to meet violence with violence, and Hallelujah, her best friend who believes in the power of peaceful protests, Rose is scared of the mounting racial tension and is starting to lose hope. But when Rose helps Aunt Ruthie start her own business, she begins to see how she can make a difference in her community. Life might be easier in the North, but Mississippi is home and that's worth fighting for. Mid-Century Mississippi comes alive in this sequel to Midnight Without a Moon.
Yes I Can: A Story of Grit by Mari Schuh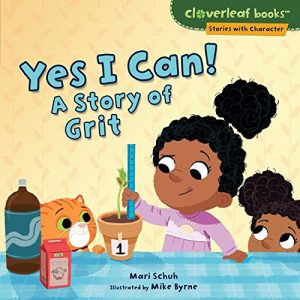 Jada's working on her science project. She's finding out whether plants grow best in water, milk, juice, or soda. There's just one problem she keeps getting interrupted! From her cousin texting and her friends stopping by to her little brother playing with the plants, Jada runs into one obstacle after another. Find out how Jada relies on grit to keep on going.
A Girl Named Rosa: The True Story of Rosa Parks (American Girl: A Girl Named) by Denise Lewis Patrick


The A Girl Named series tells the stories of how ordinary American girls grew up to be extraordinary American women. Rosa Parks refused to give up her bus seat to a white passenger in 1955, but how did she come to be so brave? A Girl Named Rosa describes the defining moments that made up her childhood and adolescence with full-color illustrations throughout. In addition to stories and facts about Rosa's upbringing and accomplishments, the book includes a timeline and a glossary, plus a profile of a noteworthy and contemporary American girl following in Rosa's monumental footsteps to stand up for equal rights, even in the face of adversity.
Little Sid: The Tiny Prince Who Became Buddha by Ian Lendler and Xanthe Bouma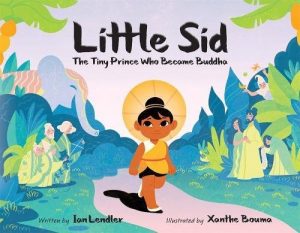 Join Little Sid as he sets off on a journey of discovery and encounters mysterious wise-folk, terrifying tigers, and one very annoying mouse.
With Lendler's delightful prose and Bouma's lyrical artwork, Little Sid weaves traditional Buddhist fables into a classic new tale of mindfulness, the meaning of life, and an awakening that is as profound today as it was 2,500 years ago.
Stella Diaz Has Something to Say by Angela Dominguez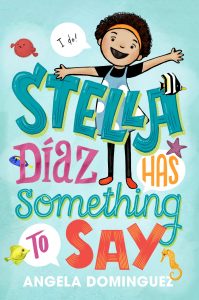 In her first middle-grade novel, award-winning picture book author and illustrator Angela Dominguez tells a heartwarming story based on her own experiences growing up Mexican-American.
Stella Diaz loves marine animals, especially her betta fish, Pancho. But Stella Diaz is not a betta fish. Betta fish like to be alone, while Stella loves spending time with her mom and brother and her best friend Jenny. Trouble is, Jenny is in another class this year, and Stella feels very lonely.
Charlie Takes His Shot: How Charlie Sifford Broke the Color Barrier in Golf by Nancy Churnin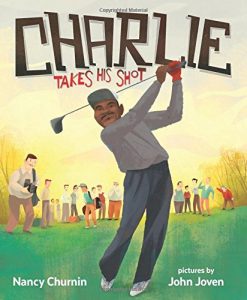 Charlie Sifford loved golf, but in the 1930's only white people were allowed to play in the Professional Golf Association. Sifford had won plenty of black tournaments, but he was determined to break the color barrier in the PGA. In 1960 he did, only to face discrimination from hotels that wouldn't rent him rooms and clubs that wouldn't let him use the same locker as the white players. But Sifford kept playing, becoming the first black golfer to win a PGA tournament and eventually ranking among the greats in golf.
Let the Children March by Monica Clark-Robinson illustrated by Frank Morrison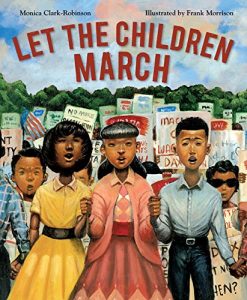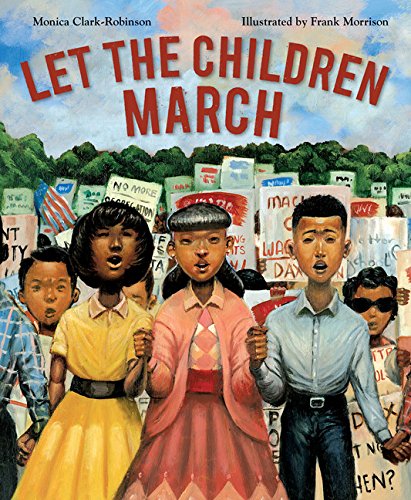 In 1963 Birmingham, Alabama, thousands of African American children volunteered to march for their civil rights after hearing Dr. Martin Luther King Jr. speak. They protested the laws that kept black people separate from white people. Facing fear, hate, and danger, these children used their voices to change the world. Frank Morrison's emotive oil-on-canvas paintings bring this historical event to life, while Monica Clark-Robinson's moving and poetic words document this remarkable time.
Harriet Tubman: Conductor on the Underground Railroad by Ann Petry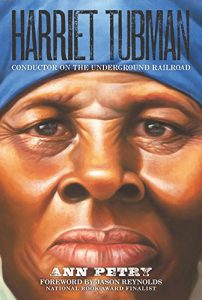 Harriet Tubman: Conductor on the Underground Railroad was praised by the New Yorker as "an evocative portrait," and by the Chicago Tribune as "superb." It is a gripping and accessible portrait of the heroic woman who guided more than 300 slaves to freedom and who is expected to be the face of the new $20 bill.
This award-winning introduction to the late abolitionist, which was named an ALA Notable Book and a New York Times Outstanding Book, also includes an index, a timeline, and other educational back matter.
Betty Before X by Ilyasah Shabazz and Renée Watson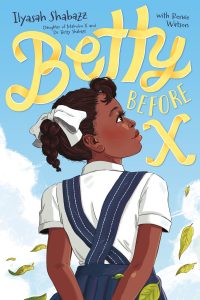 In Detroit, 1945, eleven-year-old Betty's house doesn't quite feel like home. She believes her mother loves her, but she can't shake the feeling that her mother doesn't want her. Church helps those worries fade, if only for a little while. The singing, the preaching, the speeches from guest activists like Paul Robeson and Thurgood Marshall stir African Americans in her community to stand up for their rights. Betty quickly finds confidence and purpose in volunteering for the Housewives League, an organization that supports black-owned businesses. Soon, the American civil rights icon we now know as Dr. Betty Shabazz is born.
Inspired by Betty's real life–but expanded upon and fictionalized through collaboration with novelist Renée Watson–Ilyasah Shabazz illuminates four poignant years in her mother's childhood with this book, painting an inspiring portrait of a girl overcoming the challenges of self-acceptance and belonging that will resonate with young readers today.
Be a King: Dr. Martin Luther King Jr.'s Dream and You by Carole Boston Weatherford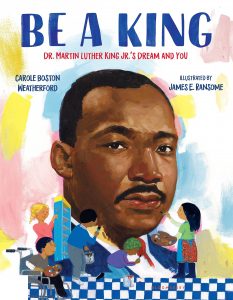 Featuring a dual narrative of the key moments of Dr. King's life alongside a modern class as the students learn about him, Carole Weatherford's poetic text encapsulates the moments that readers today can reenact in their own lives. See a class of young students as they begin a school project inspired by Dr. Martin Luther King Jr. and learn to follow his example, as he dealt with adversity and never lost hope that a future of equality and justice would soon be a reality. As times change, Dr. King's example remains, encouraging a new generation of children to take charge and change the world . . . to be a King.
Trailblazer: The Story of Ballerina Raven Wilkinson by Leda Schubert  (Read by review here)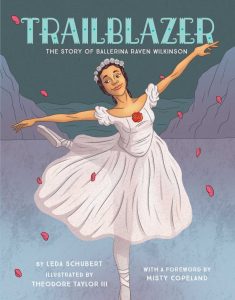 This beautiful picture book tells the little-known story of Raven Wilkinson, the first African American woman to dance for a major classical ballet company and an inspiration to Misty Copeland.
Abuela's Special Letters (Sofia Martinez) by Jacqueline Jules and Kim Smith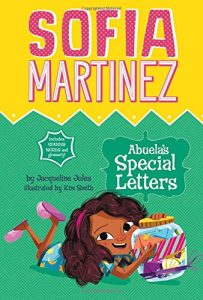 Sofia is on a mission to make a family time capsule. The whole family contributes pictures and special items. Abuela even writes a letter to each of her grandchildren to be opened in fifteen years. Can Sofia really wait fifteen years to find out what that letter says? Adorable art, a table of contents, writing prompts, discussion questions, and an English/Spanish glossary are all included in this early chapter book.
Write to Me: Letters from Japanese American Children to the Librarian They Left Behind by Cynthia Grady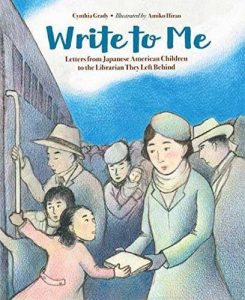 A touching story about Japanese American children who corresponded with their beloved librarian while they were imprisoned in World War II internment camps.
Battle of the Bands (The Major Eights) by Melody Reed and Pépin, Émilie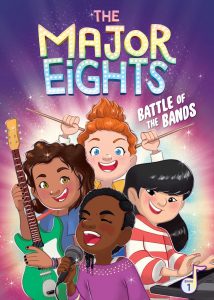 Jasmine, Maggie, Becca, and Scarlet love jamming together in Jasmine's basement. Maggie bangs on the drums, Becca strums her guitar, Jasmine plunks the keys of her keyboard, and Scarlet wails into her hairbrush mic. Even though they may not have the best equipment, or an audience, they have fun making music to their own beat. But when Jasmine's brother tells her about an upcoming Battle of the Bands competition, Jasmine thinks this could be their chance to prove they're a real band. Now she just has to convince the other girls.
Shaking Things Up: 14 Young Women Who Changed the World by Susan Hood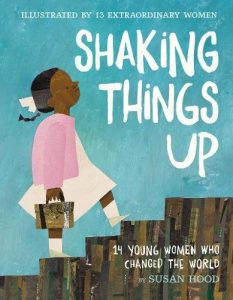 In this book, you will find Mary Anning, who was just thirteen when she unearthed a prehistoric fossil. You'll meet Ruby Bridges, the brave six-year-old who helped end segregation in the South. And Maya Lin, who at twenty-one won a competition to create a war memorial, and then had to appear before Congress to defend her right to create.  With artwork by notable artists including Selina Alko, Sophie Blackall, Lisa Brown, Hadley Hooper, Emily Winfield Martin, Oge Mora, Julie Morstad, Sara Palacios, LeUyen Pham, Erin Robinson, Isabel Roxas, Shadra Strickland, and Melissa Sweet.
Simone Manuel: Swimming Star (Women Sports Stars) by Heather E. Schwartz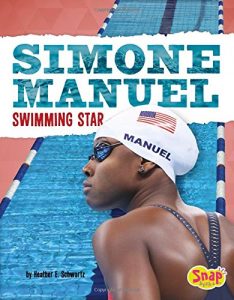 Simone Manuel is one of the country's best female athletes. Learn about her childhood, the challenges she has overcome, and this swimmer's greatest accomplishments. Get the inside scoop on gold-medal-winning Olympic appearance.
Banana for Two by Ellen Mayer illustrated by Ying-Hwa Hu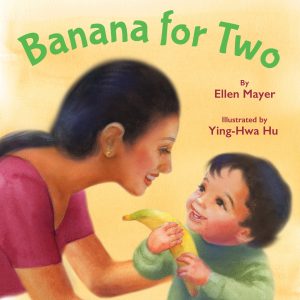 Mama, her toddler, and two stuffed bunnies turn an outing to the grocery store into a fun opportunity to talk, laugh, and learn a little math along the way. Baby is excited to choose one box of favorite cereal, hold two containers of yogurt, and find one banana. As they fill their cart with items in quantities of one and two, Mama lets her baby hold each item while connecting the familiar idea of known body parts such as one hand and two feet to concepts of one and two. In this engaging, concrete way, toddlers begin understanding simple math principles. In the checkout lane, Baby giggles as one bunny goes for a ride. Back home Mama prepares a snack. How will she share one banana between the two of them? As she cuts the banana in half, her child proudly points out and recognizes the two pieces of their snack, showing an understanding of the notion of two.
Scarlet's Big Break (The Major Eights) by Melody Reed and Pépin, Émilie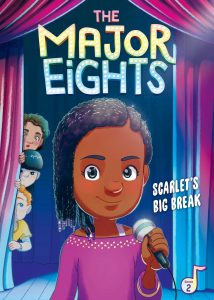 After their Battle of the Bands competition, the girls are famous! Everyone knows who they are now–even strangers recognize them! But the attention starts to go to Scarlet's head, and she decides to sign up for the school's talent show as a solo artist. But what about the Major Eights? Should she really leave the band and her friends behind?
A Season of Flowers by Michael Garland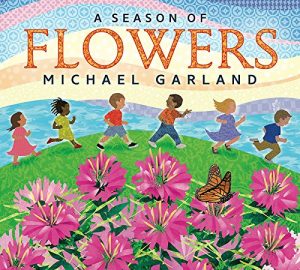 Snowdrops and crocuses yield to tulips and hyacinths, then dogwood blossoms, iris, lupine, daisies, morning glories, daylilies, geraniums, peonies, sunflowers, roses, and chrysanthemums as spring passes to summer, then autumn. At last the garden slumbers into winter under a blanket of snow, preparing next year's procession of blooms. Like actors crossing a stage, flowers narrate the passing seasons in the first person, each one briefly proclaiming its unique and vital role in the natural world. Backmatter descriptions complete this child's introduction to a garden year, in which the passage of time is vividly realized.
All about Madam C. J. Walker (All About…People) by A'Lelia Bundles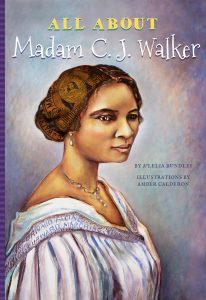 Madam C. J. Walker was beloved within her community for her philanthropy and expanding the local black YMCA, but she couldn't have done that if she weren't the first female self-made millionaire and one of the most successful African American business owners ever.
Born Sarah Breedlove, she was the first person born free in her family. She married Charles Joseph Walker and became known as Madam C. J. Walker, the name she would later use on her haircare products.
Love by Matt de la Peña


In this heartfelt celebration of love, Newbery Medal-winning author Matt de la Peña and bestselling illustrator Loren Long depict the many ways we experience this universal bond, which carries us from the day we are born throughout the years of our childhood and beyond. With a lyrical text that's soothing and inspiring, this tender tale is a needed comfort and a new classic that will resonate with readers of every age.
The United States v. Jackie Robinson by Sudipta Bardhan-Quallen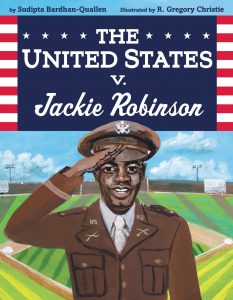 A moving and inspiring nonfiction picture book about Jackie Robinson's court martial trial—an important lesser-known moment in his lifetime of fighting prejudice with strength and grace.
Grandma's Purse by Vanessa Brantley-Newton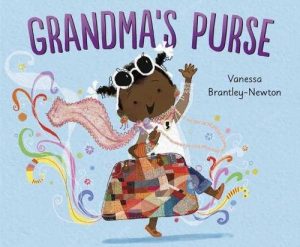 When Grandma Mimi comes to visit, she always brings warm hugs, sweet treats…and her purse. You never know what she'll have in there–fancy jewelry, tokens from around the world, or something special just for her granddaughter. It might look like a normal bag from the outside, but Mimi and her granddaughter know that it's pure magic!
Free as a Bird: The Story of Malala by Lina Maslo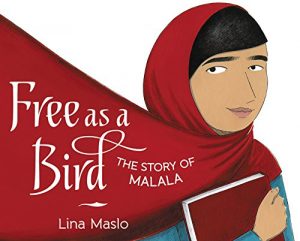 Free as a Bird is the inspiring true story of a fearless girl and the father who taught her to soar.
When Malala Yousafzai was born, people shook their heads because girls were considered bad luck. But her father looked into her eyes and knew she could do anything.  In Pakistan, people said girls should not be educated. But Malala and her father were not afraid. She secretly went to school and spoke up for education in her country.
And even though an enemy tried to silence her powerful voice, she would not keep quiet. Malala traveled around the world to speak to girls and boys, to teachers, reporters, presidents, and queens—to anyone who would listen—and advocated for the right to education and equality of opportunity for every person. She would shout so that those without a voice could be heard. So everyone could be as free as a bird.
Yo Yo Ma (Great Asian-Americans) by Stephanie Cham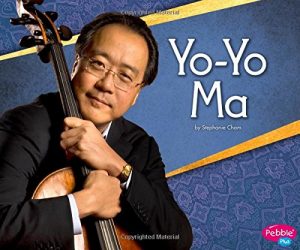 How did Yo-Yo Ma become a world-renowned cellist? Readers will learn all about this musician and the significant events in his life in this low-leveled biography.
Can I Touch Your Hair?: Poems of Race, Mistakes, and Friendship by Irene Latham and Charles Waters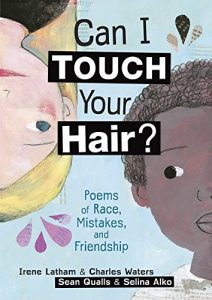 How can Irene and Charles work together on their fifth grade poetry project? They don't know each other . . . and they're not sure they want to.
Irene Latham, who is white, and Charles Waters, who is black, use this fictional setup to delve into different experiences of race in a relatable way, exploring such topics as hair, hobbies, and family dinners.
A Child's Introduction to African American History: The Experiences, People, and Events That Shaped Our Country by Jabari Asim and Lynn Gaines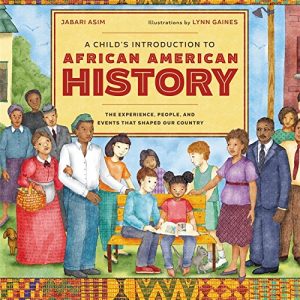 Filled with beautiful illustrations that bring these figures and events to life, plus a removable historical timeline, A Child's Introduction to African American History is a fascinating and comprehensive guide to this often overlooked yet immensely important part of American history.
Martin Rising: Requiem For a King by Andrea Davis Pinkney and Brian Pinkney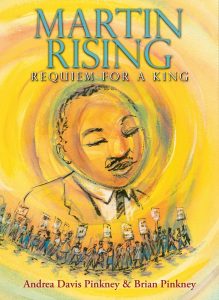 In a rich embroidery of visions, musical cadence, and deep emotion, Andrea and Brian Pinkney convey the final months of Martin Luther King's life — and of his assassination — through metaphor, spirituality, and multilayers of meaning.
Andrea's stunning poetic requiem, illustrated with Brian's lyrical and colorful artwork, brings a fresh perspective to Martin Luther King, the Gandhi-like, peace-loving activist whose dream of equality — and whose courage to make it happen — changed the course of American history. And even in his death, he continues to transform and inspire all of us who share his dream.
Shopping Trip Trouble (Sofia Martinez) by Jacqueline Jules and Kim Smith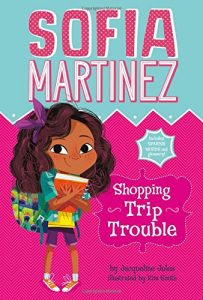 It's time to go school shopping, and Sofia is extra excited about her new supplies. But that excitement turns to panic when her cousin Manuel goes missing. With Sofia's entire family on the case, Manuel won't be missing for long. This early chapter book includes writing prompts, discussion questions, an English/Spanish glossary, and a table of contents.
Princess Truly in My Magical, Sparkling Curls by Kelly Greenawalt and Amariah Rauscher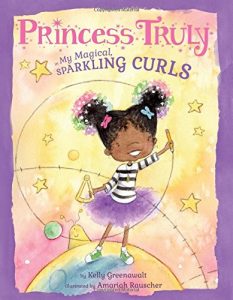 Princess Truly is back! In the second Princess Truly adventure, Truly's magical, sparkling curls have the power to transport her to exciting new places like the Egyptian pyramids, the Jurassic period, and even into outer space. With curiosity, bravery, and her signature smarts, Princess Truly once again proves that she can do anything she sets her mind to and reminds girls everywhere to reach for the stars, believe in themselves, and dream big!
Mae Among the Stars by Roda Ahmed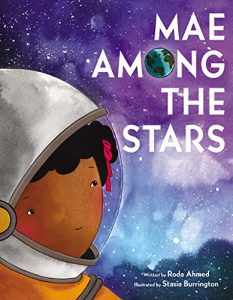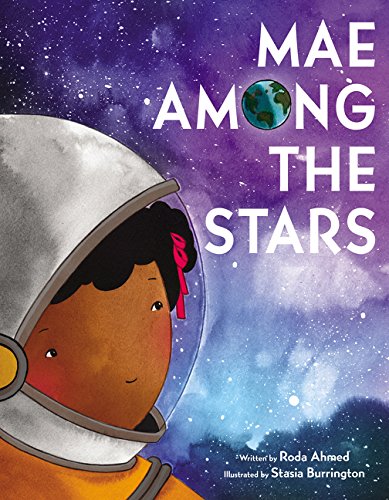 Little Mae's curiosity, intelligence, and determination, matched with her parents' encouraging words, paved the way for her incredible success at NASA as the first African American woman to travel in space.
This book will inspire other young girls to reach for the stars, to aspire for the impossible, and to persist with childlike imagination.
I Got This: To Gold and Beyond by Laurie Hernandez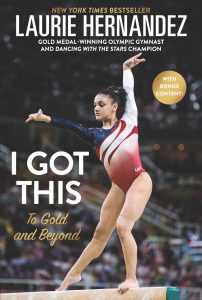 Gold medal-winning Olympic gymnast and Dancing with the Stars champion Laurie Hernandez shares her story in her own words in this debut book for fans of all ages—with never-before-seen photos!
At sixteen years old, Laurie Hernandez has already made many of her dreams come true—and yet it's only the beginning for this highly accomplished athlete. A Latina Jersey girl, Laurie saw her life take a dramatic turn last summer when she was chosen to be a part of the 2016 US Olympic gymnastics team.  Poignant and funny, Laurie's story is about growing up with the dream of becoming an Olympian and what it took to win gold. She talks about her loving family, her rigorous training, her intense sacrifices, and her amazing triumphs.
March Forward, Girl: From Young Warrior to Little Rock by Melba Pattillo Beals (Author), illustrated by Frank Morrison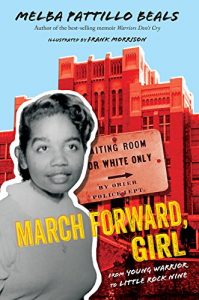 Long before she was one of the Little Rock Nine, Melba Pattillo Beals was a warrior. Frustrated by the laws that kept African-Americans separate but very much unequal to whites, she had questions. Why couldn't she drink from a "whites only" fountain? Why couldn't she feel safe beyond home—or even within the walls of church?  Adults all told her: Hold your tongue. Be patient. Know your place. But Beals had the heart of a fighter—and the knowledge that her true place was a free one.
The Magnificent Mya Tibbs: The Wall of Fame Game by Crystal Allen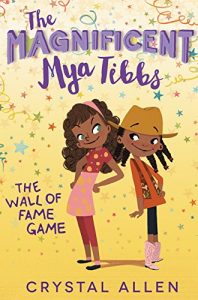 Nine-year-old Mya Tibbs is in a triple heap of trouble. As the Tibbs household prepares for the new baby, Mya is extra excited to spend time with her mom watching their favorite Annie Oakley marathon before her new sister arrives. Until she's cornered into a bet with her number-one enemy, Naomi Jackson, that she can beat her in the famous fourth-grade Wall of Fame Game—which means Mya is stuck studying every night instead of hanging out with Mom. As if that wasn't enough, Mya just entered Bluebonnet's annual chili cook-off, even though she doesn't know how to cook! Holy moly!
Shai & Emmie Star in Dancy Pants! (A Shai & Emmie Story) by Quvenzhané Wallis and Sharee Miller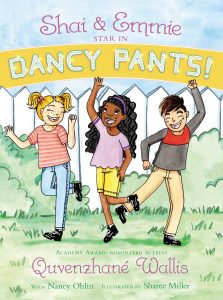 Shai Williams—third-grader and superstar in the making—loves to act, sing, and dance. So when her teacher, Ms. Englert, signs their class up for a major dance competition, Shai's fancy moves are put to the test. Paired up with her best friend Emmie and classmate Rio, Shai plans to settle her competition jitters by just having fun. That is until her rival, Gabby Supreme, challenges her to a bet: whoever loses the dance competition has to bring the winner one cupcake every day for a month.
Planet Middle School by Nikki Grimes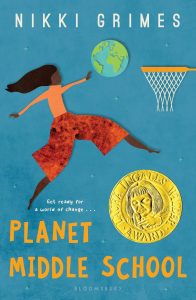 For twelve years, Joylin Johnson's life has been just fine. A game of basketball with the boys-especially her friend Jake-was all it took to put a smile on her face. Baggy jeans, T-shirt, and hair in a ponytail were easy choices. Then, everything suddenly seemed to change all at once. Her best girl friend is now flirting with her best guy friend. Her clothes seem all wrong. Jake is acting weird, and basketball isn't the same. And worst of all, there is this guy, Santiago, who appears from . . . where? What lengths will Joy go to–and who will she become–to attract his attention?
In short poems that perfectly capture the crazy feelings of adolescence and first crushes, award-winning author Nikki Grimes has crafted a delightful, often hilarious, hearttugging story.
Libba: The Magnificent Musical Life of Elizabeth Cotten by Laura Veirs and Tatyana Fazlalizadeh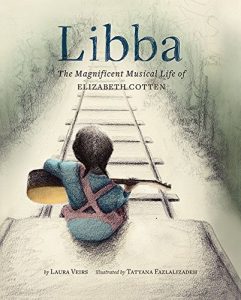 Elizabeth Cotten was only a little girl when she picked up a guitar for the first time. It wasn't hers (it was her big brother's), and it wasn't strung right for her (she was left-handed). But she flipped that guitar upside down and backwards and taught herself how to play it anyway. By age eleven, she'd written "Freight Train," one of the most famous folk songs of the twentieth century. And by the end of her life, people everywhere—from the sunny beaches of California to the rolling hills of England—knew her music.  Read my book review here!
The New LiBEARian by Alison Donald and Alex Willmore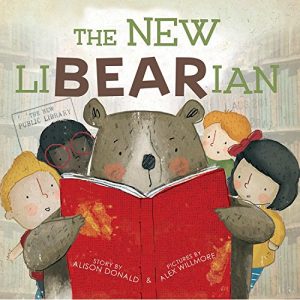 It's storytime at the library but Miss Merryweather, the librarian, is missing!  Dee and her friends go in search of her but instead finds a rather hairy, new liBEARian!
Streetcar to Justice: How Elizabeth Jennings Won the Right to Ride in New York by Amy Hill Hearth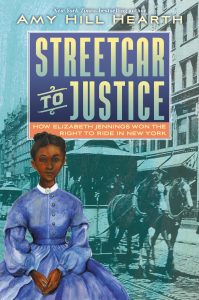 One hundred years before Rosa Parks refused to give up her seat on a bus in Montgomery, Alabama, Elizabeth Jennings's refusal to leave a segregated streetcar in the Five Points neighborhood of Manhattan set into motion a major court case in New York City.
On her way to church one day in July 1854, Elizabeth Jennings was refused a seat on a streetcar. When she took her seat anyway, she was bodily removed by the conductor and a nearby police officer and returned home bruised and injured. With the support of her family, the African American abolitionist community of New York, and Frederick Douglass, Elizabeth Jennings took her case to court.
Born to Swing: Lil Hardin Armstrong's Life in Jazz by Mara Rockliff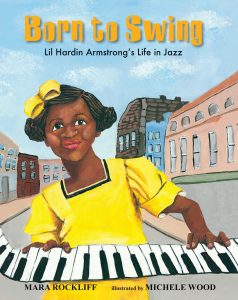 Ever since she was a young girl, Lil Hardin played music with a beat. She jammed at home, at church, and even at her first job in a music store. At a time when women's only place in jazz was at the microphone, Lil earned a spot playing piano in Chicago's hottest band. She went on to achieve fame as a bandleader and composer, and "swung" with many of the greatest early jazz musicians, including her husband, Louis Armstrong.
Marley Dias Gets It Done: And So Can You! by Marley Dias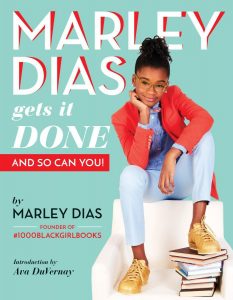 In this accessible guide with an introduction by Academy Award-nominated filmmaker Ava DuVernay, Marley Dias explores activism, social justice, volunteerism, equity and inclusion, and using social media for good. Drawing from her experience, Marley shows kids how they can galvanize their strengths to make positive changes in their communities, while getting support from parents, teachers, and friends to turn dreams into reality. Focusing on the importance of literacy and diversity, Marley offers suggestions on book selection, and delivers hands-on strategies for becoming a lifelong reader.
Hidden Figures: The True Story of Four Black Women and the Space Race by Margot Lee Shetterly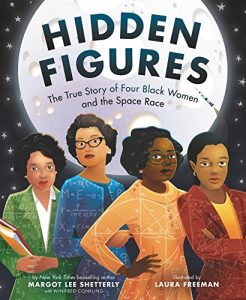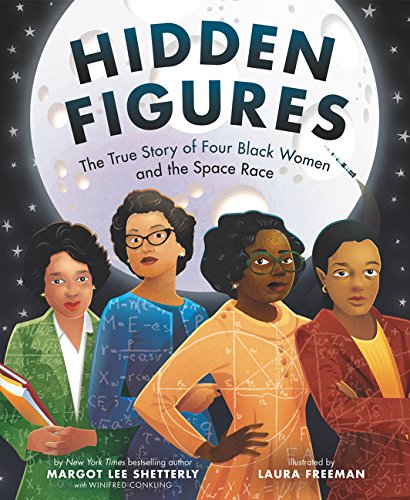 They participated in some of NASA's greatest successes, like providing the calculations for America's first journeys into space. And they did so during a time when being black and a woman limited what they could do. But they worked hard. They persisted. And they used their genius minds to change the world.
In this beautifully illustrated picture book edition, we explore the story of four female African American mathematicians at NASA, known as "colored computers," and how they overcame gender and racial barriers to succeed in a highly challenging STEM-based career.
Blacksmith's Song by Elizabeth Van Steenwyk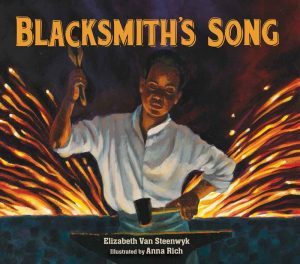 The son of an enslaved blacksmith learns that his father is using the rhythm of his hammering to communicate with travelers on the Underground Railroad.
When Pa falls ill, it is up to him to help others along the journey and also lead his family's escape. Pa works hard as a blacksmith. But he's got another important job to do as well: using his anvil to pound out the traveling rhythm–a message to travelers on the Underground Railroad. His son wants to help, but Pa keeps putting him off. Then one day, Pa falls ill and the boy has to take over.
The Word Collector by Peter H. Reynolds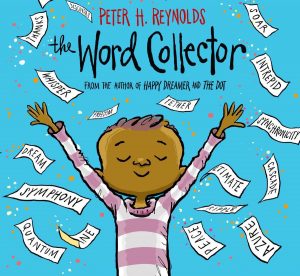 Some people collect stamps. Some people collect coins.  Some people collect art. And Jerome?  Jerome collected words . . . 
In this extraordinary new tale from Peter H. Reynolds, Jerome discovers the magic of the words all around him — short and sweet words, two-syllable treats, and multisyllable words that sound like little songs. Words that connect, transform, and empower.
I Am Loved by Nikki Giovanni and Ashley Bryan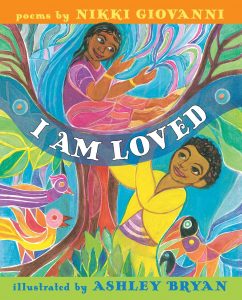 There is nothing more important to a child than to feel loved, and this gorgeous gathering of poems written by Nikki Giovanni celebrates exactly that. Hand-selected by Newberry honoree Ashley Bryan, he has, with his masterful flourish of color, shape, and movement, added a visual layering that drums the most important message of all to young, old, parent, child, grandparent, and friend alike: You are loved. You are loved. You are loved. As a bonus, one page is mirrored, so children reading the book can see exactly who is loved—themselves!
Festival of Colors by Surishtha Sehgal and Kabir Sehgal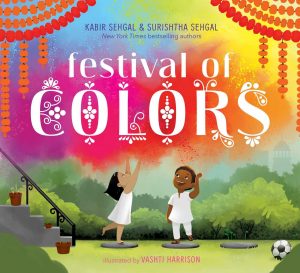 Spring is here, and it's almost time for Holi, the Indian Festival of Colors. Siblings Mintoo and Chintoo are busy gathering flowers to make into colorful powders to toss during the festival. And when at last the big day comes, they gather with their friends, family, and neighbors for a vibrant celebration of fresh starts, friendship, forgiveness, and, of course, fun!
A Lady Has the Floor: Belva Lockwood Speaks Out for Women's Rights by Kate Hannigan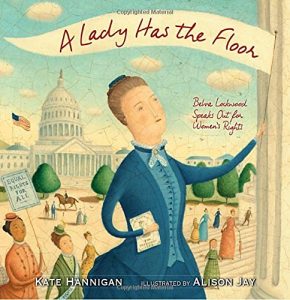 Activist Belva Lockwood never stopped asking herself the question Are women not worth the same as men? She had big dreams and didn't let anyone stand in her way–not her father, her law school, or even the U.S. Supreme Court. She fought for equality for women in the classroom, in the courtroom, and in politics. In her quest for fairness and parity, Lockwood ran for President of the United States, becoming the first woman on the ballot.
Pass the Ball, Mo! (Mo Jackson) by David A. Adler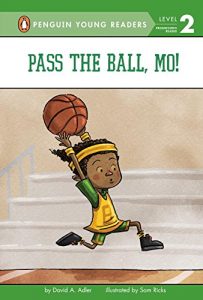 Mo's latest obsession is basketball. He's determined to learn how to pass, but as the shortest member of the team, he can't seem to launch the ball high enough. Can Mo learn to pass in time to help his team win the big game? This Level 2 reader about a little African-American boy with a big passion for sports is a funny, motivational companion to the winner of the 2016 Theodor Seuss Geisel Award.
Between the Lines: How Ernie Barnes Went from the Football Field to the Art Gallery by Sandra Neil Wallace illustrated by Bryan Collier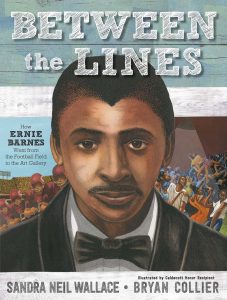 Discover the true story of NFL star Ernie Barnes—a boy who followed his dreams and became one of the most influential artists of his generation—with this beautifully illustrated nonfiction picture book.
When Ernie Barnes was growing up in North Carolina in the 1950s, he loved to draw. Even when he played as a boy with his friends he drew with a stick in the mud. And he never left home without a sketchbook. He would draw the junk man, families walking home from church, or the old man on the sofa. He drew what he saw.
February 2018

Why Are They Kneeling? by Lauren J Coleman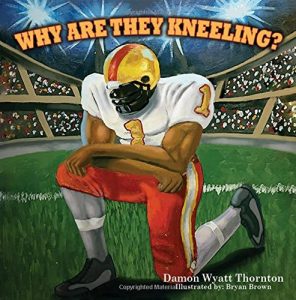 See what happens when Kendrick, our very first Courageous Kid, decides to ask a very important question. Kendrick thinks this Sunday will be like any other Sunday but is in for a surprise when he notices some of his favorite football players take a knee during our National Anthem. Kendrick finds the courage to ask a question and his family and friends find the courage to answer it. Kendrick learns so much and we hope you will too!
Lotus and the Baby Bird by Tamara Pizzoli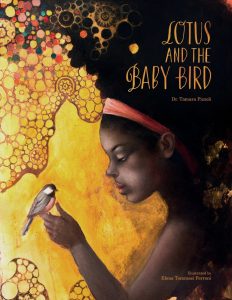 Lotus is an eight year-old third grader who lives in the historic center of Rome, Italy. One Tuesday morning, while on her way to school, an unfortunate event occurs. Lotus has a delayed reaction to this unsettling event. Her response proves to be too little too late, leading Lotus to learn the power of pondering, possibilities and tough lessons that may ultimately spark the discovery of one's life purpose.
No Truth Without Ruth: The Life of Ruth Bader Ginsburg by Kathleen Krull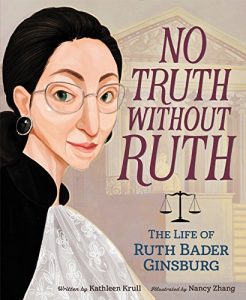 Ruth Bader Ginsburg may be one of the most respected women in the United States, but her recognition is nothing short of hard-won. For years before becoming a justice of the Supreme Court, Ruth had to fight the notion that being female meant that she was less smart, less qualified, and less worthy of attention than her male counterparts. Throughout college, law school, and her work life, she faced discrimination—because she was a woman.
Playing Atari with Saddam Hussein by Jennifer Roy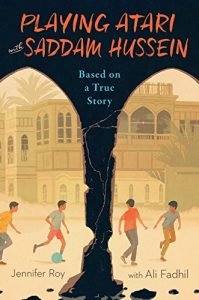 At the start of 1991, eleven-year-old Ali Fadhil was consumed by his love for soccer, video games, and American television shows. Then, on January 17, Iraq's dictator Saddam Hussein went to war with thirty-four nations lead by the United States.
Over the next forty-three days, Ali and his family survived bombings, food shortages, and constant fear. Ali and his brothers played soccer on the abandoned streets of their Basra neighborhood, wondering when or if their medic father would return from the war front. Cinematic, accessible, and timely, this is the story of one ordinary kid's view of life during war.
13 Ways of Looking at a Black Boy by Tony Medina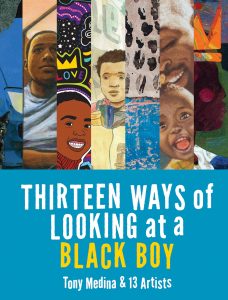 Thirteen Ways of Looking at a Black Boy by Tony Medina offers a fresh perspective of young men of color by depicting thirteen views of everyday life: young boys dressed in their Sunday best, running to catch a bus, and growing up to be teachers, and much more.
Ella Sings the Blues by Helen Hancocks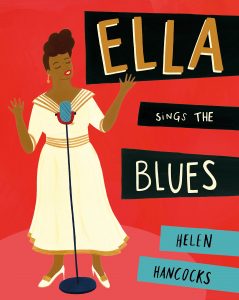 Ella Fitzgerald sang the blues and she sang them good. Ella and her fellas were on the way up! It seemed like nothing could stop her, until the biggest club in town refused to let her play… and all because of her color. But when all hope seemed lost, little did Ella imagine that a Hollywood star would step in to help.
The inspiring, true story of how a remarkable friendship between Ella Fitzgerald and Marilyn Monroe was born – and how they worked together to overcome prejudice and adversity.
Boonoonoonous Hair by Olive Senior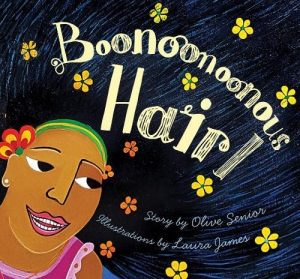 In this vibrant and exquisitely illustrated picture book, written by Commonwealth Prize-winning Jamaican-Canadian Olive Senior, and with pictures by the acclaimed artist Laura James (the team that created Anna Carries Water), a young girl learns to love her difficult-to-manage, voluminous and boonoonoonous hair.
Bingo Love by Tee Franklin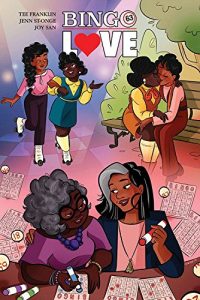 When Hazel Johnson and Mari McCray met at church bingo in 1963, it was love at first sight. Forced apart by their families and society, Hazel and Mari both married young men and had families. Decades later, now in their mid-'60s, Hazel and Mari reunite again at a church bingo hall. Realizing their love for each other is still alive, what these grandmothers do next takes absolute strength and courage.
American Panda by Gloria Chao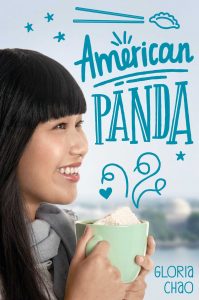 An incisive, laugh-out-loud contemporary debut about a Taiwanese-American teen whose parents want her to be a doctor and marry a Taiwanese Ivy Leaguer despite her germophobia and crush on a Japanese classmate.
The Magic of We by Danielle Anderson-Craig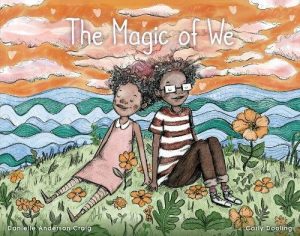 A children's book for Valentine's Day, The Magic of We is not only a book for kids, but also adults, and especially music lovers. It includes unreleased music from Grammy-winning musician Ikey Owens's solo project, combining the magic of music and words to describe the amazing feeling of finding someone who "fits" you.
The World is Awake: A Celebration of Everyday Blessings by Linsey Davis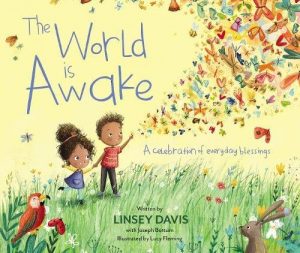 The World Is Awake, A celebration of everyday blessings, written by Emmy Award winner and ABC News correspondent Linsey Davis with Joseph Bottum, is a lyrical, rhyming story for young children intended to make them feel safe and joyful, cradled in the hands of God. Paired with bright and engaging illustrations by Lucy Fleming, this book inspires children to be thankful for all of God's blessings that surround us in our daily lives. From the nature in our own backyard to the animals at the zoo, The World is Awake is a celebration of God's wonderful world.
What Would She Do?: 25 True Stories of Trailblazing Rebel Women by Kay Woodward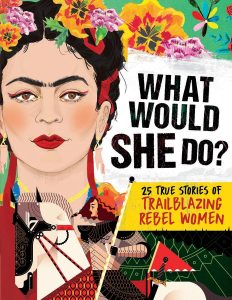 From historic world leaders to brilliant scientists, artists, and modern-day pioneers, What Would She Do? shares twenty-five incredible women's stories that educate and empower. Learn about the remarkable achievements and attitudes of feminist trailblazers such as Cleopatra, Amelia Earhart, Malala Yousafzai, Michelle Obama, and other brave women who overcame huge obstacles to accomplish great things.
The Big Umbrella by Amy June Bates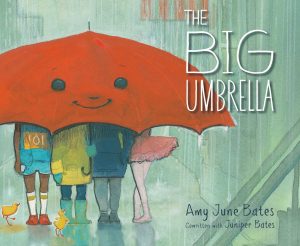 By the door there is an umbrella. It is big. It is so big that when it starts to rain there is room for everyone underneath. It doesn't matter if you are tall. Or plaid. Or hairy. It doesn't matter how many legs you have.
Don't worry that there won't be enough room under the umbrella. Because there will always be room.
Princess Cupcake Jones Saddles Up by Ylleya Fields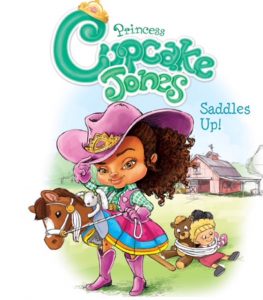 Princess Cupcake Jones is back with another adorable book in the series!
Black Girls Rock: Owning Our Magic, Rocking Our Truth by Beverly Bond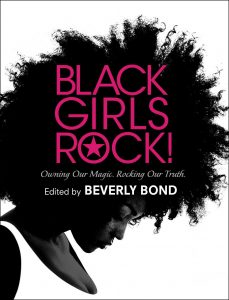 From the award-winning entrepreneur, culture leader, and creator of the BLACK GIRLS ROCK! movement comes an inspiring and beautifully designed book that pays tribute to the achievements and contributions of black women around the world.
Fueled by the insights of women of diverse backgrounds, including Michelle Obama, Angela Davis, Shonda Rhimes, Misty Copeland Yara Shahidi, and Mary J. Blige, this book is a celebration of black women's voices and experiences that will become a collector's items for generations to come.
The Big Bed by Bunmi Laditan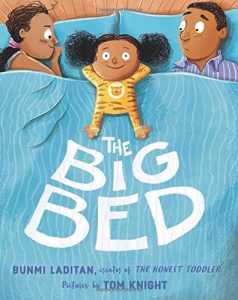 From the creator of the Honest Toddler blog, The Big Bed is a humorous picture book about a girl who doesn't want to sleep in her little bed, so she presents her dad with his own bed―a camping cot!―in order to move herself into her parents' big bed in his place. A twist on the classic parental struggle of not letting kids sleep in their bed.
On Our Street: Our First Talk About Poverty (The World Around Us) by Dr. Jillian Roberts and Jaime Casap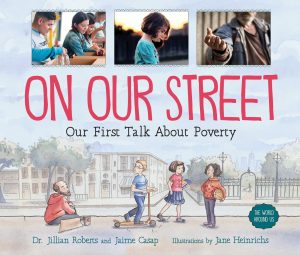 A gentle introduction to the issue of poverty, On Our Street explores the realities of people living with inadequate resources. Using age-appropriate language, this book addresses mental illness, homelessness and refugee status as they are connected to this issue. Insightful quotes from individuals and organizations such as UNICEF are included throughout to add further perspective on the issue. An invaluable section on how kids can help empowers readers to take what they have learned and use it to make a difference.
How Mamas Love Their Babies by Juniper Fitzgerald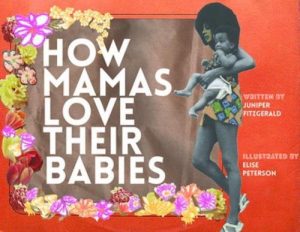 Illustrating the myriad ways that mothers provide for their children―piloting airplanes, washing floors, or dancing at a strip club―this book is the first to depict a sex-worker parent. It provides an expanded notion of working mothers and challenges the idea that only some jobs result in good parenting. We're reminded that, while every mama's work looks different, every mama works to make their baby's world better.
Young, Gifted and Black: Meet 52 Black Heroes from Past and Present by Jamia Wilson and Andrea Pippins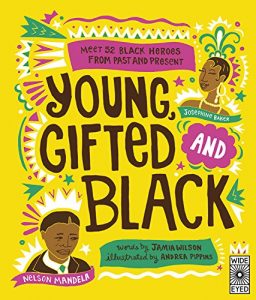 This book brings together 52 iconic talents from the past and present and celebrates their inspirational achievements. Meet figureheads, leaders and pioneers such as Martin Luther King, Nelson Mandela and Rosa Parks, as well as cultural trailblazers and sporting heroes, including Stevie Wonder, Oprah Winfrey and Serena Williams. Strong, courageous, talented and diverse, these extraordinary men and women's achievements will inspire a new generation to chase their dream… whatever it may be.
Seeing into Tomorrow: Haiku by Richard Wright by Richard Wright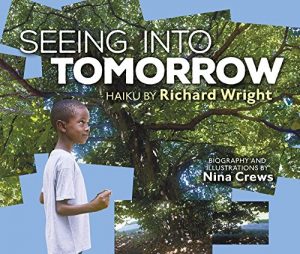 From walking a dog to watching a sunset to finding a beetle, Richard Wright's haiku puts everyday moments into focus. Now, more than fifty years after they were written, these poems continue to reflect our everyday experiences. Paired with the photo-collage artwork of Nina Crews, Seeing into Tomorrow celebrates the lives of contemporary African American boys and offers an accessible introduction to one of the most important African American writers of the twentieth century.
Midnight Teacher: Lilly Ann Granderson and Her Secret School by Janet Halfmann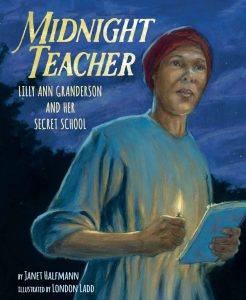 This historical fiction picture book reveals the unknown story of Lilly Ann Granderson, an African-American teacher who risked her life to teach others during slavery.
Katie Woo, We Love You! by Fran Manushkin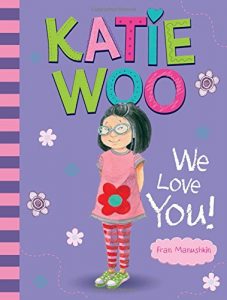 From starting clubs to hosting sleepovers, Katie Woo is one fun friend! Come along on her big adventures and funny mishaps. Whether she's playing at home or working at school, everything Katie does has us singing, "Katie Woo, we love you!"
Racism and Intolerance (Children In Our World) by Louise Spilsbury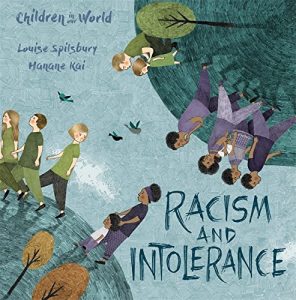 With our 24/7 news cycle and constant access to the latest headlines, the world can be a scary place. Now imagine you're a child trying to make sense of it all!
That's where books from the Children in Our World series can help. Each book uses relatable comparisons, carefully researched text, and striking illustrations to help kids understand the many difficulties that children just like them face in the world today. In Racism and Intolerance, children can get answers to questions like: "What does it mean to be a racist or intolerant?" and "How can I help?" Children will begin to understand the way others struggle with these issues and become empowered to make a difference.
This Is It by Daria Peoples-Riley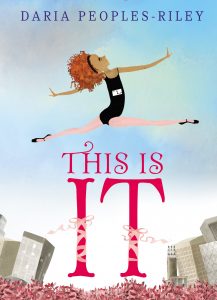 When a young dancer is nervous about her upcoming auditions, her shadow springs to life and leads her on a joyous exploration of their city. Soon enough, the young girl finds confidence in her skills, her body, and her ability to shine.
With an energetic, rhythmic text that begs to be read aloud and striking, exuberant artwork, This Is It is a love story to originality and the simple joy of movement.
Who Was Booker T. Washington by James Buckley Jr.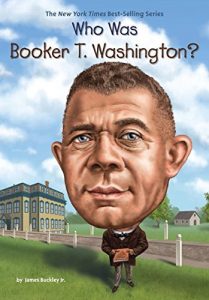 African American educator, author, speaker, and advisor to presidents of the United States, Booker Taliaferro Washington was the leading voice of former slaves and their descendants during the late 1800s. As part of the last generation of leaders born into slavery, Booker believed that blacks could better progress in society through education and entrepreneurship, rather than trying to directly challenge the Jim Crow segregation.
Be Kind by Pat Zietlow Miller and Jen Hill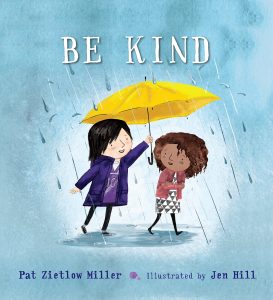 When Tanisha spills grape juice all over her new dress, her classmate contemplates how to make her feel better and what it means to be kind. From asking the new girl to play to standing up for someone being bullied, this moving and thoughtful story explores what a child can do to be kind, and how each act, big or small, can make a difference―or at least help a friend.
I Walk With Vanessa: A Story About a Simple Act of Kindness by Kerascoët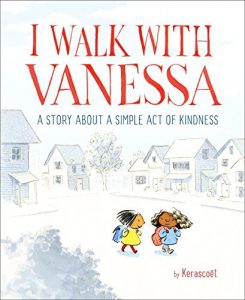 Inspired by real events, I Walk with Vanessa explores the feelings of helplessness and anger that arise in the wake of seeing a classmate treated badly, and shows how a single act of kindness can lead to an entire community joining in to help. With themes of acceptance, kindness, and strength in numbers, this timeless and profound feel-good story will resonate with readers young and old.
The Magician's Hat by Malcolm Mitchell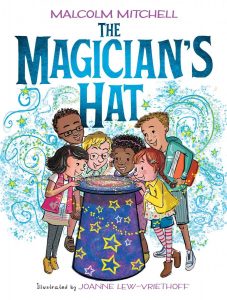 This is not your typical afternoon at the library — a magician invites kids to reach into his hat to pull out whatever they find when they dig down deep. Soon — poof! — each child comes away with something better than they could've imagined — a book that helps them become whatever they want to be, and makes their dreams come true through pages and words, and the adventures that follow. But each child can't help but wonder, What's really making the magic happen?

When God Made Light by Matthew Paul Turner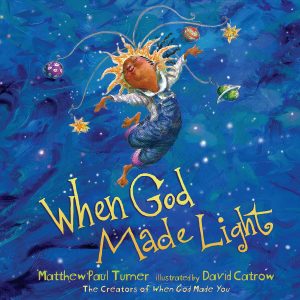 From the author and illustrator of the best-selling When God Made You comes a new illuminating message about God's design affirming young readers.
'Let there be light!' that's what God said. And light began shining and then started to spread." Wild and creative illustrations from top children's illustrator David Catrow pair with Matthew Paul Turner's lyrical verse in this message of a God-made light that cuts through darkness to bring vision and hope to all young readers. This light radiates, chasing away the shadows, providing the wonder and fun of stargazing or firefly chasing. Most important, this light appears in each child–an inner God-given spark that grows and will be used to change the world.

Birdie's Beauty Parlor by Lee Merrill Byrd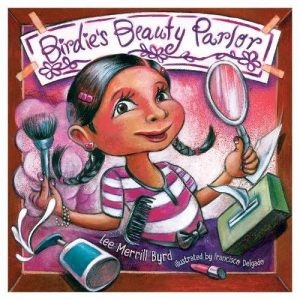 Young Birdie has a theory: if your grandmother looks tired, it's time for a do-over that the old gal will need to take lying down because it has a lot of moving parts—chinney-chin-chin hair removal, face powder dumps, long stretches of blush, slashes of lipstick and eye shadow. Earrings, scarves, the works! Birdie knows best: she owns that beauty parlor!
March 2018
Mela and the Elephant by Dow Phumiruk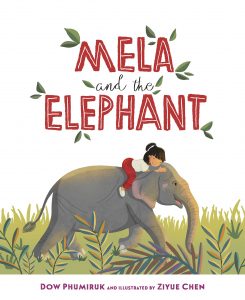 Mela sets out to explore the river outside her village but quickly ends up in trouble when her little boat is swept downstream and into the dense jungle. She encounters a crocodile, a leopard, and some monkeys, offering each a prize return for helping her find her way home but the animals snatch up their rewards without helping Mela back to her village. Just when she's about to give up, an elephant shows Mela that kindness is its own reward. This new fable is told with authentic Thai customs and includes an author's note with more Thai traditions and language.
What's On Your Plate?: Exploring the World of Food by Whitney Stewart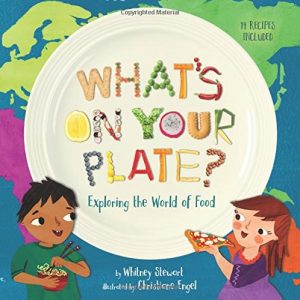 It's a big, tasty world out there—and this book takes kids on a tour through the cuisines of 14 countries, complete with a recipe for each one.

What's on your plate? Chances are it's not quite the same as what's on other children's plates around the world. Come on a journey to see how people in different countries prepare, eat, and think about their food. Beautiful photographs and illustrations capture the food culture of 14 countries, from Brazil and Spain to Morocco, India, and China. Each spread includes an overview of the country and its native foods, photographs of the various dishes with pronunciations and descriptions, an easy recipe for kids to try, and an illustrated crop map of the country. With so many fun elements to intrigue them, young foodies will be excited to learn about how people eat across the globe!
The Parker Inheritance by Varian Johnson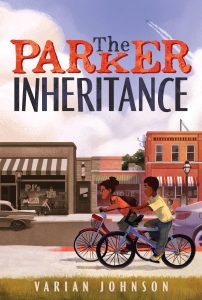 When Candice finds a letter in an old attic in Lambert, South Carolina, she isn't sure she should read it. It's addressed to her grandmother, who left the town in shame. But the letter describes a young woman. An injustice that happened decades ago. A mystery enfolding the letter-writer. And the fortune that awaits the person who solves the puzzle.
Black Boy Joy by Charlitta Crowder Hatch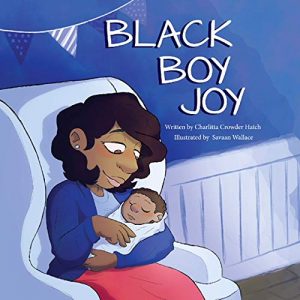 BLACK BOY JOY is an expressive story depicting the bond of a mother and son through the eyes of the mother. As her son grows from birth to college, experiencing the highs and lows, trying new things, and all that in between, the mother's love remains constant and reassuring to her son.
Lila and the Crow by Gabrielle Grimard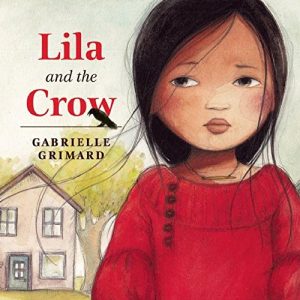 This book originally published in 2016, but now the paperback version is being released!
Lila (assumed to be a little indigenous girl although the book doesn't state this outright) has just moved to a new town and can't wait to make friends at school. But on the first day, a boy points at her and shouts: "A crow! A crow! The new girl's hair is black like a crow!" The others whisper and laugh, and Lila's heart grows as heavy as a stone. The next day, Lila covers her hair. But this time, the boy points at her dark skin. When she covers her face, he mocks her dark eyes. Now every day at school, Lila hides under her turtleneck, dark glasses, and hat. And every day when she goes home, she sees a crow who seems to want to tell her something. Lila ignores the bird and even throws rocks at it, but it won't go away. Meanwhile, the great autumn festival is approaching. While the other kids prepare their costumes, Lila is sadder and lonelier than ever. At her lowest point of despair, a magical encounter with the crow opens Lila's eyes to the beauty of being different, and gives her the courage to proudly embrace her true self.
Not 'Til Tomorrow, Phoebe by Julie Zwillich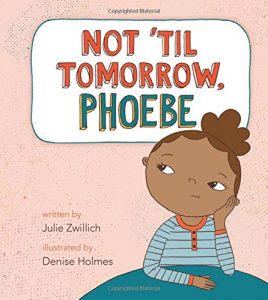 Phoebe's day is full of tomorrows: Mama says they can make pancakes, her teacher announces musicians will visit the class, and Phoebe will get ice cream after her haircut―but none of it 'til tomorrow. Phoebe feels frustrated and impatient. Why can't these good things happen right now? Later in the day, Phoebe's grandmother bakes cookies and shares the secret ingredient to turn today into tomorrow: a good night's sleep. Phoebe decides she'll try it out.
Bedtime Ted by Sophy Henn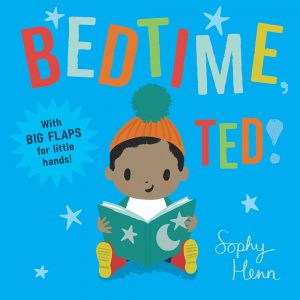 Ted is a sweet but willful toddler. In Bedtime, Ted!  his parent tells him it's time for bed, but Ted's not ready yet! First he has to take a bath, have a snack, brush his teeth, and get all the wiggles out.
In this book, each spread has a gatefold with big flaps perfect for little hands. When the gatefold is closed, Ted tells his parent that he can't go to bed just yet because he has something to do first. When the gatefold opens, readers can see what that something really is.
Zoey and Sassafras: The Pod and the Bog by Asia Citro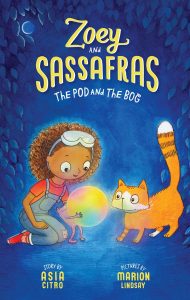 In the fifth book, an old friend visits Zoey at the barn with a mysterious glowing. . . seed pod? Zoey, Sassafras, and Pip must work together to discover what this mysterious rare magical plant needs to grow before all the seeds crumble to purple dust!
I Want to Be a Doctor by Laura Driscoll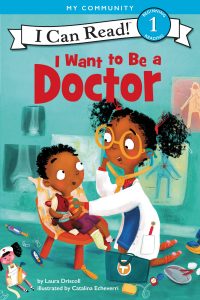 Doctors help sick and hurt people feel better. When little brother Jack hurts his foot, the family gets to meet all kinds of doctors. With this story blending narrative with nonfiction elements, readers meet the doctors who heal broken bones, help fix teeth, and even work in laboratories!
I Want to Be a Doctor is part of a new I Can Read series that introduces young readers to important community helpers. This Level One I Can Read is perfect for children learning to sound out words and sentences.
ABC Mindful Me: ABCs for a happy, healthy mind & body by Christina Engel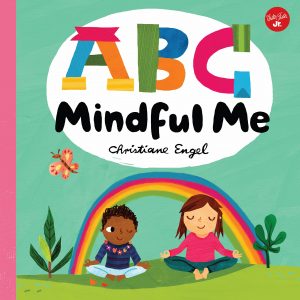 A fun read for the entire family, ABC Mindful Me is not only perfect for teaching toddlers their ABCs, but also for introducing them to key mindfulness tenants which promote physical and mental wellness, proper breathing, compassion, gratitude, and kindness. These key concepts will help to grow young readers' concentration, listening skills, and ability to manage emotions, stress, and anxiety.  Plus, a handy index provides at-a-glance reference for 26 different mindfulness pillars for children to explore.
Lights, Music, Code! (Girls Who Code) by Jo Whittemore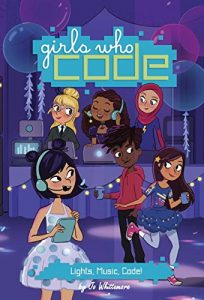 Maya and her friends from coding club have an exciting new project: they're coding lights and music for the winter dance! But when Maya's old troublemaking friend Maddie moves to town, Maya starts spending a lot of time with her, and less time with her coding friends. Maddie just gets her in a way that her other friends don't.
Will Maya get swayed by Maddie's wayward ways, or will she stay true to her "permanent group" from coding club? And will she come through on her part for the light and music coding project? Maybe coding–like friendship–is about being there for your friends when they need you the most.
She Persisted Around the World: 13 Women Who Changed History by Chelsea Clinton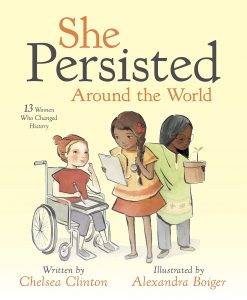 A companion guide to the #1 New York Times Bestseller She Persisted written by Chelsea Clinton!
Gloria's Voice: The Story of Gloria Steinem―Feminist, Activist, Leader by Aura Lewis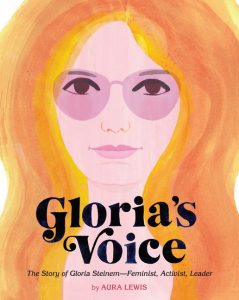 Using gorgeous watercolor illustrations, this biography of Gloria Steinem introduces young readers to the leader of the women's liberation movement. Following her from childhood through her political awakening and beyond, Gloria's Voice explains Steinem's motivations and beliefs, as well as the obstacles she faced in fighting for women's rights. Throughout, debut author and artist Aura Lewis highlights Gloria's message of equality and the importance of believing in oneself. Every young person—but especially girls—will find inspiration in Gloria's journey and this timely biography.
Ella Fitzgerald (Little People, Big Dreams) by Isabel Sanchez Vegara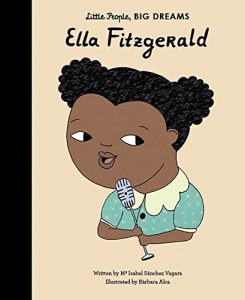 Meet Ella Fitzgerald, one of the most influential jazz singers of all time. This mini biography charts Ella's life, from her early singing days in Harlem, to her success as a jazz legend, with the message: 'It's not where you come from, but where you're going that counts'.
Me, Frida, and the Secret of the Peacock Ring by Angela Cervantes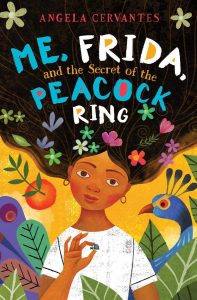 Paloma Marquez is traveling to Mexico City, birthplace of her deceased father, for the very first time. She's hoping that spending time in Mexico will help her unlock memories of the too-brief time they spent together.
While in Mexico, Paloma meets Lizzie and Gael, who present her with an irresistible challenge: The siblings want her to help them find a valuable ring that once belonged to beloved Mexican artist Frida Kahlo. Finding the ring means a big reward — and the thanks of all Mexico. What better way to honor her father than returning a priceless piece of jewelry that once belonged to his favorite artist!
But the brother and sister have a secret. Do they really want to return the ring, or are they after something else entirely?
King & Kayla and the Case of the Lost Tooth by Dori Hillestad Butler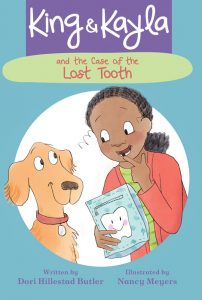 Kayla lost a tooth―but now it's missing. Where did it go? King and Kayla must gather the clues to find Kayla's tooth.
Hurricane Child by Kheryn Callender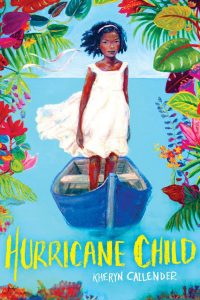 Caroline Murphy is a Hurricane Child.  Being born during a hurricane is unlucky, and twelve-year-old Caroline has had her share of bad luck lately. She's hated and bullied by everyone in her small school on St. Thomas of the US Virgin Islands, a spirit only she can see won't stop following her, and — worst of all — Caroline's mother left home one day and never came back.
President of the Whole Sixth Grade: Girl Code by Sherri Winston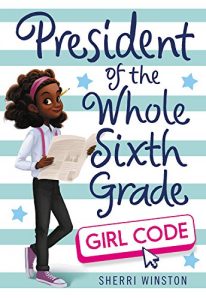 When budding middle school journalist Brianna Justice learns that Yavonka Steele, rising star of the nightly news broadcast, is looking to mentor a student as part of a program at her school, she's thrilled! That is until she's paired instead with a "boring" reporter from the community news desk.
Like Vanessa by Tami Charles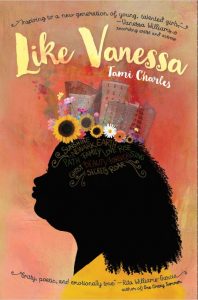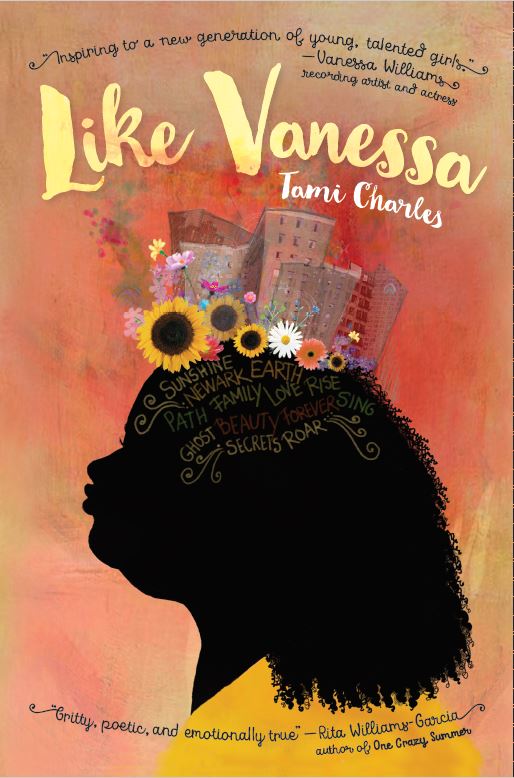 In this semi-autobiographical debut novel set in 1983, Vanessa Martin's real-life reality of living with family in public housing in Newark, New Jersey is a far cry from the glamorous Miss America stage. She struggles with an incarcerated mother she barely remembers, a grandfather dealing with addiction and her own battle with self-confidence. But when a new teacher at school coordinates a beauty pageant and convinces Vanessa to enter, Vanessa's view of her own world begins to change. Vanessa discovers that her own self-worth is more than the scores of her talent performance and her interview answers, and that she doesn't need a crown to be comfortable in her own skin and see her own true beauty.
Astronaut Annie by Suzanne Slade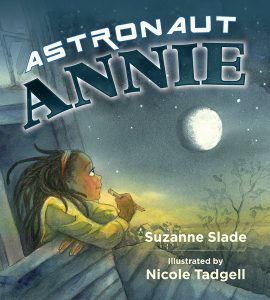 Career Day is approaching, and Annie can't wait to show her family what she's planning to be when she grows up. But, she must keep it a secret until Friday! So curious family members each ask Annie for a clue. Convinced that she'll be a news reporter like he once was, Grandpop gives her his old camera and notebook to use for her presentation. Grandma is sure Annie wants to be a champion baker like her, so she offers a mixing bowl and oven mitts to Annie. Hopeful she'll become the mountain climber he aspired to be, Dad gives Annie an old backpack. Mom presents Annie with a pair of high-top sneakers to pursue Mom's favorite sport in high school — basketball.
Grateful for each gift, Annie cleverly finds a way to use them all to create her Career Day costume. When the big day arrives, Annie finally reveals her out-of-this-world dream to everyone.
The Life of /La Vida De Selena: A Lil' Libros Bilingual Biography (English and Spanish Edition) by Patty Rodriguez and Ariana Stein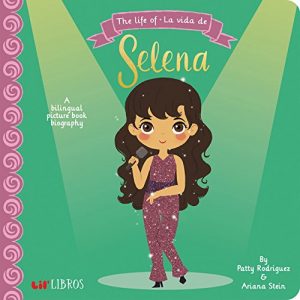 Selena's career started at a young age when she became lead singer in her family's band, Selena Y Los Dinos. She went on to become an award-winning artist with albums like Amor Prohibido and Selena Live, and earned the title "Queen of Tejano Music. Your little one will learn that Selena s favorite food was pizza and that the most important people in the world to her were her familia and fans.
My Hair Is a Garden by Cozbi A. Cabrera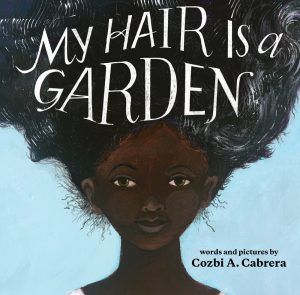 After a day of being taunted by classmates about her unruly hair, Mackenzie can't take any more. On her way home from school, she seeks the guidance of her wise and comforting neighbor, Miss Tillie. Using the beautiful garden in her backyard as a metaphor, Miss Tillie shows Mackenzie that maintaining healthy hair is not a chore nor is it something to fear. But most importantly, Mackenzie learns that natural black hair is beautiful.
Children of Blood and Bone by by Tomi Adeyemi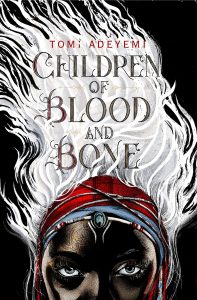 Zélie Adebola remembers when the soil of Orïsha hummed with magic. Burners ignited flames, Tiders beckoned waves, and Zélie's Reaper mother summoned forth souls.
But everything changed the night magic disappeared. Under the orders of a ruthless king, maji were killed, leaving Zélie without a mother and her people without hope.
Now Zélie has one chance to bring back magic and strike against the monarchy. With the help of a rogue princess, Zélie must outwit and outrun the crown prince, who is hell-bent on eradicating magic for good.
The Field by Baptiste Paul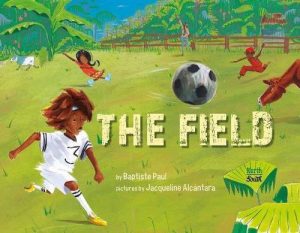 A soccer story—for boy and girls alike—just in time for the World Cup!
"Vini! Come! The field calls!" cries a girl as she and her younger brother rouse their community—family, friends, and the local fruit vendor—for a pickup soccer (futbol) game. Boys and girls, young and old, players and spectators come running—bearing balls, shoes, goals, and a love of the sport.
The Little Red Fort by Brenda Maier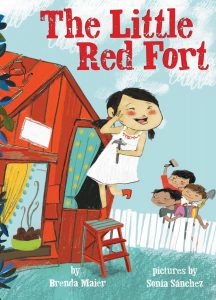 Ruby's mind is always full of ideas.  One day, she finds some old boards and decides to build something.
She invites her brothers to help, but they just laugh and tell her she doesn't know how to build.
I Am Enough by Grace Byers illustrat
ed by Keturah A. Bobo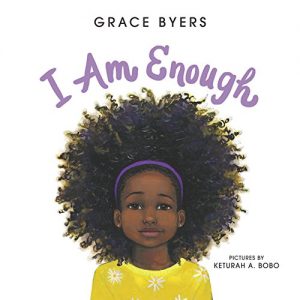 I Am Enough is the picture book everyone needs
This is a gorgeous, lyrical ode to loving who you are, respecting others, and being kind to one another—from Empire actor and activist Grace Byers and talented newcomer artist Keturah A. Bobo.
This is the perfect gift for mothers and daughters, baby showers, and graduation.
We are all here for a purpose. We are more than enough. We just need to believe it.
Natsumi! by Susan Lendroth


Natsumi is small but full of big exuberance, and puts her girl-power to good use when she discovers a Japanese tradition as energetic as she is. 
When Natsumi's family practices for their town's Japanese arts festival, Natsumi tries everything. But her stirring is way too vigorous for the tea ceremony, her dancing is just too imaginative, and flower arranging doesn't go any better. Can she find just the right way to put her exuberance to good use?  This heartwarming tale about being true to yourself is perfect for readers who march to their own beat.
I Am Famous by Tara Luebbe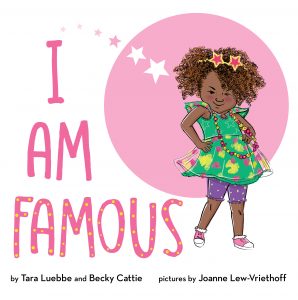 Kiely knows she is famous! The paparazzi (her parents) follow her every move, documenting it all with cameras. It's exhausting being famous, but someone has to do it! She even gets to perform a big song at her grandfather's birthday. When she messes it up, she's worried she's lost her audience forever, but it turns out that no one is as loyal as her fans who love her.
Islandborn by Junot Díaz and Leo Espinosa (This book will also be released in Spanish on the same day.  Here is the link for the Spanish version: Lola: Edición en español de ISLANDBORN (Spanish Edition)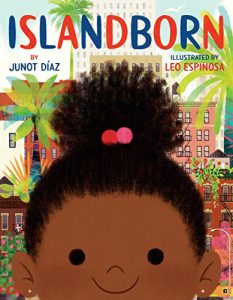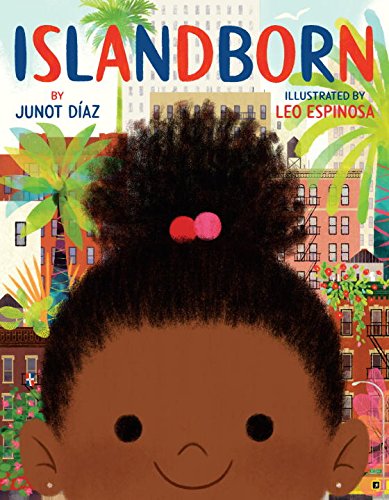 Every kid in Lola's school was from somewhere else. 
Hers was a school of faraway places.
 
So when Lola's teacher asks the students to draw a picture of where their families immigrated from, all the kids are excited. Except Lola. She can't remember The Island—she left when she was just a baby. But with the help of her family and friends, and their memories—joyous, fantastical, heartbreaking, and frightening—Lola's imagination takes her on an extraordinary journey back to The Island.  As she draws closer to the heart of her family's story, Lola comes to understand the truth of her abuela's words: "Just because you don't remember a place doesn't mean it's not in you."
Kaya's Heart Song by Diwa Tharan Sanders and Nerina Canzi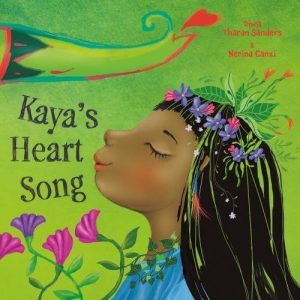 Kaya is looking for her heart song – the song that happy hearts sing. Her search takes her on a journey deep into the jungle where a broken down carousel waits for a very special song to make it turn again…A story about mindfulness and listening to your heart.
Tyler Johnson Was Here by Jay Coles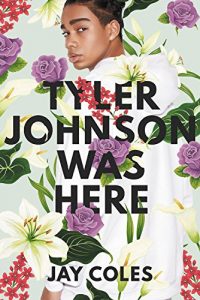 The Hate U Give meets All American Boys in this striking and heartbreaking debut novel, commenting on current race relations in America.
When Marvin Johnson's twin, Tyler, goes to a party, Marvin decides to tag along to keep an eye on his brother. But what starts as harmless fun turns into a shooting, followed by a police raid.
The next day, Tyler has gone missing, and it's up to Marvin to find him. But when Tyler is found dead, a video leaked online tells an even more chilling story: Tyler has been shot and killed by a police officer. Terrified as his mother unravels and mourning a brother who is now a hashtag, Marvin must learn what justice and freedom really mean.  Tyler Johnson Was Here is a stunning account of police brutality in modern America.
Arianna's Magic Boots: Underwater Sea Adventure by Karen A. Gasperini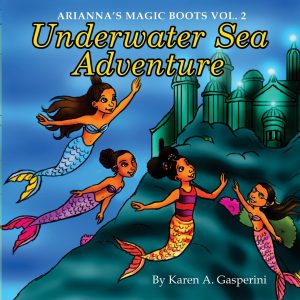 Join five-year-old disabled girl Arianna again this time on a magical journey under the sea. Where her "Magic Boots," which are Ankle-foot orthosis (AFOs) and sneakers become a mermaid tail that helps her swim to a new adventure and meet some mermaid friends. All she has to do is close her eyes and stomp three times and say "Away we go" and the adventure begins.
April 2018
Ten Cents a Pound by Nhung N. Tran-Davies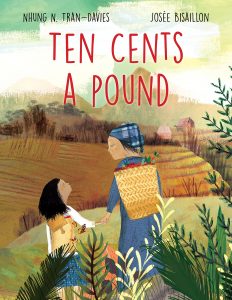 A young girl and her mother have a loving, passionate conversation with each other. The girl is torn between her desire to stay home with her family and the familiarity of their village, and her desire to go to school and discover the world beyond the mountains that surround them. Every time the girl insists that she will stay, her mother repeats that she must go, that there is more to life than the labor in the coffee trees.
Who Is Aretha Franklin? by Nico Medina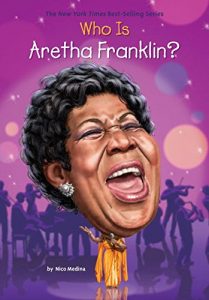 There is only one QUEEN OF SOUL! Discover why Aretha Franklin garners so much R-E-S-P-E-C-T.
Aretha Franklin is a musical and cultural icon who created an amazing legacy spanning six decades! Born in Memphis, Tennessee, in 1942, Aretha got her start singing in front of her father's Baptist congregation and found minor success as a gospel singer.
Crescent Moons and Pointed Minarets: A Muslim Book of Shapes by Hena Khan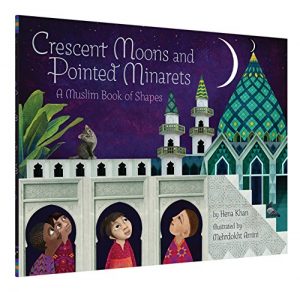 From a crescent moon to a square garden to an octagonal fountain, this breathtaking picture book celebrates the shapes—and traditions—of the Muslim world. Sure to inspire questions and observations about world religions and cultures, Crescent Moons and Pointed Minarets is equally at home in a classroom reading circle and on a parent's lap being read to a child.
Ghost Boys by Jewell Parker Rhodes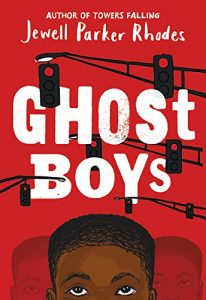 Twelve-year-old Jerome is shot by a police officer who mistakes his toy gun for a real threat. As a ghost, he observes the devastation that's been unleashed on his family and community in the wake of what they see as an unjust and brutal killing.
Soon Jerome meets another ghost: Emmett Till, a boy from a very different time but similar circumstances. Emmett helps Jerome process what has happened, on a journey towards recognizing how historical racism may have led to the events that ended his life. Jerome also meets Sarah, the daughter of the police officer, who grapples with her father's actions.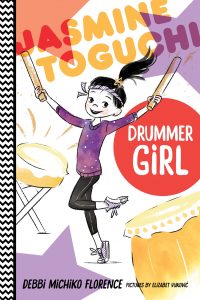 It's talent show time at school, and eight-year-old Jasmine Toguchi is excited to show her stuff. But as she thinks about her strengths―tree-climbing, mochi making, collage―none of them feel quite right to perform on-stage. Jasmine's friends already have a talent: Tommy yo-yo's, Daisy dances, and Linnie plays piano. Plus, Maggie Milsap (aka Miss Perfect) is saying she'll have the best talent.
Sunny (Track) by Jason Reynolds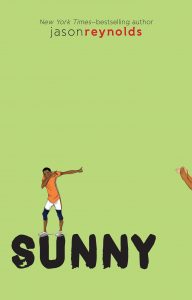 Ghost. Patina. Sunny. Lu. Four kids from wildly different backgrounds, with personalities that are explosive when they clash. But they are also four kids chosen for an elite middle school track team—a team that could qualify them for the Junior Olympics. They all have a lot of lose, but they all have a lot to prove, not only to each other, but to themselves. Sunny is the main character in this novel, the third of four books in Jason Reynold's electrifying middle grade series.
Legendary Ladies: 50 Goddesses to Empower and Inspire You by Ann Shen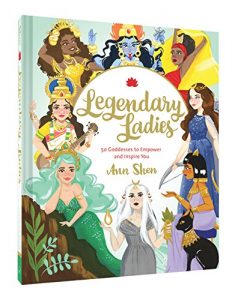 From the beloved author and artist behind Bad Girls Throughout History comes this lushly illustrated book of goddesses from around the world. Aphrodite, the Greek goddess whose love overcame mortality. Mazu, the Chinese deity who safely guides travelers home. Lakshmi, the Hindu provider of fortune and prosperity. These powerful deities and many more are celebrated in gorgeous artwork and enlightening essays that explore the feminine divine and encourage readers to empower themselves.
Mommy's Khimar by Jamilah Thompkins-Bigelow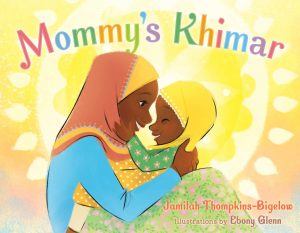 A young girl plays dress up with her mother's headscarves, feeling her mother's love with every one she tries on. Charming and vibrant illustrations showcase the beauty of the diverse and welcoming community in this portrait of a young Muslim American girl's life.
W is for Welcome: A Celebration of America's Diversity by Brad Herzog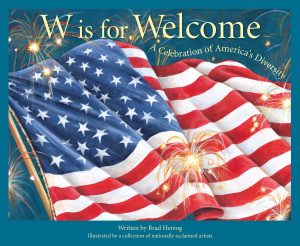 Following the alphabet this book uses poetry and expository text to celebrate America's diverse population and showcase the remarkable achievements and contributions that have come from the many people who have chosen to make our country their home. Topics include well-known landmarks and institutions (the Statue of Liberty and the White House, our national parks system) and famous citizens whose talents helped make the United States a world leader (Albert Einstein and Madeleine Albright). In addition to celebrating America's history and development, key concepts such as naturalization and steps to citizenship are explained in easy-to-understand terms for the young reader.
Alma and How She Got Her Name by Juana Martinez-Neal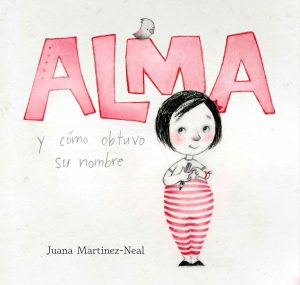 If you ask her, Alma Sofia Esperanza José Pura Candela has way too many names: six! How did such a small person wind up with such a large name? Alma turns to Daddy for an answer and learns of Sofia, the grandmother who loved books and flowers; Esperanza, the great-grandmother who longed to travel; José, the grandfather who was an artist; and other namesakes, too. As she hears the story of her name, Alma starts to think it might be a perfect fit after all — and realizes that she will one day have her own story to tell.
What If… by Samantha Berger


This girl is determined to express herself! If she can't draw her dreams, she'll sculpt or build, carve or collage. If she can't do that, she'll turn her world into a canvas. And if everything around her is taken away, she'll sing, dance, and dream.
Love Double Dutch! by Doreen Spicer-Dannelly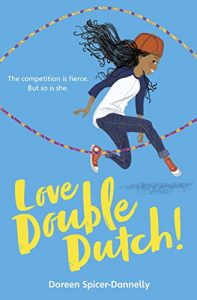 Brooklyn middle-schooler MaKayla can only think about one thing–taking her double Dutch team all the way to the National Jump-off at Madison Square Garden. That is, until her mother breaks the news. Kayla has to spend the summer at her aunt's house in North Carolina while her parents work out their problems . . . or decide to call it quits.
Pride: The Story of Harvey Milk and the Rainbow Flag by Rob Sanders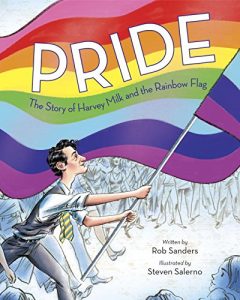 The very first picture book about the remarkable and inspiring story of the Gay Pride Flag!
In this deeply moving and empowering true story, young readers will trace the life of the Gay Pride Flag, from its beginnings in 1978 with social activist Harvey Milk and designer Gilbert Baker to its spanning of the globe and its role in today''s world.
May 2018
Always Anjali by Sheetal Sheth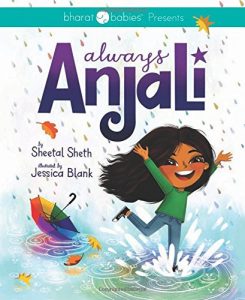 Anjali and her friends are excited to get matching personalized license plates for their bikes. But Anjali can't find her name. To make matters worse, she gets bullied for her "different" name, and is so upset she demands to change it. When her parents refuse and she is forced to take matters into her own hands, she winds up learning to celebrate who she is and carry her name with pride and power. A timeless story about appreciating what makes us special and honoring our differences.
The Hero in the Helmet: Colin Kaepernick by Joa Macnalie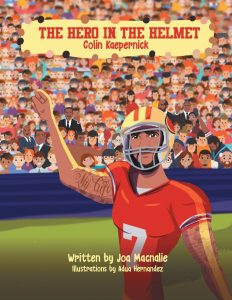 In 2016, Colin Kaepernick became a national figure when he silently took a knee during the singing of The National Anthem; a sign of protest against racial injustice. Kap's actions started a political movement that stirred up a variety of responses from anger, hatred, and opposition to compassion, respect and support. The NFL responded by keeping Kap as a free agent and has not made it to any roster since, despite his undeniable skill and athletic record.
Sisters and Champions by Howard Bryant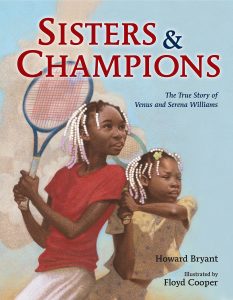 Everyone knows the names Venus & Serena Williams. They've become synonymous with championships, hard work, and with shaking up the tennis world. This picture book, by an award-winning sports journalist, details the sisters' journey from a barely-there tennis court in Compton, CA, to becoming the #1 ranked women in the sport of tennis.
Bowwow Powwow by Brenda J. Child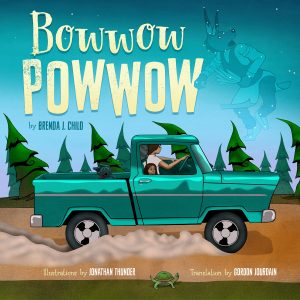 When Uncle and Windy Girl and Itchy Boy attend a powwow, Windy watches the dancers and listens to the singers. She eats tasty food and joins family and friends around the campfire. Later, Windy falls asleep under the stars. Now Uncle's stories inspire other visions in her head: a bowwow powwow, where all the dancers are dogs. In these magical scenes, Windy sees veterans in a Grand Entry, and a visiting drum group, and traditional dancers, grass dancers, and jingle-dress dancers–all with telltale ears and paws and tails. All celebrating in song and dance. All attesting to the wonder of the powwow.
Bookjoy, Wordjoy by Pat Mora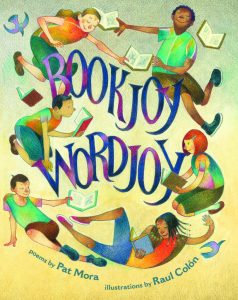 An inspiring collection of Pat Mora's own glorious poems celebrating a love of words and all the ways we use and interact with them: reading, speaking, writing, and singing.
A Church for All by Gayle E. Pitman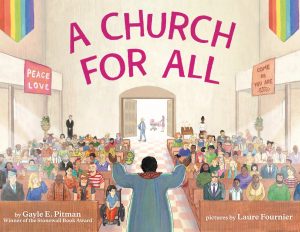 This simple, lyrical story celebrates a Sunday morning at an inclusive church that embraces all people regardless of age, class, race, gender identity, and sexual orientation. All are welcome at the church for all!
Amal Unbound by Aisha Saeed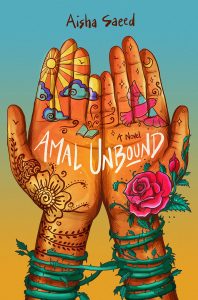 Life is quiet and ordinary in Amal's Pakistani village, but she had no complaints, and besides, she's busy pursuing her dream of becoming a teacher one day. Her dreams are temporarily dashed when–as the eldest daughter–she must stay home from school to take care of her siblings. Amal is upset, but she doesn't lose hope and finds ways to continue learning. Then the unimaginable happens–after an accidental run-in with the son of her village's corrupt landlord, Amal must work as his family's servant to pay off her own family's debt.
The Length of a String by Elissa Brent Weissman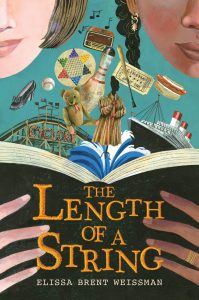 Imani is adopted, and she's ready to search for her birth parents. But when she discovers the diary her Jewish great-grandmother wrote chronicling her escape from Holocaust-era Europe, Imani begins to see family in a new way.
Imani knows exactly what she wants as her big bat mitzvah gift: to find her birth parents. She loves her family and her Jewish community in Baltimore, but she has always wondered where she came from, especially since she's black and almost everyone she knows is white. Then her mom's grandmother–Imani's great-grandma Anna–passes away, and Imani discovers an old journal among her books. It's Anna's diary from 1941, the year she was twelve and fled Nazi-occupied Luxembourg alone, sent by her parents to seek refuge in Brooklyn, New York. Anna's diary records her journey to America and her new life with an adoptive family of her own. And as Imani reads the diary, she begins to see her family, and her place in it, in a whole new way.
How I Resist: Activism and Hope for a New Generation by Tim Federle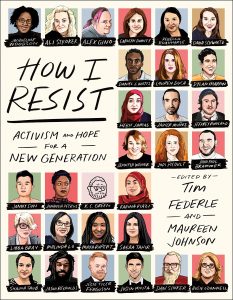 Now, more than ever, young people are motivated to make a difference in a world they're bound to inherit. They're ready to stand up and be heard – but with much to shout about, where they do they begin? What can I do? How can I help?

How I Resist is the response, and a way to start the conversation. To show readers that they are not helpless, and that anyone can be the change. A collection of essays, songs, illustrations, and interviews about activism and hope, How I Resist features an all-star group of contributors, including, Jodi Picoult, Jason Reynolds, Jacqueline Woodson, and more.  In How I Resist, readers will find hope and support through voices that are at turns personal, funny, irreverent, and instructive. Not just for a young adult audience, this incredibly impactful collection will appeal to readers of all ages who are feeling adrift and looking for guidance
Baby Loves Gravity by Ruth Spiro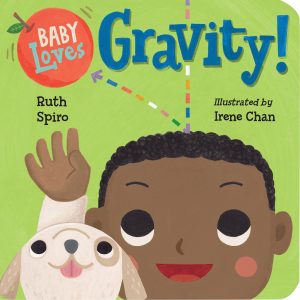 Accurate enough to satisfy an expert, yet simple enough for baby, this clever board book explores the ups and downs of gravity. When baby drops food from a high chair, why does it fall? Beautiful, visually stimulating illustrations complement age-appropriate language to encourage baby's sense of wonder. Parents and caregivers may learn a thing or two, as well!
How Sweet the Sound: The Story of Amazing Grace by Carole Boston Weatherford illustrated by Frank Morrison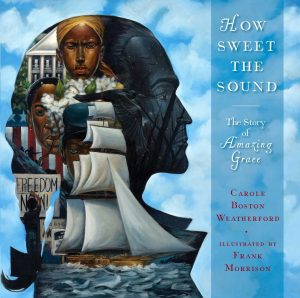 One stormy night at sea, a wayward man named John Newton feared for his life. In his darkest hour he fell to his knees and prayed—and somehow the battered ship survived the storm.  Grateful, he changed his ways and became a minister, yet he still owned a slave ship. But in time, empathy touched his heart. A changed man, he used his powerful words to help end slavery in England.  Those words became the hymn "Amazing Grace," a song that has lifted the spirit and given comfort across time and all over the world.
How to Trick the Tooth Fairy by Erin Danielle Russell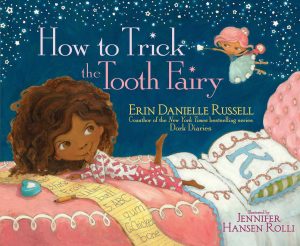 Kaylee loves pulling pranks: from dropping water balloons on passers by to even tricking Santa Claus, she's a prize-winning prankster!
But is she the Princess of Pranks? No! That title is held by none other than the Tooth Fairy. But when Kaylee loses a tooth and the Tooth Fairy goes about her usual tooth-taking business, Kaylee pranks her with a fake frog. As Kaylee and the Tooth Fairy try to out-prank one another, things get way out of hand, until the two finally see eye and eye and decide to share the crown!
Iqbal and His Ingenious Idea: How a Science Project Helps One Family and the Planet by Elizabeth Suneby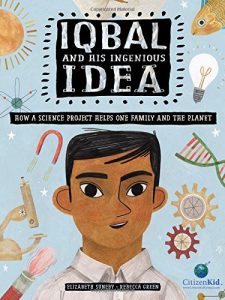 It's monsoon season in Bangladesh, which means Iqbal's mother must cook the family's meals indoors, over an open fire. The smoke from the fire makes breathing difficult for his mother and baby sister, and it's even making them sick. Hearing them coughing at night worries Iqbal. So when he learns that his school's upcoming science fair has the theme of sustainability, Iqbal comes up with the perfect idea for his entry: he'll design a stove that doesn't produce smoke! With help from his teacher, Iqbal learns all about solar energy cooking, which uses heat from the sun to cook — ingenious! Has Iqbal found a way to win first prize in the science fair while providing cleaner air and better health for his family at the same time?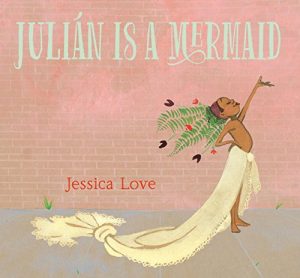 While riding the subway home from the pool with his abuela one day, Julián notices three women spectacularly dressed up. Their hair billows in brilliant hues, their dresses end in fishtails, and their joy fills the train car. When Julián gets home, daydreaming of the magic he's seen, all he can think about is dressing up just like the ladies in his own fabulous mermaid costume: a butter-yellow curtain for his tail, the fronds of a potted fern for his headdress. But what will Abuela think about the mess he makes — and even more importantly, what will she think about how Julián sees himself?
Ramadan: The Holy Month of Fasting by Ausma Zehanat Khan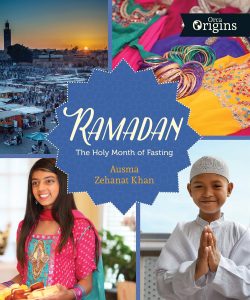 The month of Ramadan offers the opportunity to improve one's personal and spiritual behavior. By focusing on positive thoughts and actions, Muslims build a closer connection with God and come away from the month feeling spiritually renewed. Ramadan: The Holy Month of Fastingexplores the richness and diversity of the Islamic tradition by focusing on an event of great spiritual significance and beauty in the lives of Muslims. Rich with personal stories and stunning photographs, Ramadan demystifies the traditions and emphasizes the importance of diversity in a world where Islamophobia is on the rise.
Front Desk by Kelly Yang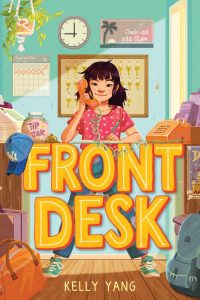 Mia Tang has a lot of secrets.
Number 1: She lives in a motel, not a big house. Every day, while her immigrant parents clean the rooms, ten-year-old Mia manages the front desk of the Calivista Motel and tends to its guests.
Number 2: Her parents hide immigrants. And if the mean motel owner, Mr. Yao, finds out they've been letting them stay in the empty rooms for free, the Tangs will be doomed.
Number 3: She wants to be a writer. But how can she when her mom thinks she should stick to math because English is not her first language?
Power Forward (Zayd Saleem, Chasing the Dream) by Hena Khan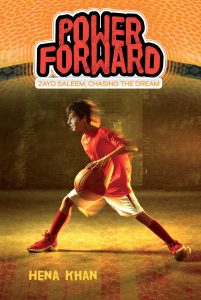 Fourth grader Zayd Saleem has some serious hoop dreams. He's not just going to be a professional basketball player. He's going to be a star. A legend. The first Pakistani-American kid to make it to the NBA. He knows this deep in his soul. It's his destiny. There are only a few small things in his way.
A Lullaby of Summer Things by Natalie Ziarnik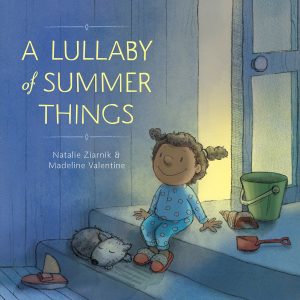 This simple, lyrical picture book is as warm, reassuring, and filled with joy as a vacation at the beach. Readers will join a little girl and her siblings as they wind down from a perfect day–hanging up towels, eating dinner, and getting ready for bed–each activity sparking a memory of their day–playing catch with the dog, chasing waves, and looking at sailboats along the shore.
June 2018
Americans by Douglas Wood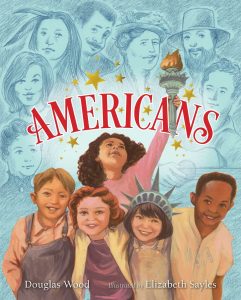 What makes Americans great?  Americans are different from one another in many ways. And despite these differences, Americans share certain ways of doing and being that hold us all together. From the Fourth of July to the Bill of Rights, Douglas Wood and Elizabeth Sayles share the story of what it is to be American.
Grand Mandela by by Ambassador Zindzi Mandela Zazi and Ziwelene Mandela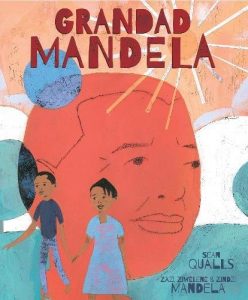 Two great-grandchildren ask their grandmother 15 questions about the man they remember as Grandad, and the world remembers as Nelson Mandela, the global icon of peace and forgiveness who spent 27 years in prison. They learn that he was a freedom fighter who put down his weapons for the sake of peace, and who then became the President of South Africa and a Nobel Peace Prize-winner. They learn that they can continue his legacy in the world today. Seen through a child's perspective, and authored jointly by his great-grandchildren and daughter, this amazing story is told as never before to celebrate what would have been Nelson's Mandela 100th birthday.
Gianna Has Pink Eye by Dr. Tanya Thompson-Badamosi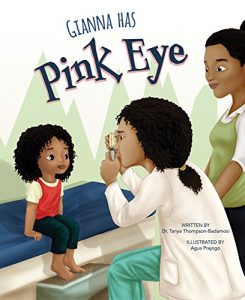 Oh no! Gianna woke up with pink eye! When her mom takes her to the doctor, she learns how to make it better and what she has to do to keep the people around her from catching it. Pink eye is common, but it doesn't have to spread if you listen to your doctor and protect your friends!
On the First Day of First Grade by Trish Rabe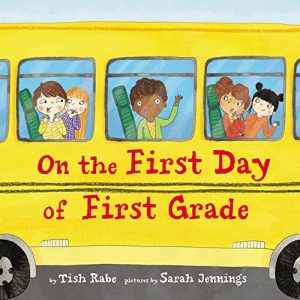 On the first day of first grade, there will be lots of fun! This is the perfect book to share with a kindergartner getting ready for the step up to "big kid" school!
From choosing books to read to building things with clay to performing in a play, there are many exciting firsts to look forward to. Saying good-bye to mom and dad can be hard, but when the school bus pulls up, it's time for some first-grade fun!
This engaging, vibrant adaptation of "The Twelve Days of Christmas" helps show parents and children alike that there is no place cooler than a first-grade classroom.
God Bless America: The Story of an Immigrant Named Irving Berlin by Adah Nuchi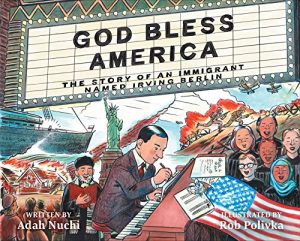 Persecuted as Jews, Izzy Baline and his family emigrated from Russia to New York, where he fell in love with his new country. He heard music everywhere and was full to bursting with his own. Izzy's thump-two-three, ting-a-ling, whee tunes soon brought him acclaim as the sought-after songwriter Irving Berlin. He ignited the imaginations of fellow countrymen and women with his Broadway and Hollywood numbers, crafting tunes that have become classics we still sing today.
What Is Light? by Markette Sheppard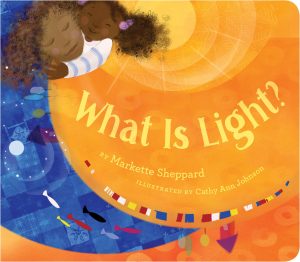 Lyrical text and crisp, cheerful illustrations illuminate What Is Light?, each page revealing the sparkle found in a child's simple but extraordinary world. Young readers will enjoy discovering the special glow in everything from nature to the smiles of loved ones. The light revealed on the final page makes a fitting finale for this sweet, bright tale.
This board book edition is the perfect size for little hands.
The 5'OClock Band by Troy Andrews & Bill Taylor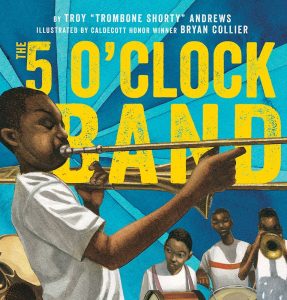 In this companion to the Caldecott Honor and Coretta Scott King Award–winning Trombone Shorty, join a scrappy young musician named Shorty on a tour of his beloved New Orleans. After letting his band down by missing rehearsal, Shorty has some serious questions about what it means to be a leader. He hits the streets of New Orleans to find some answers and soak up inspiration. Along the way he'll meet street musicians, a favorite restaurant owner, and the famous Mardi Gras Indians. Each has some NOLA-bred wisdom to share with Shorty about being an artist, a leader, and a friend.
Baby Loves Coding by Ruth Spiro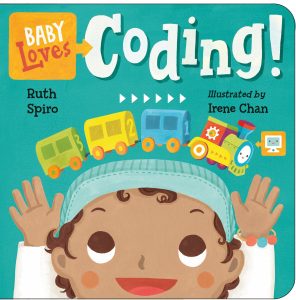 Accurate enough to satisfy an expert, yet simple enough for baby, this clever board book showcases the use of logic, sequence, and patterns to solve problems. Can Baby think like a coder to fix her train? Beautiful, visually stimulating illustrations complement age-appropriate language to encourage baby's sense of wonder. Parents and caregivers may learn a thing or two, as well!
Two Problems for Sophia by Jim Averbeck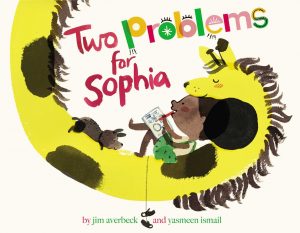 Sophia quickly learns her new pet comes with two giraffe-sized problems in this enterprising sequel to One Word from Sophia.
Sophia and Noodle, her One True Desire, are together at last.  But Noodle comes with two gigantic problems, and those problems are tearing Sophia's family apart!  Can a little creative experimenting save Noodle? Or will Sophia have to bid him adieu?
Drawn Together by Minh Lê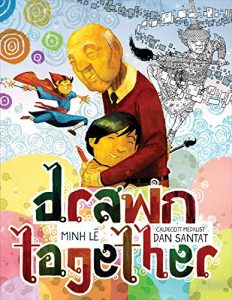 When a young boy visits his grandfather, their lack of a common language leads to confusion, frustration, and silence. But as they sit down to draw together, something magical happens-with a shared love of art and storytelling, the two form a bond that goes beyond words.
Counting on Katherine―How Katherine Johnson Saved Apollo 13 by Helaine Becker illustrated by Dow Phumiruk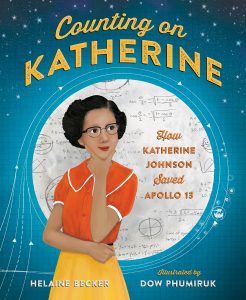 You've likely heard of the historic Apollo 13 moon landing. But do you know about the mathematical genius who made sure that Apollo 13 returned safely home?
As a child, Katherine Johnson loved to count. She counted the steps on the road, the number of dishes and spoons she washed in the kitchen sink, everything! Boundless, curious, and excited by calculations, young Katherine longed to know as much as she could about math, about the universe.
Ta-Da! by Kathy Ellen Davis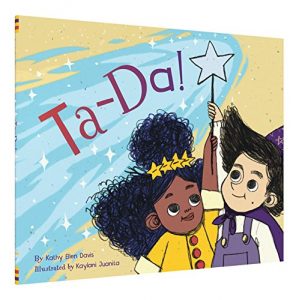 What makes a good story? One little girl thinks it's a princess with magical powers that can—ta-da!—overcome any obstacle. Her friend thinks it's—dun dun duh!—a combination of dragons, pirates, and fire that cause total chaos. But as their stories intertwine, these two young storytellers soon learn that a good story needs both conflict—dun dun duh!—and resolution—ta-da! An irresistible celebration of imaginary play, storytelling, and the joys of collaboration, this gorgeous picture book features two strong voices throughout, making it the perfect read-aloud.
Pink is for Boys by Robb Pearlman and Eda Kaban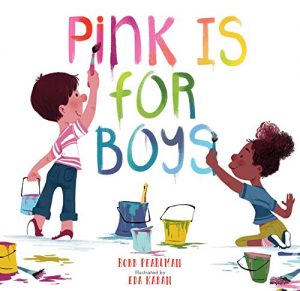 Pink is for boys . . . and girls . . . and everyone! This timely and beautiful picture book rethinks and reframes the stereotypical blue/pink gender binary and empowers kids-and their grown-ups-to express themselves in every color of the rainbow. Featuring a diverse group of relatable characters, Pink Is for Boys invites and encourages girls and boys to enjoy what they love to do, whether it's racing cars and playing baseball, or loving unicorns and dressing up. Vibrant illustrations help children learn and identify the myriad colors that surround them every day, from the orange of a popsicle, to the green of a grassy field, all the way up to the wonder of a multicolored rainbow.
Someone New by Anne Sibley O'Brien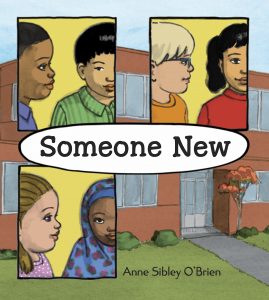 In this companion story to I'm New Here, three elementary schoolers–who aren't new–begin to understand and embrace three immigrant students.
Are you new here? Do you know someone new? In I'm New Here and Someone New, young readers explore the immigrant experience through both "windows" and "mirrors." In I'm New Here, readers meet three recent immigrants trying to adjust to a new country and school. InSomeone New, the same story is told from the perspective of the students who welcome the newcomers. An honest and heartwarming look at diversity, inclusion, and friendship.
Cece Loves Science by Kimberly Derting and Shelli R. Johannes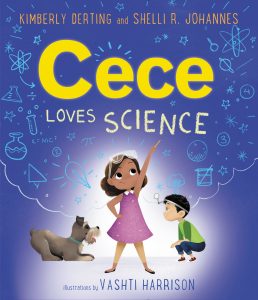 Cece, a budding and inquisitive scientist, and her equally curious best friend, Isaac, conduct experiments to see whether Cece's dog, Einstein, will eat his vegetables.
How to Code a Sandcastle by Josh Funk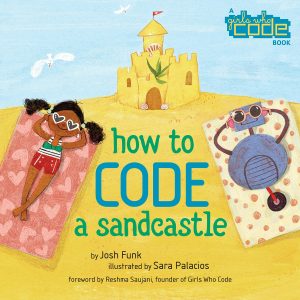 All summer, Pearl has been trying to build the perfect sandcastle, but out-of-control Frisbees and mischievous puppies keep getting in the way! Pearl and her robot friend Pascal have one last chance, and this time, they're going to use code to get the job done. Using fundamental computer coding concepts like sequences and loops, Pearl and Pascal are able to break down their sandcastle problem into small, manageable steps. If they can create working code, this could turn out to be the best beach day ever!
Goodbye Brings Hello: A Book of Firsts by Dianne White and Daniel Wiseman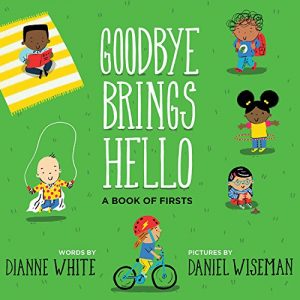 From being pushed on a swing to learning how to pump your legs yourself, from riding a beloved trike to mastering your first bike ride, from leaving the comforts of home behind to venturing forth on that first day of school, milestones are exciting but hard. They mean having to say goodbye to one moment in order to welcome the next.  Honest and uplifting, this cheerfully illustrated ode to change gently empowers readers to brave life's milestones, both large and small.
The House That Lou Built by Mae Respicio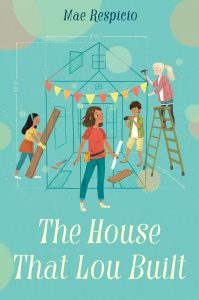 A coming-of-age story that explores culture and family, forgiveness and friendship, and what makes a true home. 
Lou Bulosan-Nelson has the ultimate summer DIY project. She's going to build her own "tiny house," 100 square feet all her own. She shares a room with her mom in her grandmother's house, and longs for a place where she can escape her crazy but lovable extended Filipino family. Lou enjoys her woodshop class and creating projects, and she plans to build the house on land she inherited from her dad, who died before she was born. But then she finds out that the land may not be hers for much longer.
July 2018
All Are Welcome by Alexandra Penfold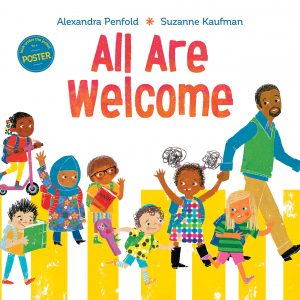 Follow a group of children through a day in their school, where everyone is welcomed with open arms. A school where kids in patkas, hijabs, and yamulkes play side-by-side with friends in baseball caps. A school where students grow and learn from each other's traditions and the whole community gathers to celebrate the Lunar New Year.
When Cousins Came by Katie Yamasaki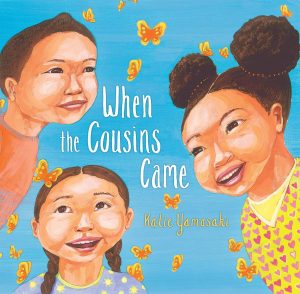 Lila is excited for her cousins Takeo and Rosie to visit. They're going to ride bikes, paint, and camp together! But when the cousins arrive, everything's wrong: Rosie and Takeo are better painters than Lila, have skateboards instead of bikes, and don't want to camp outside. Lila is terribly disappointed until the cousins make her a surprise: a big banner for their "best cousin" Lila! This sensitive story about insecurity, hosting, and friendship reminds children that negative thoughts and anxiety over exclusion don't always translate to reality.
A Paintbrush for Paco by Tracey Kyle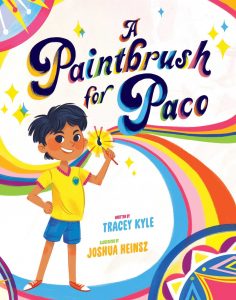 Paco loves daydreaming and drawing, but he struggles to concentrate during class. When his profesor takes him to the Art room, Paco is amazed by the colorful paints: pink, rosado; purple, morado; fiery orange, anaranjado; and more! Could art be just what Paco needs?
Game Changers: The Story of Venus and Serena Williams by Lesa Cline-Ransome illustrated by James E. Ransome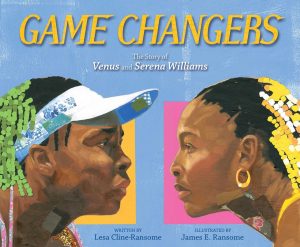 Venus and Serena Williams are two of the greatest tennis players of all time. Some say they're two of the greatest athletes of all time. Before they were world famous, they were little girls with big dreams.
Six days a week they awoke before the sun came up to practice their serves and returns, to learn to run faster and hit harder. They were unstoppable. At age fourteen, Venus played her first professional match. Three years later, it was Serena's turn. It wasn't easy. Some tennis fans cheered for these two fresh faces, while those who were unhappy to see two black girls competing in a nearly all-white sport booed and taunted them. But they didn't let it stop them.
Sterling Best Dog Ever by Fork Aidan Cassie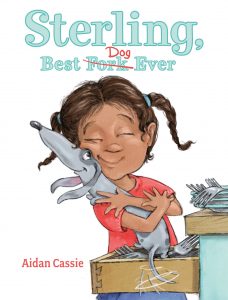 Sterling the dog has always wanted a home. But no home has ever wanted him. So when Sterling sees a sign on the side of the Butlery Cutlery Company advertising free "shipping to homes around the world," he is determined to become the most terrific fork ever! For what home doesn't need flatware?
Jasmine Toguchi, Flamingo Keeper by Debbi Michiko Florence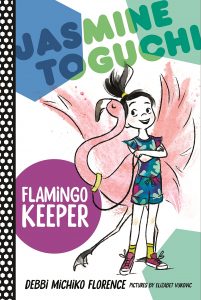 Jasmine's best friend, Linnie, has just gotten a puppy. And now Jasmine wants a pet of her own―a flamingo! So when her grandmother sends Jasmine a daruma doll as a surprise gift, Jasmine colors in one doll eye and wishes for a flamingo to keep.
August 2018
Diwali (Celebrate the World) by Hannah Eliot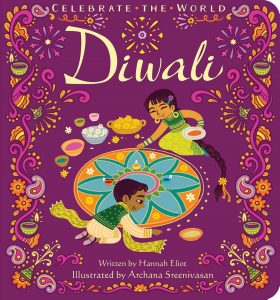 Each autumn we gather with our friends and family and light our brightest lanterns. It's time for Diwali, the festival of lights! In this lovely board book with illustrations from Archana Sreenivasan, readers learn that the five days of Diwali are a time to pray for a bountiful season, celebrate the special bonds between siblings, and rejoice in the victory of light over darkness and good over evil.
Being You by Alexs Pate


Award-winning author and professor Alexs Pate delivers a message of hope and self-discovery in a time of uncertainty in our world. YOU is a beautiful picture book celebrating every readers' individuality and talents. With an authentic voice, YOU's poetic message of love and optimism for the future speaks directly to today's children. YOU helps us to see the wonder and light within each of us.
Who Was Selena? by Max Bisantz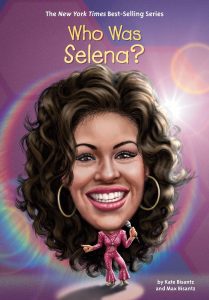 Discover why Selena, the Queen of Tejano music, became one of the most celebrated Mexican-American entertainers of the twentieth century!  As a young girl, Selena Quintanilla sang in a band called Selena y Los Dinos with her brother and sister. The family performed at fairs, weddings, quinceañeras, and on street corners in their native Texas. Selena learned how to sing in Spanish and soon became hugely popular within the Latino community–so much so that she became the best-selling Latin artist of the 1990s.
You Should Meet: Lin-Manuel Miranda by Laurie Calkhoven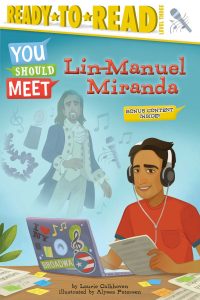 Meet Lin-Manuel Miranda! Lin-Manuel is a writer, singer, actor, songwriter, and rapper who created the hit Broadway musicals In the Heights and Hamilton: An American Musical. He was also the cocomposer of Disney's Moana and is the star of the upcoming film, Mary Poppins Returns, with Emily Blunt. His creativity appeals to children and adults alike and he has already won a Tony, Emmy, Grammy, and a Pulitzer Prize for his work.
Meet Yasmin! by Saadia Faruqi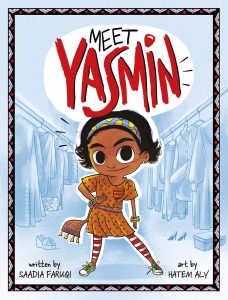 Meet Yasmin! Yasmin Ahmad is a spirited second-grader who s always on the lookout for those "aha" moments to help her solve life's little problems. Taking inspiration from her surroundings and her big imagination, she boldly faces any situation assuming her imagination doesn t get too big, of course! A creative thinker and curious explorer, Yasmin and her multi-generational Pakistani American family will delight and inspire readers.
First Laugh! Welcome Baby by Rose Ann Tahe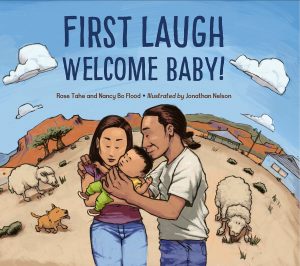 In Navajo families, the first person to make a new baby laugh hosts the child's First Laugh Ceremony. Who will earn the honor in this story?
The First Laugh Ceremony is a celebration held to welcome a new member of the community. As everyone–from Baby's nima (mom) to nadi (big sister) to cheii (grandfather)–tries to elicit the joyous sound from Baby, readers are introduced to details about Navajo life and the Navajo names for family members. Back matter includes information about other cultural ceremonies that welcome new babies and children, including man yue celebration (China), sanskaras (Hindu) and aquiqa (Muslim).
If Polar Bears Disappeared by Lily Williams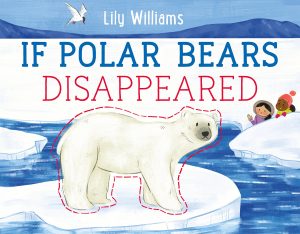 Find out what would happen if polar bears disappeared and became extinct.
Rice from Heaven: The Secret Mission to Feed North Koreans by Tina M. Cho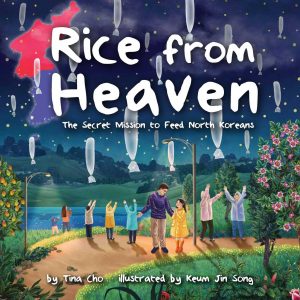 Rice from Heaven is a true story about compassion and bravery as a young girl and her community in South Korea help deliver rice via balloons to the starving and oppressed people in North Korea.
The Day You Begin by Jacqueline Woodson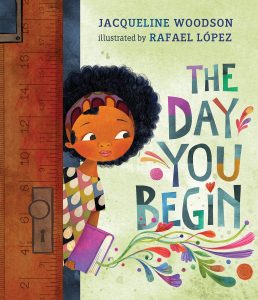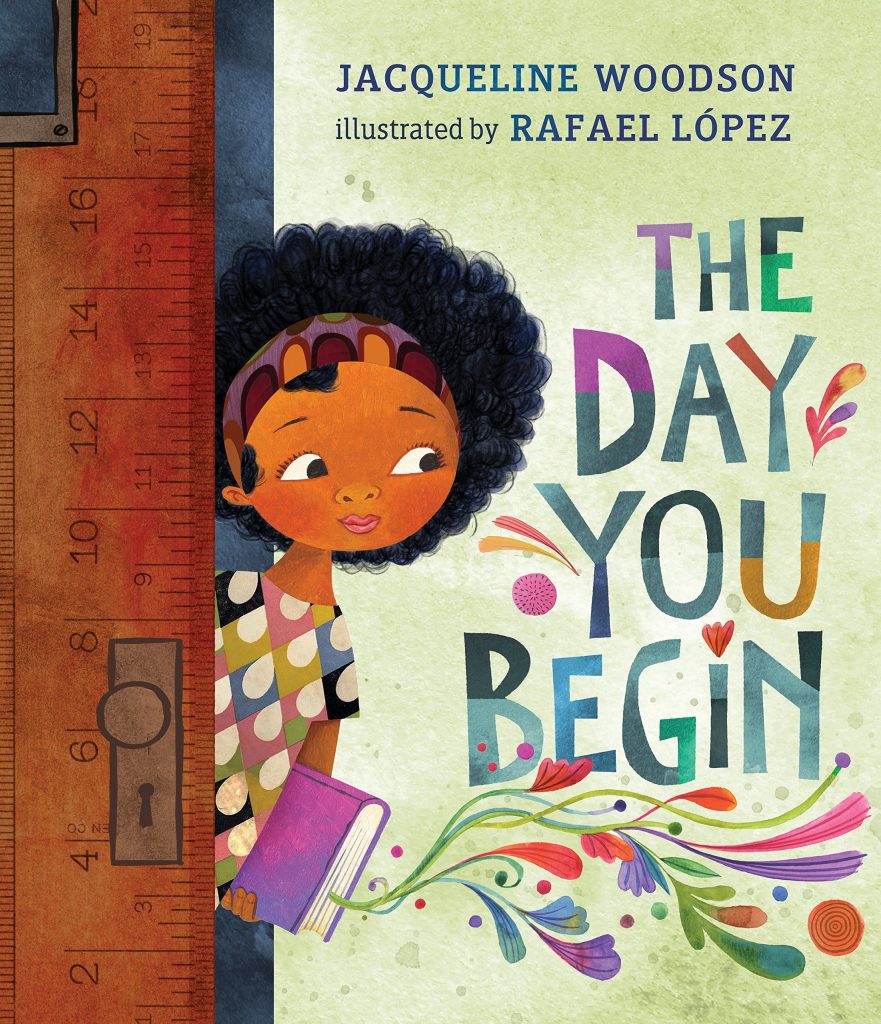 There are many reasons to feel different. Maybe it's how you look or talk, or where you're from; maybe it's what you eat, or something just as random. It's not easy to take those first steps into a place where nobody really knows you yet, but somehow you do it.
Harbor Me by Jacqueline Woodson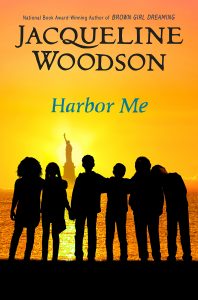 It all starts when six kids have to meet for a weekly chat–by themselves, with no adults to listen in. There, in the room they soon dub the ARTT Room (short for "A Room to Talk"), they discover it's safe to talk about what's bothering them–everything from Esteban's father's deportation and Haley's father's incarceration to Amari's fears of racial profiling and Ashton's adjustment to his changing family fortunes. When the six are together, they can express the feelings and fears they have to hide from the rest of the world. And together, they can grow braver and more ready for the rest of their lives.
September 2018
Enough! 20 Protesters Who Changed America by Emily Easton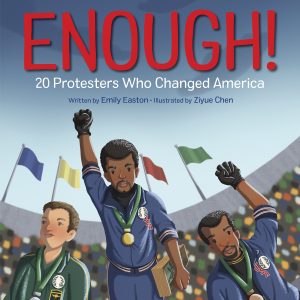 America has been molded and shaped by those who have taken a stand and said they have had enough. In this dynamic picture book, stand alongside the nation's most iconic civil and human rights leaders, whose brave actions rewrote history.  Join Samuel Adams as he masterminds the Boston Tea Party, Ruby Bridges on her march to school, Colin Kaepernick as he takes a knee, and the multitude of other American activists whose peaceful protests have ushered in lasting change.
Zora & Me The Cursed Ground by T.R. Simon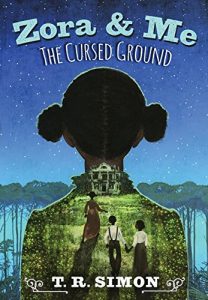 When Zora Neale Hurston and her best friend, Carrie Brown, discover that the town mute can speak after all, they think they've uncovered a big secret. But Mr. Polk's silence is just one piece of a larger puzzle that stretches back half a century to the tragic story of an enslaved girl named Lucia. As Zora's curiosity leads a reluctant Carrie deeper into the mystery, the story unfolds through alternating narratives.
A World of Kindness by Ann Featherstone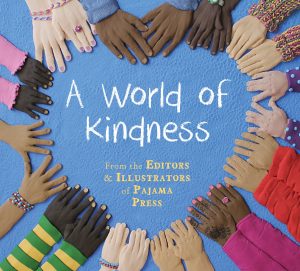 In a series of simple yet evocative questions, this impactful book asks children how they will show kindness and consideration for others. Written by the editors of Pajama Press, and illustrated by celebrated Pajama Press artists, these stunning pages inspire meaningful discussion and storytelling about the understated yet powerful ways in which children might influence the world around them. A World of Kindess goes beyond mere rhetoric to examine, in a child-friendly way, everyday social interactions where a kind word or act could have a transformative affect on others.
Imagine by Raúl Colón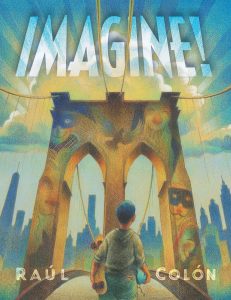 After passing a city museum many times, a boy finally decides to go in. He passes wall after wall of artwork until he sees a painting that makes him stop and ponder. Before long the painting comes to life and an afternoon of adventure and discovery unfolds, changing how he sees the world ever after.
The Sharing Secret by La Shell Wooten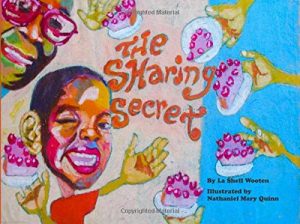 Meet Asai, a boy who learns about making choices during a trip to his grandfather's bakery. Asai's private baking lesson gives him an opportunity to learn how sharing with others is actually like giving a gift to himself. A delicious journey through the artistry of Nathaniel Mary Quinn's colorful imagery where learning about cakes and karma is painted into every page.
Outside My Window by Linda Ashman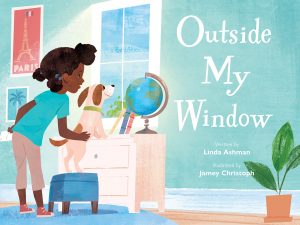 Children living in different parts of the world see very different things when they gaze out of their windows. One child looks out over a boulevard lined with palm trees, another sees a train whistling past snow-capped mountains, and another waves to her father as he tends to their garden. But while their lives may seem different, there's something important that they all share.
This beautiful book will spark readers' curiosity and imagina­tion with its celebration of global diversity.
Leo Gets a Checkup by Anna McQuinn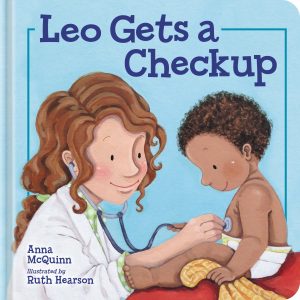 When Dad takes Leo to visit the doctor, Leo learns to wait his turn, sit quietly while his eyes and ears are checked, and be brave during a shot. And, of course, Leo gets a book before he leaves!
First Generation by Sandra Neil Wallace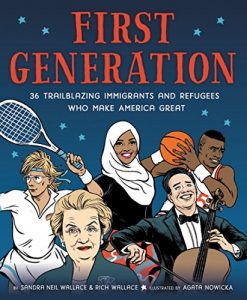 The men and women in this book represent nations from Somalia to Germany, from Syria to China, from Mexico to Sweden, and more. They are people like Secretary of State Madeleine Albright, international singing sensation Celia Cruz, star basketball player Dikembe Mutombo, world-renowned physicist Albert Einstein, and influential journalist Jorge Ramos. And they are all immigrants or refugees to the United States of America.
Dreamers by Yuyi Morales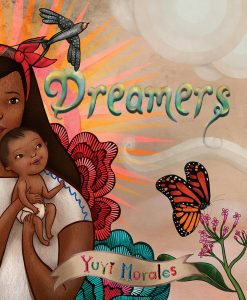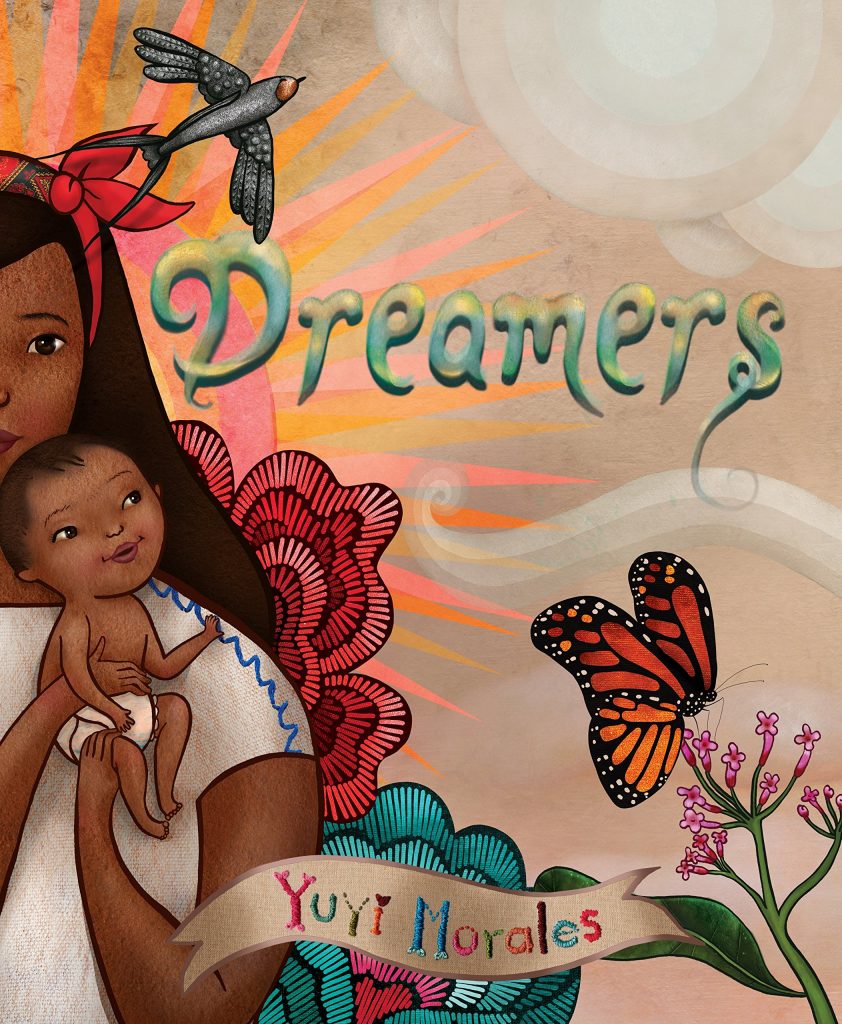 In spare, lyrical verse and the vibrant images for which she has become legendary, Yuyi has created a lasting testament to the journeys, both physical and metaphorical, that she and Kelly have taken together in the intervening years. Beautiful and powerful at any time, but given particular urgency as the status of our own Dreamers becomes uncertain, this is a story that is both topical and timeless.
Turning Pages: My Life Story by Sonia Sotomayor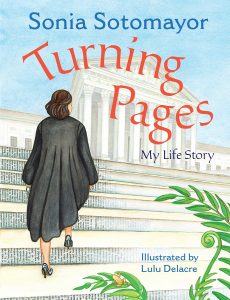 As the first Latina Supreme Court Justice, Sonia Sotomayor has inspired young people around the world to reach for their dreams. But what inspired her? For young Sonia, the answer was books! They were her mirrors, her maps, her friends, and her teachers. They helped her to connect with her family in New York and in Puerto Rico, to deal with her diabetes diagnosis, to cope with her father's death, to uncover the secrets of the world, and to dream of a future for herself in which anything was possible.
I Love You More Than by Taye Diggs

Some families look different than others. A father who doesn't live full-time with his son tells him all the ways he misses and loves him.  Perfect for families who are separated, whatever the circumstances, this message of love underscores the bond between parent and child in ways that little ones will understand.
The Stuff of Stars by Marion Bauer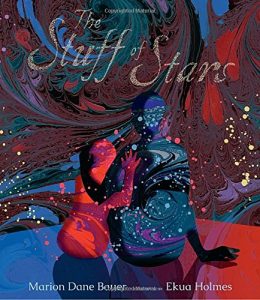 Before the universe was formed, before time and space existed, there was . . . nothing. But then . . . BANG! Stars caught fire and burned so long that they exploded, flinging stardust everywhere. And the ash of those stars turned into planets. Into our Earth. And into us.
Ode to an Onion: Pablo Neruda and His Muse by Alexandria Giardino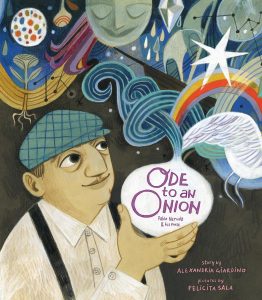 A poetic, beautifully illustrated picture book inspired by Ode to the Onion by Chilean poet Pablo Neruda (1904–1973).  Pablo has a lunch date with his friend Matilde, who shows the moody poet her garden. Where Pablo sees conflict and sadness, Matilde sees love and hope. The story is less a biography of Neruda and his muse, Matilde Urrutia (1912–1985), and more a simple ode to a vegetable that is humble and luminous, dark and light, gloomy and glad, full of grief and full of joy—just like life.
Hey, Wall: A Story of Art and Community by Susan Verde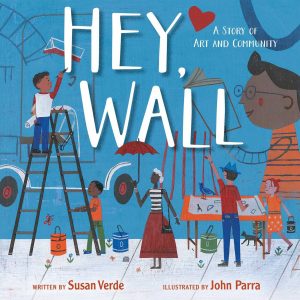 There is a wall in Ángel's neighborhood. Around it, the community bustles with life: music, dancing, laughing. Not the wall. It is bleak. One boy decides to change that. But he can't do it alone.
I Got the Christmas Spirit by Connie Schofield-Morrison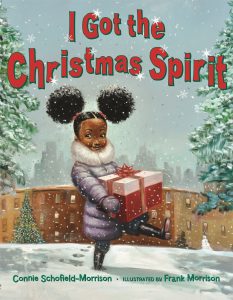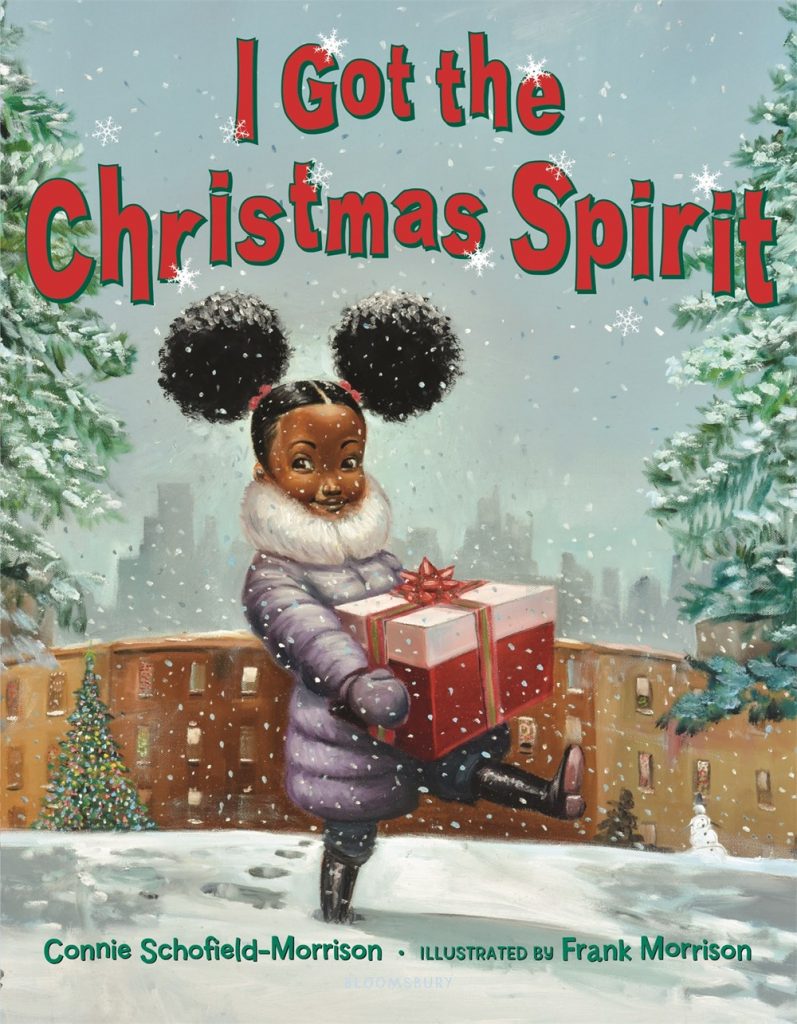 As she and her mother enjoy the sights and sounds of the holiday season, a young girl feels the Christmas spirit in every jingle, yum, and ho ho ho.  Ages 3-6.
Sarai and the Meaning of Awesome by Sarai Gonzalez and Monica Brown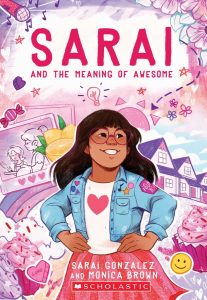 Sarai Gonzalez is AWESOME.
Fourth-grader Sarai Gonzalez can do anything. She can bake, dance, and run her own cupcake business. But when Sarai's grandparents are forced to move, even Sarai's not sure what to do. So she hatches a super-awesome plan with her younger sisters and cousin to buy back the house. But houses are more expensive than she ever thought, her sisters won't listen, and she's running out of time. Will Sarai find a way to save the day?  Inspired by true events from viral video star and social activist Sarai Gonzalez.  Ages 7-10.
So Tall Within: Sojourner Truth's Long Walk Toward Freedom by Gary D. Schmidt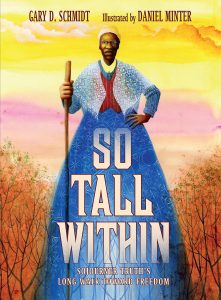 Sojourner Truth was born into slavery but possessed a mind and a vision that knew no bounds. So Tall Within traces her life from her painful childhood through her remarkable emancipation to her incredible leadership in the movement for rights for both women and African Americans.  This combination of talent is just right for introducing this legendary figure to a new generation of children.  Ages 4-8.
All-of-a-Kind Family Hanukkah by Emily Jenkins


The beloved characters from Sydney Taylor's All-of-a-Kind Family return in this heartwarming picture book from a critically adored team–perfect for Hanukkah gift-giving!
We Are Grateful Otsaliheliga by Traci Sorell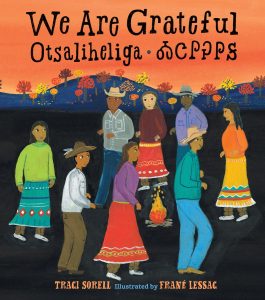 We Are Grateful: Otsaliheliga is nonfiction and showcases how the universal value of gratitude is expressed across the four seasons through a Cherokee lens.
The Girl With a Mind for Math: The Story of Raye Montague by Julia Finley Mosca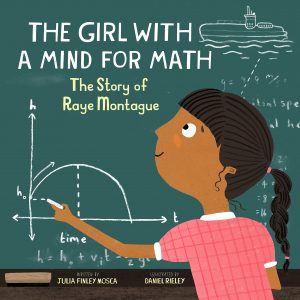 After touring a German submarine in the early 1940s, young Raye set her sights on becoming an engineer. Little did she know sexism and racial inequality would challenge that dream every step of the way, even keeping her greatest career accomplishment a secret for decades. Through it all, the gifted mathematician persisted―finally gaining her well-deserved title in history: a pioneer who changed the course of ship design forever.
We Rise, We Resist, We Raise Our Voices by Wade Hudson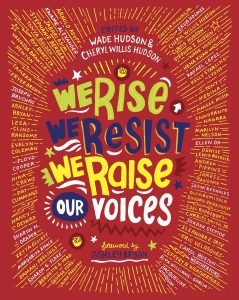 What do we tell our children when the world seems bleak, and prejudice and racism run rampant? With ninety-six lavishly designed pages of original art and prose, fifty diverse creators lend voice to young activists.
Memphis, Martin, and the Mountaintop: The Sanitation Strike of 1968 by Alice Faye Duncan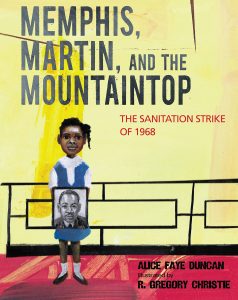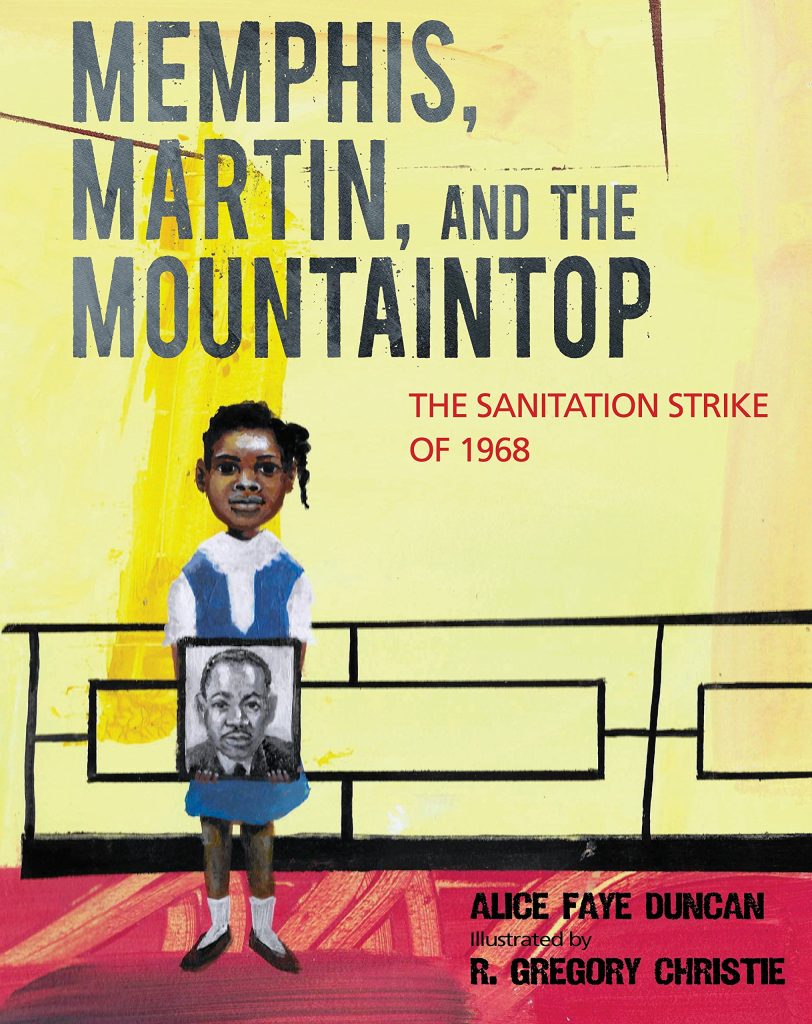 This historical fiction picture book for children ages 9-12 presents the story of nine-year-old Lorraine Jackson, who in 1968 witnessed the Memphis sanitation strike–Dr. Martin Luther King Jr.'s final stand for justice before his assassination–when her father, a sanitation worker, participated in the protest.
A Unicorn Named Sparkle's First Christmas by Amy Young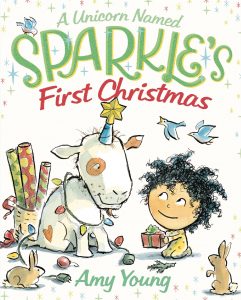 It's Sparkle the unicorn's first Christmas!
What Do You Do With A Voice Like That? by Christ Barton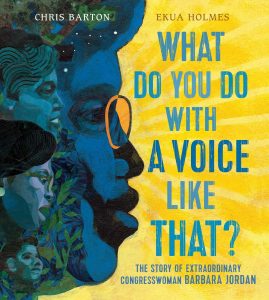 Congresswoman Barbara Jordan had a big, bold, confident voice—and she knew how to use it! Learn all about her amazing career in this illuminating and inspiring picture book biography of the lawyer, educator, politician, and civil rights leader.
Grandpa and the Library by C. Ian White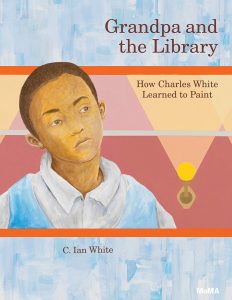 Every day, young Charles White's mother takes him the Chicago Public Library, where the librarians look after him until she picks him up again after work, at six o'clock. At the library Charles looks carefully at the picture books the librarians give him and also at the people around him, later drawing what he sees on scraps of paper at home. He learns to be patient and observant—and, by watching art students painting in the park, how to mix and use oil paints. As he grows into an artist, he paints the people he sees and admires. Ultimately, Charles becomes a great artist whose works now hang in museums throughout the United States.
What Can a Citizen Do? by Dave Eggers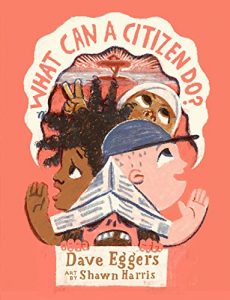 Across the course of several seemingly unrelated but ultimately connected actions by different children, we watch how kids turn a lonely island into a community—and watch a journey from what the world should be to what the world could be.
October 2018
Super Satya Saves the Day by Raakhee Mirchandani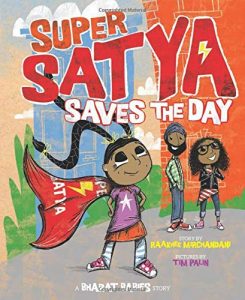 Super Satya is ready to have a super day, including finally conquering the tallest slide in Hoboken. But things take a not-so-super turn when she realizes her superhero cape is stuck at the dry cleaner. Will she be able to face her fears, help her friends, and be the true hero everyone knows she is? Super Satya Saves the Day, introduces Satya, a precocious Indian-American superhero, who is ready to save the day, even if she doesn't always know it right away!
I'm a Big Sister Now by Katura J. Hudson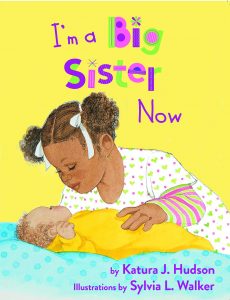 Being a big sister is a big job. It takes a lot of work, and patience, but it s a lot of fun, too. This charming picture book explores the anticipation, excitement, and pride a young girl experiences as she helps to welcome a new baby to the family.
The Season of Styx Malone by Kekla Magoon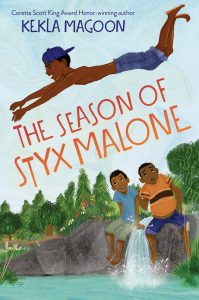 Caleb Franklin and his big brother Bobby Gene have the whole summer for adventures in the woods behind their house in Sutton, Indiana. Caleb dreams of venturing beyond their ordinary small town, but his dad likes the family to stay close to home. Then Caleb and Bobby Gene meet new neighbor Styx Malone. Styx is sixteen and oozes cool. He's been lots of different places. Styx promises Caleb and Bobby Gene that together, they can pull off the Great Escalator Trade–exchanging one small thing for something better until they achieve their wildest dream.
Aunt Luce's Talking Paintings by Francie Latour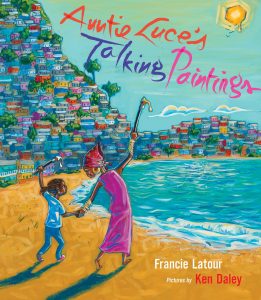 Every winter, a young girl flies to Haiti to visit her Auntie Luce, a painter.  The moment she steps off the plane, she feels a wall of heat, and familiar sights soon follow ― the boys selling water ice by the pink cathedral, the tap tap buses in the busy streets, the fog and steep winding road to her aunt's home in the mountains.
Thread of Love by Kabir Sehgal and Surishtha Sehgal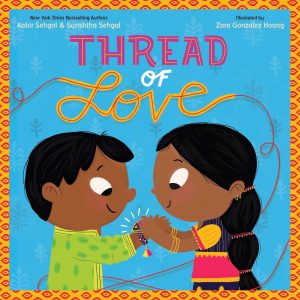 It's time for the Indian festival of Raksha Bandhan, the celebration of the special lifelong relationship shared by brothers and sisters everywhere. Join two sisters as they lovingly make rakhi—thread bracelets adorned with beads, sequins, sparkles, and tassels—for their brother. And then see their brother present them with toys and sweets and special gifts!
Zoey & Sassafras: Unicorns and Germs by Asia Citro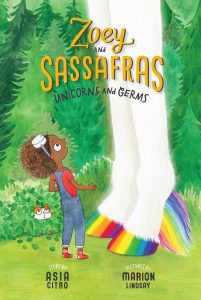 In the sixth book, an earthquake shakes Zoey's house. Or maybe it's a unicorn-quake? An enormous new friend arrives in a lot of pain, and it's getting worse every day. Zoey must work with her mom and Sassafras to find a cure — and quickly!
Rosie Revere and the Raucous Riveters: The Questioneers by Andrea Beaty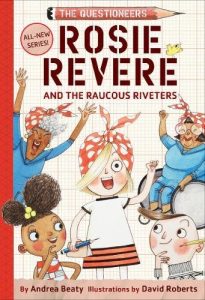 When Rosie's beloved Aunt Rose and her pals the Raucous Riveters—a gaggle of fun-loving gals who built airplanes during World War II—need her help, it's up to Rosie to save the day. Will Rosie be able to invent a contraption to help one of the Riveters paint in the annual mural competition?
Starstruck: The Cosmic Journey of Neil deGrasse Tyson by Kathleen Krull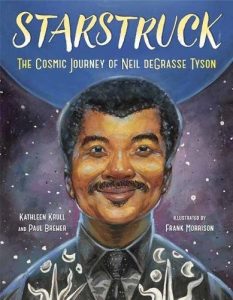 A picture-book biography on science superstar Neil deGrasse Tyson, the groundbreaking American astrophysicist whose work has inspired a generation of young scientists and astronomers to reach for the stars! Perfect for STEM curricula and readers of all ages.
Lorraine by Ketch Secor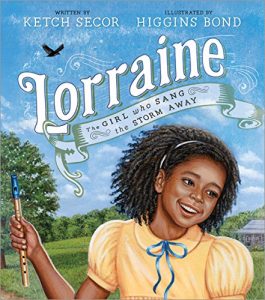 Lorraine and her Pa Paw spend their days celebrating life with the music of the Tennessee hills. With Pa Paw's harmonica and Lorraine's pennywhistle, the pair can face just about anything. But when a fearsome storm rolls in and their instruments are nowhere to be found, can Lorraine find the music inside herself to get them through?
Be Bold Baby: Michelle Obama by Alison Oliver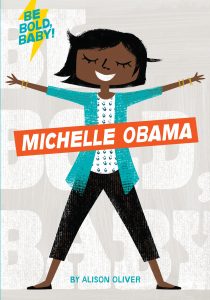 Celebrate Michelle Obama's most motivational and powerful moments, with quotes from the former First Lady, and vibrant illustrations by Alison Olivier (Moon; BabyLit series.)
Be Bold Baby: Oprah Winfrey by Alison Oliver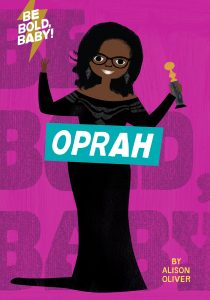 Celebrate Oprah Winfrey's most motivational and powerful moments, with quotes from the media mogul, and vibrant illustrations by Alison Oliver (Moon; BabyLit series.)
Dream Big, Little Leader
by Vashti Harrison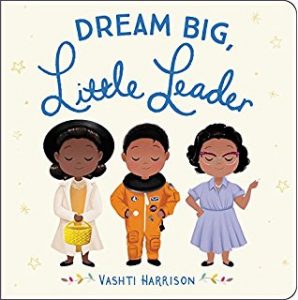 Featuring 18 trailblazing black women in American history, 
Dream Big, Little Leader 
is the irresistible board book adaptation of 
Little Leaders: Bold Women in Black History.  
Among these women, you'll find heroes, role models, and everyday women who did extraordinary things – bold women whose actions and beliefs contributed to making the world better for generations of girls and women to come. Whether they were putting pen to paper, soaring through the air or speaking up for the rights of others, the women profiled in these pages were all taking a stand against a world that didn't always accept them.
She's Got This by Laurie Hernandez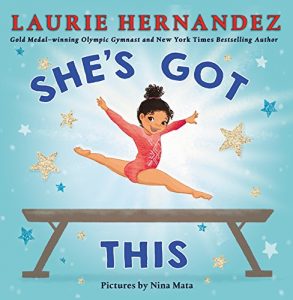 Even Olympians have to start somewhere. And in this charming illustrated book, Laurie Hernandez tells the story of Zoe, a little girl who dreams of flying—and becoming a gymnast.  When Zoe sees a gymnast on TV, she realizes that gymnastics is just like flying. But when she first goes to class and falls off the balance beam, she discovers that following her dreams is harder and scarier than she thought.
Lu by Jason Reynolds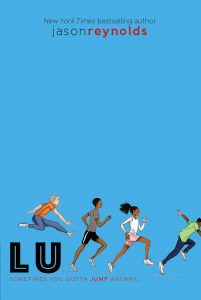 Ghost. Patina. Sunny. Lu. Four kids from wildly different backgrounds with personalities that are explosive when they clash. But they are also four kids chosen for an elite middle school track team—a team that could qualify them for the Junior Olympics if they can get their acts together.
I Am Human: A Book of Empathy by Susan Verde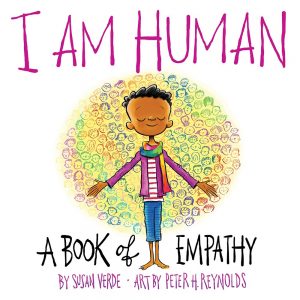 From the picture book dream team behind I Am Yoga and I Am Peace comes the third book in their wellness series: I Am Human. A hopeful meditation on all the great (and challenging) parts of being human, I Am Human shows that it's okay to make mistakes while also emphasizing the power of good choices by offering a kind word or smile or by saying "I'm sorry." At its heart, this picture book is a celebration of empathy and compassion that lifts up the flawed fullness of humanity and encourages children to see themselves as part of one big imperfect family—millions strong.
Thank You, Omu! by Oge Mora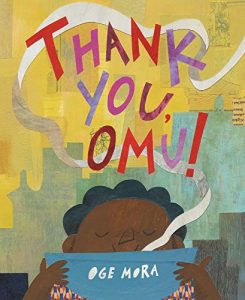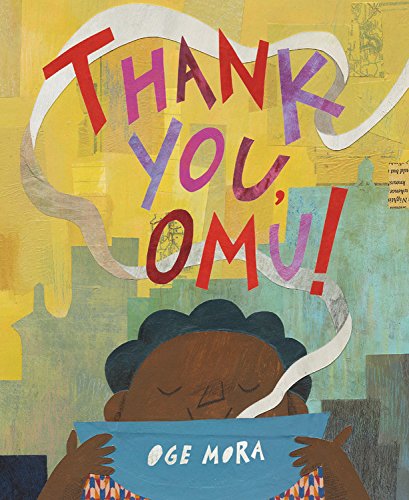 Everyone in the neighborhood dreams of a taste of Omu's delicious stew! One by one, they follow their noses toward the scrumptious scent. And one by one, Omu offers a portion of her meal. Soon the pot is empty. Has she been so generous that she has nothing left for herself?
Debut author-illustrator Oge Mora brings to life a heartwarming story of sharing and community in colorful cut-paper designs as luscious as Omu's stew, with an extra serving of love. An author's note explains that "Omu" (pronounced AH-moo) means "queen" in the Igbo language of her parents, but growing up, she used it to mean "Grandma." This book was inspired by the strong female role models in Oge Mora's life.
I Look Up To…Michelle Obama by Anna Membrino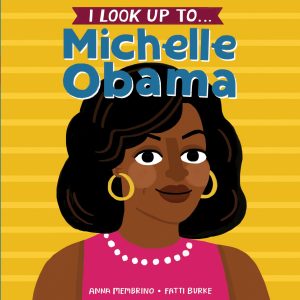 It's never too early to introduce your child to the people you admire! This board book distills Michelle Obama's excellent qualities into deliciously illustrated little baby-sized bites, with text designed to share and read aloud.
Each spread highlights an important trait, and is enhanced by a quote from Michelle herself. Kids will grow up hearing the words of this influential woman and will learn what YOU value in a person!
I Look Up To…Ruth Ginsburg by by Anna Membrino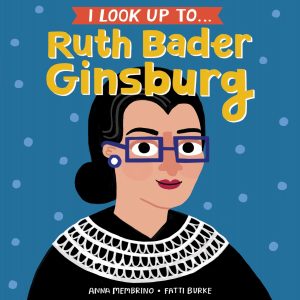 This board book distills Ruth Bader Ginsburg's excellent qualities into deliciously illustrated little baby-sized bites, with text designed to share and read aloud.
Go Show the World: A Celebration of Indigenous Heroes by Wab Kinew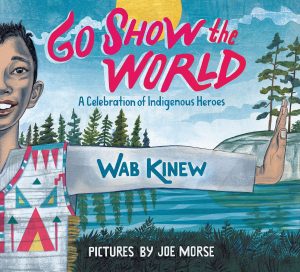 Celebrating the stories of Indigenous people throughout time, Wab Kinew has created a powerful rap song, the lyrics of which are the basis for the text in this beautiful picture book, illustrated by the acclaimed Joe Morse. Including figures such as Crazy Horse, Net-no-kwa, former NASA astronaut John Herrington and Canadian NHL goalie Carey Price, Go Show the World showcases a diverse group of Indigenous people in the US and Canada, both the more well known and the not- so-widely recognized.
No Small Potatoes: Junius G. Groves and His Kingdom in Kansas by Tonya Bolden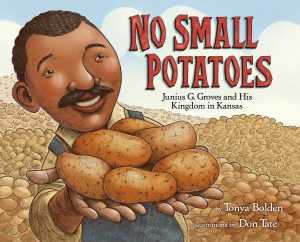 Discover the incredible true story of how one of history's most successful potato farmers began life as a slave and worked until he was named the "Potato King of the World"!
Imagine by Juan Felipe Herrera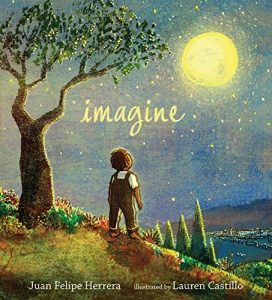 Have you ever imagined what you might be when you grow up? When he was very young, Juan Felipe Herrera picked chamomile flowers in windy fields and let tadpoles swim across his hands in a creek. He slept outside and learned to say good-bye to his amiguitos each time his family moved to a new town. He went to school and taught himself to read and write English and filled paper pads with rivers of ink as he walked down the street after school. And when he grew up, he became the United States Poet Laureate and read his poems aloud on the steps of the Library of Congress. If he could do all of that . . . what could you do?
Blended by Sharon M. Draper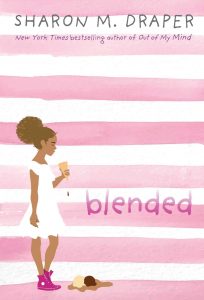 Eleven-year-old Isabella's parents are divorced, so she has to switch lives every week: One week she's Isabella with her dad, his girlfriend Anastasia, and her son Darren living in a fancy house where they are one of the only black families in the neighborhood. The next week she's Izzy with her mom and her boyfriend John-Mark in a small, not-so-fancy house that she loves.
Dragons in a Bag by Zetta Elliott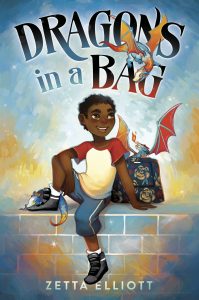 When Jaxon is sent to spend the day with a mean old lady his mother calls Ma, he finds out she's not his grandmother–but she is a witch! She needs his help delivering baby dragons to a magical world where they'll be safe. There are two rules when it comes to the dragons: don't let them out of the bag, and don't feed them anything sweet. Before he knows it, Jax and his friends Vikram and Kavita have broken both rules! Will Jax get the baby dragons delivered safe and sound? Or will they be lost in Brooklyn forever?
November 2018
Limitless by Leah Tinari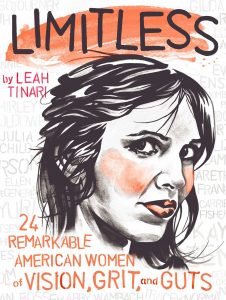 Fine artist Leah Tinari's stunning, spellbinding portraits honor the groundbreaking achievements and indelible impact of twenty-four extraordinary American women. These women's dreams were without boundaries; their accomplishments limitless in their reach and lasting power.
Juno Valentine and the Magical Shoes by Eva Chen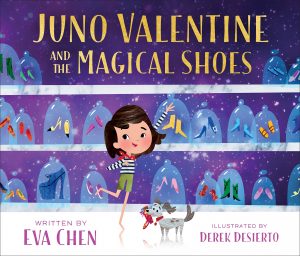 Juno Valentine's favorite shoes don't light up. They don't have wheels. They are, to be perfectly honest, the tiniest bit boring. But they're still her favorite muddy-puddle-jumping, everyday-is-an-adventure shoes. One day, when they go missing, Juno discovers something amazing: a magical room filled with every kind of shoe she could possibly imagine!
Juno embarks on an epic journey through time and space, stepping into the shoes of female icons from Frida Kahlo and Cleopatra to Lady Gaga and Serena Williams. Each pair of shoes Juno tries brings a brand new adventure―and a step towards understanding that her very own shoes might be the best shoes of all.
Who Says I Love You? by Highlights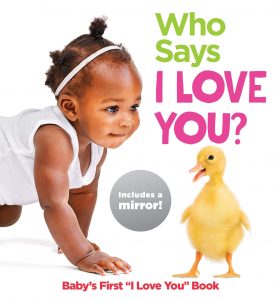 This affectionate board book features everything babies and toddlers love: bright photos of babies with adorable baby animals, repetitive phrases to say aloud, and an irresistible mirror at the very end. Every page engages children, encouraging them to practice vocabulary, animal identification, and animal sounds. And the mirror allows little ones to look at themselves when they say "I love you."
My Family Plays Music by Judy Cox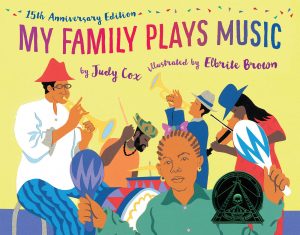 A beautiful new edition of a Coretta Scott King New Talent Award-winning book about music!
Ping! Ping! Cha-cha-cha! In this lively introduction to different kinds of music, a little girl tries out lots of instruments so she can play with her whole family! She rings a triangle with her dad's string quartet, jingles a cowbell with her brother's rock band, and hits a woodblock with her aunt's jazz group! Festive and animated cut paper art helps the sounds of music to leap off the page in this award-winning primer on musical genres.
Bold and Brave: Ten Heroes Who Won Women the Right to Vote by Kirsten Gillibrand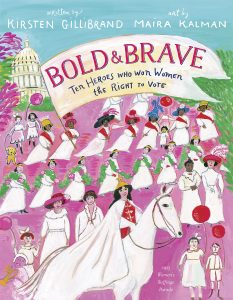 Senator Kirsten Gillibrand was inspired by her own great-grandmother, grandmother, and mother to be bold and brave–to stand up and fight for what she believes in. But who inspired them? The long chain of women before them who spoke out for what's right–women who taught each generation that followed how to be bold and brave.  The suffragists included are: Elizabeth Cady Stanton, Susan B. Anthony, Sojourner Truth, Harriet Tubman, Jovita Idár, Alice Paul, Inez Milholland, Ida B. Wells, Lucy Burns, and Mary Church Terrell.
Rox's Secret Code by Mara Lecocq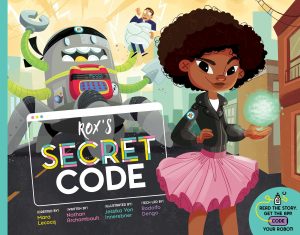 Rox is happy to spend the whole day on her laptop inventing awesome robots, but her dad wants her to clean up! When the Chorebot she designs gets a mind of its own and tries to organize the whole city, Rox and her neighbor Amar race to recode Chorebot in time to save the day.
Yes, I Can!: A Girl and Her Wheelchair by Kendra J. Barrett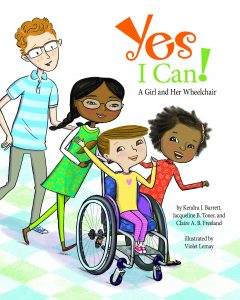 Like many kids her age, Carolyn loves animals, castles, and building with blocks. She helps out her mom and dad, and even her baby brother. But when Carolyn was born, her body did not work like most people's. She cannot use her legs to walk and so she uses a wheelchair. But she can do almost everything at school, even when she needs to do things a bit differently! Carolyn shows her classmates and readers how to learn about and be a friend to children with disabilities.
I Am Sonia Sotomayor by Brad Meltzer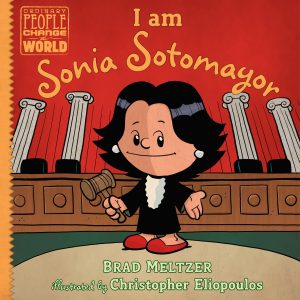 This friendly, fun biography series focuses on the traits that made our heroes great–the traits that kids can aspire to in order to live heroically themselves. Each book tells the story of one of America's icons in a lively, conversational way that works well for the youngest nonfiction readers and that always includes the hero's childhood influences. At the back are an excellent timeline and photos. This volume features Sonia Sotomayor, the first Latina Supreme Court Justice.
Little Leaders: Visionary Women Around the World by Vashti Harrison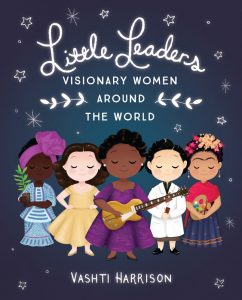 Featuring the true stories of 40 women creators, ranging from writers to inventors, artists to scientists, Visionary Women Around the World inspires as it educates. Readers will meet trailblazing women like Mary Blair, an American modernist painter who had a major influence on how color was used in early animated films, actor/inventor Hedy Lamar, environmental activist Wangari Maathai, architect Zaha Hadid, filmmaker Maya Deren, and physicist Chien-Shiung Wu. Some names are known, some are not, but all of the women had a lasting effect on the fields they worked in.
The Vast Wonder of the World by Mélina Mangal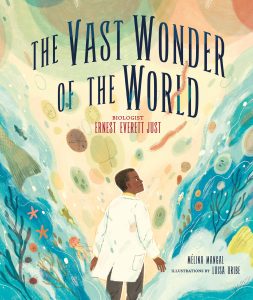 Ernest was not like other scientists. He saw the whole, where others saw only parts. And he noticed details others failed to see. Through stunning illustrations and lyrical prose, this picture book presents the life and accomplishments of Ernest Everett Just, an African American biologist who made important discoveries about the cell in the 1930s. Through his careful observations and hard work, Ernest opened up the wonder of the universe to all of us, through a tiny egg cell.
Pies from Nowhere: How Georgia Gilmore Sustained the Montgomery Bus Boycott by Dee Romito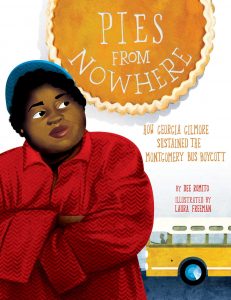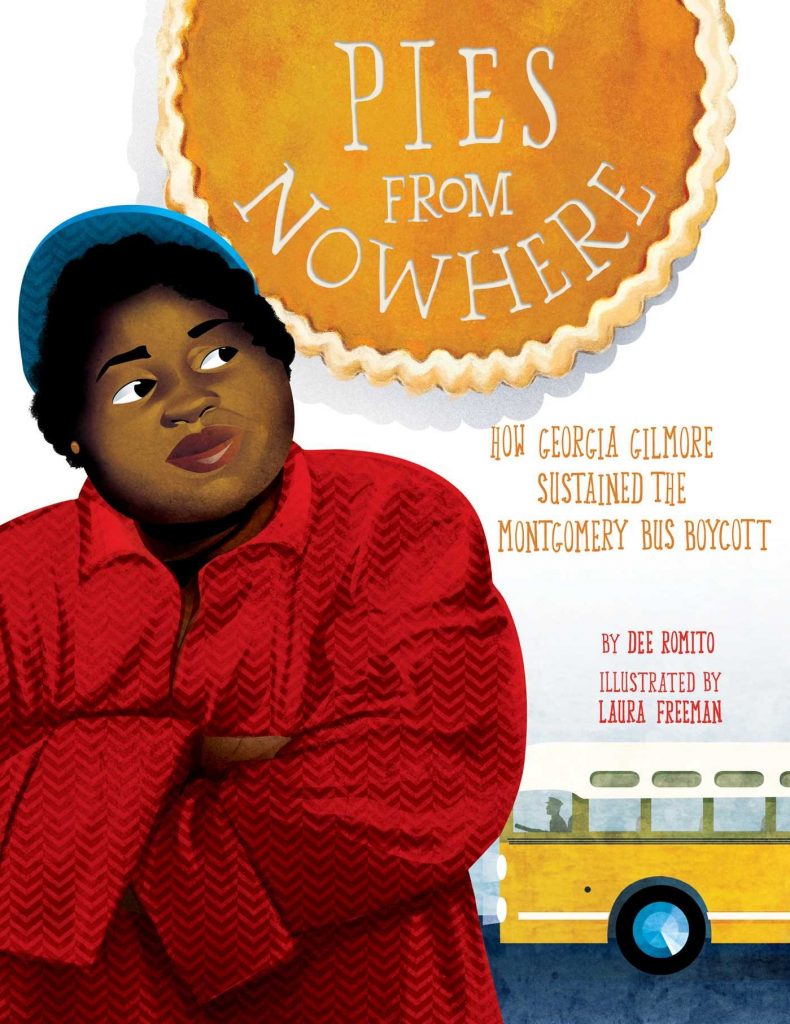 This stunning picture book looks into the life of Georgia Gilmore, a hidden figure of history who played a critical role in the Civil Rights movement and used her passion for baking to help the Montgomery Bus Boycott achieve its goal.
Georgia Gilmore was a cook at the National Lunch Company in Montgomery, Alabama. When the bus boycotts broke out in Montgomery after Rosa Parks was arrested, Georgia knew just what to do. She organized a group of women who cooked and baked to fund-raise for gas and cars to help sustain the boycott. Called the Club from Nowhere, Georgia was the only person who knew who baked and bought the food, and she said the money came from "nowhere" to anyone who asked. When Martin Luther King Jr. was arrested for his role in the boycott, Georgia testified on his behalf, and her home became a meeting place for civil rights leaders. This picture book highlights a hidden figure of the civil rights movement who fueled the bus boycotts and demonstrated that one person can make a real change in her community and beyond.  Ages 6-9.
Carlos Santana: Sound of the Heart, Song of the World by Gary Golio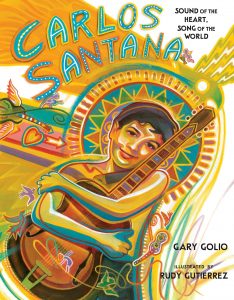 Carlos Santana grew up surrounded by music. His father, a beloved mariachi performer, teaches his son how to play the violin when he is only six years old. But when Carlos discovers American blues, he is captivated by the raw honesty of the music. Unable to think of anything else, he loses all interest in the violin. When Carlos finally receives his first guitar, his whole life begins to change.
Don't Touch My Hair! by Sharee Miller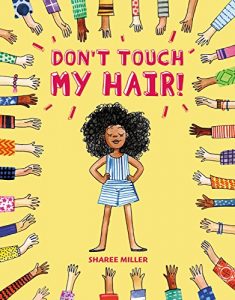 It seems that wherever Aria goes, someone wants to touch her hair. In the street, strangers reach for her fluffy curls; and even under the sea, in the jungle, and in space, she's chased by a mermaid, monkeys, and poked by aliens…until, finally, Aria has had enough!
Love Like Sky by Leslie C. Youngblood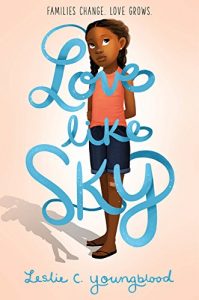 G-baby and her younger sister, Peaches, are still getting used to their "blended-up" family. They live with Mama and Frank out in the suburbs, and they haven't seen their real daddy much since he married Millicent. G-baby misses her best friend back in Atlanta, and is crushed that her glamorous new stepsister, Tangie, wants nothing to do with her.
December 2018
Betty Before X by by Ilyasah Shabazz & Renée Watson (Now in paperback with a revised cover!)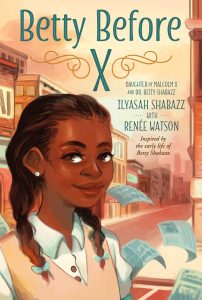 Betty Before X is a powerful middle-grade fictionalized account of the childhood activism of Betty Shabazz, Malcolm X's wife, written by their daughter Ilyasah Shabazz.
L is for Love: A Heartfelt Alphabet Book by Greg Paprocki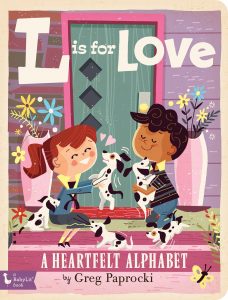 Valentine's Day is a time to reflect on the themes of love and friendship, and what better way to introduce toddlers to these concepts than with a new ABC volume from artist Greg Paprocki. The book's 26 fully illustrated pages take aim just like Cupid's arrow at lovebirds, sweethearts, BFFs, and secret admirers. Part of the BabyLit Alphabet Series.
Auntie and Me by Karen Katz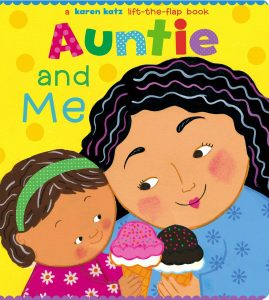 Someone special is at the door! Who could it be? Baby is ready for a fun-filled day with Auntie in this new interactive lift-the-flap board book from bestselling author Karen Katz! Little ones will love lifting the sturdy flaps on every page to reveal all of Auntie's surprises.
Mia Mayhem is a Superhero by Kara West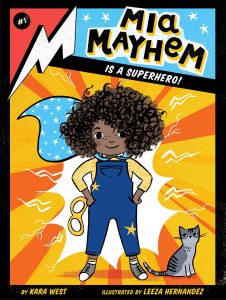 Mia Macarooney is a regular eight-year-old girl who finds out that she's A SUPERHERO! Her life literally goes from totally ordinary to totally super when she's invited to attend the afterschool Program for In-Training Superheroes a.k.a. THE PITS! And the crazy thing is, in a weird meant-to-be sort of way, all of this news somehow feels super right. Because all her life, Mia thought she was just super klutz…but it turns out, she's just SUPER! So now, it's up to Mia to balance her regular everyday life and maintain her secret identity as she learns how to be the world's newest superhero!
Mia Mayhem Learns to Fly by Kara West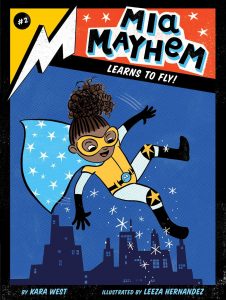 When Mia gets placed in a beginner's flying class with kindergarteners, she struggles and is ready to give up! But luckily, with help from her best friend, Eddie, and the superschool's most talented flier, Mia finally learns how to get off the ground.
Baby Says by John Steptoe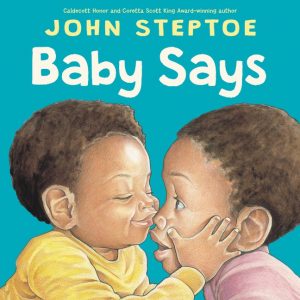 Spare text and lively illustrations tell the story of two brothers at opposite ends of a room. The older brother plays with blocks on the floor, while a curious baby boy watches intently from his crib.  After repeatedly trying to get his big brother's attention, Baby finally gets what he wants—but not before a few silly, giggle-inducing incidents occur!
Ellie May on President's Day by Hillary Homzie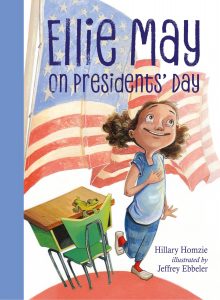 Quirky and funny, second-grader Ellie May enjoys learning about US presidents. But she absolutely loves the idea of being class flag leader during the week before Presidents' Day. Tired of not being chosen to hold the flag, she makes it her mission to finally get picked.
Woke Baby by Mahogany L. Browne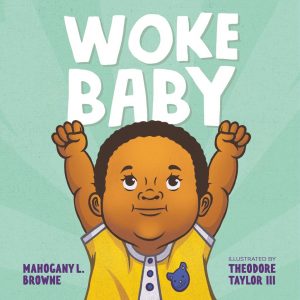 For all the littlest progressives, waking up to seize a new day of justice and activism.
Woke babies are up early. Woke babies raise their fists in the air. Woke babies cry out for justice. Woke babies grow up to change the world.
This lyrical and empowering book is both a celebration of what it means to be a baby and what it means to be woke. With bright playful art, Woke Baby is an anthem of hope in a world where the only limit to a skyscrapper is more blue.
The A-Z of Wonder Women by Yvonne Lin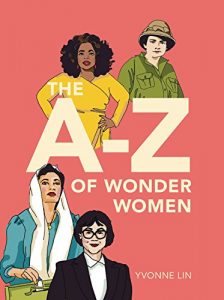 Highlighting notable and inspiring women from across the globe and throughout time, The A-Z of Wonder Women features biographies of trailblazers and groundbreakers, including Ada Lovelace, Oprah Winfrey, Ruth Ginsberg, and Wajeha al-Huwaider. This empowering alphabet-style book celebrates a wide range of skills and masteries in the arts, politics and activism, STEM, and more, providing accessible facts about these heroic women–and inspiring young readers to make the change they want to see in the world.
Struttin' with Some Barbecue: Lil Harden Armstrong Becomes the First Lady of Jazz by Patricia Hruby Powell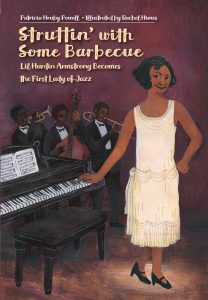 This is the true story of Lil Hardin Armstrong: pianist, composer, and bandleader in the early days of jazz. Ahead of her time, Lil made a career for herself–and for Louis Armstrong, her modest, unassuming husband. Louis might never have become the groundbreaking jazz player he was, if it hadn't been for Lil. Scat-inspired verse celebrates how Lil overcame race and gender barriers to become the first lady of the Chicago jazz scene.
Bold & Blessed by Trinitee Stokes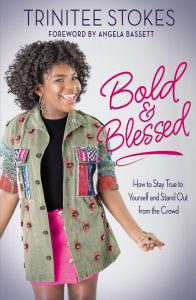 In her first ever book, Bold and Blessed: How to Stay True to Yourself and Stand Out from the Crowd, Trinitee encourages other kids with big dreams. This book features Trinitee's answers to real fans about friends, faith, and fame, and also includes a special photo insert with pictures from Trinitee's childhood to now. Perfect for readers 8 and up, Bold and Blessed will empower girls and boys to chase what matters most and have fun along the way!
Pizza Party: The Carver Chronicles by Karen English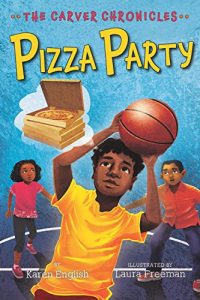 Third-grader Richard and his friends are just four days away from setting a record for excellent behavior and earning a classroom pizza party when disaster strikes—their beloved teacher is out sick, and the strictest, meanest substitute has taken her place! Will their dreams of pizza be dashed when the sub suspects that some of them have been cheating?
The Little Mermaid (Once Upon a World) by Hannah Eliot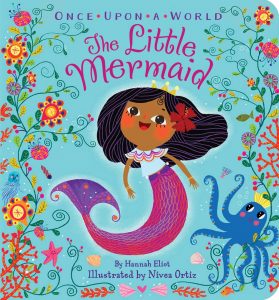 The Little Mermaid longs to know about the world above the ocean. When she's finally old enough to visit, she falls in love with a prince! A sea witch agrees to give the mermaid a potion that will make her human—but the spell will be broken if the prince doesn't love her too! Set in the Caribbean, with beautiful illustrations by Puerto Rican illustrator Nivea Ortiz, this fifth book in the Once Upon a World series is the same beloved fairy tale but it's totally reimagined.
Lunar New Year by Hannah Eliot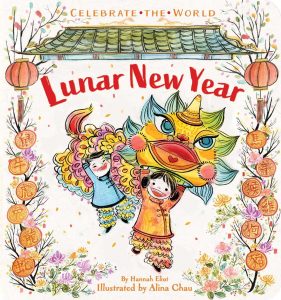 After the winter solstice each year, it's time for a celebration with many names: Chinese New Year, Spring Festival, and Lunar New Year! With beautiful artwork by Chinese illustrator Alina Chau, this festive board book teaches readers that Lunar New Year invites us to spend time with family and friends, to light lanterns, and set off fireworks, dance with dragons, and to live the new year in harmony and happiness.
Mina vs. The Monsoon by Rukhsanna Guidroz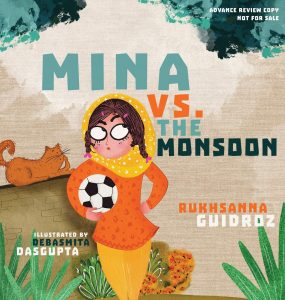 Mina loves to play soccer all year round. Nothing comes close to it. But when the monsoon arrives, Mina is stuck indoors and she can't help feeling restless and bored. Her ammi doesn't understand. The doodhwalla doesn't understand. That's when Mina decides she'll find ways of chasing away the clouds herself. In doing so, she makes an unexpected discovery. Soccer will never be the same again for Mina!
Words to Love By by Rick Warren


With warmth and wisdom, this inspirational book takes a heartfelt look at language and how children use words to encourage, forgive, express gratitude, heal, and love. Through charming illustrations and Warren's engaging text, young readers will understand how words can change their lives and the lives of those around them.
My Little Golden Book about Jackie Robinson by Frank John Berrios III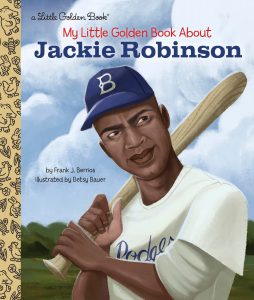 This Little Golden Book captures the essence of Jackie Robinson for the littlest readers. Lively text and compelling artwork detail Robinson's remakable journey from childhood, to playing for the Negro Leagues, to then becoming the first African American to play in Major League Baseball in the modern era. Little ones will be inspired by the many challenges Robinson gracefully rose to, while they learn important baseball and civil rights history.
My Little Golden Book About Martin Luther King Jr. by Bonnie Bader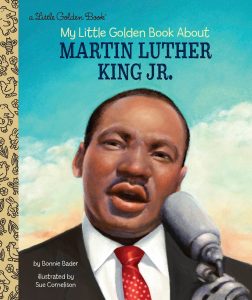 This Little Golden Book captures the essence of Martin Luther King, Jr. for the littlest readers. They'll learn how his childhood in segregated Atlanta—and in his father's church—shaped the future civil rights leader. And they'll gain a clear understanding of the way he became an eloquent, powerful voice for African Americans.
Sarai Saves the Music by Sarai Gonzalez and Monica Brown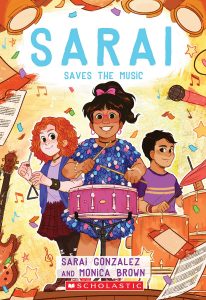 They're cutting funding at Sarai's school and her band program is the first to go. That is totally not okay with Sarai. She decides to organize a benefit concert to raise money! When she and her bandmates promote the concert on their video channel, it catches the attention of Sarai's favorite singer, Sparkles Sanchez! Can Sarai save the music?
Ellie May on April Fools' Day by Hillary Homzie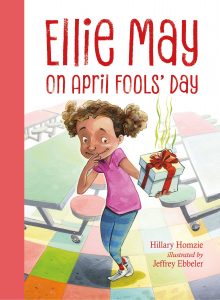 Quirky and funny second grader Ellie May can't believe her class is allowed to celebrate April Fools' Day–so long as it's done in good fun. She absolutely loves the idea of targeting a certain someone–the practically perfect Ava. Practicing on her parents and sisters, Ellie May begins to brainstorm harmless pranks. Soon enough, good intentions turn the classroom and her home upside-down when fake ants, trick tape, and hidden surprises don't go as planned. Ellie May may not be perfect like Miss-Know-it-All Ava, or calm and rational like her best friend Lizzy, but she's good-hearted and eventually realizes that the best trick is to make friends genuinely laugh–at no one's expense.
The March on Washington by Bonnie Bader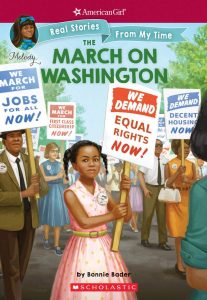 In 1963, people from all over the country came together to fight for equal rights for African Americans. The March on Washington was a peaceful protest and the setting for Martin Luther King Jr.'s "I Have a Dream" speech. But what did it take to get there? Learn about the inspiring people and incredible acts of courage that led to this historic march.
Looking Ahead to 2019…
Brave Ballerina: The Story of Janet Collins by Michelle Meadows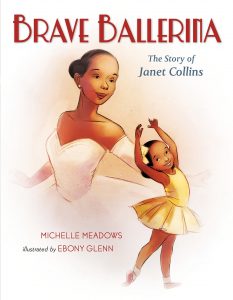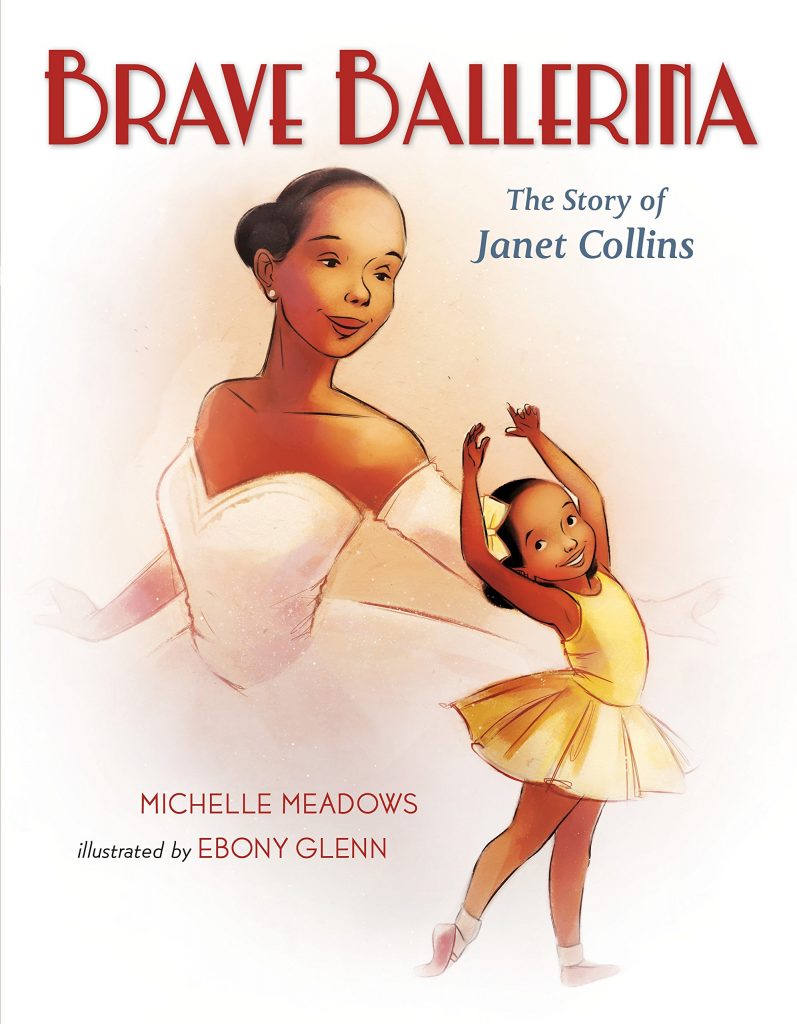 Janet Collins wanted to be a ballerina in the 1930s and 40s, a time when racial segregation was widespread in the United States. Janet pursued dance with a passion, despite being rejected from discriminatory dance schools. When she was accepted into the Ballet Russe de Monte Carlo as a teenager on the condition that she paint her skin white for performances, Janet refused. She continued to go after her dreams, never compromising her values along the way. From her early childhood lessons to the height of her success as the first African American prima ballerina in the Metropolitan Opera, this is the story of a remarkable pioneer.
Bonus book published December 2017!
Little Leaders: Bold Women in Black History by Vashti Harrison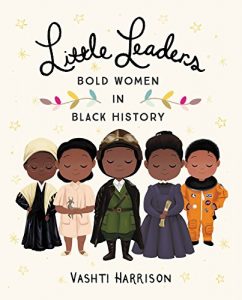 You can read my review here AND check me out on Vashti's Review Page here!
Did you enjoy this list?  If so, why not share it with your family, friends, fellow teachers or librarians.  I'd appreciate the love.  Also, subscribe to my mailing list if you're not already.  Let's stay in touch!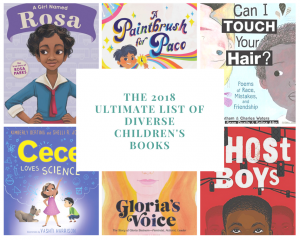 Your turn:  What books from this list are you most looking forward to?  What books should I add to the list?  Feel free to share in the comments.