I'm so excited to host the book cover reveal for the forthcoming March 2018 middle grade debut novel by author Tami Charles!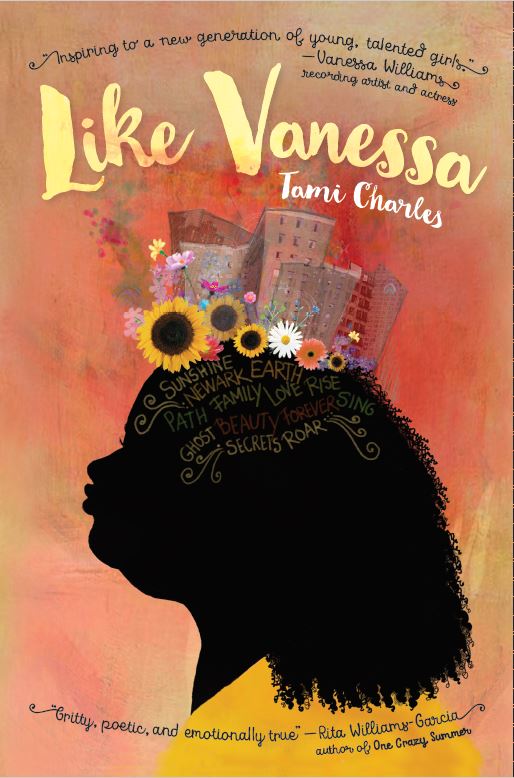 Oh, and the back story about the actual cover of the book is quite inspiring.  There's definitely powerful messages of dreaming big and persevering despite the odds.  Read below and let me know if you agree.
It was always a dream of mine to meet Vanessa Williams, tell her how she's inspired me, and give her a copy of the novel. I had the opportunity to do that last November after one of her concerts here in New Jersey. Her agent, Brian Edwards, was kind enough to arrange a meet and greet. A few months after giving her my book, I received the most surprising message in my inbox:

"Congratulations Tami on your debut release, Like Vanessa. It's such an honor to be the focal point of this wonderful book! Without a doubt, it will be inspiring to a new generation of young, talented girls well on their way to promising careers."   – Vanessa Williams, Multi-Platinum Recording Artist, NY Times Best Selling Author, Fashion Designer and star of Television, Film and the Broadway Stage

Part of this lovely quote is featured on the cover of Like Vanessa! In addition, one of my favorite authors, Rita Williams-Garcia, provided a glowing endorsement. And last but not least, the cover is illustrated by the one, the only Vanessa Brantley-Newton! Vanessa herself is from Newark, New Jersey, and has a beautiful singing voice very much like my main character. 


I consider myself lucky to have the blessings of three powerful women who inspire my author journey!
Q&A with Tami Charles!
What inspired the story we read about in Like Vanessa?
One day, when I was thirteen, my mom went to the mall…without me. (I know, the nerve, right?) A pageant director and her winners were there passing out flyers to recruit for their next pageant. My mom brought the flyer home and asked me if I wanted to participate. I had always watched Miss America, but I'd never done a pageant before. The only reason I had the courage to enter was because I knew that someone came before me and made history. That person was Vanessa Williams.  This is how Like Vanessa was born. I merged a childhood hobby and heroine of mine into a tale of a thirteen-year-old girl who made her own history, against all odds.
What was your favorite scene to write (no spoilers, please!)?
With some convincing from her grandfather, cousin, and teacher, Vanessa shyly decides to audition for her school's pageant. The night before the audition, Vanessa writes in her journal to ask God to make her beautiful. What she doesn't realize, though, is that she's been beautiful all along.  I enjoyed watching that reality unfold.
What books from your own childhood inspired Like Vanessa?
As a young reader, I wasn't exposed to the Rita Williams-Garcia's, Meg Medina's, and Kwame Alexander's of the literary world. Don't get me wrong, I loved (and still love) Anastasia Krupnik and Ramona Quimby! But I didn't see myself in those stories. It wasn't until I became an adult that I started reading the books I would have begged for as a child.  Two books in particular that guided me on this journey were: The Skin I'm In, by Sharon Flake and One Crazy Summer (series), by Rita Williams-Garcia.
If you could have readers walk away with one message, what would it be?
Achieving a goal is not easy, but do it anyway. Do it with pride, knowing that someone came before you to pave the way. And if there is no path, make your own…like Vanessa, like Oprah, like Malala! You are powerful and significant and worthy!
Can you tell us what you have coming up next?
I'm currently revising the follow-up to Like Vanessa. The story will focus on the bully, Beatriz Mendez, from book #1. Beatriz wasn't born mean. Once upon a time, she had a dream. We'll see it reignited in book #2.
About the Book
Middle graders will laugh and cry with thirteen-year-old Vanessa Martin as she tries to be like Vanessa Williams, the first black Miss America, by reluctantly entering her own beauty pageant.
In this semi-autobiographical debut novel set in 1983, Vanessa Martin's real-life reality of living with family in public housing in Newark, New Jersey is a far cry from the glamorous Miss America stage. She struggles with an incarcerated mother she barely remembers, a grandfather dealing with addiction and her own battle with self-confidence. But when a new teacher at school coordinates a beauty pageant and convinces Vanessa to enter, Vanessa's view of her own world begins to change. Vanessa discovers that her own self-worth is more than the scores of her talent performance and her interview answers, and that she doesn't need a crown to be comfortable in her own skin and see her own true beauty.
You can pre-order a copy of the book here!  Publishes March 13, 2018 from Charlesbridge Publishing.
Author the Author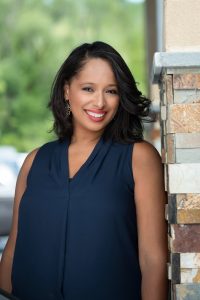 Former teacher. Wannabe chef. Debut author. Tami Charles writes picture books, middle grade, young adult, and nonfiction. Her middle grade novel, Like Vanessa, debuts with Charlesbridge in March, 2018. The novel has been selected for the Junior Library Guild's Spring 2018 collection, "Indies Introduce" 2018, and the SCBWI Book Launch Award.
Tami's picture book, Freedom Soup, debuts with Candlewick Press in fall, 2019.  She also has more forthcoming works with Candlewick, Charlesbridge, and Albert Whitman & Company. Tami is represented by Lara Perkins, of the Andrea Brown Literary Agency.
Connect with Tami!
Twitter | Instagram
The Giveaway!
Enter for your chance to win an advanced copy of Tami's forthcoming book!  Open to US residents age 18 and over only.